Located in the Franconia region of northern Bavaria, Bamberg is one of the most beautiful small cities in the region. Known for its historic architecture that dates from the 11th to the 19th century, it's a wonderfully walkable city that can be visited in a day or two. Bamberg is less than an hour from Nuremberg so you could visit Bamberg Christmas Market on a day trip from this popular city.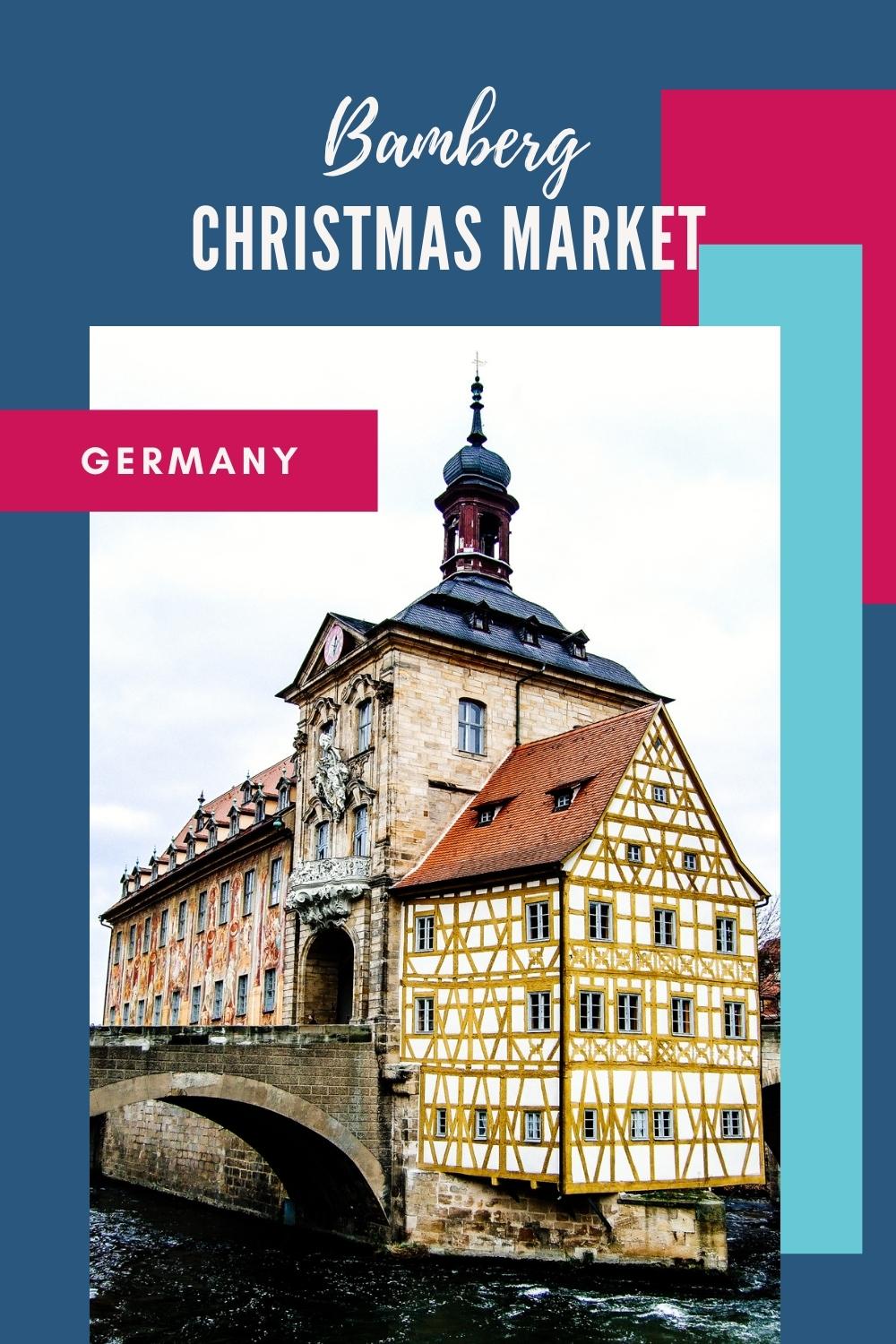 Bamberg Christmas Market 2022
In 2022, Bamberg Christmas Market will take place on Maximiliansplatz, a large square in the heart of Bamberg old town.
Maximiliansplatz is a lively, pedestrian-only area that features traditional Christmas stalls selling toys, decorations, gifts and Christmas food like bratwurst, roasted nuts and gingerbread.
The highlight is the nativity scene that changes from week to week throughout Advent.
Bamberg Christmas Market dates: 22nd November to 23rd December 2022.
Opening times: 9:30am to 8pm. Opens at 11am on Sundays.
Location: Maximiliansplatz.
Reason to visit: The cosy square surrounded by historic half-timbered houses and the unique nativity scenes.
Specialities: Freshly baked lebkuchen (gingerbread).
Where to stay: For those able to walk, Le Baldinger Hotel is a 5-minute walk Maximiliansplatz, 3 minutes to the Old Town Hall and 8 minutes to Bamberg Cathedral.
Hotels near Bamberg Christmas Market
Bamberg is a compact, small city with sights and attractions that are concentrated in a small area. It makes sense to want to stay somewhere central near the Christmas markets and Maximiliansplatz.
I suggest staying at Le Baldinger Hotel. It's located a short walk to the Christmas market as well as the Old Town Hall and Bamberg Cathedral.
If you would prefer to stay elsewhere, my guide to hotels near Bamberg Christmas Market, lists several excellent places to stay that are well located and good value for money.
Location of Bamberg Christmas Market
Don Bosco Christmas Market
Don Bosco Christmas Market is a two-day artisan market on Jakobsplatz on Jakobsberg Hill.
Dates: 12th November to 13th November 2022.
Opening times: Saturday – 1pm to 8pm. Sunday – 11am to 7pm.
Location: Jakobsplatz on Jakobsberg Hill.
Location of Don Bosco Christmas Market
Advent Market in the Sand
This Medieval market in front of St Elisabeth's Church has 30 stalls selling regional products.
Dates: 25th November to 27th November 2022.
Opening times: Friday – 4pm to 8:30pm. Saturday – 11am to 8:30pm. Sunday – 11am to 6pm.
Location: St Elisabeth's Church.
Location of Advent Market in the Sand
Things to do in Bamberg in Winter
Bamberg has a lot to offer winter visitors where you can see many of the city's sights by walking around the old town and indoor attractions will keep you busy and warm.
The Old Bridge Town Hall is the most iconic of the city's sights but there are many other things to do including visiting the Old Court, Altenburg Castle, Bamberg Cathedral, St Michael's Monastery and the stunning New Residence.
If this is your first time in Bamberg, I recommend taking this popular walking tour. It's highly rated and one of the cheapest city tours you'll find anywhere.

The tour provides a great overview of the city and things to do in Bamberg.
Of course, there are many other amazing places to visit in Germany. For more information on where to go, this guide to Christmas markets in Germany has plenty of ideas as well as details on when to visit.
Sustainable Travel Tips
The choices we make have an environmental and social impact on the places we visit. When visiting the Christmas markets, it's important to keep sustainability in mind.
Implement some or all of these simple measures to create a positive impact.
Shop mindfully. Only purchase what you really need.
Walk, cycle and use public transport to get around.
Stay in a sustainable hotel powered by renewable energy.
Stay in hotels. Short-stay apartment accommodation can lead to a lack of affordable housing for locals.
Avoid using plastic or buying items made or packaged with plastic.
Try to eat locally sourced organic food where possible.
Limit your consumption of meat and dairy.
Be open to diverse cultures and experiences.
Explore more than just the main tourist areas.
Support the arts and attend local events.
Visit fewer places but stay longer at each destination.
FAQ
Does Bamberg have a Christmas market?
Yes! Bamberg has 3 Christmas markets in 2022.
When is Bamberg Christmas Market?
22nd November to 23rd December 2022.
Where is Bamberg Christmas Market?
Maximiliansplatz.
If you have any questions or comments about visiting the Bamberg Xmas market in 2022 or visiting elsewhere in Germany this winter, please leave a comment below.
Bamberg Tourism has more information on visiting Bamberg and the latest events and experiences.
—
Recommendations are independently chosen based on personal travel experiences and extensive research. This post contains affiliate links to hotels and tours in Bamberg, Germany. This means I get a small commission from any bookings at no extra cost to you.