As you step into Hyde Park's Winter Wonderland, you'll find an enchanting festive world right in the heart of London. It's famed for its huge Christmas market, amusement rides and ice-skating rink, all set amidst pretty decorations and twinkling lights.
In the following article, you'll find an extensive guide with all the essentials, covering the 2023 dates, opening hours, ticketing information, must-try Christmas rides and what to anticipate during your visit.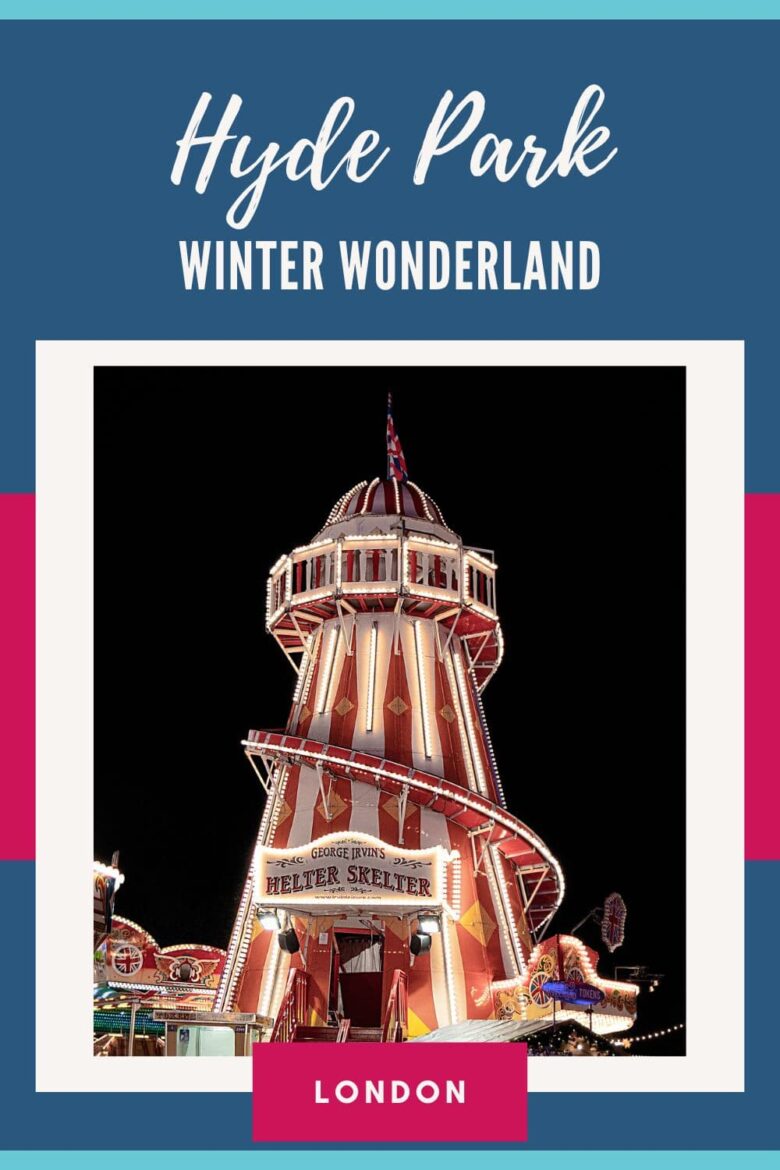 Hyde Park Winter Wonderland 2023
Winter Wonderland hosts an incredible array of attractions, making it a stand-out event during the festive period in London.
Here, you can glide across the UK's largest open-air ice rink, experience the exhilarating views from the Giant Wheel and enjoy numerous heart-pounding rides.
The atmosphere is amplified by live music throughout, including performances by choirs and carolers.
Furthermore, a Magical Ice Kingdom takes form each year with an entirely new theme, inviting you to explore a world of ice and snow.
Winter Wonderland's Christmas market, teeming with hundreds of charming stalls, has become an icon for London's holiday celebrations.
Dates and Tickets
Hyde Park Winter Wonderland dates: 17th November 2023 to 1st January 2024.
Location: Hyde Park, London (near Hyde Park Corner).
Opening times: 10am to 10pm.
Christmas Day: Closed.
Admission: You must purchase an off-peak, standard, or peak ticket before you go. Tickets prices only include the entrance fee, rides and attractions are additional. Off peak tickets and times are free but tickets are still required. Book here.
Santa: You might see Santa at Santaland.
Ice skating: Yes, the ice rink surrounds the Victorian bandstand.
Popular rides: Giant Wheel, Ice Slide, Ice Mountain, Wave Swinger.
Popular attractions: Magical Ice Kingdom, Christmas Circus, Ice Sculpting.
Vegetarian: Yes, plenty of options.
Vegan: Yes, plenty of options, including the 100% plant-based Clean Kitchen Club and Edgy Veggie.
Gluten-free: Yes, some options, including the English Indian.
Accessible: Yes.
Pet-friendly: No.
Parking: Please take public transport to help limit congestion.
Reason to visit: Giant Wheel with unmatched views; largest open-air ice rink in the UK; high-energy rides and attractions; the heart of London location.
Specialities: Hot mulled wine; authentic German bratwurst; sweet churros with chocolate; artisan hot chocolate; roasted chestnuts, Bavarian specialties.
Where to stay: Buckingham & Lloyds is a popular hotel, directly across from Hyde Park.
Hotels near Winter Wonderland
With its proximity to Hyde Park and a plethora of dining and shopping options, Kensington makes for an ideal base when visiting Winter Wonderland. Its central location and excellent transport links also make exploring the wider city convenient.
I recommend staying at Buckingham & Lloyds in this part of London for its high standard and exceptional location.
Alternatively, Nox Kensington Gardens is a great budget option.
Finding a decent hotel in London can be difficult at the best of times, but especially during the busy Christmas period. Read my full guide to hotels near Hyde Park Winter Wonderland that lists several conveniently located places to stay, but book early for the best price.
Location of Winter Wonderland
Hyde Park Corner, Knightsbridge, Green Park, Marble Arch and Lancaster Gate are the nearest tube stations.
Winter Wonderland in London
The following video provides a glimpse into London's Winter Wonderland. If you're unsure if it's worth visiting, look at what it's like before you go.
As you plan your trip to Hyde Park's Winter Wonderland, I highly recommend checking out my detailed guide to London Christmas Market 2023; it provides practical information to help you make the most of your visit.

If you're thinking of planning a winter getaway, my guide to the best UK Christmas markets has some suggestions on where to go in 2023.
Food at Drinks
Mulled Wine: Originating from Germany but beloved throughout Europe, this spiced and warmed red wine is a perfect companion on a cold winter evening.
Mince Pies: A British Christmas classic, these small, sweet pies filled with a mixture of dried fruits and spices can be found at the food stalls.
Traditional German Sausages: A staple at Christmas markets, these sausages come in various styles, from bratwurst to currywurst. Each is grilled to perfection and served with different bread and condiments.
Churros: These Spanish doughnut-like treats are deep-fried until they're golden and crisp, then dusted with sugar. You'll often find them served with a cup of thick hot chocolate for dipping.
Roasted Chestnuts: A staple at the Winter Wonderland, these are cooked over open coals, giving them a distinct, smoky flavour. They're peeled and served hot, making them a warming snack on a chilly day.
Candy Floss: A classic fairground favourite, candy floss is a cloud of spun sugar, often tinted pink or blue, and served on a stick or in a plastic bag.
Toffee Apples: Symbolic of festivities, toffee apples are whole apples covered in a hard toffee or sugar candy coating, then placed on a sturdy wooden stick for easy eating.
Santa's Grill: A key feature of Winter Wonderland, where you can find a mouthwatering array of grilled items, from traditional meats to hearty veggie options.
Fish and Chips: Classic British fast food that needs no introduction; golden-battered fish and chunky chips are a crowd favourite.
Loaded Burgers: Burgers piled high with an assortment of extras, from cheese and bacon to jalapenos and special sauces, are a treat for all burger lovers.
Bao Buns: A delicious taste of Asia with these soft, fluffy buns filled with a variety of fillings, from glazed pork belly to crispy tofu.
Curly Fries: These spiral-shaped fries, seasoned with a blend of herbs and spices, are a fun and tasty alternative to regular chips.
Hot Dogs: Whether it's a classic frankfurter in a bun or something more elaborate with various toppings, you can't go wrong with this street food staple.
Duck Wraps: Savoury duck meat wrapped in a thin pancake with cucumber, spring onion and hoisin sauce – a delicious twist on the classic Chinese dish.
Gourmet Mac and Cheese: A classic comfort food dish is given a gourmet twist with options like truffle oil, crispy pancetta or fresh herbs.
French Toast: Perfect for those with a sweet tooth, this delicacy often comes with indulgent toppings such as berries, cream or maple syrup.
Doughnuts: Freshly fried and dusted with sugar, these are a delicious treat. Some stalls even fill them with jam or chocolate for extra indulgence. Vegan doughnuts are available.
Bubble Tea: Originating from Taiwan, this fun drink comes with a variety of flavours, from fruity infusions to rich milk teas, complete with chewy tapioca pearls.
All these food options create a gastronomic adventure that complements the festive atmosphere of Winter Wonderland.
Rides and Attractions
Christmas Market: Here in Hyde Park, stroll through a veritable winter wonderland as you explore over 100 traditional wooden chalets. They're chock-full of unique gifts, traditional Christmas decorations, and culinary delights ready to whisk you away into the spirit of the season.
Bavarian Village: Experience a slice of German tradition in the heart of London, complete with cosy chalets, outdoor seating, bars, cafes, and restaurants. Feel the hearty cheer of the season as you sample Bavarian brews and traditional German eats.
Arctic Lodge: Providing a taste of the Alaskan frontier, the Arctic Lodge is all about roaring fires, cosy seating and the chance to unwind and warm up from the winter chill.
Aeronaut Starflyer: At a towering 80 metres, the Aeronaut Starflyer delivers a dream of flight, offering an adrenaline-pumping ascent that rewards with a bird's-eye view of Hyde Park.
Après Ski Funhouse: Enter a ski-themed multi-level walk-through that transports you to the alpine mountains with steep moving steps, wobbly floors, and a unique double slide.
Bar Ice: Step inside the coolest bar at Winter Wonderland, where you can enjoy 80's après-ski themes, fun cocktails and an atmosphere brimming with icicles and frosty designs.
Canadian Mountain Funhouse: As the largest mobile funhouse in the world, this attraction features five floors and over 70 tricks across various themed rooms, including a courtroom and an aqua trail.
Christmas Circus: Christmas Circus comes back with a team of world-class talents, bringing aerial and acrobatic magic that will leave you stunned.
Christmas Parties: Winter Wonderland understands the challenges of organising large groups, which is why they've curated two packages that encompass all the best features of the festival to suit every preference.
Christmas Tree Ride: It wouldn't be Christmas without a go on this festive family ride located in the heart of Santaland, offering fun for all ages.
Cirque Berserk: This performance is a fast-paced, high-energy smorgasbord of thrills, spills and adrenaline-fuelled circus stunts that are bound to keep you on the edge of your seat.
Discovery: The UK's only ride of its kind, it's a thrill ride that rotates 360 degrees on a twin axis while flipping through the air.
Dragons Nest: Hop on a tower ride and embark on a journey high above Hyde Park, soaring through the sky.
Eurocoaster: As one of Hyde Park Winter Wonderland's longest-standing rides, the Euro Coaster is perfect for any thrill-seekers with its 370-metre-long track.
Flying Jumbos: A charming ride for the family, these flying elephants are sure to bring joy and laughter.
Giant Wheel: Experience London's epic skyline from an awe-inspiring vantage point, transported 70 metres high in the tallest transportable wheel in the world.
Haunted Mansion: Get ready for a chilling experience in the Haunted Mansion, where the festive spirit meets a spooky adventure.
Helter Skelter: See Hyde Park from all angles as you spiral down this traditional fairground lighthouse slide.
Ice Mountain: Take a ride through a mountain cavern, meet resident penguins and polar bears, and experience the dazzle of the northern lights on this indoor spinning roller coaster.
Ice Rink: Glide into the festive season on the UK's largest open-air ice rink, set under a picturesque canopy of twinkly lights and built around the iconic Victorian bandstand.
Ice Sculpting Workshops: Unleash your inner artist at the sculpture studio, where you can carve your very own ice sculpture.
Ice Slide: Grab your helmet and rubber ring for a thrilling race down the Ice Slide.
Magical Ice Kingdom: As you step into this frosty world through the Ice Palace's arched doorway, prepare to be amazed by the tonnes of beautifully sculpted ice and snow.
Munich Looping: This popular Oktoberfest ride, the world's largest transportable roller coaster, promises thrills and excitement.
Santaland: In the heart of Winter Wonderland, you'll find Santaland, a magical space filled with kids' rides, festive eateries and the chance to meet Santa.
Santaland Train: Perfect for the little ones, enjoy a scenic journey around the heart of Santaland.
Snow Jet: Embark on a gentle sleigh ride through a beautiful snowscape. But be warned; this sleigh ride kicks it up a notch to become one of the fastest rides at Hyde Park Winter Wonderland.
The Hangover: As the tallest transportable drop tower in the world at 85 metres, this ride offers an unmatched view across London.
The Time Machine: Strap in and prepare to twist, turn and spin on this exciting new steampunk-inspired roller coaster.
Traditional Wave Swinger: Soar to the skies on this beautifully decorated vintage Wave Swinger, designed with traditional patterns from around the world.
Wilde Maus: This wild roller coaster ride is certain to get your adrenaline pumping with a G-force of 2.5, making it an unforgettable Winter Wonderland experience.
XXL: One of Europe's first high G-force pendulum-style rides. It can swing to heights of 47 metres with a claw that rotates at a maximum speed of 15 RPM.
For all the essentials not covered here, including booking tickets, accessibility and discovering the best ways to reach the event, the official Winter Wonderland website serves as an invaluable resource for planning your visit.
Sustainability
Here are a few tips on how we can visit responsibly in London's Winter Wonderland in 2023.
Limiting food waste: Planning your meals and snacks ahead of time can help you avoid impulse purchases and unnecessary food waste at Winter Wonderland. Share food items with your companions to ensure nothing goes to waste, and take any leftovers home, where possible.
Making ethical choices: Winter Wonderland's various vendors and stalls source their products from various places. To support ethical consumption, I recommend looking for stalls selling fair-trade products and those that prioritise sustainable sourcing. Don't shy away from asking stallholders about the origins of their goods – a responsible vendor will be more than happy to share. Additionally, be sure only to purchase what you really need.
Opting for sustainable diets: When choosing your meals, lean towards plant-based options, which tend to have a lower environmental impact. A range of vegan and vegetarian food choices is available at Winter Wonderland, making it easier for you to enjoy delicious fare while contributing less to greenhouse gas emissions.
Choosing sustainable transport: Hyde Park is well-served by London's comprehensive public transport system. Opt for these low-emission alternatives over driving to Winter Wonderland. Consider walking or cycling if you live nearby, or use the Underground, buses, or trains if you're coming from further afield. Not only will you be reducing your carbon footprint, but you'll also be avoiding the stress of finding a parking spot during this busy festive season.
Bring your own reusable items: I encourage you to carry a water bottle and shopping bags. Many stalls at Winter Wonderland are happy to serve food in your own containers to cut down on single-use packaging.
Dispose of waste responsibly: While at Winter Wonderland, make sure to use the recycling bins provided to dispose of your waste. Ensure that you sort your waste correctly into recyclables and non-recyclables to dispose of and recycle waste materials properly.
Remember, small sustainable choices can make a big difference, especially during a busy event like Winter Wonderland.
FAQ
When is London Hyde Park Winter Wonderland?
The Hyde Park Winter Wonderland starts on 17th November 2023 and runs until the 1st January 2024.
Where is London Hyde Park Winter Wonderland?
The Winter Wonderland is held in Hyde Park, near Hyde Park Corner, which is located in central London, and easily accessible via public transport.

What time does London Hyde Park Winter Wonderland open?
Winter Wonderland opens from 10am to 10pm daily, closed on Christmas Day.
How much does it cost to enter Hyde Park Winter Wonderland?
Entry to the Winter Wonderland varies by ticket type. Off-peak tickets are free, but tickets are still required. Prices vary for standard and peak tickets. Attractions such as ice skating, the Magical Ice Kingdom and the shows and rides have an entrance fee.
Is Hyde Park Winter Wonderland suitable for children?
Absolutely, Hyde Park Winter Wonderland has numerous family-friendly attractions, including Santaland, funfair rides, games and shows that children of all ages can enjoy.
How can I get to Hyde Park Winter Wonderland?
Hyde Park is well-served by London's public transport system. The closest underground stations are Marble Arch, Hyde Park Corner, Green Park and Knightsbridge, all within a short distance of the event.
Visiting Winter Wonderland 2023 in Hyde Park makes for a special experience in London during winter. It combines the charm of a traditional Christmas market with modern rides and attractions in a unique and exciting way.
If you would like to leave a review of Winter Wonderland London, comment below.
—
Recommendations are independently chosen based on personal travel experiences and extensive research. This post contains affiliate links to hotels and tours in London, United Kingdom. This means I get a small commission from any bookings at no extra cost to you.