Braving the chill of a winter's day in London, you find warmth and cheer at Camden Christmas Market, a significant fixture of London's festive scene.
In this guide, I'll share all the necessary details, such as the market's 2023 dates and opening times.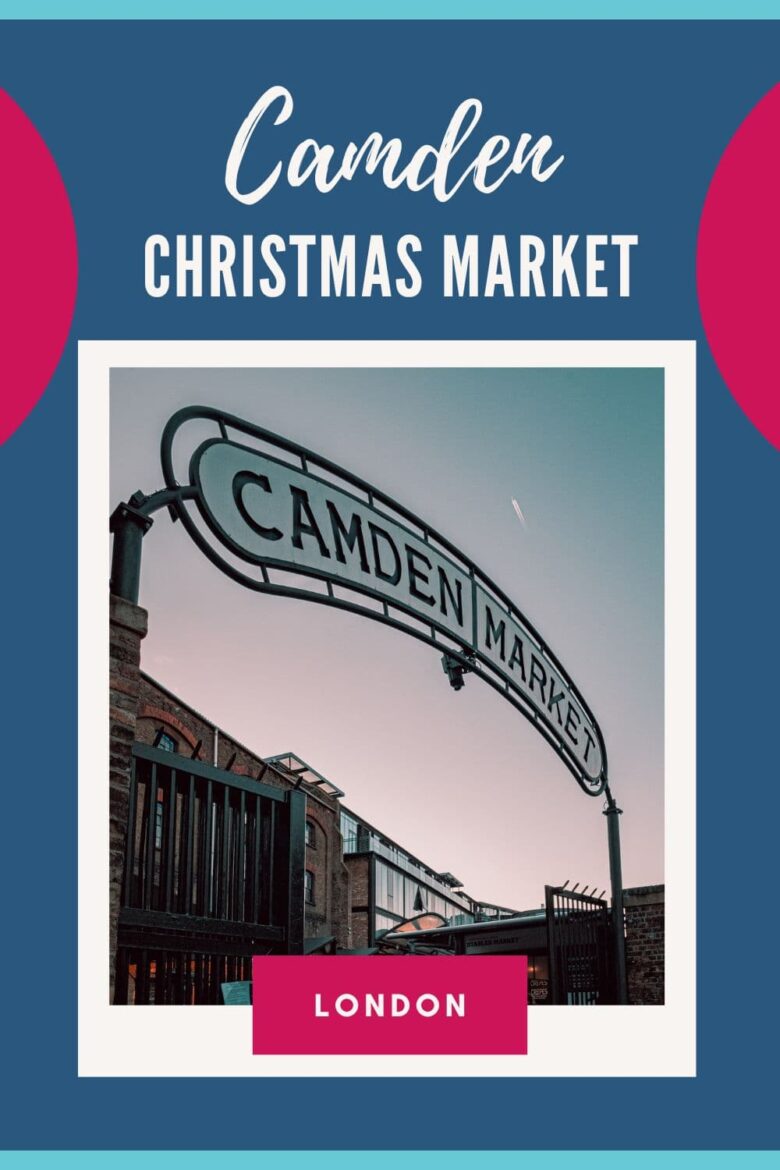 As winter descends upon London, Camden springs to life with a festive energy that's all its own. Amid this cool district's quirky urban charm and eclectic street art, the markets serve as a festive focal point.
Camden Christmas Market 2023
The Christmas market in Camden Town presents a unique blend of London's diverse culture and festive tradition.
You'll find a popular ice rink, Santa's Grotto, snow flurries, Christmas parties, seasonal music and festive street food.
Dates and Location
Camden Christmas Market dates: Likely dates: 16th November to 24th December 2023.
Location: Camden Lock Market and Camden High Street, North London.
Opening times: 10am to 6pm.
Christmas Day: Closed.
Admission: Free, no tickets required.
Santa: Yes, at Santa's Gingerbread Grotto.
Ice skating: Yes, North London's longest ice rink is at Camden Christmas Market.
Vegetarian: Yes, plenty of options.
Vegan: Yes, plenty of options.
Gluten-free: Yes, but limited.
Accessible: Yes.
Pet-friendly: No.
Parking: Please take public transport to help limit congestion.
Reason to visit: Santa's Grotto, lengthy ice rink, unique vegan options, fusion cuisine and eclectic gifts.
Specialities: Locally made doughnuts, vegan sushi, traditional British pies, Vegan Diner's plant-based bites, Camden Grocer's local cheeses, Baba G's Indian fusion, Kuku Riku's mulled wine.
Where to stay: Camden Enterprise Hotel is a popular hotel, 3-minutes minutes from Camden Market.
Location of Camden Christmas Market
Christmas in Camden
The following video gives you a taste of the festive atmosphere at Camden Town Christmas Market.
Food at the Christmas Market
Vegan Diner: As a standout stall, you'll discover an array of plant-based treats that delight both vegans and non-vegans. It presents a variety of meals, from juicy, vegan burgers to fresh, vibrant salads, proving that vegan food at Christmas can be just as indulgent.
Camden Grocer: When exploring this Christmas market, you can anticipate the Camden Grocer's stall to present you with a selection of premium British artisan foods. They allow you to relish high-quality, locally sourced cheeses, charcuterie and chutneys, perfect for festive feasting.
Baba G's: Distinguished for its Indian-inspired street food, Baba G's combines British favourites with a Bhangra beat. You'll get to savour the spicy, fragrant flavours of their iconic tikka masala fries or their famous Paneer Saag burger, adding a hint of exotic warmth to your winter visit.
Kuku Riku: For those who appreciate a glass of traditional mulled wine during the festive period, a visit to Kuku Riku's stall is in order. They serve their version of this warming drink, full of rich, spiced flavours that perfectly encapsulate the essence of Christmas.
The Cheese Bar: Specialising in British cheese, their offerings range from classic grilled cheese sandwiches to cheese-loaded macaroni. Perfect for those looking for a comforting, decadent snack in the chilly winter air.
Pamban Chai and Coffee: As an alternative to the usual Christmas beverages, this stall offers you a chance to enjoy traditional chai or well-crafted coffee blends. Their warming, subtly spiced chai can provide a soothing break from the festive hustle and bustle.
To help you plan a festive trip around London's vibrant Christmas markets, I've put together a guide to London Christmas Market 2023.

Alternatively, check out our list of best Christmas markets UK that are worth visiting in 2023.
What to Buy in Camden
Vintage Clothing: Camden is well known for its unique and eclectic fashion scene, and this doesn't stop at the Christmas market. Stalls laden with one-of-a-kind vintage items, from elegant Victorian pieces to retro 80s attire, provide a treasure trove for the fashion-conscious or those seeking a unique gift.
Handmade Jewellery: Camden's Christmas market is a hub for artisans showcasing their work. Among these are jewellers who craft unique pieces using a variety of materials. Expect to find necklaces, bracelets, rings and earrings displaying their creators' personal touch and skill.
Local Art: Camden is a cultural hotspot teeming with creative energy. The Christmas market embraces this spirit, with stalls featuring artwork from local artists. Prints, paintings, and sketches make thoughtful gifts or additions to your art collection.
Craft Beer and Spirits: With numerous independent breweries and distilleries in the area, you can find a wide selection of locally produced beverages. You might come across a rare craft beer, a bottle of small-batch gin, or even a festive spiced rum – perfect for creating your own mulled beverages at home.
Vegan Leather Goods: Several stalls at the market feature high-quality vegan leather goods.
Gourmet Chocolates: The market also provides a paradise for the sweet-toothed, with stalls dedicated to luxury chocolates. These range from single-origin bars to intricately decorated truffles, often using locally sourced ingredients and showcasing the creativity of the chocolatier.
Antique Books: For the bibliophiles, Camden Market provides a treat with its antique book stalls. Here, you can find rare and vintage books spanning a variety of genres. These make a distinctive and personal gift, particularly if you discover a title that has a special meaning for the recipient.
Vegan Skincare Products: Reflecting the market's emphasis on inclusivity and diversity, there are numerous stalls selling vegan and cruelty-free skincare products. These products, which range from moisturisers to bath bombs, are typically handmade and packed with natural ingredients. They make ideal gifts for those who appreciate a mindful, eco-friendly approach to beauty.
For more information and an updated list of traders, visit the Camden Markets website.
Sustainable Christmas Tips
Here are a few tips on how we can travel more responsibly in Camden this Christmas.
Mindful Food Consumption: When visiting the food stalls at Camden Market, you'll find it easy to reduce food waste by ordering only what you can eat. Plan your meals accordingly, and share portions with your companions when possible. Many stalls, including the Vegan Diner, serve generous and suitable dishes for sharing, making this a feasible option.
Eco-Friendly Travel: As Camden is well-serviced by public transportation, you can help minimise your carbon footprint by using the London Underground or buses to reach the market. Camden Town station on the Northern Line is just a short walk away, and numerous bus routes stop nearby.
Supporting Local Traders: At stalls like the Camden Grocer, you can engage in ethical consumption by buying local produce. By doing so, you'll be supporting local farmers and reducing the carbon emissions associated with long-distance food transport.
Sustainable Dining: Opt for sustainable dining options available at the market. Eateries like the Vegan Diner offer plant-based foods, the production of which generally uses fewer resources than meat and dairy. By choosing a vegan or vegetarian meal, even just once, you're making a more sustainable diet choice.
Responsible Shopping: Choose quality over quantity when buying gifts. The Christmas market in Camden provides a selection of high-quality, artisan-made products that can last for years, reducing the need for replacement and reducing waste.
FAQ
When is Camden Christmas Market?
Camden Christmas Market starts from 16th November to 24th December 2023. Camden Market is open every day of the year except Christmas Day.
Where is Camden Christmas Market?
Camden Christmas Market is held in Camden Town, located in North London. The market takes place along Camden High Street and the surrounding area, including the famous Camden Lock.
What time does Camden Christmas Market open?
Camden Christmas Market opens its stalls around 10am to 6pm with some traders closing later.

Are there any vegetarian or vegan food options at Camden Christmas Market?
Absolutely! Camden has a diverse food scene, and this extends to the Christmas market. You'll find a range of plant-based and vegetarian dishes among the stalls, from hearty soups to deliciously sweet treats.
Camden in winter provides a unique blend of vibrant market buzz and tranquil canal-side walks. As you visit, be sure to take in the eclectic mix of local crafts, street food, and music performances. Despite the chilly weather, the warmth of Camden's spirit is bound to leave you with a sense of community.
If you want to leave a Camden Xmas Market review, comment below.
—
Recommendations are independently chosen based on personal travel experiences and extensive research. This post contains affiliate links to hotels and tours in Camden Town, London. This means I get a small commission from any bookings at no extra cost to you.