Hyde Park Winter Wonderland is one of London's most visited seasonal attractions, drawing in both tourists and locals with its wide array of food stalls, shopping opportunities, and festive activities.
Located in the heart of London near Hyde Park Corner, this Christmas event is easily accessible and offers a seasonal experience that aligns with the city's cosmopolitan charm.
In this guide, I recommend the best hotels near Hyde Park Winter Wonderland, prioritising quality and proximity.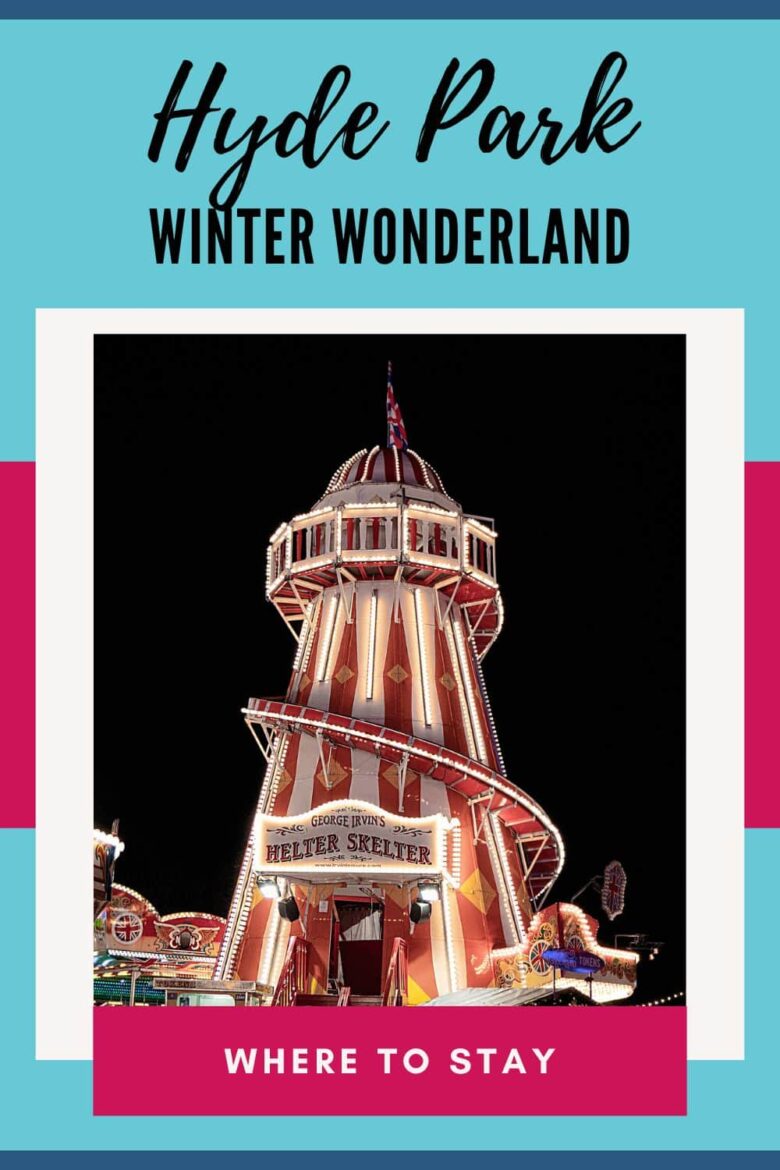 Hotels Near Hyde Park Winter Wonderland
For close proximity to Hyde Park Winter Wonderland in London, consider staying in the area between Harrods and Mayfair. These upscale neighbourhoods offer a refined London experience and minimise travel time to the event.
If you're on a tighter budget, more economical choices are available on the opposite side of Hyde Park, near Lancaster Gate, Paddington or Bayswater.
Top Pick
NOX Kensington Gardens
Address: 43 Queensborough Terrace, London
Neighbourhood: Bayswater
Distance to the Christmas market: 35-minute walk (2.5 km)
NOX Kensington Gardens is located near key amenities, including the two tube stations: Queensway and Bayswater. The property offers clean, modern rooms equipped with handy kitchenettes, air conditioning, and excellent shower facilities. Staff at the 24-hour reception are known for their friendly and helpful demeanour. The hotel is excellent value for money in central London.
Features:
Distinctive decor and design.
Stylish rooms with ample natural light.
Good selection for breakfast.
Great location near Hyde Park, Kensington Gardens.
Sustainability:
Most food at the hotel is locally sourced.
They avoid using single-use plastics.
Pros: Excellent location near Hyde Park well-equipped, clean rooms; convenient public transport access.
Cons: Basic amenities.
Check Availability
I will also recommend a few other hotels near Winter Wonderland London that vary in location, style, and amenities.
These selections aim to provide options that suit different preferences, be it budget constraints or eco-friendliness.
Hotels near Winter Wonderland London
The Resident Victoria
Address: 10 Palace Place, London, United Kingdom.
Neighbourhood: Westminster
Distance to the Christmas market: 15-minute walk (1.2 km)
The Resident Victoria is in central London near Buckingham Palace, within walking distance of major attractions and a variety of dining options, including a nearby supermarket for those preferring to eat in. The hotel features clean, quiet rooms with small kitchen facilities, modern bathrooms, and tea/coffee amenities. The staff are noted for their friendliness and attentiveness, and the hotel is making significant efforts towards sustainability tailored to its size and location.
Boutique Hotel
1 Hotel Mayfair
Address: 3 Berkeley Street, London, United Kingdom
Neighbourhood: Mayfair
Distance to the Christmas market: 12-minute walk (800 metres)
1 Hotel Mayfair enjoys an excellent location near the Hyde Park Corner. It has garnered positive feedback for its comfortable rooms, cleanliness, and exceptionally attentive staff. This boutique hotel also sets itself apart by using 100% renewable electricity throughout the premises. Guests frequently commend the hotel's holistic approach to hospitality.
Budget Hotel
1 Craven Hill Gardens
Address: 1 Craven Hill Gardens, London, United Kingdom.
Neighbourhood: Bayswater
Distance to the Christmas market: 30-minute walk (2.3 km)
1 Craven Hill Gardens is well-located, offering easy access to various modes of public transport as well as being within walking distance of Kensington Park and other attractions in central London. The hotel provides good value, featuring spacious bathrooms and well-equipped kitchenettes for basic cooking needs. Guests highlight the quiet road it's situated on, the friendly staff, and the clarity of the hotel's policies.
Sustainable Hotel
The Cavendish London
Address: 81 Jermyn Street, London, United Kingdom
Neighbourhood: St. James's
Distance to the Christmas market: 17-minute walk (1.1 km)
The Cavendish London excels in location, making it ideal for exploring central London and the nearby Winter Wonderland. The hotel runs on 100% renewable electricity and strongly emphasises both cleanliness and excellent service. Staff, especially at the concierge desk, are noted for their professionalism and helpfulness. The room amenities are comfortable and well-appointed, making it a convenient base close to Soho, theatres, and key transport links like Piccadilly Station.
Luxury Hotel
Buckingham & Lloyds
Address: 35 Hyde Park Gate, London, United Kingdom
Neighbourhood: South Kensington
Distance to the Christmas market: 34-minute walk (2.5 km)
Buckingham & Lloyds sets a high standard with its location opposite Hyde Park, perfect for those visiting Winter Wonderland and its Christmas market. The serviced apartment feature provides daily cleaning and the freedom to cook, setting it apart from regular hotel experiences. Staff are highly commended for their attentiveness and quick response to queries. While the hotel is well-equipped and tastefully decorated, it also focuses on exceptional customer service.
Flemings Mayfair
Address: Half Moon Street, London, United Kingdom
Neighbourhood: Mayfair
Distance to the Christmas market: 9-minute walk (640 metres)
Flemings Mayfair is strategically located just off Piccadilly, providing easy access to Mayfair and other prime areas like Oxford Street and Hyde Park. The rooms may not be expansive, but they are well-equipped, contributing to a pleasant stay. The staff are notably friendly and attentive, often going the extra mile for special occasions. Breakfast at the hotel is a highlight, featuring a varied buffet and tasty menu items like French toast.
Apartment Stay
South Kensington Apartment
Address: Flat 2, 19 Cromwell Road, London, United Kingdom
Neighbourhood: South Kensington
Distance to the Christmas market: 30-minute walk (2.4 km)
This South Kensington apartment enjoys an ideal location near museums, restaurants, and convenient tube access. The apartment is clean, comfortable, and recently refurbished, featuring spacious rooms and comfy beds. The well-equipped kitchen with a coffee machine and breakfast items allows for easy meal preparation. Additionally, the owner is accommodating, providing flexible arrangements for early check-in and post-checkout luggage storage. It's a great option if you want more space and privacy than you'd find at a hotel.
You'll find essential information like opening times, dates, and how to get tickets, in my Hyde Park Winter Wonderland guide.

For those keen to explore more of the festive season across the country, my Best Christmas Markets UK guide is your go-to resource for planning visits or an itinerary.
Sustainable Travel Tips
Here are some tips on how you can travel more responsibly in London at Christmas, including opting for a sustainable hotel near Winter Wonderland.
Choose Eco-Friendly Accommodation: Prioritise hotels that rely on 100% renewable energy for your stay near Hyde Park's Winter Wonderland. London has seen a surge in such sustainable hotels that contribute fewer carbon emissions and often have additional green credentials like waste management programmes and water conservation efforts.
Mindful Eating to Reduce Food Waste: Christmas markets and events are renowned for their gastronomic delights, yet this often leads to excessive food waste. Consider sharing portions when you're sampling the mulled wine, roasted chestnuts, or other local specialties in Hyde Park. This not only allows you to taste more but also reduces the amount of food that gets thrown away.
Practise Ethical Consumption: The Christmas market in Hyde Park will tempt you with an array of crafts, foods, and trinkets. Stick to buying items that you will genuinely use or cherish. Many market stalls feature handcrafted or local goods, making it easier for you to support local artisans and limit waste.
Opt for Sustainable Transport Options: The location of Hyde Park provides excellent access to public transport. Opt to use the Underground or bus services instead of hailing a taxi or using a car service. Better yet, if you've chosen accommodation within walking distance, enjoy a brisk winter walk to and from the market. This cuts down on your carbon footprint and lets you take in the seasonal decorations around Hyde Park.
Further Information
For city visitors looking to navigate the local scene, Visit London provides actionable guides on various neighbourhoods and streamlined plans to enrich your trip.
By leveraging these resources, you can confidently explore hidden corners of the city, understand cultural nuances, and maximise your time for a well-rounded experience.
If you have questions or want to leave a hotel review, please do so in the comments.
—
Recommendations are independently chosen based on personal travel experiences and extensive research. This post contains affiliate links to hotels in Hyde Park, London. This means I get a small commission from any bookings at no extra cost to you.