Bucharest, Romania's vibrant capital, combines rich history with modern charm, attracting visitors with its beautiful architecture and diverse cultural scene.
One of the city's annual highlights is the Bucharest Christmas Market, where traditions come alive against the backdrop of grand buildings.
In this article, I'll provide you with essential details such as the 2023 dates, opening times, locations, and local specialties to look out for.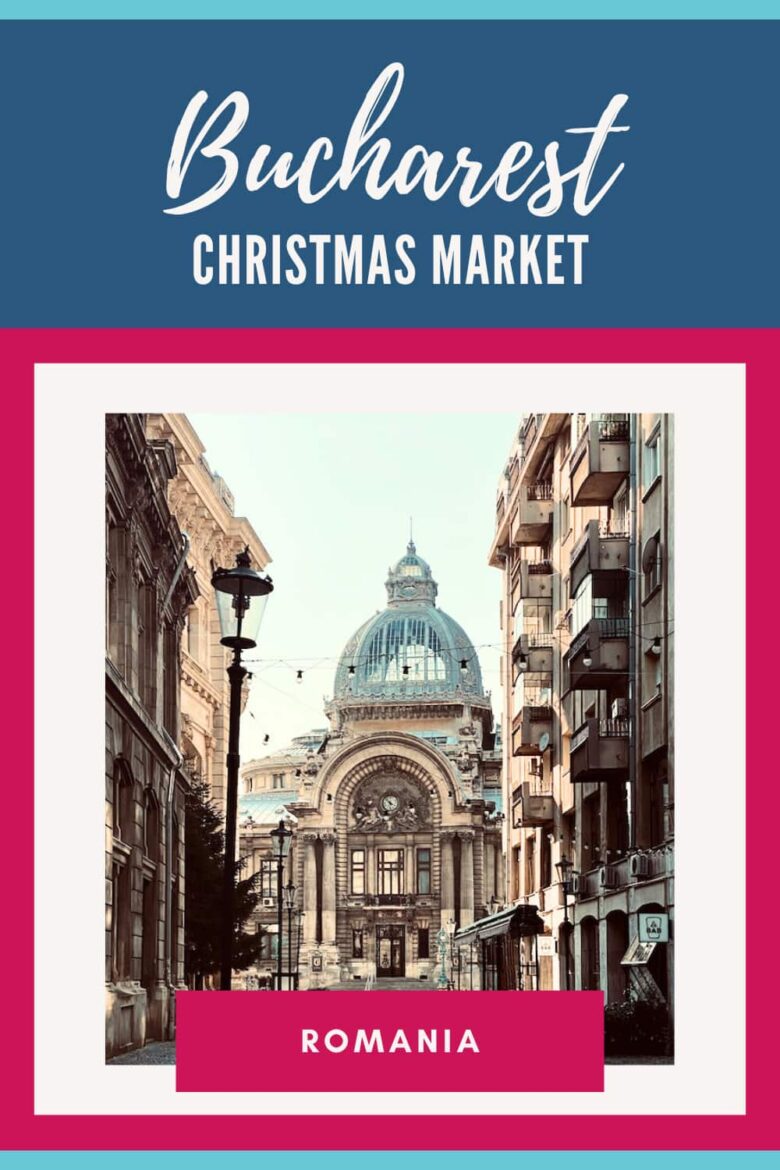 Christmas in Bucharest brings a mix of traditional and contemporary celebrations to the city.
Streets are adorned with lights and decorations, while various events and performances take place to mark the holiday period.
Bucharest Christmas Market 2023
The Christmas market in Bucharest returns to Constitution Square, where around 70 wooden chalets showcase winter holiday gifts and traditional souvenirs.
These chalets are complemented by food stalls featuring traditional Romanian cuisine.
Adding excitement to your experience, the market provides a variety of entertainment options, from a Ferris wheel and carousel to artistic performances.
As you wander, you'll come across themed areas and games, including a space especially for children featuring Santa's House.
A particularly popular attraction is the ice rink, which entertains and offers an excellent viewpoint to admire the market's imposing Christmas tree.
Dates and Location
Bucharest Christmas Market dates: Likely dates: 19th November to 26th December 2023.
Location: Constitution Square – Piața Constituției.
Opening times: Monday to Friday: 12pm to 11pm. Saturday and Sunday: 10am to 11pm.
Christmas Day: Open.
Admission: Free.
Christmas lights: No switch on date.
Santa: Yes, at Santa's House.
Ice skating: Yes.
Vegetarian: Yes, plenty of options.
Vegan: Yes, plenty of options.
Gluten-free: Yes, but limited.
Accessible: Yes.
Pet-friendly: Yes, but not recommended during busy periods.
Parking: Please take public transport to help limit congestion.
Reason to visit: Grand Christmas tree, interesting stalls, uniquely Romanian festivity, brilliant location in front of the Romanian Parliament.
Recommended tour: This very highly rated city walking tour.
Specialities: Cornmeal porridge, sponge cake, grilled sausages, plum brandy, Transylvanian chimney cake, mulled Romanian wine, sweet pastries.
Where to stay: La Boheme is a highly-rated hotel, 5 minutes from Constitution Square.
Hotels near Bucharest Christmas Market
Staying in the Centru Civic area provides convenient access to Constitution Square, where the Christmas market is located. This central location also allows easy navigation to other key sites in Bucharest.
For where to stay, I recommend La Boheme, a popular hotel situated close to the market, known for its excellent service and location.
Location of Bucharest Christmas Market
Recommended Walking and Food Tours
Exploring Bucharest through a city tour allows you to engage with its diverse history and multifaceted culture.
This beautiful city, with its contrasting architecture and historical landmarks, is appealing to visit even during winter.
I recommend this city highlights walking tour for a solid introduction to Bucharest's key attractions, including the old court citadel, Cismigiu Gardens, and Ceausescu Palace, all while accompanied by a knowledgeable local guide.
As an alternative, this Bohemian food and markets tour provides an enriching experience focusing on the historical, architectural, and culinary aspects of Bucharest.
Food tours like this one are gaining in popularity, and it's an excellent opportunity to learn about the local culture through its diverse cuisine.
For a thorough understanding of Romania's Christmas markets, including their unique traditions and specialities, check out my guide on the best ones to visit in the country.
Christmas in Bucharest
The video provides a detailed look at the Bucharest Christmas Market, covering everything from the wooden chalets to the entertainment options. You'll see the variety of stalls, traditional Romanian foods, and the many activities that make the market a popular winter event.
Christmas Specialties in Bucharest
Mici: If you're on the hunt for a truly Romanian snack, mici should be your first port of call at the Bucharest Christmas Market. These are small, skinless sausages usually made from a mix of pork, beef, and lamb. The recipe may also include spices such as garlic, black pepper, and thyme. They're typically grilled and served with a mustard dollop or a crusty bread slice.
Cozonac: Another Romanian classic, cozonac is a sweet loaf traditionally enjoyed during holidays. It's made with a rich dough that includes ingredients like milk, butter, and eggs and is often filled with a mixture of cocoa, walnuts, and sugar. You can find it at many stalls, either as whole loaves or as slices to enjoy on the go.
Sarmale: A comforting staple in Romanian cuisine, sarmale are cabbage rolls filled with minced pork, rice, and various spices. These rolls are slow-cooked in tomato sauce and usually served warm, often accompanied by a spoonful of sour cream. While commonly consumed during big family gatherings, they're also available at the market to warm you up on cold evenings.
Mulled Wine Mulled wine is an international favourite you can find at most Christmas markets, including Bucharest. It consists of red wine combined with various spices like cinnamon, cloves, and star anise and is served hot. Perfect for keeping your hands warm as you explore the market, it's a go-to for many visitors.
Pretzels Available in a variety of forms and flavours, the pretzel is another popular snack you'll encounter. Though not specifically Romanian, its universal appeal makes it a regular feature in the market. Whether dusted with coarse salt or filled with sweet or savoury ingredients, a pretzel offers quick, easy sustenance as you navigate the festive chaos.
Turkish Delight Known locally as rahat, Turkish Delight has found a home in Romanian culture. You'll find it in an array of flavours and colours, often coated with powdered sugar or shredded coconut. While it's available year-round in many Romanian shops, the Christmas market selection often includes special holiday-themed flavours.
Gingerbread A Christmas market wouldn't be complete without gingerbread, and Bucharest's market is no exception. Stalls showcase intricately decorated gingerbread cookies, often in shapes like stars, hearts, or holiday figures. While they make excellent gifts, they're also perfect for satisfying your sweet tooth right then and there.
Hot Chocolate For those not inclined towards mulled wine, hot chocolate stands as a comforting alternative. Thick, creamy, and rich, it's often served with a dollop of whipped cream on top. Ideal for children or anyone looking for a non-alcoholic warm beverage, hot chocolate is readily available at various stalls.
Roasted Chestnuts Roasted on open fires, chestnuts provide not just a tasty snack but also a bit of warmth on cold nights. These are often sold in paper cones, making them easy to carry around as you explore. The nutty aroma and rich flavour make them a popular choice among market-goers.
Popcorn Last but not least, popcorn makes for a quick and convenient snack while you're wandering around the market. While not particularly Romanian or Christmas-specific, its lightness and ease of eating make it a constant presence. You can usually find it freshly popped and available in both sweet and salty varieties.
Christmas Gifts and Stocking Fillers
Romanian Ceramics Known for their intricacy and craftsmanship, Romanian ceramics make for a unique gift. From bowls and plates to mugs and vases, these pieces are usually hand-painted in traditional patterns that reflect the country's folklore. If you're looking for a piece of Romanian culture to take home, a ceramic item would serve as both a functional and beautiful memento.
Handwoven Textiles Romania has a long tradition of weaving, and the Christmas market in Bucharest features stalls selling an array of handwoven textiles. You'll find tablecloths, blankets, and scarves crafted in various regions of the country, each with its own unique patterns and colour schemes. Not only do these textiles look stunning, but they're also imbued with cultural significance.
Traditional Costumes You can buy authentic Romanian clothing, including beautifully embroidered blouses known as "ie" and leather vests known as "cojoc." These items showcase the country's rich textile traditions, making them an ideal gift for anyone interested in fashion or folklore. As these are handcrafted, each piece is a unique work of art, adding extra value to your purchase.
Wooden Toys For the younger ones, or those young at heart, wooden toys make an excellent choice. Often handmade, these toys range from simple puzzles and cars to more complex items like wooden soldiers and miniature furniture sets. These toys not only offer hours of imaginative play but also serve as charming keepsakes.
Carved Wooden Utensils Another distinct category of wooden items includes utensils like spoons, bowls, and cutting boards. Usually carved from local wood, these utensils often feature intricate designs and motifs. While they're practical kitchen items, their artistry makes them equally suitable as display pieces in your home.
Painted Easter Eggs Though Easter might be months away, these hand-painted eggs are popular all year round. Crafted and painted by skilled artists, each egg is a mini canvas adorned with intricate designs, often inspired by Romanian myths and legends. They make for an unusual but fascinating collectible or gift.
Local Artwork If you have a taste for the arts, keep an eye out for stalls selling local artwork. Prints, paintings, and sculptures often depict Romanian landscapes, traditional stories, or abstract themes. Not only do these pieces bring a splash of creativity into any home, but they also offer a different perspective on Romanian culture and tradition.
Candles Last but not least, candles are a staple at most Christmas markets, and Bucharest is no exception. Often available in an array of shapes, sizes, and scents, these candles can fit any holiday theme. Some might even come in unique moulds like traditional Romanian figures or symbols, adding an extra layer of authenticity to your purchase.
Bucharest Tourism is a useful resource for visitors planning a trip to Romania. They have a helpful section on visiting Bucharest.
Sustainable Christmas Tips
Here are a few tips on how we can travel more responsibly in Bucharest at Christmas.
Eco-Friendly Accommodation: In Bucharest, you'll find hotels committed to sustainability powered by renewable energy like solar or wind. These establishments often go the extra mile by offering amenities like refillable water stations, encouraging guests to reduce plastic waste. You can easily identify these hotels by looking for eco-certification labels when you book your stay. Opting for such accommodations is a positive step towards a more sustainable visit.
Mindful Eating at Markets: When enjoying the festive flavours at Bucharest's Christmas stalls, be mindful of food waste. Several stalls serve smaller portions upon request, allowing you to taste various dishes without wasting food. Also, consider bringing your own reusable utensils and containers for takeaway, as this can help cut down on single-use plastic waste.
Ethical Consumption The Christmas market and local shops offer an array of beautiful crafts and products. While it's tempting to buy multiple items, consider the practicality and necessity of each purchase. Choose gifts and souvenirs that you genuinely need or will be useful to someone else. This approach helps to support the local economy in a more sustainable manner.
Sustainable Diets Romania is known for its organic, locally sourced produce, often found at the Christmas market. By choosing to eat local foods, you're enjoying fresher, tastier meals, supporting local farmers, and reducing your carbon footprint. Foods like mici (Romanian sausages) or cozonac (sweet bread) are usually made with local ingredients and are more sustainable than imported goods.
Sustainable Transport Getting around Bucharest doesn't require relying solely on taxis or rented cars. The city has an extensive public transport system that includes buses, trams, and the Metro. During the holiday season, you can also find special holiday-themed trams. By opting for these modes of transport, you reduce your carbon emissions and get to experience the city like a local.
FAQ
When is Bucharest Christmas Market?
Bucharest Christmas Market dates are from 19th November to 26th December 2023.
Where is Bucharest Christmas Market?
Bucharest Christmas Market is held in Constitution Square – Piața Constituției, situated in the city centre, opposite the stunning Romanian Parliament building.
What time does Bucharest Christmas Market open?
The Bucharest Christmas Market is open Monday to Friday: 12pm to 11pm. Saturday and Sunday: 10am to 11pm.
What is the weather like in Bucharest in winter?
Winter in Bucharest can be cold, with temperatures often dropping below freezing. Snow is common, so come prepared with warm clothing.
Is Bucharest busy during Christmas?
Yes, Bucharest can be quite busy during the holidays and New Year. The Christmas market is a popular attraction for both locals and tourists, and the city centre can get crowded.
Is it safe to travel to Bucharest in winter?
Yes, it is safe to travel to Bucharest in winter. However, as with any city, it's important to be aware of your surroundings and follow common safety practices, such as not leaving belongings unattended.
If you would like to leave a review of Bucharest Xmas Market, comment below.
—
Recommendations are independently chosen based on personal travel experiences and extensive research. This post contains affiliate links to hotels and tours in Bucharest, Romania. This means I get a small commission from any bookings at no extra cost to you.