Quebec City becomes a winter wonderland at Christmas, drawing visitors with its historical charm and natural beauty.
Known for its cobbled streets, French-Canadian culture, and the iconic Chateau Frontenac, the city also hosts the German-style Quebec Christmas Market that enriches the holiday spirit.
In this article, I'll provide all essential information, including confirmed 2023 dates, opening times, locations, and local specialties you'll find in Quebec City.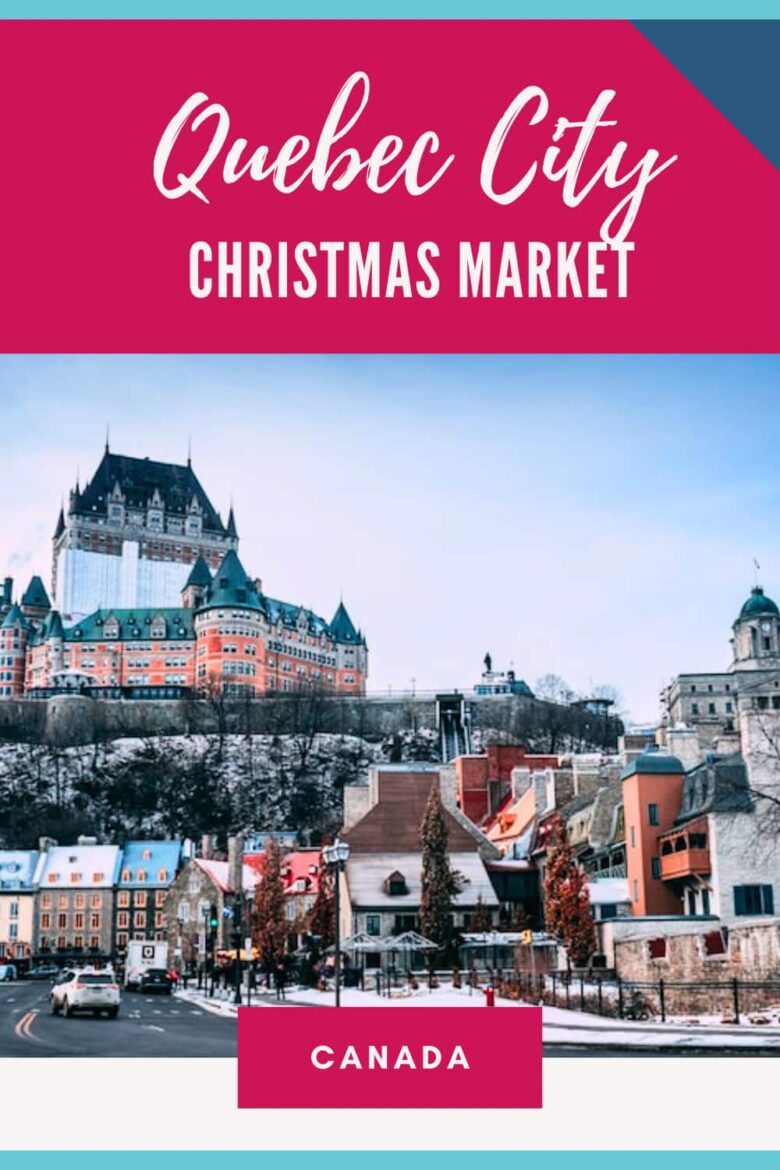 Quebec City becomes exceptionally vibrant in winter, attracting visitors with its snow-covered landscapes and French-Canadian traditions.
Outdoor activities like ice skating and skiing are prevalent, while indoors, many gather for holiday meals featuring local cuisine.
Quebec Christmas Market 2023
In the heart of Old Québec, the German Christmas Market provides a festive atmosphere influenced by European traditions.
The market features more than 90 exhibitors in wooden kiosks, where you can find a wide range of products from Quebec as well as German and European specialties.
Among the items for sale are local artisan crafts, traditional German cakes, and various delicacies like bratwurst and mulled wine.
The market also encourages sustainability by inviting visitors to bring their own reusable containers and cups.
The market includes a puppet theatre at the Theaterplatz for family entertainment, adding another layer of enjoyment for visitors.
In Quebec, you'll find the German Christmas Market and the Grand Christmas Market. Full details for both are below.
Dates and Location
Quebec City Christmas Market dates: Thursday to Sunday from 23rd November to 23rd December 2023.
Locations: Jardins de l'Hôtel-de-Ville, on the Dufferin Terrace (near the Samuel de Champlain monument), on Sainte-Anne Street, at Place d'Armes and at Place d'Youville.
Opening times: Thursday to Saturday: 11am to 9pm. Sunday: 11am to 6pm.
Christmas Day: Closed.
Admission: Free.
Christmas lights: Yes, switch on date: 23rd November.
Santa: No.
Ice skating: Yes, at Place D'Youville.
Vegetarian: Yes, plenty of options.
Vegan: Yes, plenty of options.
Gluten-free: Yes, but limited.
Accessible: Yes.
Pet-friendly: Yes, but not recommended during busy periods such as weekends.
Parking: Please take public transport to help limit congestion.
Reason to visit: European flair in Old Québec; unique puppet theatre; local and German specialties.
Recommended tour: Old Quebec City walking tour.
Specialities: Bratwurst, mulled wine, gingerbread; traditional German cakes; Quebec terroir products; tasty pretzels.
Where to stay: Hotel Clarendon is a popular hotel near the German Christmas Market.
Hotels near Quebec Christmas Market
Staying in Old Quebec puts you in proximity to multiple Christmas market locations, including Jardins de l'Hôtel-de-Ville, Dufferin Terrace, and Place d'Youville. It's a convenient area replete with historic charm, making your trip efficient.
I'd recommend Hotel Clarendon, known for its excellent location close to these festive spots.
For more options on where to stay, read this guide to hotels near Quebec City Christmas Market.
Location of the German Christmas Market
Recommended Walking and Food Tours
A city tour of Quebec City provides an insightful way to explore the city's rich history and diverse culture. The Old Town's charming architecture and significant landmarks make Quebec City an appealing destination in any season.
I'd suggest this city tour as it enables you to discover the key highlights with a knowledgeable local guide, ideal for first-time visitors as well as locals who might find new details to appreciate.
Alternatively, consider participating in a food tour to understand the local culture via its culinary landscape. Food tours are gaining traction, and I highly recommend experiencing one.
For travel outside of Quebec City, this guide lists the best Christmas markets in Canada, detailing their locations, opening times and unique features to enhance your holiday experience.
The Grand Christmas Market
The Le Grand Marché de Québec Christmas Market is a lively seasonal event in Quebec City. You'll encounter 200 food stalls that display 100% local crafts, making it a good spot for one-of-a-kind gifts.
The Grand Christmas Market dates: 24th November to 24th December 2023.
Location: Le Grand Marché de Québec.
Opening times: Monday to Friday: 9am to 6pm. Saturday and Sunday: 9am to 5pm.
Admission: Free.
Christmas in Quebec
The video provides an overview of what Quebec City looks like during the Christmas and New Year's period. You'll see key landmarks and activities that typify the holiday celebrations in the city.
Christmas Specialties in Quebec
Tourtière: A classic Quebecois meat pie, tourtière is made from a blend of minced pork, onions, and spices, all enveloped in a flaky pastry crust. It's a staple at Quebec City's Christmas market and is often enjoyed with a dollop of ketchup or fruit relish. The dish has a long history in Quebec, traditionally served on Christmas Eve.
Bouche de Noël: A traditional Christmas cake rolled into a log shape, bouche de Noël is a must-try. Made from sponge cake and filled with cream, the cake is then covered in chocolate ganache to resemble a log. It's a visual and gastronomic highlight that tends to sell out quickly.
Tire sur la neige: Also known as maple taffy, this treat involves boiling maple sap, pouring it on clean snow, and then rolling it onto a stick. The result is a chewy, sweet lollipop that perfectly encapsulates the flavours of Quebec.
Cider: Apple cider, both alcoholic and non-alcoholic, is commonly found at the market. It's made locally using Quebec apples, providing a tart and refreshing option to wash down all the rich food.
Raclette: This Swiss-origin dish is very popular at international Christmas markets, and you'll find it in Quebec City too. Melted cheese is scraped onto diners' plates, typically served with small firm potatoes, gherkins, pickled onions, etc.
Bratwurst: Though it's German in origin, bratwurst has made its way into the international Christmas market scene. These sausages are usually grilled and served in a sliced bun with mustard or sauerkraut. You'll find plenty of bratwurst options at the German Christmas Market in Quebec.
Mulled Wine: Known as vin chaud in French, this warm, spiced wine is ideal for keeping your hands warm while you explore the market. Cinnamon, cloves, and star anise are some of the spices you might taste.
Gingerbread: A staple in Christmas markets worldwide, gingerbread cookies are often shaped like hearts, stars, or even intricate snowflakes. Though not unique to Quebec, they're a comforting and familiar sight.
Roasted Chestnuts: These are available from vendors who roast them in large pans, filling the air with a nutty aroma. They're sold in paper cones and are a popular snack for those wanting something savoury yet festive.
Hot Chocolate: Made from real cocoa and milk, hot chocolate stands provide a non-alcoholic alternative to mulled wine. Perfect for children or anyone wanting a sweet, warming drink.
Pretzels: Soft, doughy, and sprinkled with coarse salt, pretzels are a versatile market snack. Though they originated in Europe, you'll find these twisted treats at many stalls.
Churros: Though originating from Spain, churros have become an international favourite. These deep-fried dough pastries are often dusted with sugar and can be dipped in chocolate sauce.
Pierogi: These Eastern European dumplings contain various fillings like cheese, potatoes, and meat. While not a traditional Quebecois dish, they offer market-goers a taste of international cuisine. Look out for these at the Grand Christmas Market; it's a market for foodies, after all!
Local Craft Beer: Many stalls offer locally brewed craft beer. It provides a different, yet equally enjoyable, means of experiencing Quebec's artisanal scene.
Sugar Pie: A sweet, rich pie filled with a mixture of cream, flour, and plenty of brown sugar. Though it's a year-round staple in Quebec, it takes on special significance during Christmas.
Christmas Gifts and Stocking Fillers
Hand-knit Woollen Goods: Hand-knit woollen goods are one of the distinctive offerings you can pick up in the German Quebec Christmas Market. Often crafted by local artisans, these range from mittens and hats to more intricate scarves. Made with local wool, they're practical for the Quebec winter and serve as a cozy reminder of your trip.
Maple Syrup Products: Quebec is renowned for its high-quality maple syrup, and you'll find a variety of products featuring this sweet staple. From maple sugar candies to beautifully packaged bottles of syrup, these make an authentic Quebecois gift.
Wooden Toys: Classic in their appeal and craftsmanship, wooden toys are a popular pick from the market. These range from small figurines to more complex items like wooden puzzles or cars. Crafted with care, they are durable and eco-friendly and often feature designs inspired by Canadian wildlife or folklore.
Ornaments: Hand-blown glass ornaments are a festive staple, and the ones in Quebec City often feature iconic Canadian elements like moose or maple leaves. Designed and crafted by local artisans, these ornaments add a special Quebecois flair to any Christmas tree.
Handmade Jewellery: Be it fashioned from local stones or inspired by the Quebecois landscape, the handmade jewellery you'll find is both unique and beautiful. Often made by local artisans, each piece tells its own story.
Specialty Foods: Beyond maple syrup, there are other local specialty foods like preserves, pâtés, and local cheeses. These are often packaged in gift-ready formats and provide a tasty memento from your trip.
Ceramics: Dishes, mugs, and decorative pieces made by local ceramic artists make for practical yet artistic gifts. The designs often incorporate local themes or are simply aesthetically pleasing in a way that evokes the Quebecois style.
Natural Cosmetics: From balms to creams, natural cosmetics feature native herbs and are often organic. These products are skin-friendly and frequently come in eco-friendly packaging, aligning with the region's emphasis on natural living.
Fine Liquors: The market stalls sometimes include locally distilled spirits, from gin infused with Quebecois botanicals to local varieties of whisky. These make for an adult gift that's a cut above the usual wine or beer.
Vintage Items: A few stalls usually offer curated selections of vintage goods, ranging from old books to retro Quebecois homeware. These items stand out for those interested in history or looking for something a little different.
Musical Instruments: Small instruments like handcrafted flutes or tambourines can be found for the musically inclined. These are often made by local craftspeople and provide a different yet meaningful type of souvenir.
Pet Accessories: Yes, even your pets can get a little something from the Christmas market. Handmade pet accessories like knitted pet sweaters or artisanal pet treats are available for your furry friends.
Things to Do in Winter
For a reliable source of information on winter activities and the latest events in Quebec City, I recommend checking out Destination Québec, the city's official website, which features an especially thorough guide to the winter season.
Sustainable Christmas Tips
Here are a few tips on how we can travel more responsibly in Quebec at Christmas.
Opt for Public Transportation or Walking: Quebec City's public transport system is comprehensive and efficient, making it easy to navigate without a car. Additionally, the city is quite walkable, especially the historic districts where the Christmas markets are located. Cutting down on private car usage can greatly reduce your carbon footprint.
Support Local and Ethical Businesses: When shopping at the Christmas markets or around the city, try to support local artisans and producers. Buying locally-made items supports the local economy and reduces the carbon footprint associated with transporting goods.
Reduce Food Waste: Many Quebec City restaurants participate in initiatives to reduce food waste. For instance, the app 'Too Good To Go' connects users with restaurants offering discounted meals at the end of the day to prevent surplus food from going to waste. Try using this service, or be mindful of portion sizes when ordering at restaurants. Also, be mindful of how much you order at the Christmas stalls.
Choose Sustainable Dining Options: Quebec City has a thriving food scene with many restaurants sourcing ingredients locally and focusing on sustainable practices. Look for menus highlighting seasonal and local ingredients, and consider plant-based options to further reduce your environmental impact.
Stay in Eco-Friendly Accommodations: Several accommodations in Quebec City prioritise green practices, from recycling programs to the use of renewable energy. Doing a bit of research before booking can help you find a place that aligns with your commitment to sustainability.
FAQ
When is the Quebec Christmas Market?
The Quebec City Christmas Market dates are Thursday to Sunday from 23rd November to 23rd December 2023. The food-based Grand Christmas Market is open from 24th November to 24th December 2023.
Where is the Quebec Christmas Market?
The Quebec Christmas Market is mainly held in the historic district of Old Quebec, specifically Jardins de l'Hôtel-de-Ville, on the Dufferin Terrace (near the Samuel de Champlain monument), on Sainte-Anne Street, at Place d'Armes and at Place d'Youville.
What time does Quebec Christmas Market open?
The Quebec Christmas Market opens Thursday to Saturday: 11am to 9pm. Sunday: 11am to 6pm.
What is the weather like in Quebec during winter?
Quebec experiences a cold and snowy winter, with temperatures often dropping below freezing. It's best to come prepared with warm clothing, including a heavy coat, gloves, and boots.
Is Quebec City walkable in the winter?
Despite the cold weather and potential snow, Quebec City remains walkable in the winter. Many streets and paths are cleared of snow, but it's a good idea to have sturdy, waterproof boots for comfort and safety.
If you would like to leave a review of Quebec Xmas Market, comment below.
—
Recommendations are independently chosen based on personal travel experiences and extensive research. This post contains affiliate links to hotels and tours in Quebec, Canada. This means I get a small commission from any bookings at no extra cost to you.