Timisoara draws visitors with its rich history and vibrant culture. This city is famous as the birthplace of the 1989 Romanian Revolution, attracting visitors with its picturesque squares, intricate architecture, and the annual Timisoara Christmas Market.
In this guide, I'll provide you with essential information, such as 2023 dates, opening times, locations, and local specialties to make the most of your visit.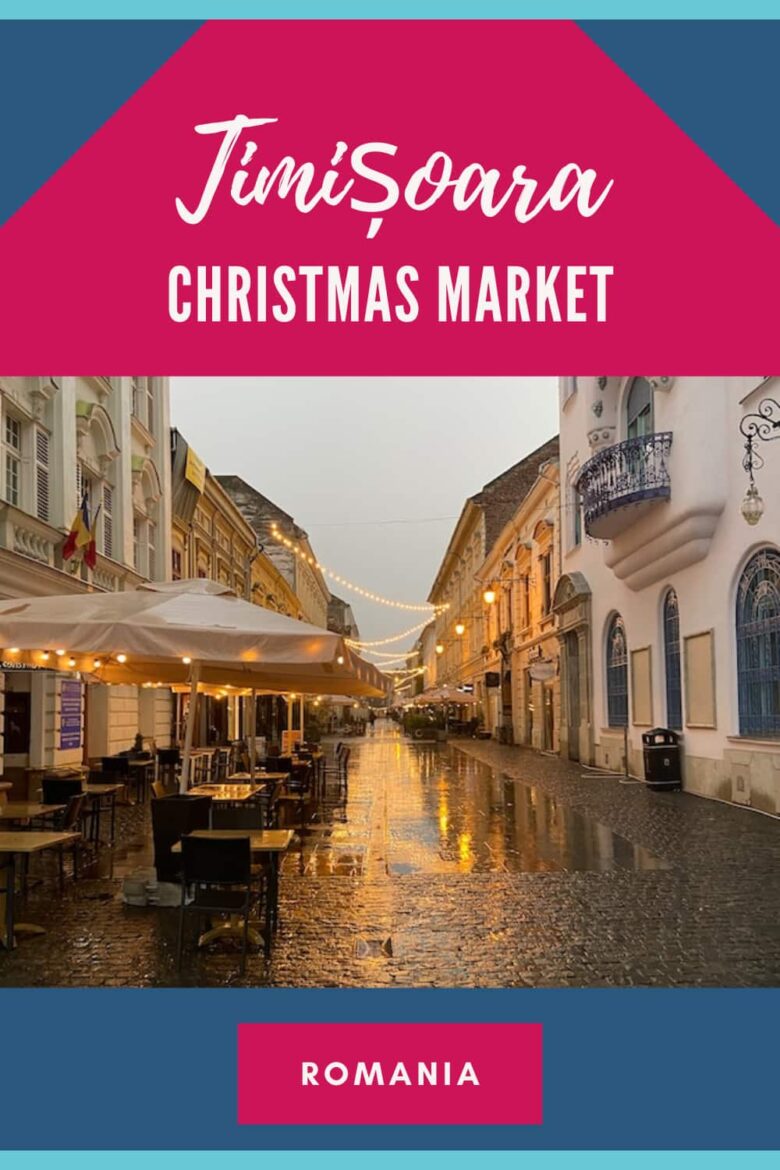 Christmas in Timisoara is marked by the fusion of tradition and modern festivities. The city lights up with intricate decorations, and you'll find both residents and tourists engaging in various holiday activities.
Timisoara Christmas Market 2023
In Timisoara, Victory Square becomes the focal point of the Christmas celebrations, starting on Romania's National Day.
At the opening ceremony, you can attend a concert featuring traditional Romanian music and a contemporary band.
One of the market's distinct features is its 50 custom-designed Christmas stalls, crafted as part of an architectural project to resemble small Romanian houses.
For added fun, the market also includes a skating rink and merry-go-rounds.
If the central square is too crowded or far away, smaller neighbourhood Christmas markets around the city offer a more localised festive experience.
Dates and Location
Timisoara Christmas Market dates: Likely dates: 1st December 2023 to 2nd January 2023.
Location: Victory Square – Piața Victoriei.
Opening times: 11am to 10pm.
Christmas Day: Closed.
Admission: Free.
Christmas lights: Yes, switch on date: 1st December 2023.
Santa: No.
Ice skating: Yes, at Victory Square.
Vegetarian: Yes, plenty of options.
Vegan: Yes, plenty of options.
Gluten-free: Yes, but limited.
Accessible: Yes.
Pet-friendly: Yes, but not recommended during busy periods.
Parking: Please take public transport to help limit congestion.
Reason to visit: Traditional folk music, unique artisan stalls, and a taste of Romanian festive delicacies.
Recommended tour: Classic walking tour of Timisoara.
Specialities: Cozonac, tuica, sarmale, mici, and papanasi – truly Romanian tastes for the festive palate.
Where to stay: Atlas Hotel is a highly-rated hotel, 5-minutes from Victory Square.
Hotels near Timisoara Christmas Market
For proximity to the Christmas market in Victory Square, staying in the central area of Timisoara would be the most convenient.
For a popular hotel option close to the festivities, consider booking a room at Atlas Hotel. This location gives you easy access to the market, as well as to public transport and other city attractions.
Location of Timisoara Christmas Market
Recommended Walking and Food Tours
A city tour in Timisoara serves as an excellent introduction to the city's layered history and its cultural significance in Romania.
This classic walking tour is a comprehensive option that covers key aspects of Timisoara, making it an ideal choice for those new to the city; however, locals might also find it enlightening.
During this tour, you'll explore significant landmarks while learning about milestones in Timisoara's history, from the Mongol invasion to the revolution against communism.
The tour delves into the years of Turkish occupation, touching on historical sites like where the Turkish public bath and Central Mosque used to be.
The Austrian era that commenced in the 18th century reshaped the city entirely, replacing wooden medieval structures with fortified systems, new streets and houses.
Timisoara is a fascinating city, and it's well worth taking a tour to learn about its history.
Christmas in Timisoara
This video provides a glimpse of the Timisoara Christmas Market in all its festive charm. You can observe the market's lively atmosphere, unique stalls, and the city's festive atmosphere.
For an in-depth look at the finest Romanian Christmas markets, you'll find my guide indispensable for planning your holiday visits to Bucharest, Timisoara, and other vibrant cities in Romania.
Christmas Specialties in Timisoara
Mici: A staple at Romanian gatherings, mici are small, skinless sausages typically made of minced meat mixed with spices. You'll find them freshly grilled and often served with a slice of bread or mustard. This popular snack perfectly encapsulates the hearty food culture of Romania and is a go-to choice for many visitors to the Timisoara Christmas Market.
Sarmale: These cabbage rolls are filled with a mixture of rice, minced meat, and spices, then slow-cooked in a tomato-based sauce. They're often served with sour cream and polenta on the side. While sarmale can be found throughout the Balkans and Eastern Europe, the Romanian version you'll encounter at Timisoara's market has a unique flavour profile owing to local herbs and spices.
Cozonac: This traditional Romanian sweet bread is enjoyed particularly around Christmas time. Cozonac is a rich, yeasty bread filled with a swirl of cocoa, walnuts, or poppy seeds. When in Timisoara, make sure to grab a slice or a loaf to go; it's a popular choice for a sweet, seasonal treat.
Mulled Wine: Although it's a drink found at many European Christmas markets, the mulled wine in Timisoara often incorporates a blend of Romanian wines and local spices. Served hot, it's perfect for warming up on a cold winter evening as you stroll through the market stalls.
Zacusca: A vegetable spread primarily made from roasted eggplant and red peppers, you'll find jars of Zacusca available for purchase at the Timisoara market. It's a local favourite, often spread on bread or used as a dip for vegetables. It makes for a great take-home gift or a quick snack during your visit.
Papanasi: This Romanian dessert resembles doughnuts but comes with a twist. Papanasi are fried dough balls filled with soft cheese and topped with sour cream and fruit preserves. They provide a satisfying end to a meal or serve as a standalone treat while you explore the market.
Pretzels: While not uniquely Romanian, pretzels hold a special place in Timisoara due to the city's Austro-Hungarian heritage. The local variants you'll find at the market are often larger and come with a variety of toppings like sesame seeds, poppy seeds, or even cheese.
Hot Chocolate: Though hot chocolate is a common winter drink, the version you'll find at the Timisoara Christmas Market frequently features rich Romanian chocolate. It's often served with a dollop of whipped cream, making it a creamy, indulgent choice for those looking to satisfy their sweet tooth.
Kurtos Kalacs: Known as chimney cakes, these are a Hungarian and Transylvanian specialty that has found its way into Romanian markets. The dough is wrapped around a wooden cylinder and then baked on an open flame. The result is a hollow, cylindrical pastry that's crispy on the outside and soft on the inside, often dusted with sugar or cinnamon.
Bratwurst: Paying homage to the German influence in many Christmas markets, you'll also find stalls selling bratwurst. These sausages are generally made from pork, beef, or veal, and they're often served in a sliced roll with mustard or sauerkraut. It's a nod to the international diversity that's come to characterise the Timisoara Christmas Market.
Cheese Skewers: Dairy farming is prominent in Romania, and this shines through in the variety of cheese products at the market. You might encounter skewers of local cheese, sometimes grilled and seasoned with herbs. These offer a delicious, quick bite for those keen on exploring the country's dairy offerings.
Apple Strudel: Another nod to Austro-Hungarian influence, apple strudel can often be found at the Timisoara Christmas Market. Made with layers of flaky pastry and a filling of tart cooking apples, it's a delightful mix of sweet and sour that pairs well with a hot drink.
Turta Dulce: These are Romanian gingerbread cookies that come in various shapes and sizes. Often intricately decorated, they're not only delicious but also visually appealing. Turta Dulce is particularly popular during Christmas and makes for a lovely snack or souvenir.
Christmas Gifts and Stocking Fillers
Romanian Ceramics: Known for their intricate patterns and vivid colours, traditional Romanian ceramics make for a thoughtful gift. At the Christmas market at Victory Square, you'll find a variety of these items, ranging from decorative plates to practical cookware. Each piece is often handmade and serves as a unique representation of local craftsmanship.
Hand-embroidered Linens: The region has a rich tradition of textile arts, and you'll see that displayed in stalls selling hand-embroidered linens. These can include tablecloths, napkins, and even clothing items like blouses. Often made with fine materials such as linen or cotton, these pieces showcase the intricate Romanian embroidery techniques passed down through generations.
Wooden Toys: Craftsmanship extends to wooden items, too. Vendors at the Timisoara market sell a variety of wooden toys, ranging from classic dolls to more complicated puzzles and games. These toys are usually crafted by local artisans and serve as a nod to a more traditional, non-digital form of play.
Carved Wooden Spoons: A functional yet artistic gift, carved wooden spoons are another popular find at the market. Each spoon is often engraved with different motifs, reflecting the artistry and tradition of Romanian woodworking. Not just for display, these spoons are sturdy enough for daily use in cooking or serving.
Local Honey: Romania has a strong beekeeping tradition, and local honey jars can commonly be found among the vendors. Available in different varieties depending on the flowers the bees have pollinated, this honey makes for a sweet and natural gift. It's also common to find honey infused with different local herbs for additional health benefits.
Traditional Romanian Sweets: Beyond the standard European chocolates and candies, look for sweets specific to Romania. Items such as nuga and magiun, a type of plum jam, are common. These sweets offer a tasty and authentically local alternative to more familiar confectioneries.
Handmade Soap: With natural scents and locally sourced ingredients, handmade soap stalls can also be found at the market. These soaps often contain regional elements like lavender, rosemary, or even local mud and clay for their therapeutic properties. The soaps make for a practical and fragrant gift or stocking filler.
Christmas Ornaments: No Christmas market would be complete without an array of Christmas ornaments. In Timisoara, you'll find a mix of classic European glass baubles as well as ornaments made from wood or clay featuring Romanian designs. They add a unique, local touch to any Christmas tree.
Local Wines: Romania has an increasingly notable wine industry, and bottles of local wines can be a great gift for the connoisseur in your life. These wines range from reds and whites to rosés and sparkling wines, all sourced from regional vineyards.
Traditional Rugs: These are often woven with sheep's wool and come in various patterns and sizes. Usually made using a loom, these rugs can serve as functional, decorative art pieces. They often incorporate traditional Romanian designs and motifs, making them more than just ordinary floor coverings.
Wool Clothing: Wool socks, hats, and mittens can be found in many stalls throughout the market. These aren't your standard winter accessories; many are handmade, using natural wool and featuring traditional Romanian patterns. These items are warm and showcase the region's textile traditions.
Things to Do in Winter
For up-to-date information on the latest events, winter activities, and other things to do in Timisoara, I recommend visiting Romania Tourism's official website as a reliable resource.
Sustainable Christmas Tips
Here are some ways to travel more responsibly in Timisoara at Christmas.
Eco-Friendly Hotels:
Timisoara has a growing selection of hotels committed to sustainability, some even powered by renewable energy sources like wind and solar. Consider staying in one of these accommodations to lower your environmental footprint. By choosing such an option, you contribute to the city's ongoing efforts in sustainability, making your holiday enjoyable and conscientious.
Reducing Food Waste at Markets:
The Christmas market in Victory Square is known for its array of local and international delicacies. Rather than over-ordering and wasting food, consider sharing dishes with your travel companions. If sharing isn't an option, ask for smaller portions; vendors are generally flexible, and this practice is quite common in Timisoara.
Ethical Consumption:
Numerous stalls in the Christmas market sell crafts, gifts, and souvenirs. Aim to buy only what you truly need or can use. Handmade crafts from local artisans are unique and support the local economy, making your purchase ethical and meaningful.
Sustainable Diets:
Local cuisine in Timisoara often incorporates fresh, regional ingredients. Opt for dishes that focus on plant-based or locally sourced produce to make your diet more sustainable. In Timisoara, you'll often find dishes like vegetable stews and fresh salads that align with a more sustainable eating approach.
Sustainable Transport:
Timisoara has a robust public transport system, including trams and buses that frequently pass by key tourist destinations. Opt for public transport over taxis or ride-sharing services for a more sustainable way to explore the city. The city centre is also quite walkable, particularly around Victory Square and the adjacent areas, providing another eco-friendly transport option.
FAQ
When is the Timisoara Christmas Market?
Timisoara Christmas Market dates are from 1st December 2023 to 2nd January 2024.
Where is the Timisoara Christmas Market?
The Christmas Market in Timisoara is located in the city centre, in the main square, Victory Square (Piața Victoriei), in the historic district.
What time does Timisoara Christmas Market open?
Timisoara's Christmas market opens from 11am to 10pm.
Is Timisoara worth visiting in winter?
The city transforms into a winter wonderland, particularly during the Christmas season, with light displays, festive decorations, and the bustling Christmas market, making it a delightful destination.
What are the temperature and weather like in Timisoara during Christmas?
December in Timisoara usually sees average temperatures around 0°C, and occasional snowfall can give a festive touch to the city's scenery.
If you want to leave a Timisoara Xmas Market review, comment below.
—
Recommendations are independently chosen based on personal travel experiences and extensive research. This post contains affiliate links to hotels and tours in Timisoara*, Romania. This means I get a small commission from any bookings at no extra cost to you.*