Winter might seem like a harsh time to visit Central Europe, but it's actually one of the best times to go. Christmas (and Advent) is a significant cultural event in many countries, including Poland.
If you want to experience Christmas in one of the most stunning cities in winter, I suggest going to Poland when the Wroclaw Christmas Market is taking place.
Confirmed 2023 dates and what to expect during your visit are listed below.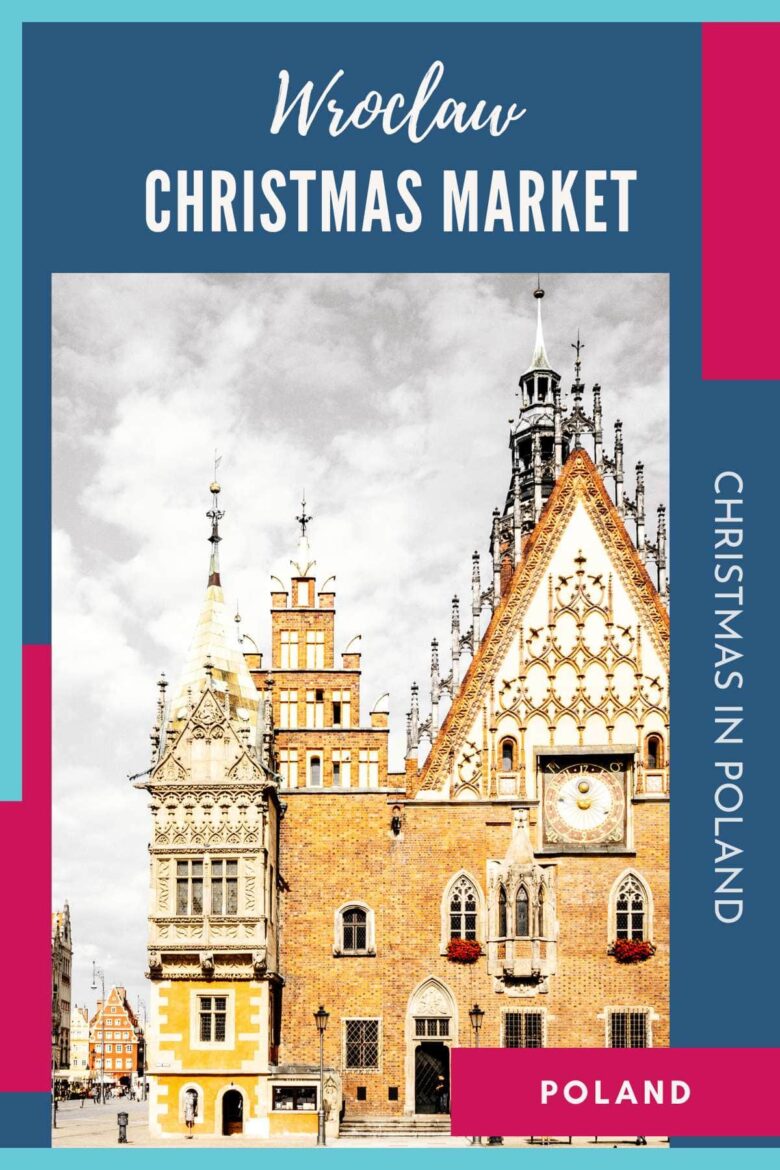 Poland is a country of beautiful cities with colourful architecture, grand market squares, wide-open parks and welcoming people.
A complex history and delicious cuisine add to the attraction, and if you're looking for a winter holiday, Poland is a wonderful, relatively affordable option.
Wroclaw Christmas Market 2023
During the Advent period, Wroclaw's old town is lit up with Christmas decorations, market stalls are in the main square, and special events showcase the city.
Wroclaw Christmas Market dates: 24th November to 31st December 2023.
Location: Market Square (Rynek we Wrocławiu) and Plac Solny.
Opening times: 10am to 9pm.
Christmas Eve: Closed.
Christmas Day: Closed.
Boxing Day: 1pm to 9pm.
New Year's Eve: 10am to 5pm. Food stalls continue until 2am.
Admission: Free.
Christmas lights: Limited due to high energy costs.
Christmas tree: Illumination date: 5th December.
Santa: No.
Ice skating: Not at the Christmas market, but elsewhere in Wroclaw.
Vegetarian: Yes, plenty of options.
Vegan: Yes, plenty of options.
Gluten free: Yes, but limited.
Accessible: Yes.
Pet-friendly: Yes, dogs are allowed on a lead.
Parking: Please take public transport to help limit congestion.
Reason to visit: Wroclaw is an incredibly affordable destination and the Christmas market takes place in its stunning centre square, one of the most beautiful in Europe.
Specialities: Local specialties like Wroclaw gingerbread houses and flavoured mulled wine. International specialities like Transylvanian kurtosh kalach (chimney cake), Lithuanian sausages and a Swiss chocolate workshop (tools made of chocolate). Family-friendly attractions including Christmas rides and a fairytale house.
Tours: Take this city tour to learn about customs, traditions and the history of the city.
Wroclaw weather in winter: Temperatures average 4°C / -3°C (high / low) in December.
Tips: You could create a mini Christmas market tour including nearby Prague and Dresden.
Where to Stay: Stay at Puro Hotel Wroclaw is a well-rated hotel near the Christmas market.
Hotels near Wroclaw Christmas Market
You'll want to stay in Stare Miasto, the beautiful historic city centre in Wroclaw.
I suggest staying at Puro Hotel Wroclaw as it's one of the nicest hotels in the city, but it's reasonably priced. It's only 5 minutes to the markets, and a nice supermarket is conveniently located opposite.
Alternatively, my guide to hotels near Wroclaw Christmas Market lists well-located hotels for all budgets.
Location of Wroclaw Christmas Market
City and Food Tours
A city tour of Wroclaw is an excellent way to immerse yourself in the city's rich history and culture. Wroclaw's picturesque old town, vibrant facades, and magnificent architecture make it a city that caters to everyone's tastes.
I highly recommend taking this city tour of Wroclaw to explore all the city's major attractions.

Or consider this traditional Polish food tour where you can discover the local culture through its cuisine.
During a city tour, you'll visit Wroclaw's most prominent landmarks and sights, such as the historic Royal Way, the stunning Market Square with its colourful townhouses, and the impressive Cathedral Island with its breathtaking architecture.
Plan your trip to another Polish city with our guide to the best Christmas markets in Poland. Discover where to go, things to do and the best ways to experience Polish food, history and culture.
Wroclaw Christmas Market Specialties
Wroclaw has traditional Polish food like pierogies and smoked cheese, but the market has many international stalls where you can get Hungarian langos, Dutch pancakes, paella-type dishes and many other delicious foods worth trying.
Wroclaw is famous for its various flavoured mulled wines and the very cute Wroclaw gingerbread houses.
Wroclaw doesn't have a dedicated Christmas market tour, but taking a food tour can open your eyes to the delicious regional cuisine and local specialties.
This traditional Polish food tour is the most popular in Wroclaw and includes vegetarian options.
As a family-friendly Christmas market fair, there are rides for children and a special multi-level fairytale house with an observation deck on Plac Solny and the 'Gallery of Santa Claus'.
Things to Do in Wroclaw in Winter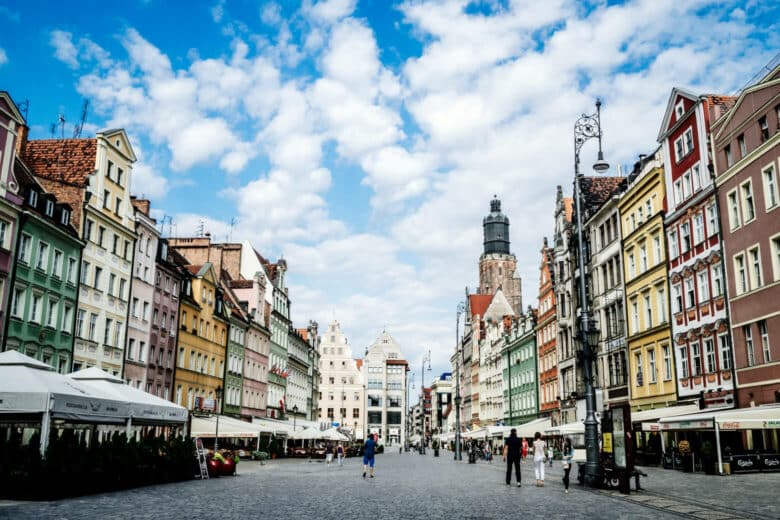 You'll find most of the action in Rynek and the Gothic Town Hall – The Market Square. Climb one of the church towers for great views over the square. The Town Hall is a good place to start and get your bearings.
Cathedral Island – Just north of Market Square is one of the prettiest parts of the city with its huge Cathedral (obviously), parks and riverside location.
Wroclaw University – Visit the assembly hall, Aula Leopoldina, to see the incredible baroque ceiling and frescoes.
Wroclaw gnomes – What began as a subversive political protest is now a fun pastime for children and tourists. Pay attention as you walk around the city, and you'll discover hundreds of little gnomes.
Ksiaz Castle – Seventy km from Wroclaw, the spectacular clifftop castle set deep in the forest, deserves an afternoon trip.
Leubus Abbey – More amazing baroque interiors an hour from Wroclaw.
Visit Wroclaw is the official website for tourism in the city. It has a detailed list of things to do in Wroclaw and the Lower Silesia region, winter events, where to eat out and information on the Wroclaw tourist card.
Sustainable Travel Tips
The choices we make have an environmental and social impact on the places we visit. When visiting the Christmas markets, keeping sustainability in mind is important.
Implement some or all of these responsible travel measures during your visit.
Shop mindfully. Only purchase what you really need.
Walk, cycle and use public transport to get around.
Stay in a sustainable hotel powered by renewable energy.
Stay in hotels. Short-stay apartment accommodation can lead to a lack of affordable housing for locals.
Avoid using plastic or buying items made or packaged with plastic.
Try to eat locally sourced organic food where possible.
Limit your consumption of meat and dairy.
Be open to diverse cultures and experiences.
Explore more than just the main tourist areas.
Support the arts and attend local events.
Visit fewer places but stay longer at each destination.
FAQ
When are the Christmas markets in Wroclaw?
The Wroclaw Christmas Market 2023 dates from 24th November to 31st December 2023.
Is there a Christmas market in Wroclaw?
Yes, Wroclaw has a Christmas market in the beautiful Market Square in the historic Old Town.
Where are the Christmas markets in Wroclaw?
The Christmas markets in Wroclaw are held at Rynek we Wrocławiu (Market Square) and Plac Solny.
Is Wroclaw worth visiting in December?
Yes! Wroclaw is an incredibly beautiful city with an interesting history, excellent museums, great food and a festive old town in December. It's well worth visiting.
If you have visited Wroclaw in winter or want to review Wroclaw Xmas Market, comment below.
—
Recommendations are independently chosen based on personal travel experiences and extensive research. This post contains affiliate links to hotels and tours in Wroclaw, Poland. This means I get a small commission from any bookings at no extra cost to you.