While many visitors prefer to spend Christmas in Krakow or Warsaw, Wroclaw shouldn't be overlooked. It is by far one of the most beautiful cities in Poland and throughout much of Central Europe.
Wroclaw's a great addition to any Polish itinerary, especially if you're visiting Krakow or even nearby Berlin or Dresden.
In this guide, we recommend hotels near Wroclaw Christmas Market that are highly rated and excellent value for money.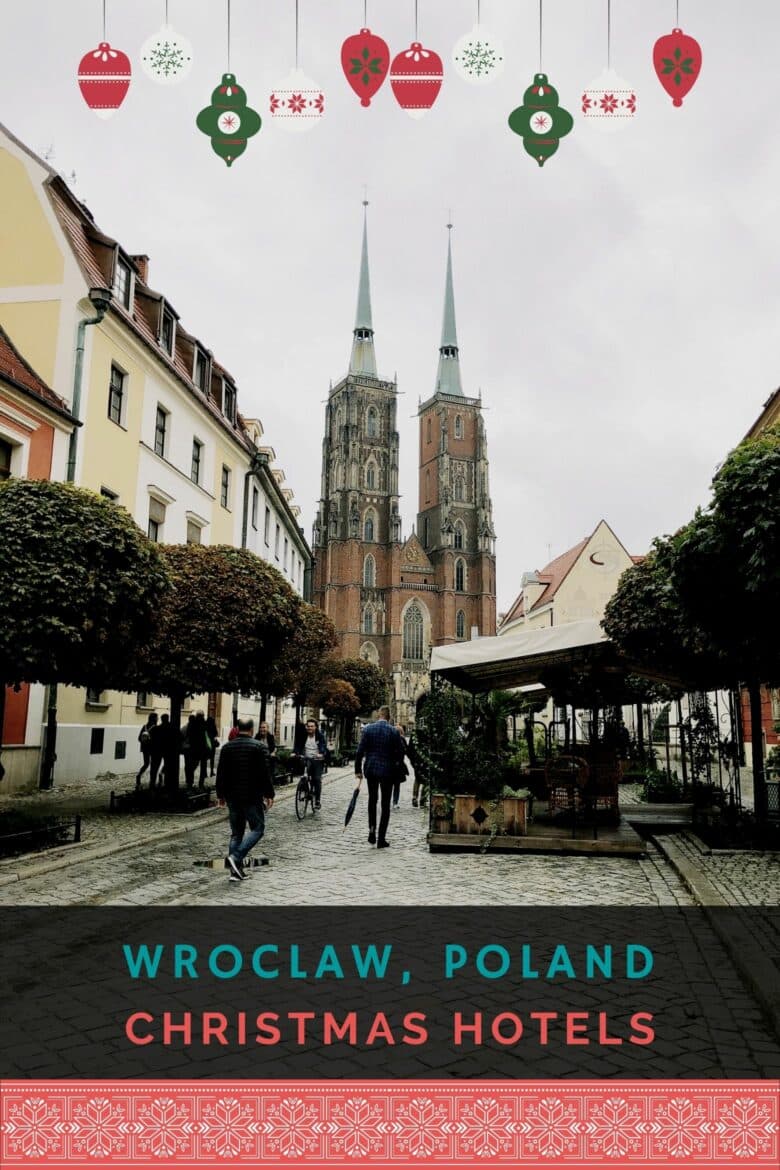 Hotels near Wroclaw Christmas Market
Wroclaw Christmas Market is held in Market Square, which is known as Rynek in Polish.
It is a colourful, historic square with cobblestones, statues, and fountains and lined with shops, cafes, bars and boutique stores.
The Christmas market extends into Plac Solny, a small square adjacent to the main square.
All hotels in the historic city centre (Stare Miasto) are conveniently located, but you could also consider staying in the area around Cathedral Island or alternatively near the train station if you're arriving by train and only staying in Wroclaw for a short time.
Top Pick
Puro Wrocław Stare Miasto
Address: Włodkowica 6, Stare Miasto, Wroclaw, Poland
Puro is one of the nicest and most popular boutique hotels in Wroclaw. The rooms are stylishly designed with modern features, large comfortable beds and there are welcoming common areas where you can sit and read or have a coffee or drink. The hotel is known for its excellent breakfast and friendly service. The hotel offers bike rental which is a great way to get around the mostly flat city, at least when the weather permits. The Puro is considered one of the best hotels in Wroclaw and is excellent value for money at this standard.
Check Availability
Location of Puro Wrocław Stare Miasto
Next Best Hotels
Aparthotel New Lux
Address: Rynek Ratusz 10, Wrocław
What is astonishing about this central apartment in Wroclaw is that it has received more than 1,000 booking reviews and is rated at 9.8/10. This is almost unheard of when it comes to a large number of reviews. It is also excellent value for money so this is great if you're looking for a budget place to stay. It really shows what an exceptional apartment this is with a wonderful host. If you want the space and privacy of an apartment while staying literally on Market Square, the main square, then book this place before it sells out.
The Bridge
Address: Plac Katedralny 8, Śródmieście, Wroclaw
Cathedral Island and the neighbouring Śródmieście district is one of the most relaxing areas of Wroclaw. It's very green with many parks and walkways along the Oder River. While the newly-opened Bridge Hotel is a 20-minute walk to Market Square, it's one of the lovelist walks in the city which takes you by many sights and beautiful, historic streets. The boutique style rooms are new and modern with high end finishes and huge, comfortable beds that the MGallery is known for. The Bridge uses 100% renewable electricity, they avoid single-use plastic, there is an electric car charging station, bike rental, food is locally sourced and they support local artists by displaying their artwork in the hotel. This makes The Bridge one of the most sustainable hotels in Wroclaw.
Korona Hotel
Address: 2 Oławska, Wroclaw, Poland
Another clean, comfortable hotel near Wroclaw Christmas Market is Korona Hotel (unfortunate name). The hotel is only 1-minute from Market Square and the beautiful Old Town Hall, now the Museum of Bourgeois Art. This is a brilliant location, especially if visiting the Christmas markets and Wroclaw's main sights and attractions is a priority. The hotel is also just around the corner from the Bridge of Penitents, a wonderful lookout on top of a 15th-century church. Don't miss it.
Where to Stay in Wroclaw
Here are a few of the best areas to stay in Wroclaw:
Stare Miasto (Old Town): This is the city's historic heart and a perfect location for those who want to be in the middle of Wroclaw's main attractions, charming architecture, and bustling nightlife.
Nadodrze: This trendy district is popular among young travellers and locals, featuring a wide variety of cafes, restaurants, and galleries. It's an ideal place to stay for those who enjoy a bohemian atmosphere and street art.
Śródmieście: This is the central business district of Wroclaw, featuring many high-end hotels and modern shopping centres. It's a good location for those who want to be close to the city's main transport hubs and business districts.
Krzyki: This residential district is slightly away from the city centre, providing a peaceful and relaxed atmosphere. It's a good choice for those who prefer a quieter location and are willing to travel a bit to reach the main attractions.
Cathedral Island (Ostrów Tumski): This historic and picturesque area is situated on an island in the Oder River and is home to the city's most beautiful and significant religious buildings. It's an ideal location for those who want a peaceful and tranquil setting away from the hustle and bustle of the city centre.
For more information on visiting Wroclaw at Christmas, read our complete guide to Wroclaw Christmas Market that includes dates, times, locations and what to expect.

If you're planning on continuing your travels in Poland, we recommend visiting this Poland Christmas market guide to complete your festive trip.
This post contains affiliate links to hotels in Wroclaw, Poland. This means we get a small commission from any bookings at no extra cost to you.