Carmel Indiana is a great place to visit during the wintertime, especially if you're looking to get into the holiday spirit. One of the biggest draws to the area during this time of year is the annual Carmel Christkindlmarkt, which takes place downtown.
The market features a variety of vendors selling handmade goods and festive treats, as well as live entertainment and activities for the whole family. It's the perfect way to get into the holiday spirit and find unique gifts for your loved ones.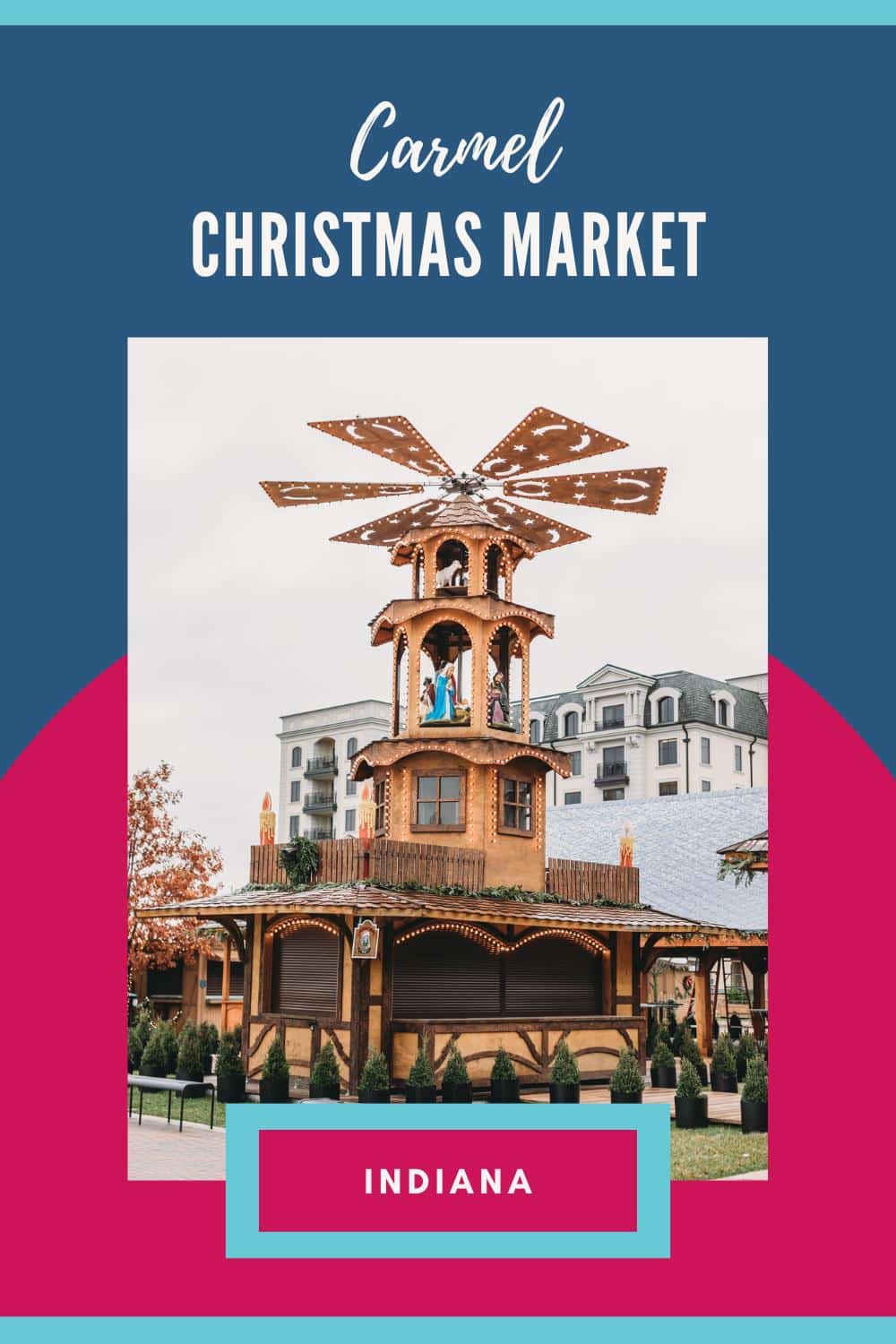 Christmas in Carmel is a truly magical time of year. The town is decked out in holiday decorations, making it a picturesque place during the winter.
Carmel Christmas Market is known as the Christkindlmarkt, a reference to Germany's historical traditional Christmas markets.
Carmel even has visits from Christkind, the Christmas angel made famous at Nuremberg Christmas Market.
Carmel Christkindlmarkt 2022
One of the highlights of Carmel Christkindlmarkt is the wide variety of unique and one-of-a-kind gifts that can be found there. From handmade ornaments and scented candles to locally-made food items and more, there's something for everyone at the Christmas market.
At the Glühwein Pyramid, you can order from 10 available hot drinks, including mulled wine and non-alcoholic punch.
You can do your Christmas shopping at the 50 Christmas huts that are spread out around the location at Carter Green.
Kinder Club is available to keep the younger kids entertained along with opportunities to meet Santa, special characters and Christkind.
Dates and Location
Carmel Christkindlmarkt dates: Thursdays to Sundays from 19th November to 30th December 2022.
Opening times: 11am to 9pm. Opens at 4pm on Thursdays.
Christmas Day: Closed Thanksgiving and Christmas Day.
Location: 10 Carter Green.
Admission: Free, no tickets required.
Santa: Yes. Santa is available each Sunday. You can also meet Christkind on most days and famous characters on Saturdays.
Ice skating: Yes, outdoor ice skating is available at 3 Carter Green. Book online here.
Accessible: Yes.
Pet-friendly: No.
Reason to visit: The Glühwein Pyramid, handmade wooden toys, music boxes, ice skating and the Kinder Club.
Specialities: European Christmas specialties like pretzels, German-style bratwurst, lebkuchen (gingerbread), Swiss-style raclette (melted cheese served on bread), kartoffelpuffer (potato cakes), and stollen (Dresden-style fruit bread).
Where to stay: Hotel Carmichael is a highly-rated hotel located around the block from the Christmas market.
Hotels near Carmel Christkindlmarkt
Carmel, Indiana has some really cool neighborhoods to check out while you're in the area. The Arts & Design District is a must-see for anyone interested in the arts, and the Midtown area is a great place to grab a bite to eat and check out some shops.
Either of these are great areas to stay, but if you want to be near the Christmas market, I suggest staying at Hotel Carmichael as it's located just around the block from the event.
Location of Carmel Christkindlmarkt Christmas Market
If you're looking for the best Christmas markets in the USA, then my guide is the perfect resource for you!
Visit Hamilton County is full of helpful information for visitors to the area. From event listings and attractions to dining and shopping options, the website has everything you need to plan your trip to Carmel.
Sustainable Christmas Tips
Many of us are increasingly concerned about climate change and sustainability. Here are a few ways people can be more sustainable this Christmas:
Use renewable energy sources like solar or wind power to reduce your carbon footprint and support the transition to a low-carbon economy.
Make your home more energy-efficient by using LED lights, insulating your windows, and unplugging electronics when not in use.
Reduce food waste by planning your meals carefully, composting scraps, and donating excess food to local charities.
Limit your consumerism by buying fewer gifts, choosing sustainable and ethically-made products, and supporting local businesses.
Consider adopting a sustainable diet, such as vegetarian or plant-based, to reduce your environmental impact and improve your health.
Use sustainable forms of transportation, such as walking, biking, or public transit, to reduce your carbon emissions and support a cleaner environment.
Please share your Christmas sustainability tips in the comments.
FAQ
When is Carmel Christkindlmarkt?
Carmel Christkindlmarkt is held on Thursdays to Sundays from 19th November to 30th December 2022.
Where is Carmel Christkindlmarkt?
The Christmas markets in Carmel are held at 10 Carter Green in downtown Carmel, Indiana.
What time does Carmel Christkindlmarkt open?
The Christmas markets are open from 11am to 9pm. Opens at 4pm on Thursdays.
If you would like to leave a review of Carmel Xmas Market, feel free to comment below.
—
Recommendations are independently chosen based on personal travel experiences and extensive research. This post contains affiliate links to hotels and tours in Carmel, Indiana. This means I get a small commission from any bookings at no extra cost to you.