Truro is the cathedral city of Cornwall, combining historic charm with modern vibrancy, drawing visitors to its cobbled streets and Georgian facades.
As the festive season approaches, the city comes alive with the anticipation of the Truro Christmas Market, a highlight for both locals and tourists.
In this article, I'll share all the essentials, detailing the confirmed 2023 dates, opening times, and what makes this market a special Cornish experience.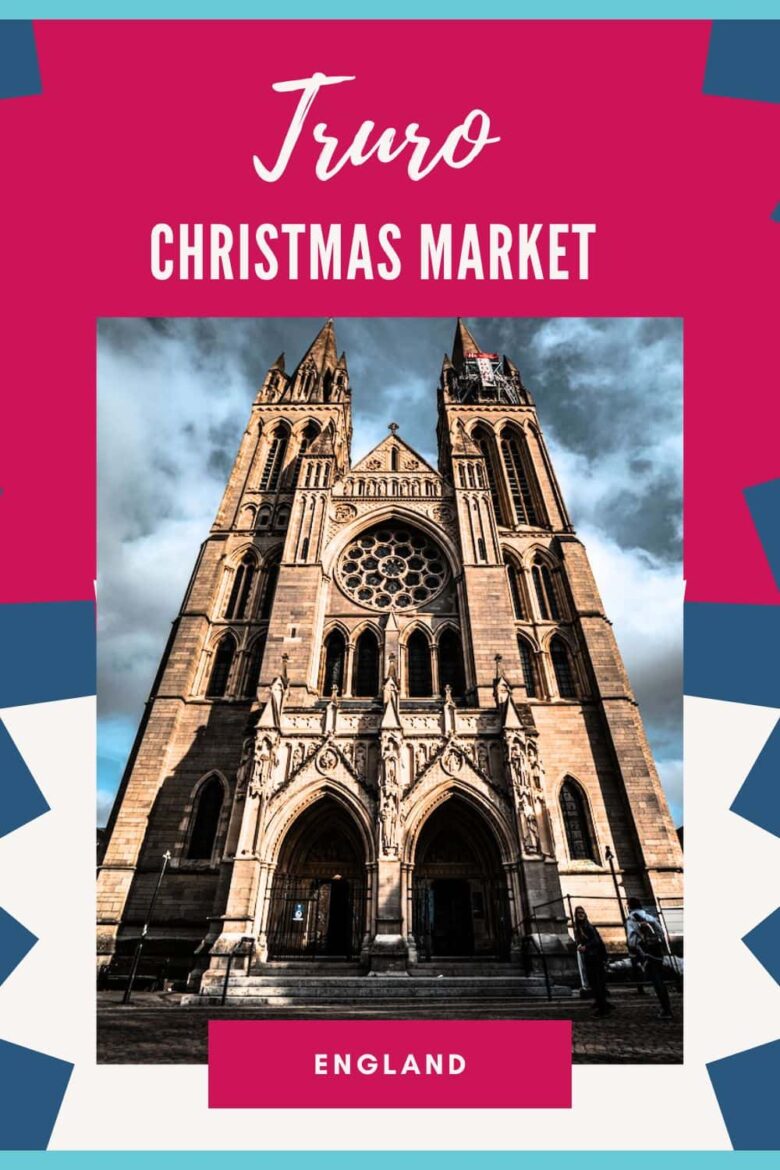 With its iconic cathedral and Georgian architecture, Truro provides a picturesque backdrop for festive celebrations. The city's streets come alive with Christmas lights and local choirs.
Truro Christmas Market 2023
The Big Christmas Market in Truro, organised by the acclaimed Truro Farmers Market, promises a revamped festive shopping experience for 2023.
The market's Lemon Quay location will bustle with over 100 traders from Cornwall, presenting a vast selection of local food, drink, arts, and crafts.
The new introduction of bespoke wooden cabins for the region's artisan traders adds a traditional yet refreshed ambience to the city centre, emphasising the market's commitment to supporting local artisans.
Within this setting, attendees can savour Cornwall's unique culinary treats, accompanied by the melodies of local choirs, as the glow of Christmas lights illuminates the surroundings.
Dates and Location
Truro Christmas Market dates: 29th November to 24th December 2023.
Location: Lemon Quay.
Opening times: 9am to 5pm. Wednesday: 9am to 9pm. Sunday: 10am to 4pm.
Christmas Day: Closed.
Admission: Free.
Santa: No.
Ice skating: No.
Vegetarian: Yes, plenty of options.
Vegan: Yes, plenty of options.
Gluten free: Yes, some options.
Accessible: Yes.
Pet-friendly: Yes, but not recommended during busy periods.
Parking: Please take public transport to help limit congestion.
Reason to visit: Community-led market, exclusively local traders, authentic Cornish experience.
Specialities: Local Cornish pasties, fresh seafood, clotted cream fudge, traditional saffron buns, Cornish blue cheese, hearty stews.
Where to stay: Mannings Hotel is a popular place to stay across the road from the Christmas market.
Hotels near Truro Christmas Market
To be near the Christmas market in Lemon Quay, consider staying in Truro's city centre. Mannings Hotel is a popular choice due to its proximity to the market.
Another option is The Alverton, a stunning historic hotel just a 12-minute walk from Lemon Quay.
I recommend you check out my guide to the UK Christmas Markets 2023, which details the top markets throughout the country.
Location of Truro Christmas Market
Christmas in Truro
Christmas Specialties
Cornish Pasties: Cornish pasties are a regional favourite in Truro, which are often found in Christmas market stalls. They consist of a pastry envelope filled with beef, potato, swede and onion, crimped at the edge to create a thick pastry seal. The pasty is then baked until golden brown, resulting in a hearty, portable meal.
Clotted Cream Fudge: Clotted cream fudge is a local delicacy that's especially popular during the holiday season. The fudge is made with locally produced clotted cream and sugar and often flavoured with vanilla. This rich, creamy, and melt-in-your-mouth sweet treat is a Cornish delight you'd definitely encounter at the Truro Christmas market.
Hot Roasted Chestnuts: These are a traditional Christmas market snack enjoyed all over the world. Vendors roast the chestnuts over an open fire until their shells crack and the flesh inside becomes tender and slightly sweet. The warm, fragrant chestnuts are then served in paper bags, making a simple and comforting snack on a chilly market day.
Stargazy Pie: A Cornish specialty, Stargazy pie consists of baked pilchards, eggs and potatoes topped with a pastry crust. The name comes from the tradition of arranging the fish to have their heads sticking out of the pie crust, appearing as if they are gazing at the stars. This unique dish is an iconic representation of Cornwall's culinary heritage.
Mulled Cider: A festive twist on the traditional cider produced in the region, mulled cider is a warm drink made by heating cider with a variety of mulling spices, such as cinnamon and cloves, and sometimes sweetening it with sugar or honey. This aromatic beverage is a popular choice to warm up whilst browsing the market stalls.
German Bratwurst: The German Bratwurst is found at many Christmas markets, including Truro's. This hearty sausage is often served in a bun with a variety of toppings, including sauerkraut and mustard, providing a filling and flavoursome snack as you peruse the market stalls.
Churros with Chocolate: These Spanish doughnuts are common at Christmas markets worldwide. Churros are deep-fried dough pastries, often dusted with sugar and served with a side of thick, rich chocolate for dipping. The combination of the warm, crunchy churros with the indulgent chocolate makes for a truly satisfying sweet treat.
Gifts and Stocking Fillers
Cornish Sea Salt: Harvested from the pure waters along the Cornish coast, this sea salt is popular at the Truro Christmas market. It's available in its natural form or flavoured with various herbs and spices. This versatile product adds a distinctive flavour to dishes and serves as a reminder of Cornwall's coastal charm.
Handcrafted Jewellery: Several market stalls feature locally made jewellery crafted by Truro's talented artisans. These pieces often incorporate elements of Cornwall's rich cultural history and stunning natural beauty, making them unique and personal gifts.
Ceramic Artwork: Truro is home to a thriving community of ceramic artists whose work is often featured at the Christmas market. Ranging from practical items such as mugs and plates to more decorative pieces, these ceramics combine functionality with the distinctive aesthetic of Cornish art.
Cornish Ales and Ciders: Cornwall is renowned for its brewing tradition, and the market showcases a variety of local ales and ciders. These beverages, often packaged in gift sets, make perfect presents for those who appreciate the nuanced flavours of artisanal brews.
Christmas Decorations: Traditional Christmas decorations are a staple at any Christmas market, and Truro's is no exception. From handmade tree ornaments to festive wreaths and centrepieces, you can find a range of items to bring holiday cheer to any home.
Handmade Soaps and Candles: Handcrafted soaps and candles using natural ingredients are a common find at the market. Often made with essential oils and infused with local herbs and flowers, these items not only smell divine but also serve as a reminder of Cornwall's natural bounty.
Cornish Clotted Cream and Jams: As part of Cornwall's rich culinary tradition, clotted cream and locally made jams are popular products at the Truro Christmas market. Packaged in charming jars, they make great gifts for food lovers and bring a taste of Cornwall into any kitchen.
Visit Truro is the city's official website, where you'll find an array of useful resources for visitors. Here's a list of things to do to get you started with your trip planning.
Sustainable Christmas Tips
Here are a few tips on how we can travel more responsibly in Truro at Christmas.
Opt for Renewable Energy Providers: Several accommodations in Truro source their energy from renewable providers. You actively support the green energy sector by choosing to stay in such places.
Cut Down on Food Waste: Take advantage of Cornwall's local produce and buy only what you need, reducing the likelihood of waste. The Truro market has a wealth of local farmers and producers selling fresh, seasonal food that is perfectly portioned.
Ethical Consumption: Consider the origins of the products you purchase. Truro's farmers market showcases goods from local artisans and small-scale producers. By opting to buy these, you support local economies and reduce the carbon footprint associated with mass-produced goods.
Sustainable Diets: Embrace the Cornish tradition of sustainable eating by consuming locally sourced and seasonal food. Cornwall is renowned for its fresh seafood and local produce; many Christmas stalls reflect this ethos.
Sustainable Transport: Use Truro's excellent public transport links or even hire a bike for your visit. Truro has a pedestrian-friendly city centre and cycling routes that connect key attractions, promoting a low-carbon way of exploring the city.
Reuse and Recycle: Truro encourages recycling with conveniently placed bins throughout the city.
FAQ
When is Truro Christmas Market?
Truro Christmas Market 2023 dates are 29th November to 24th December 2023.
Where is Truro Christmas Market?
The Christmas market is held in Truro city centre, with the main events on Lemon Quay, conveniently located near the main shopping district and transport links.
What time does Truro Christmas Market open?
The market opens from 9am to 5pm, with late-night shopping until 9 pm on Wednesdays. Sunday hours are 10am to 4pm.
Are there other events besides the market in Truro at Christmas?
Truro hosts various festive events during the Christmas period, including the City of Lights parade and carol services at Truro Cathedral.
If you want to leave a Truro Xmas Market review, comment below.
—
Recommendations are independently chosen based on personal travel experiences and extensive research. This post contains affiliate links to hotels and tours in Truro, United Kingdom. This means I get a small commission from any bookings at no extra cost to you.