The scenic island of Madeira is renowned for its lush landscapes and vibrant cultural heritage. In December, its capital Funchal, hosts the Madeira Christmas Market drawing visitors with its festive stalls and local treats.
In this guide, I'll provide insights into the Christmas and New Year events, highlighting the confirmed 2023 dates, opening times, locations and signature Madeiran specialties.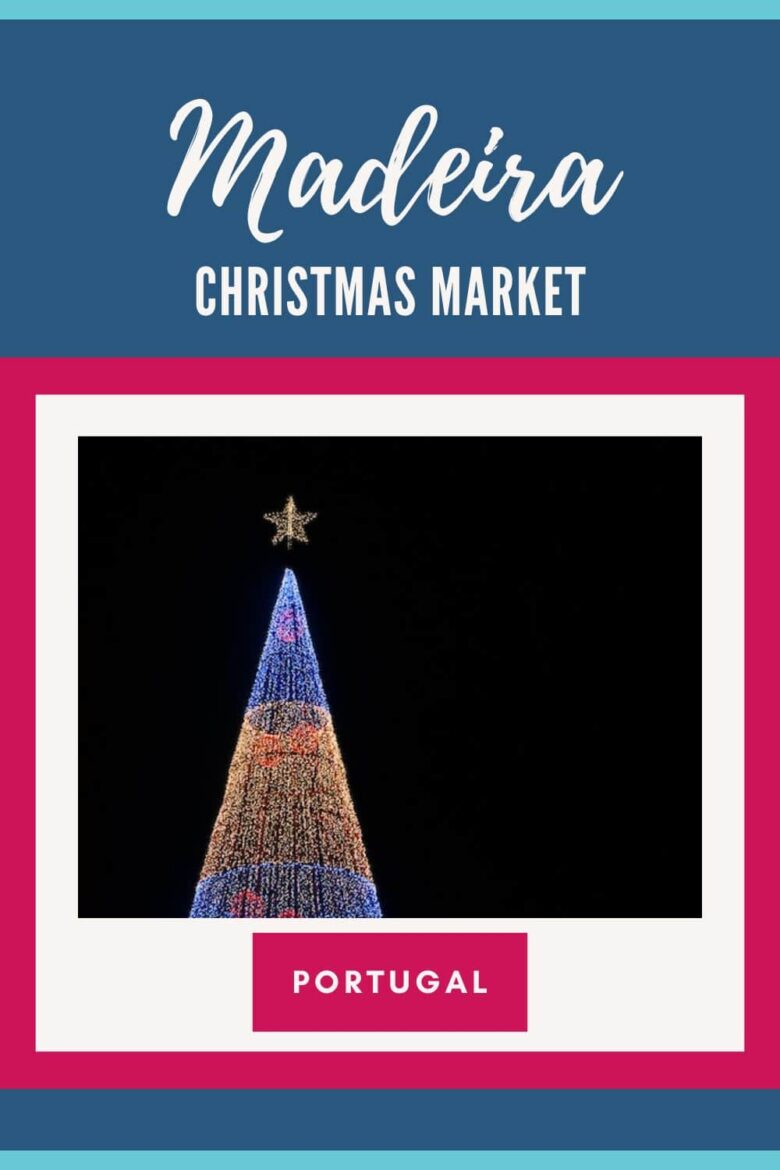 Madeira has a distinct approach to Christmas celebrations, with its vibrant street decorations lighting up Funchal and other towns across the island.
Traditional Madeiran festivities, like the "Noite do Mercado", in which locals gather to celebrate, set the tone for a unique holiday experience.
Madeira Christmas Market 2023
Madeira's Christmas market is a highlight on the island's festive calendar, beginning officially on the 1st of December when the striking Christmas lights illuminate Funchal's city centre area.
The island thrives with Christmas spirit as Funchal becomes a hub of continuous festivities, cultural events, and gastronomical delights that keep both locals and visitors engaged.
As December draws to a close, the anticipation for New Year's Eve grows; Funchal's firework display lights up the bay, casting mesmerising colours and patterns to introduce the New Year.
Dates and Location
Madeira Christmas Market dates: 1st December 2023 to 7th January 2024.
Location: The main Christmas market is in Funchal, but also Porto Moniz and Santana.
Opening times: 10am to 8pm.
Christmas Day: Closed.
Admission: Free.
Christmas lights: Yes, switch on date: 1st December 2023 at 6pm in Funchal.
New Year's Eve: Fireworks in Funchal begin just before midnight on continue for 8 minutes.
Santa: No.
Ice skating: No.
Vegetarian: Yes, plenty of options.
Vegan: Yes, plenty of options.
Gluten free: Yes, some options.
Accessible: Yes.
Pet-friendly: Yes, but not recommended during busy periods.
Public transport:
Parking: Please take public transport to help limit congestion.
Reason to visit: Beautiful island setting, festive lights in Funchal, cultural events, gastronomical delights, fireworks.
Recommended tour: Funchal old town walking tour.
Food specialities: Honey cake, honey cookies, garlic and wine marinated dishes, Madeiran toast, traditional punch, sugarcane rum, and black scabbardfish.
Where to stay: Hotel Cajú is a highly-rated hotel, located in the centre of Funchal.
Where to Stay in Funchal
Staying in the historic centre of Funchal or near the waterfront is ideal for being near the Christmas and New Year events.
I'd suggest considering a stay at Hotel Cajú, a stylish hotel in a historic area of Funchal.
Location of Funchal Christmas Market
Recommended Walking and Food Tours
A city tour of Funchal is an excellent opportunity to uncover the city's storied past and vibrant culture. Famed for its picturesque streets, the city's allure shines throughout the year, even during the colder months.
I suggest this Funchal old town walking tour as it provides a chance to explore the city's significant landmarks accompanied by a knowledgeable local guide. It's particularly suited for those new to Funchal.
During your tour, you'll be introduced to renowned sites such as the bustling farmer's market, the scenic Campo Almirante Reis, and the impressive Fortress of St. James, among other attractions.
Alternatively, if you have an interest in culinary delights, you might want to try this food and wine walking tour.
Exploring Funchal's gastronomy through this tour lets you savour diverse foods and wines, with insights shared by your guide on Madeiran cuisine and traditions.
I recommend checking out my guide to the Portugal Christmas Markets for 2023, which details the best places to visit this winter, including Madeira.
Christmas in Madeira
Market Specialties in Madeira
Bolo de mel (Honey Cake): Bolo de mel is a dense, dark cake made from sugarcane molasses, spices, and dried fruits. It's an essential part of Madeiran Christmas celebrations and is often gifted to friends and family during the festive season.
Broas de mel (Honey Biscuits): These sweet, round biscuits have a slightly crunchy exterior with a softer centre. Made from sugarcane molasses and spiced with aniseed, they're a typical snack found at the markets.
Carne Vinha d'alhos (Garlic Wine Meat): A traditional Madeiran dish, it's made by marinating pork in garlic, wine, and spices for several days before frying. Eaten especially around Christmas time, it has a tangy, robust flavour that pairs well with local bread.
Rabanadas (Madeiran French Toast): Similar to the French toast known elsewhere, rabanadas in Madeira have a twist. Soaked in a mixture of milk, sugar, and cinnamon, they're fried until golden and then sprinkled with powdered sugar.
Poncha: Poncha is a popular local drink, a mix of aguardente de cana (a local distilled alcohol from sugarcane), honey, sugar, and lemon or orange juice. It's a warming beverage, especially enjoyed during the cooler months.
Aguardente de cana: A distilled spirit made from sugarcane, aguardente de cana is often consumed straight or used as a base for other drinks, like Poncha.
Peixe Espada preto com banana (Black Scabbardfish with Banana): An unusual combination for many, this dish consists of deep-fried black scabbardfish served alongside a caramelised banana. The contrasting flavours and textures make it a unique Madeiran treat.
Milho frito (Fried Cornmeal): Milho frito is a side dish made from cornmeal, kale, and seasonings. Shaped into small cubes and deep-fried, they're crispy outside and soft inside, providing a delightful contrast.
Vinho da Madeira (Madeira Wine): Originating from the island, Madeira wine is a type of fortified wine with a rich, nuanced taste. It's available in various styles, from dry wines that can be consumed with meals to sweeter ones that serve as dessert wines.
Gifts and Stocking Fillers
Bordado Madeirense (Madeira Embroidery): Madeira is renowned for its intricate embroidery crafted meticulously by hand. The designs often depict local flora and fauna, and they grace everything from tablecloths to shawls. These make sophisticated gifts, representing the island's rich textile heritage and craftsmanship.
Vime (Wickerwork): Camacha, a village in Madeira, is known as the heart of the island's wickerwork industry. Wicker baskets, furniture, and even decorative items are found at the winter markets. They're handwoven with precision, making each piece unique and reflective of Madeira's artisanal tradition.
Cerâmica (Ceramics): Local artisans produce beautiful ceramic pieces inspired by Madeira's landscapes and traditions. Plates, bowls, and decorative items can be found in various styles and sizes, making them a popular choice for those looking to bring home a piece of Madeiran artistry.
Vinho da Madeira (Madeira Wine): Beyond just being a beverage, Madeira wine is also a cherished gift. Bottles from different years and of varied sweetness levels can be found. Its distinct taste and long shelf life make it an ideal present for wine enthusiasts.
Frutas Cristalizadas (Crystalised Fruits): Madeira has a rich tradition of preparing crystalised fruits, which includes exotic varieties grown on the island. Packed in decorative boxes or bags, they're tasty and presentable as gifts for loved ones.
Açúcar-de-cana (Sugarcane Products): Madeira's sugarcane industry produces various products that are sold as souvenirs. These range from sugarcane honey to sugarcane brandy. The unique flavour and quality make these products a sweet reminder of your visit to Madeira.
Licores (Liqueurs): Produced locally, these liqueurs are crafted from tropical fruits and flowers found on the island. Flavours like passion fruit, banana, and even hibiscus can be found. They're often beautifully bottled, making them a fine gift option.
Travel Information
For a comprehensive guide on winter activities and the latest events in the city, I recommend checking out Visit Madeira, the official city website.
Sustainable Travel Tips
Here are some suggestions for travelling responsibly in Madeira this Christmas:
Eco-friendly Accommodation: When choosing a place to stay in Madeira, consider eco-friendly hotels that prioritise sustainability. Many hotels on the island have begun to harness renewable energy sources, such as solar and wind power, to reduce their carbon footprint. By supporting such places, you contribute to a greener tourism industry.
Mindful Consumption at Markets: While the Christmas markets in Madeira are tempting with a variety of goods on offer, it's essential to shop mindfully. Before making a purchase, ask yourself if you truly need the item or if it will be used. This reduces unnecessary waste and promotes more ethical consumer behaviour.
Reduce Food Waste: Madeira's markets offer an array of delicious treats. However, try only to order portions you can finish to minimise food waste. If you find yourself with leftovers, consider sharing with fellow travellers or asking for takeaway containers.
Sustainable Diets: Madeira has a rich culinary tradition, much of which is based on locally sourced ingredients. Opt for dishes that use seasonal and local produce, reducing the carbon footprint associated with transporting goods. For instance, choosing local seafood over imported meats can be a more sustainable choice.
Travel Around Madeira Responsibly: Madeira's efficient public transport system covers most of the island's key attractions. Opt for buses or shared rides over private taxis. Additionally, the island's compact nature makes walking a viable and environmentally friendly option, especially within Funchal.
If you want to leave a Madeira Xmas Market review, comment below.
—
Recommendations are independently chosen based on personal travel experiences and extensive research. This post contains affiliate links to hotels and tours in Madeira, Portugal. This means I get a small commission from any bookings at no extra cost to you.