If you want to experience the best of the Christmas markets in Nottinghamshire, you will definitely want to visit Nottingham Christmas Market. Known locally as Nottingham Winter Wonderland, it's one of the most popular winter events in the region, and many are excited for its return in 2023.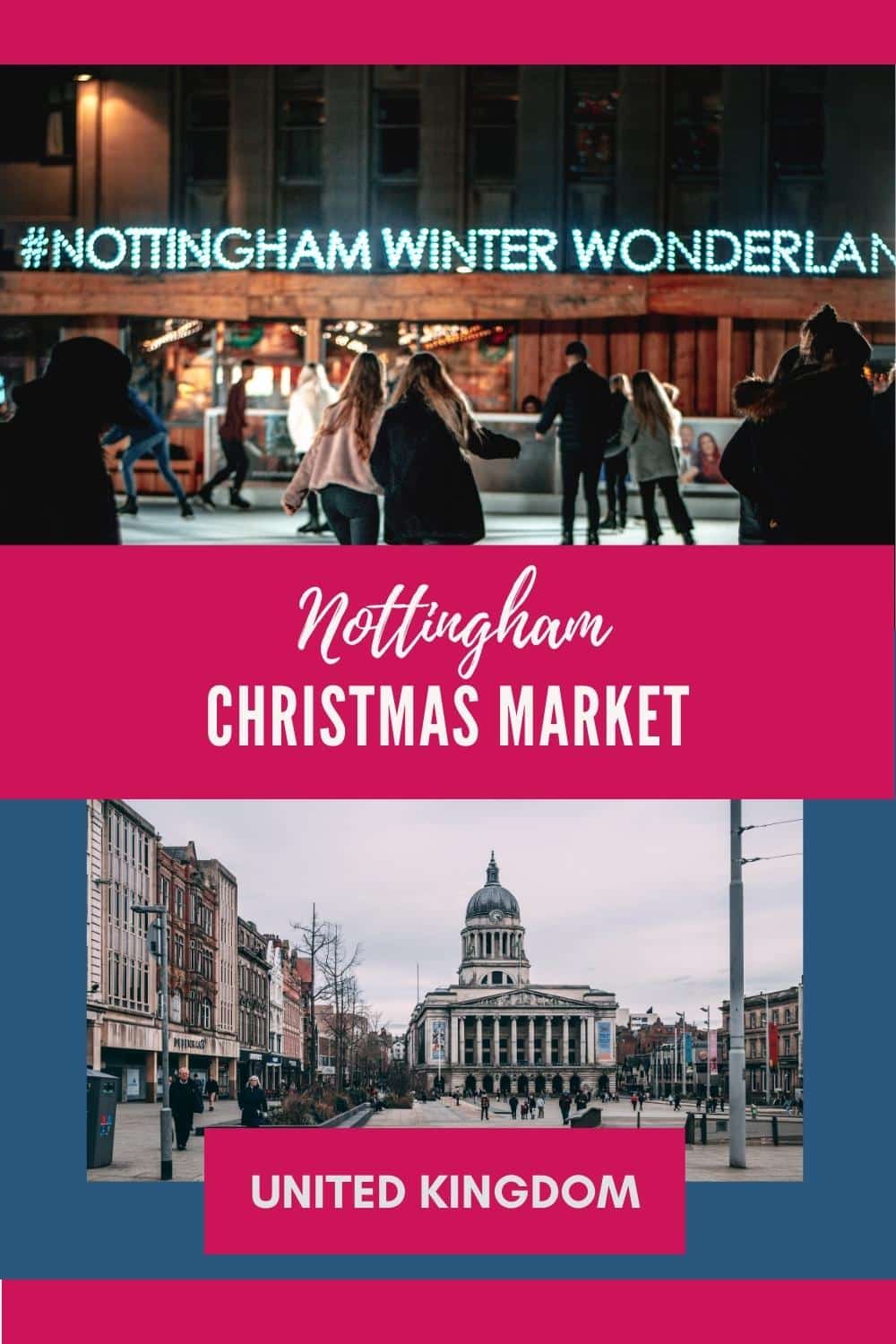 Nottingham's Winter Wonderland is a traditional German-style market with all the wonderful Christmas food, mulled wine, handmade gifts and decorations that you would expect to see in a German Christmas market.
The traditional chalets combine well with the less traditional events and activities that are put on by the city. You can choose from family-friendly rides and attractions or meet friends for a drink at one of the winter bars.
Nottingham Christmas Market 2023
In 2023, Nottingham will host Christmas markets at two venues: the traditional Old Market Square and the newly added Trinity Square.
Admission to the Christmas market is complimentary, with no tickets needed for entry. Nonetheless, some activities and bars necessitate advance ticket purchases and reservations (details provided below).
Nottingham's Christmas markets have a variety of events and activities to suit everyone:
Christmas Market Stalls – The main attraction, open and free for all visitors.
Sky Skate Ice Path – Glide through the Christmas markets and enjoy ice skating from an elevated perspective.
Ice Rink – The centrepiece of the square that is open for all ages.
Observation Wheel – Relax and take in panoramic views of the city from above.
Toboggan Slide – Suitable for all ages, tickets can be purchased on-site without the need for advance booking.
Altitude – A rooftop bar where you can order food and drinks using your phone. It's advisable to make reservations ahead of time.
Sur la Piste – This ski chalet-inspired bar offers extensive food options. Be sure to reserve a table in advance.
Ice Bar – Cool down in this unique bar adorned with ice-crafted furniture.
Helter Skelter Bar – Unwind and grab a drink while your children have fun on the slide.
Below, you'll find all the essential information to help you plan your visit to the Nottingham Christmas markets, such as dates, opening hours and how to book:
Dates and Locations
Nottingham Christmas market dates: Likely dates: 14th November to 31st December 2023.
Location: Old Market Square and Trinity Square.
Christmas Day: Closed.
Opening hours: 11am to 5:30pm. The bars and Big Wheel close at 11pm.
Admission: Entry to the Christmas market is free, no tickets required. However, certain activities and bars require tickets. Click here to find activities and book.
Payment: This is a cashless event.
Christmas lights: Yes, switch on date: 14th November.
Santa: Yes.
Winter Wonderland 2023: Ice rink and ice skate path.
Ice skating: Yes, at Nottingham Market Square.
Vegetarian: Yes, plenty of options.
Vegan: Yes, plenty of options.
Gluten free: Yes, but limited.
Accessible: Yes, including lift access to the first floor.
Pet-friendly: It's encouraged to leave dogs at home due to the crowds. However, they are welcome in any outside area.
Parking: Please take public transport to help limit congestion.
Reason to visit: Nottingham Market Square is the home of the largest Christmas market in the East Midlands. The Big Wheel is a 32-metre observation wheel.
Specialities: Artisan cheese, chutneys and locally made stews. Outdoor ice skating in Nottingham Market Square.
Tips: Some food stalls will re-open after Christmas for the New Year celebrations.
Where to stay: The Lace Market Hotel in central Nottingham.
Hotels near Nottingham Christmas Market
I suggest staying in the Lace Market district or near Old Market Square. The Lace Market Hotel is less than 10 minutes to the Winter Wonderland.
The Lace Market is one of the trendiest areas of Nottingham; there are many excellent restaurants, bars and shops nearby, or you can eat at the hotel's awarding-winning pub.
There are a limited number of excellent, value-for-money places to stay in Nottingham. However, I've written a guide to hotels near Nottingham Christmas Market to help you find a convenient stay in Nottingham this winter.
Nottingham Winter Wonderland 2023
The Winter Wonderland Christmas market can be found at Old Market Square, right in the heart of Nottingham.
At this festive location, you'll discover beautifully adorned Christmas stalls offering a range of artisan products. Enjoy traditional Christmas treats like bratwurst and indulge in delicious specialty drinks such as mulled wine and spiced hot chocolate.
Après Ski Bar – A cosy spot to unwind and enjoy a warm mug of mulled wine, hot cider, hot chocolate, and other delightful drinks.
Observation Wheel – Be sure to experience the 32-meter-high observation wheel, offering stunning views of the city. Tickets can be purchased on-site during the event.
Helter Skelter – A classic, vibrant Helter Skelter ride awaits children, while adults can relax and enjoy a beverage at the adjacent Helter Skelter Bar.
These attractions and more are waiting for you at the Winter Wonderland Christmas market in Nottingham's Old Market Square, ensuring a magical experience for the whole family.
Note: Winter Wonderland is closed on Christmas Day.
Location of Winter Wonderland
Food at the Christmas Market
At Nottingham, you can indulge in various traditional German Christmas market foods and international street foods available at the Christmas stalls. Some of the typical offerings include:
Bratwurst – German sausages that are often served with mustard or sauerkraut in a bun.
Roasted Chestnuts – A classic winter treat, perfect for snacking while browsing the market stalls.
Meat Roast – Tender, slow-roasted pork served in a soft bun with apple sauce or stuffing.
Mulled Wine – A warm, spiced red wine that's synonymous with the Christmas season.
Spiced Hot Chocolate – Rich hot chocolate infused with festive spices like cinnamon and nutmeg. In Nottingham, you can also order your hot chocolate with a shot of your favourite liqueur.
Churros – Spanish-style deep-fried dough pastries coated in sugar, often served with a warm chocolate dipping sauce.
Crepes – Thin, French-style pancakes with sweet or savoury fillings such as Nutella, banana, ham, and cheese.
Poffertjes – Small, Dutch pancakes typically served with a dusting of powdered sugar and a pat of butter. These are always amazing!
Raclette – Melted Swiss cheese scraped onto potatoes, served with pickles and charcuterie.
Gingerbread Cookies – Festive, spiced cookies in various shapes, often decorated with icing.
What to Buy
Nottingham is known for its rich history, culture, and local industries. When visiting the city, especially at the Christmas markets in Nottingham, you might find some items that are particularly unique to Nottingham. Some typical items to look for include:
Lace Products – Nottingham has a long history of lace production, dating back to the 18th century. You may come across beautiful lace items such as clothing, tablecloths, and accessories that reflect the city's heritage.
Local Ales and Beers – Nottinghamshire is home to several breweries, so you may find locally crafted ales and beers at the Christmas market, perfect for enjoying yourself or gifting to friends and family.
Traditional Sweets – The region has a history of producing delicious confections like Nottingham Rock and Blueberry Bonbons. Look out for these traditional sweets at the market for a true taste of Nottinghamshire.
Handmade Pottery – Local artists and artisans may offer unique, handmade pottery that showcases the skills and creativity of Nottingham's thriving arts community.
Wooden Toys and Decorations – Find traditional, high-quality wooden toys and Christmas ornaments that make for memorable gifts or keepsakes.
Christmas Ornaments – Choose from a vast selection of festive ornaments and decorations to adorn your tree or home.
Local Artwork – Support local artists by purchasing unique paintings, prints, or illustrations that capture the spirit of the city or the holiday season.
Festive Clothing – Shop for seasonal clothing items like quirky Christmas jumpers, hats, scarves, and accessories like gloves and socks.
Gourmet Food and Drinks – Sample and purchase local and international gourmet products, such as cheeses, cured meats, preserves, chocolates, and specialty drinks.
Scented Candles – Create a cosy atmosphere at home with beautifully scented candles, diffusers, and other home fragrances inspired by Christmas.
Personalised Gifts – Choose from a range of customisable items, like engraved ornaments, embroidered textiles, or bespoke jewellery.
Eco-friendly and Sustainable Products – Browse a selection of environmentally friendly products, including reusable bags, beeswax wraps, and natural skincare items.
Books and Stationery – Explore a variety of books, notebooks, calendars, and writing instruments, perfect for the bookworms and stationery enthusiasts in your life.
Winter Village at Trinity Square 2023
The new Winter Village can be found at Trinity Square, where the entrance is adorned with a row of Christmas trees. This festive location offers traditional market snacks and drinks and introduces new features like igloos and seating booths.
Igloos – Take a break from browsing the market stalls and enjoying festive treats by getting cosy in your very own igloo. These charming, private spaces are perfect for relaxing with friends and family while taking in the atmosphere.
Alpine Huts – Nestled among the Christmas trees and igloos, you'll find beautifully decorated alpine huts. These enchanting structures contribute to the warm and inviting atmosphere of the Winter Village, creating an idyllic Christmas setting for all to enjoy.
The Winter Village at Trinity Square provides a charming addition to Nottingham's Christmas celebrations, offering visitors a delightful blend of new attractions and traditional festive experiences.
Location of the Winter Village
If you're looking to visit other Christmas cities, read our list of the best UK Christmas markets.
Nottingham in Winter
Nottingham Winter Wonderland is a popular Christmas event where friends typically meet for after-work drinks, and families often get together to enjoy the Christmas events. One of the most popular Christmas experiences for everyone is the outdoor ice skating as well as the ice bar.
But outside of Christmas events and festivities, Nottingham has a wealth of activities and attractions, making it an excellent destination for both locals and visitors. Here are some highlights to explore:
Nottingham Castle – Discover the rich history of the newly renovated castle, and immerse yourself in the legendary tales of Robin Hood.
Ye Olde Trip to Jerusalem – On those cold or rainy days, seek refuge in the oldest inn in England, located in Brewhouse Yard. Enjoy a pint while absorbing the cosy atmosphere and historic charm.
The Lace Market – As one of the city's oldest areas, the Lace Market serves as Nottingham's Creative Quarter and hipster district. Explore a variety of restaurants, bars, and boutique shops, and be sure to visit Sneinton Market for some delicious street food.
City of Caves – Delve into Nottingham's subterranean history by exploring the fascinating network of caves beneath the city streets.
Newstead Abbey – Just a short drive from the city centre, you can visit the ancestral home of the famous poet Lord Byron. Wander the picturesque grounds and marvel at the historic architecture.
Wollaton Hall – Take a leisurely stroll through the stunning parkland surrounding Wollaton Hall, an impressive Elizabethan mansion. Keep an eye out for the resident deer as you explore the grounds.
With so many attractions and activities, Nottingham is the perfect winter destination to experience a mix of traditional and contemporary delights, all set against the backdrop of a charming and historic city.
For the latest information on winter events besides Nottingham Christmas Market, Visit Nottinghamshire is a great resource.
Sustainability in Nottingham
When visiting the Christmas markets in Nottingham or travelling throughout Nottinghamshire and the UK, it's essential to consider your choices' environmental and social impacts. By implementing the following sustainable practices, you can minimise your footprint and contribute positively to local communities:
Shop Ethically – Purchase only what you genuinely need, and opt for eco-friendly or locally-made products whenever possible.
Use Sustainable Transportation – Walk, cycle, or use public transport to explore the city and reduce carbon emissions.
Stay in Green Hotels – Choose hotels that prioritise sustainability and are powered by renewable energy sources.
Reduce Plastic Usage – Avoid single-use plastics and refrain from purchasing items made or packaged with plastic materials.
Eat Local and Organic – Seek out restaurants and food vendors that offer locally-sourced, organic ingredients to support regional farmers and reduce your carbon footprint.
Limit Meat and Dairy Consumption – Opt for plant-based meals when possible to decrease your environmental impact.
Support Local Arts and Events – Attend performances, exhibitions, and other events that showcase the talents of local artists and performers.
By adopting these sustainable travel tips, you can make a positive impact on the environment and communities you visit while exploring Nottingham, Nottinghamshire, and the UK during the festive season and beyond.
FAQ
When is Nottingham Christmas Market 2023?
Nottingham Christmas Market starts on 14th November and continues until 31st December 2023.
What time does Nottingham Christmas Market open?
Notting Christmas Market opens at 11am during the week and 10am on the weekends.
What time does Nottingham Christmas Market close?
Nottingham Christmas Market closes early at 5:30pm, but bars and Big Wheel close at 11pm.
Where to park for Nottingham Christmas Market?
Due to the number of visitors expected, it's recommended to use public transport to access the Christmas markets. If you must drive, the closest parking is at Upper Parliament Street and Lace Market Council Car Park.
What stalls are at Nottingham Christmas Market?
Christmas stalls along Long Row and Smithy Row offer local, handmade gifts, Christmas decorations and delicious food. There is the Après Ski Bar and Observation Wheel.
If you have any questions or comments about visiting the Nottingham Xmas market in 2023 or Winter Wonderland, please leave a comment below.
Reviews assist people who are planning on visiting Nottingham this Christmas, especially first-time travellers. If you would like to leave a review after your visit, you're welcome to do so in the comment section below.
—
Recommendations are independently chosen based on personal travel experiences and extensive research. This post contains affiliate links to hotels and tours in Nottingham, UK. This means I get a small commission from any bookings at no extra cost to you.