If you want to experience the best of the Christmas markets in Nottinghamshire then for sure you will want to visit Nottingham Christmas Market. Known locally as Nottingham Winter Wonderland, it's one of the most popular winter events in the region and many are excited for its return in 2022.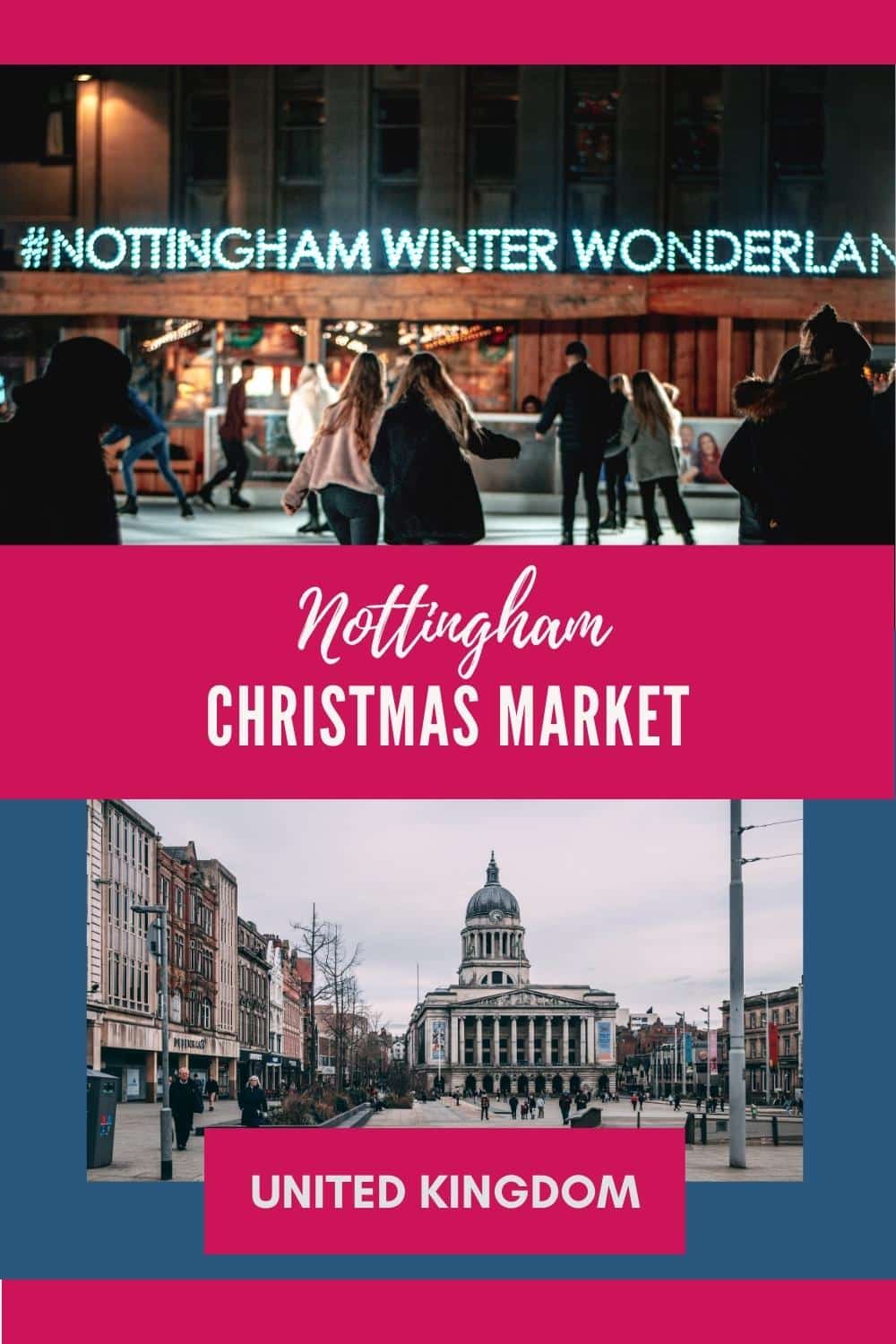 Nottingham's Winter Wonderland is a traditional German-style market with all the wonderful Christmas food, mulled wine, handmade gifts and decorations that you would expect to see in a German Christmas market.
The traditional chalets combine well with the less traditional events and activities that are put on by the city. You can choose from family-friendly rides and attractions or meet friends for a drink at one of the winter bars.
Nottingham Christmas Market 2022
In 2022, the Christmas markets will be held in two locations in Nottingham, the original location at the Old Market Square and a new market at Trinity Square.
Entry to the Christmas market is free and no tickets are required. However, certain activities and bars do require tickets and booking in advance (see below).
Events and activities include:
Christmas market stalls – the main attraction that is free for everyone.
Sky Skate Ice Path – Experience the Christmas markets and ice skating from above.
Ice Rink – The centrepiece of the square that is open for all ages.
Observation Wheel – Get a calm view of the city from above.
Toboggan Slide – Open for all ages, tickets available on-site, no need to book.
Altitude – Rooftop bar where you can order food and drinks from your phone. Advance booking is recommended.
Sur la Piste – Ski chalet bar. Plenty of food options. Reserve a table in advance.
Ice Bar – A chilli bar decorated with ice furniture.
Helter Skelter Bar – Take a break while the kids enjoy the slide.
Dates and Locations
Nottingham Christmas market dates: 15th November to 31st December 2022.
Christmas Day: Closed.
Opening hours: 11am to 5:30pm. The bars and Big Wheel close at 11pm.
Location: Old Market Square and Trinity Square.
Admission: Entry to the Christmas market is free, no tickets required. However, certain activities and bars require tickets. Click here to find activities and book.
Payment: This is a cashless event.
Accessible: Yes, including lift access to the first floor.
Pet-friendly: It's encouraged to leave dogs at home due to the crowds. However, they are welcome in any outside area.
Reason to visit: Nottingham Market Square is the home of the largest Christmas market in the East Midlands. The Big Wheel is a 32-metre observation wheel.
Winter Wonderland 2022: Ice rink and ice skate path.
Specialities: Artisan cheese, chutneys and locally made stews. Outdoor ice skating in Nottingham Market Square.
Tips: Some food stalls will re-open after Christmas for the New Year celebrations.
Where to stay: The Lace Market Hotel in central Nottingham.
Hotels near Nottingham Christmas Market
There are a limited number of excellent, value-for-money places to stay in Nottingham. However, I've written a guide to hotels near Nottingham Christmas Market to help you find a convenient stay in Nottingham this winter.
I suggest staying in the Lace Market district or near Old Market Square. The Lace Market Hotel is less than 10-minutes to the Winter Wonderland.
Located in one of the trendiest areas of Nottingham, there are many excellent restaurants, bars and shops nearby or you can eat at the awarding-winning hotel pub.
Nottingham Winter Wonderland
The Christmas market at Winter Wonderland is located at the Old Market Square in the centre of Nottingham.
This is where you'll find the festively decorated Christmas stalls stocked with artisan products, traditional Christmas snacks like bratwurst and hot specialty drinks, including mulled wine and spiced hot chocolate.
Après Ski Bar – This is where you'll find a place to sit and enjoy a mug of mulled wine, hot cider, hot chocolate and other drinks.
Observation Wheel – You can purchase tickets for the 32-metre high observation wheel at the event.
Helter Skelter – Children can slide down the traditional, colourful Helter Skelter ride while adults can have a drink at the Helter Skelter Bar.
Note: Winter Wonderland is closed on Christmas Day.
Location of Winter Wonderland 2022
Winter Village at Trinity Square
The new Winter Village is located at Trinity Square. Christmas trees line the entrance, igloos and kissing booths are new while you can also find traditional market snacks and drinks.
Igloos – Take a break from shopping and eating by getting cosy in your own igloo.
Alpine huts – Decorated huts are interspersed between the Christmas trees and igloos creating a cosy Christmas space.
If you're looking to visit other Christmas cities, read our list of the best UK Christmas markets.
Things to Do in Nottingham in Winter
Nottingham Winter Wonderland is a popular Christmas event where friends typically meet for after-work drinks and families get together to enjoy the Christmas events.
One of the most popular experiences for everyone is the outdoor ice skating as well as the ice bar.
Nottingham Castle – Visit the newly renovated castle to hear the tales of Robin Hood.
Ye Olde Trip to Jerusalem – If the weather isn't great, head indoors to have a beer at the oldest Inn in England on Brewhouse Yard.
The Lace Market – Nottingham's Creative Quarter and hipster district is one of the oldest areas in the city. There are many great restaurants, bars and boutique shops here and you can enjoy street food at Sneinton Market.
Of course, there are many other winter events besides Nottingham Christmas Market. Learn more at Visit Nottinghamshire.
Sustainable Travel Tips
The choices we make have an environmental and social impact on the places we visit. When visiting the Christmas markets, it's important to keep sustainability in mind.
Implement some or all of these simple measures to create a positive impact.
Shop mindfully. Only purchase what you really need.
Walk, cycle and use public transport to get around.
Stay in a sustainable hotel powered by renewable energy.
Stay in hotels. Short-stay apartment accommodation can lead to a lack of affordable housing for locals.
Avoid using plastic or buying items made or packaged with plastic.
Try to eat locally sourced organic food where possible.
Limit your consumption of meat and dairy.
Be open to diverse cultures and experiences.
Explore more than just the main tourist areas.
Support the arts and attend local events.
Visit fewer places but stay longer at each destination.
FAQ
When is Nottingham Christmas Market 2022?
15th November to 31st December 2022.
What time does Nottingham Christmas Market open?
11am during the week and 10am on the weekends.
What time does Nottingham Christmas Market close?
5:30pm but bars and Big Wheel close at 11pm.
Where to park for Nottingham Christmas Market?
Due to the number of visitors expected, it's recommended to use public transport to access the Christmas markets. If you must drive, the closest parking is at Upper Parliament Street and Lace Market Council Car Park.
What stalls are at Nottingham Christmas Market?
Christmas stalls along Long Row and Smithy Row offer local, handmade gifts, Christmas decorations and delicious food. There is the Après Ski Bar and Observation Wheel.
If you have any questions or comments about visiting the Nottingham Xmas market in 2022 or Winter Wonderland, please leave a comment below.
Reviews assist people who are planning on visiting Nottingham Christmas Market, especially first-time travellers. If you would like to leave a review after your visit, you're welcome to do so in the comment section below.
—
Recommendations are independently chosen based on personal travel experiences and extensive research. This post contains affiliate links to hotels and tours in Nottingham, UK. This means I get a small commission from any bookings at no extra cost to you.