Known for its vibrant cultural heritage and distinct architecture, Glasgow comes alive during the festive season, and its Christmas market is no exception.
This guide will provide all the essential information to help you plan your trip to Glasgow Christmas Market – from 2023 dates, opening times, standout Christmas stalls and much-loved Glaswegian delicacies.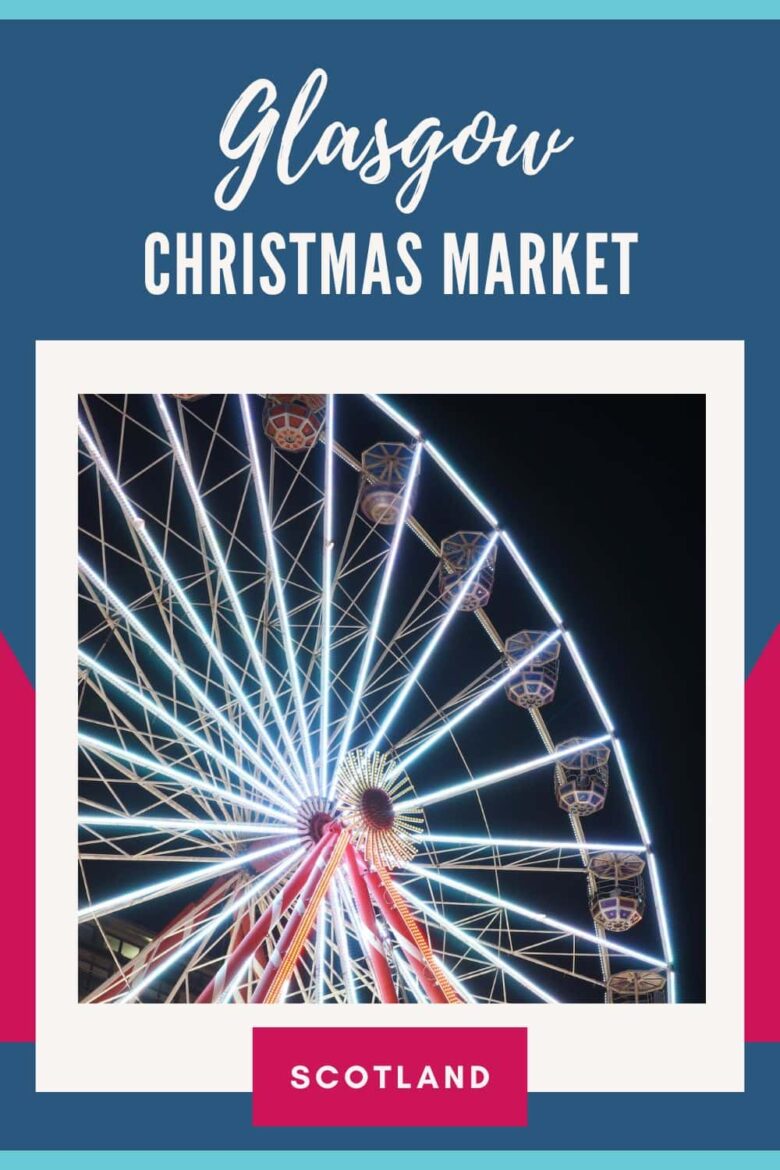 Glasgow Christmas Market 2023
In the heart of Scotland's most vibrant city, Glasgow Christmas Market transforms George Square and St Enoch Square into a festive wonderland. The market spans both squares, each with its unique charm.
St Enoch Square, one of Glasgow's central points, is home to more than 50 Christmas chalets and traders from across the globe, selling an array of artisan products, crafts and high-quality food and drink.
George Square, in contrast, radiates festive cheer with the twinkling Glasgow Loves Christmas Fair and the iconic Christmas lights adorning the square's surrounding historical buildings. You'll also find fairground attractions and the centrepiece, a striking Christmas tree.
Dates and Location
Glasgow Christmas Market dates:
St Enoch Square: Likely dates: 17th November 2023 to 3rd January 2024.
George Square Christmas Market: Likely dates: 30th November 2023 to 7th January 2024.
Location: St Enoch Square and George Square.
Opening times: 10am to 10pm.
Christmas Day: Closed Christmas Day, Boxing Day and New Year's Day.
Admission: Free, no tickets required.
Christmas lights: Yes, switch on date: 19th November 2023.
Santa: Yes.
Ice skating: Yes, at George Square.
Vegetarian: Yes, plenty of options.
Vegan: Yes, plenty of options.
Gluten-free: Yes, but limited.
Accessible: Yes.
Pet-friendly: Yes, but not recommended during busy periods.
Parking: Please take public transport to help limit congestion.
Reason to visit: The 33-metre-high observation wheel, stunning Christmas lights, ice climbing wall and the Santa Dash.
Recommended tour: City centre guided walking tour.
Specialities: Haggis balls, Scottish pies, venison burgers, whisky-infused fudge, hot toddies, and Irn Bru pulled pork.
Where to stay: Native Glasgow is a popular hotel, 2-minutes from the Christmas market.
Hotels near Glasgow Christmas Market
It's hard to beat a stay in the City Centre for easy access to Glasgow's festive heart. Its mix of traditional charm and modern convenience places the Christmas market at your doorstep.
A top choice in the area, Native Glasgow is situated perfectly for market visitors, pairing excellent service with a prime location.
Location of Glasgow Christmas Market
City and Christmas Tours
Exploring Glasgow through a city tour is a splendid way to soak up its rich history and diverse culture. With its striking architecture and characterful old town, Glasgow makes for a more than worthwhile visit, even in winter.
This city tour of Glasgow is highly recommended, offering a local guide's insight into the city's highlights at a reasonable price – perfect for those visiting for the first time.
Christmas in Glasgow
Immerse yourself in the festive spirit of Glasgow through this video, providing a glimpse into the city's Christmas Market. It showcases the unique atmosphere, sights, and sounds that make this market truly special.
For a comprehensive look at the festive offerings beyond Glasgow, explore my guide to the best Scotland Christmas markets 2023, designed to make your trip planning convenient and enjoyable.
Food at the Christmas Market
Scottish Pies: The Christmas market stalls in Glasgow include an array of locally-made pies, ranging from traditional steak and ale to ones filled with chicken, leek and tatties (that's potatoes to you and me).
Venison Burgers: Scotland's countryside is rich with deer, and you'll find the meat put to good use in these hearty venison burgers, served hot from the grill with a selection of toppings and sauces.
Haggis Balls: Find this quintessentially Scottish snack, where haggis – a traditional dish made from sheep's meat – is rolled into bite-sized balls, breaded and deep-fried.
Irn Bru Pulled Pork: A Scottish twist on the classic pulled pork, this version uses Irn Bru, Scotland's favourite soft drink, for a unique sweet and tangy flavour. It's served in a soft bun with a helping of coleslaw.
German Bratwurst: A Christmas market staple, enjoy these savoury German sausages served in a bun with mustard and sauerkraut.
Whisky-infused Fudge: Satisfy your sweet tooth with this innovative fusion of classic fudge and Scotland's most famous export, whisky. The alcohol burns off during cooking, leaving a delightful whisky flavour.
Hot Toddies: This traditional Scottish drink is ideal for cold winter nights. A mixture of whisky, hot water, honey, and spices is served warm and guaranteed to heat you up.
Churros: This popular Spanish treat, long strips of dough deep-fried and coated in sugar, often comes with a side of chocolate sauce for dipping.
Crepes: Originating from France, these thin pancakes can be filled with sweet or savoury toppings, making them an adaptable snack that can cater to any taste.
Scottish Shortbread: A buttery biscuit enjoyed year-round but particularly popular at Christmas, Scottish shortbread has a crumbly texture and mild sweetness, making it a favourite treat with a cup of tea.
Mulled Wine: No Christmas market would be complete without this warm, spiced wine known for its sweet aroma and ability to bring festive cheer.
What to Buy
Scottish Tartan Scarves: Woven with care, these scarves exhibit the distinct patterns of Scottish clans. Each one carries a unique design, telling a story of heritage and history, making them a wonderful gift.
Harris Tweed Accessories: Crafted in Scotland's Outer Hebrides, Harris Tweed items, from bags to hip flasks, are renowned for their durability and timeless style.
Whisky Miniatures: I'd recommend picking up a few of these from the market. They provide a great way for you to sample a wide variety of Scotland's finest whiskies or make the perfect gift for a spirit connoisseur.
Heathergems Jewellery: These stunning pieces are uniquely Scottish, crafted from the stems of heather, dyed vibrant colours, and then sealed in resin. You'll find earrings, necklaces, and brooches in intricate designs.
Scottish Food Hampers: Filled with an array of Scottish produce such as shortbread, smoked salmon, and Dundee marmalade, these hampers make a tasty gift for food lovers.
Handmade Christmas Decorations: The Christmas market in Glasgow teems with stalls selling handcrafted ornaments and baubles. The artisan craftsmanship that goes into each piece adds an authentic touch to any festive setting.
Artisan Soaps and Candles: Often made with local ingredients such as Scottish honey or oatmeal, these high-quality items can add a touch of luxury to everyday routines.
Traditional Wooden Toys: Harking back to simpler times, these toys are crafted with skill and can make a charming, long-lasting gift for children.
Hand-knit Woollens: Be it gloves, socks, or hats, these items made from locally sourced wool keep you toasty warm during the Scottish winter and are a reminder of your visit to the Glasgow Christmas Market.
European Christmas Delights: In addition to Scottish products, you'll also find stalls offering traditional European Christmas items, from German nutcrackers and incense smokers to intricate Polish glass baubles. These items provide a touch of international festive flair to your Christmas shopping.
Visit Scotland is a great starting point if you're looking for things to do in Glasgow, while People Make Glasgow is excellent for more detailed information.
Sustainable Christmas Tips
Here are a few tips on how we can travel more responsibly in Glasgow at Christmas.
Use Public Transport and Cycle Hire: Glasgow has an extensive public transport network that includes buses and trains. Choosing these over private vehicles helps in reducing carbon emissions. The city also has a popular cycle hire scheme, Nextbike Glasgow, which offers an eco-friendly way to get around.
Opt for Restaurants Committed to Reducing Food Waste: Many Glasgow restaurants are dedicated to sustainable practices, including reducing food waste. Also, be mindful of how much you're ordering from the stalls at the Christmas market.
Choose Locally Sourced Food: Embrace a sustainable diet by opting for locally sourced and seasonal food. Glasgow's Christmas Market and local restaurants have a plethora of options that source ingredients from local farms and suppliers, thus reducing the carbon footprint associated with long-distance food transportation.
Practice Ethical Consumption: Glasgow has a vibrant scene of independent shops and markets that sell locally made, ethical products. Consider purchasing gifts or souvenirs from these vendors to support local craftsmanship and sustainable business practices.
FAQ
When is Glasgow Christmas Market?
The Glasgow Christmas Market dates are from around the 18th November 2023 until the 7th January 2024.
Where is Glasgow Christmas Market?
The Christmas market is located in the heart of Glasgow's city centre, in George Square and St Enoch Square.
What time does Glasgow Christmas Market open?
The Christmas market in Glasgow opens from 10am to 10pm.
What's the weather like in Glasgow during winter?
Glasgow winters are typically cold, with temperatures ranging from 1°C to 7°C. Snow is not unheard of, but it's usually rainy, so be sure to bring a good coat and umbrella.
Are there vegetarian options at the Christmas Market?
Absolutely. The Christmas markets in Glasgow provide a variety of food options, including vegetarian and vegan choices.
Winter in Glasgow holds its own charm. The city truly comes alive, adorned with lights and decorations. The Christmas markets provide warmth, comfort and culinary surprises in this vibrant setting. Don't miss out on this experience that paints a unique portrait of Scottish culture and tradition.
If you want to leave a Glasgow Xmas Market review, comment below.
—
Recommendations are independently chosen based on personal travel experiences and extensive research. This post contains affiliate links to hotels and tours in Glasgow, Scotland. This means I get a small commission from any bookings at no extra cost to you.