Located in the heart of Manhattan, beautiful Bryant Park is transformed into a winter wonderland during the colder months. One of the winter highlights is the Bryant Park Christmas Market, a festive Winter Village filled with holiday shopping and delicious treats.
It's the perfect place to get into the holiday spirit and a fun way to spend a winter day in the city. Keep reading for dates, opening times and what you can expect when you visit the Christmas market.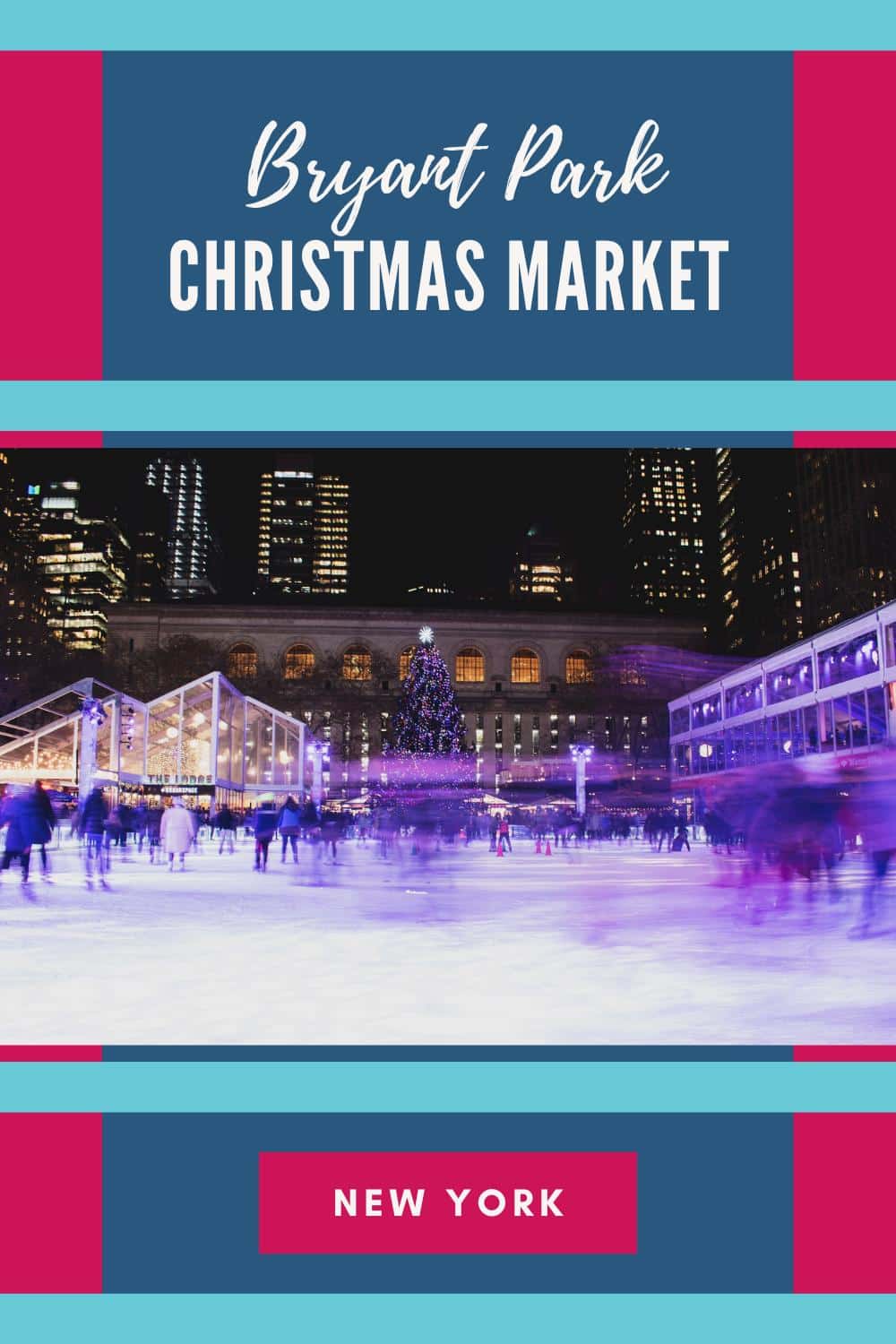 There's nothing quite like experiencing Christmas in New York City. The city is more vibrant than ever and there's so much to see and do.
You can go ice skating in Central Park and Bryant Park, check out the giant Christmas tree at Rockefeller Center, or do some last-minute shopping at the holiday markets. Plus, there are stunning window displays at all the department stores.
It's definitely worth braving the crowds to experience Christmas in the city.
Bryant Park Christmas Market 2022
Bryant Park Christmas Market and Winter Village is a great place to spend the day in the city. The park is transformed into a winter wonderland with beautifully decorated Christmas trees and light installations.
You'll find many local makers, craftspeople and artisans selling their handmade goods and an incredible array of high quality delicious, locally sourced food.
The Christmas stalls in Bryant Park are called kiosks and here are a few of the more interesting stalls to keep an eye out for:
Natural Olivewood gifts.
Sabyloo pet gifts.
Soy Logic low-impact candles.
United Chocolate Works – tool chocolates.
Woops! boutique baked goods, coffee and tea.
Winter Pie Shop.
Dates and Location
Bryant Park Christmas Market dates: 27th November 2022 to 2 January 2023.
Opening times: 11am to 8pm. Opens at 10am on Saturdays and Sundays. These are the official times but stalls often stay open later.
Christmas Day: Many holiday kiosks are open on Thanksgiving and Christmas Day from 12pm to 5pm.
Location: Manhattan's Bryant Park at 41st Street and 6th Ave.
Admission: Free, no tickets required.
Santa: Yes. Santa is available for photo ops on some mornings on a first come first served basis.
Ice skating: Yes, admission is free. Skate rental is available or bring your own.
Vegetarian: Yes, many options available.
Vegan: Yes, many options.
Gluten-free: Yes, however, please check with individual vendors regarding potential cross-contamination.
Accessible: Yes, howerver there are steps at some kiosks. There are attendants available to help anyone requiring assistence. Don't hesitate to ask them, they have portable ramps designed to help.
Pet-friendly: Yes. Dogs are allowed on a lead.
Parking: Please take public transport to help limit congestion.
Reason to visit: This is one of New York's most iconic holilday locations. You can enjoy ice skating, a vintage carousel, juggling, art exhibitions, the American symphony orchestra and or take part in a boot camp.
Recommended tour: If you're visiting NYC and plan on visiting several attractions. Consider a City Pass to save on entrance fees.
Specialities: Swiss-style raclette, handmade boa buns, gingerbread cookies, cheesesteaks, thick-stuffed crepes, Mexican sandwiches and of course, German-style bratwurst.
Where to stay: Bryant Park Hotel is located directly opposite the park, 2-minutes from the Christmas market.
Hotels near Bryant Park Christmas Market
Bryant Park is situated in the heart of midtown Manhattan, making it a convenient starting point for exploring some of the city's most popular neighborhoods.
Just a short walk away, you'll find the bustling Garment District, known for its fashion-focused shops and design studios. Times Square is also nearby, with its world-famous theaters, restaurants, and vibrant nightlife. The Theater District, home to many of Broadway's biggest shows, is just a few blocks away.
Overall, the area around Bryant Park offers something for everyone, from culture and history to shopping and entertainment. I recommend staying in this area to be near all these places of interest as well as near the Christmas market.
I suggest staying at Bryant Park Hotel as it's a stylish, exceptionally clean hotel that is great value for money considering the location.
Location of Bryant Park Christmas Market
If you're looking to experience the magic of Christmas in New York City, be sure to check out my guide to the best Christmas markets in the city!
If you're planning a trip to New York City, be sure to check out the official website of the New York tourist office. It's a great resource for finding out about all the top attractions and events happening in the city.
Sustainable Travel Tips
Many of us are increasingly concerned about climate change and sustainability.
Here are some ways that people can be more sustainable this Christmas:
Use renewable energy sources like solar or wind power to light up your home and decorations.
Invest in energy-efficient appliances and lighting to save energy and money.
Reduce food waste by carefully planning meals and using leftovers creatively.
Limit consumerism by choosing sustainable and ethical gifts or opting for experiences instead of material items.
Consider a sustainable diet by incorporating more plant-based foods and supporting local and organic agriculture.
Use sustainable transport options like walking, biking, or using public transportation to get around.
FAQ
When is Bryant Park Christmas Market?
Bryant Park Christmas Market starts on 27th November 2022 and ends on 2nd January 2023.
Where is Bryant Park Christmas Market?
The Christmas markets in Bryant Park are held at Manhattan's Bryant Park at 41st Street and 6th Ave.
What time does Bryant Park Christmas Market open?
The Christmas markets are open from 11am to 8pm. Opens at 10am on Saturdays and Sundays.
If you would like to leave a review of Bryant Park Xmas Market, feel free to comment below.
—
Recommendations are independently chosen based on personal travel experiences and extensive research. This post contains affiliate links to hotels and tours in Bryant Park, New York. This means I get a small commission from any bookings at no extra cost to you.