Gammelstad is a UNESCO World Heritage Site in Sweden famous for being a well-preserved Church Town. In December, the city becomes even more inviting as it hosts the Gammelstad Christmas Market over one weekend.
In the following, I'll provide all the details for planning a visit, such as the confirmed 2023 dates, opening times and how to get there.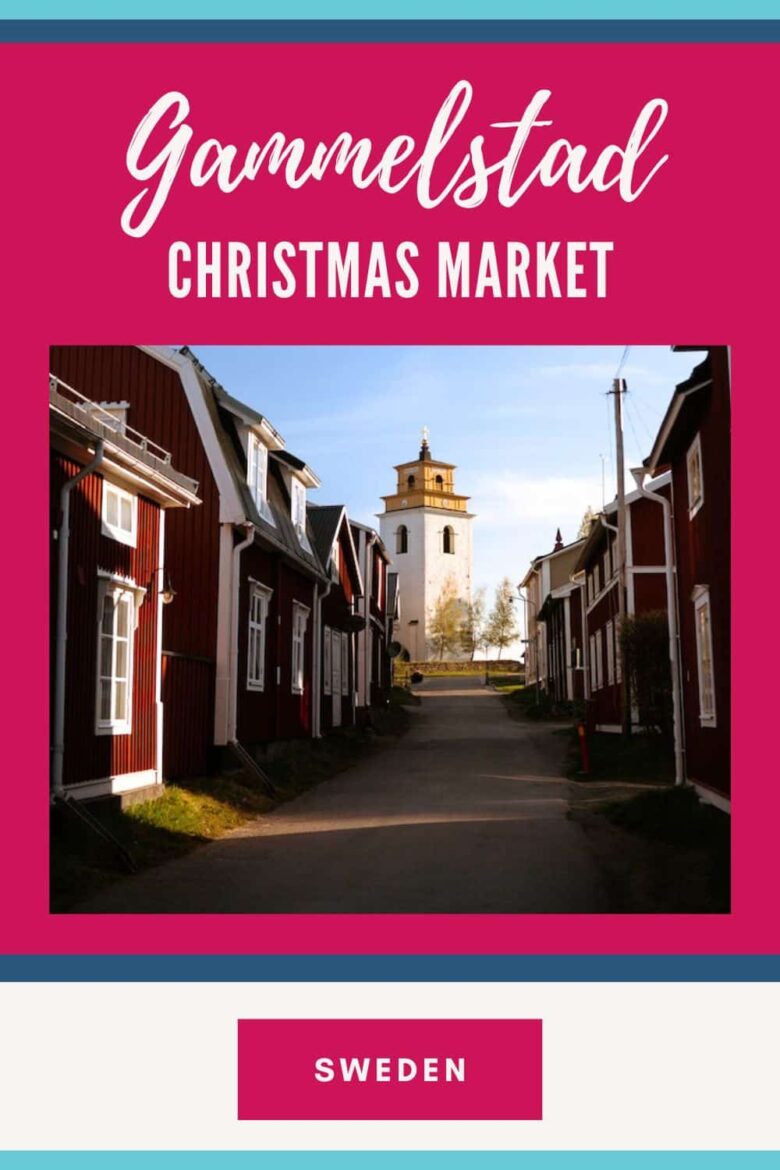 Gammelstad Christmas Market 2023
Gammelstad is just outside Luleå in Swedish Lapland. It stands out for its historic wooden buildings that create a unique backdrop for the festivities.
The traditional market takes place one weekend at the open-air Hägnan Museum in and around the former farm buildings.
Around the historic red log cabins and near one of Sweden's standout churches, roughly 70 exhibitors showcase their work, ranging from homemade treats to books.
Children can meet Mother Hulda, Santa, Mrs Claus and Santa's reindeer, listen to fairytale stories, and experience a horse-drawn sleigh ride (40 SEK per person).
Dates and Information
Gammelstad Christmas Market dates: 9th to 10th December 2023.
Location: Friluftsmuseet Hägnan.
Opening times: 12pm to 4pm.
Christmas Day: Closed.
Admission: Online in advance: 30 SEK. At the event: 50 SEK. Children under 18: free.
Santa: Yes.
Ice skating: Yes, at Luleå Jokkmokk.
Vegetarian: Yes, plenty of options.
Vegan: Yes, plenty of options.
Gluten free: Yes, but limited.
Accessible: Most areas are accessible but not all outbuildings or during all weather.
Pet-friendly: Yes in outdoor areas.
Public transport: Take bus number 9.
Reason to visit: Beautiful location in Swedish Lapland.
Food specialities: Homemade treats, Swedish pastries, Swedish mulled wine, seasonal jams.
Where to stay: Comfort Hotel Arctic is a popular hotel, located in nearby Luleå.
Hotels near Gammelstad Christmas Market
To be near the museum in Gammelstad, I suggest staying in Luleå city centre where there are more things to do and places to eat out rather than in Gammelstad itself.
It provides straightforward access to the museum and market. In that area, the Comfort Hotel Arctic stands out as a well-located and popular hotel, making it a good choice for your stay.
Location
I recommend reading my Sweden Christmas Markets 2023 guide to get a detailed list of the best places to visit this winter.
Christmas in Gammelstad
Local Specialties
Saffransbullar (Saffron Buns): These saffron-infused buns are a Christmas staple in Sweden. They're mildly sweet and have a bright yellow hue, thanks to the saffron. Usually enjoyed with coffee, you'll find them at many stalls in Gammelstad and Luleå.
Risgrynsgröt (Rice Porridge): The shops sell this traditional Swedish dish hot and ready to eat. It's generally made with starchy short-grain rice and often seasoned with cinnamon or cardamom. A favourite among locals and visitors alike, it provides warmth on a cold day.
Pepparkakor (Ginger Snaps): Crunchy and spiced, these ginger biscuits are another staple of Swedish Christmas celebrations. Stall vendors make them in festive shapes like stars, hearts, and animals.
Glogg: This resembles mulled wine but usually contains raisins and almonds.
Äppelglögg (Apple Glogg): A non-alcoholic alternative to the traditional glogg, this warm apple-based drink is spiced with cinnamon and cloves. It's popular among families and those looking for a less potent option.
Gifts and Stocking Fillers
Dalarna Horse (Dala Horse): Originating from the Dalarna region, these wooden horses are intricately hand-painted. They've become an emblem of Swedish heritage and are highly sought-after souvenirs.
Sami Handicrafts: Often made by Indigenous Sami artisans, products like reindeer leather pouches and antler knives make unique gifts. Each item typically incorporates traditional Sami design elements, emphasising form and function.
Knitted Products: Woollen mittens, hats, and scarves are ubiquitous at the markets. Often handmade, they come in traditional Swedish patterns. These items not only offer an opportunity to support local artisans but also to keep warm in the Scandinavian winter.
Lingonberry and Cloudberry Jams: Native to the region, these berries are turned into delicious jams. These preserves often come in decorative jars, making them ideal for gifting.
Swedish Schnapps: Mini bottles of Swedish schnapps, a strong spirit, are popular. They're often flavoured with herbs or spices and are traditionally consumed during festive occasions. A bottle or two can be a nice souvenir or a way to bring Swedish traditions into your celebrations.
Travel Information
Click through to Visit Luleå, the region's official website, to stay updated on the latest winter activities and upcoming events during your visit.
Sustainable Travel Tips
Here's guidance on how to make your Christmas visit to Gammelstad more sustainable.
Eco-friendly Hotels: You can choose hotels that operate on renewable energy. Many local hotels now use renewables to power their facilities. Staying in such hotels helps to reduce your carbon footprint during your visit.
Reduce Food Waste at Markets: When enjoying local foods at the Christmas markets, be mindful of portions. Sweden is known for its hearty dishes, and often, the servings are generous. It's better to order less initially and get more if you're still hungry.
Ethical Consumption: The Hägnan market is a treasure trove of handmade crafts and local produce. However, it's vital to be selective and only purchase items you truly need or will use. This helps to support ethical production practices and reduces waste.
Sustainable Diets: Swedish Lapland is famous for its locally sourced seafood and agricultural products. Order for plant-based or lower-impact products when eating out. This not only supports local farmers but also minimises your environmental impact.
Sustainable Transport: Instead of driving, consider walking around the compact city or using the local public transport. Electric buses are becoming more prevalent in Sweden, making travel around the area cleaner and greener.
Comment below if you want to leave a review of Hägnan Xmas Market or have any questions.
—
Recommendations are independently chosen based on personal travel experiences and extensive research. This post contains affiliate links to hotels and tours in Gammelstad, Sweden. This means I get a small commission from any bookings at no extra cost to you.