Located at the foot of Poland's beautiful Tatra Mountains, Zakopane becomes a magnet for tourists as the country's 'winter capital'.
The town's small Zakopane Christmas Market is a highlight, showcasing local crafts, festive foods, and a warm Polish welcome.
In this guide, I'll detail all the essential information for 2023, including dates and what to expect while you're there.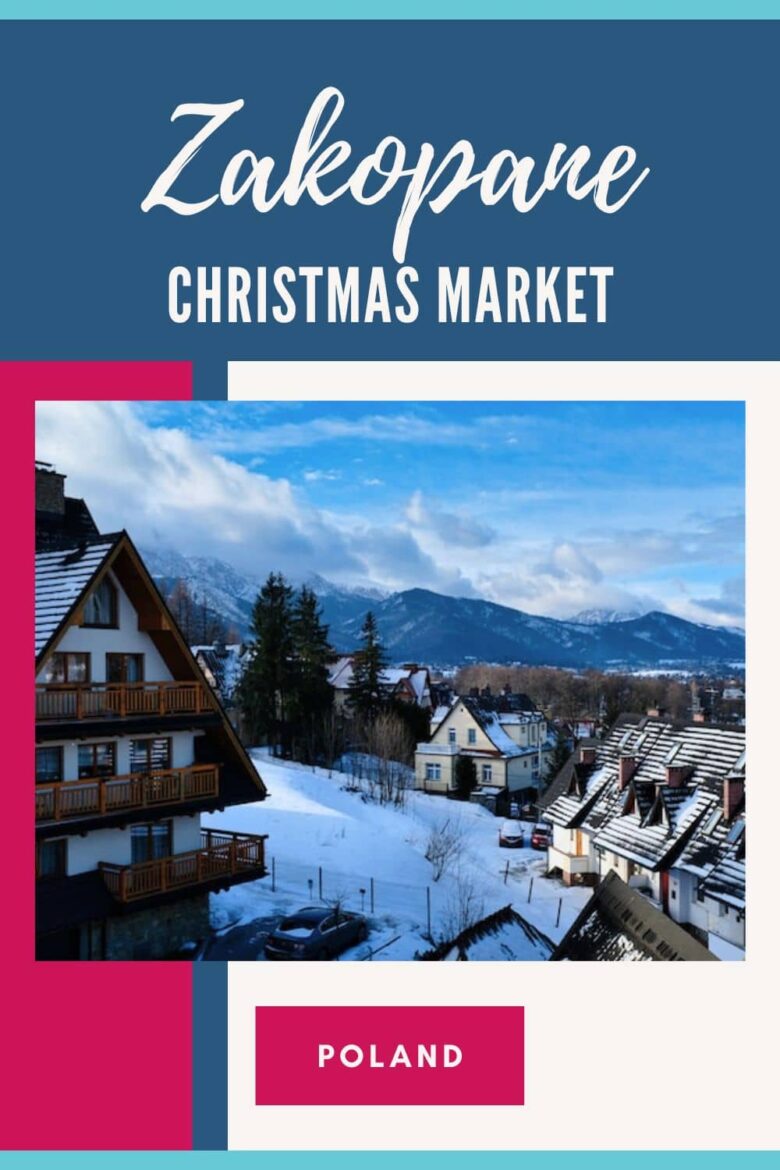 Zakopane provides a distinctive backdrop for Christmas celebrations with its snow-clad Tatra Mountains.
The town maintains strong cultural traditions, from unique wooden architecture to the sounds of Goral folk music that resonate throughout.
Zakopane Christmas Market 2023
Located in southern Poland, not far from Krakow and close to the Slovakian border, Zakopane showcases mountain views accentuated by shimmering Christmas lights.
While the town is renowned for winter sports like skiing and snowboarding, the Christmas market stands out for its own merits.
You'll be introduced to the town's rich cultural vibe as you meander through the pedestrian streets, styled reminiscent of Alpine chalets.
And while the snow-laden landscapes give a sense of a winter paradise, the local food and unique beers ensure your visit remains grounded in the authentic tastes of Poland.
Dates and Location
Zakopane Christmas Market dates: Likely dates: 8th December 2023 to 8th January 2024.
Location: Plac Niepodległości.
Opening times: 10am to 8pm.
Christmas Day: Closed.
Admission: Free.
Christmas lights: Yes, switch on date: 8th December.
Santa: No.
Ice skating: No.
Vegetarian: Yes, plenty of options.
Vegan: Yes, some options.
Gluten free: Yes, but limited.
Accessible: Yes.
Pet-friendly: Yes, but not recommended during busy periods.
Parking: Please take public transport to help limit congestion.
Reason to visit: Alpine-style chalets, Tatra mountain backdrop, authentic Polish crafts, unique beers.
Food specialities: Oscypek cheese, pierogi, kielbasa sausage, bigos stew, grzaniec (mulled wine), and żurek soup.
Where to stay: Aries Hotel is a popular place to stay, located 7 minutes from the main square.
Hotels near Zakopane Christmas Market
For easy access to the Christmas market in Plac Niepodległości, it's best to stay in the central area of Zakopane. This location will place you within walking distance of the festive activities.
I'd recommend Aries Hotel & Spa, which is conveniently situated in the town centre and has gained a reputation for its excellent service and prime location.
I recommend you check out my Poland Christmas Markets 2023 guide, which covers the top markets in Poland, including Zakopane.

You might also like to visit Poland's famous Krakow Christmas Market while you're in the region.
Location of Zakopane Christmas Market
Christmas in Zakopane
Market Specialties in Zakopane
Oscypek (Smoked Cheese): Oscypek is a traditional smoked cheese made of salted sheep milk. Exclusively produced in the Tatra Mountains region, it's often served grilled with a dollop of cranberry jam. Its smoky flavour and distinct shape, resembling a spindle, make it instantly recognisable.
Pierogi (Dumplings): Pierogi are Polish dumplings usually filled with a variety of ingredients. At the Zakopane Christmas Market, you might find them stuffed with cabbage and mushrooms, a common filling during winter. They're boiled and sometimes lightly fried, offering a warm, comforting bite in the chilly weather.
Grzaniec (Mulled Wine): Grzaniec is Poland's answer to mulled wine. It's red wine, typically simmered with a mix of spices like cinnamon and cloves, then sweetened with sugar or honey. It's the ideal drink to keep your hands and soul warm while wandering the market.
Kielbasa (Sausage): Kielbasa is a broad term for Polish sausages. In Zakopane, you might encounter versions that are grilled over open flames, providing a smoky aroma that fills the air. They're often served in a bun with a variety of condiments, making them a perfect handheld treat.
Bigos (Hunter's Stew): A traditional Polish dish, bigos is a hearty stew made of sauerkraut, fresh cabbage, and various meats. The ingredients are slow-cooked together for hours, resulting in a rich flavour. It's especially popular during the colder months and offers warmth and sustenance to market-goers.
Żurek (Sour Rye Soup): Żurek is a sour rye soup, often containing pieces of sausage and boiled egg. The sour taste comes from fermented rye flour. It's a unique flavour profile that many find incredibly satisfying on a cold day.
Makowiec (Poppy Seed Roll): A festive treat, makowiec is a rolled cake filled with a dense mixture of poppy seeds, fruits, and nuts. Though it's enjoyed year-round, it holds a special place during Christmas. The sweet, slightly nutty taste and soft pastry make it a popular choice among locals and visitors alike.
Piernik (Gingerbread): No Christmas market in Poland is complete without piernik, which are gingerbread cookies. They come in various shapes, often intricately decorated, and provide a sweet, spiced flavour that's synonymous with the season.
Kompot (Fruit Drink): A traditional drink made by boiling dried fruits, like apples and prunes, with sugar and spices. Kompot is often enjoyed cold throughout the year, but it's served warm during Christmas, making it a comforting beverage choice as you explore the stalls.
Gifts and Stocking Fillers
Góralskie Ciuchy (Highlander Clothes): Zakopane is the heart of the Tatra Mountains and the epicentre of the unique Highlander culture. You can buy traditional Góralskie Ciuchy, which are clothes worn by the local mountain people. These garments, made of wool and often adorned with intricate embroidery, make for a unique and culturally rich gift.
Rękodzieło (Handicrafts): Zakopane is renowned for its local artisans who create a variety of handcrafted items. You'll find beautifully carved wooden trinkets, leather goods, and intricate lacework among the stalls. These items serve as a reminder of your trip and support local craftsmanship.
Polish Amber Jewellery: The Baltic region, including northern Poland, is famed for its amber. You can find various amber jewellery pieces in the south in Zakopane, from elegant necklaces to statement earrings. Each piece is a beautiful accessory and a slice of ancient history, as amber is fossilised tree resin.
Traditional Zakopane Paintings: The serene landscapes of Zakopane and its surroundings have inspired many local artists. At the market, you can buy paintings that capture the essence of the region, from snow-covered peaks to tranquil meadows. These artworks provide a scenic window into the beauty of the Tatra Mountains, even after you've left the area.
Tatras' Herbal Liquors: The region around Zakopane is known for its herbal liquors, often brewed using age-old recipes. These liquors are not just delightful drinks but are also often considered to have medicinal properties. Bottles of varying sizes, adorned with local motifs, make for a distinct and enjoyable gift.
Mountain Stone Accessories: The Tatra Mountains provide stunning vistas and unique stones. Local artisans fashion these into accessories like brooches, rings, or pendants. Each piece tells a story of the mountains, making it a special souvenir for those who cherish nature's gifts.
Travel Information
For a comprehensive overview of winter activities and the most recent events in the region, I recommend you visit Visit Zakopane, the area's official online portal.
Sustainable Travel Tips
Here's some guidance on how to navigate Zakopane sustainably this festive season:
Eco-friendly Accommodation: Several hotels are taking strides to become more sustainable in Zakopane. These establishments harness renewable energy sources like solar and wind power to fuel their operations. By opting to stay in such places, you directly support their green initiatives and lessen your environmental footprint.
Mindful Eating at the Market: The bustling Christmas markets in Zakopane are a culinary delight. While indulging, be conscious of portion sizes to minimise food waste. Consider bringing your own reusable cutlery and containers to reduce single-use plastics.
Ethical Consumption: The allure of Zakopane's market stalls is undeniable. However, it's essential to purchase mindfully. Before buying, ask yourself if it's something you genuinely need or will use. Acquiring items with a purpose can reduce unnecessary waste and clutter.
Sustainable Diets: While savouring Zakopane's festive treats, consider options that have a lower environmental impact. For instance, dishes centred around seasonal and locally sourced ingredients, like the traditional pierogi or oscypek cheese, have a smaller carbon footprint than imported or out-of-season foods.
Green Transport Options: Zakopane offers various sustainable transport methods. Exploring the town by foot or bike gives a more intimate experience and reduces carbon emissions. Additionally, when travelling longer distances, consider using public transport, which typically has a lower environmental impact per passenger than private vehicles.
If you would like to leave a review of Zakopane Xmas Market, comment below.
—
Recommendations are independently chosen based on personal travel experiences and extensive research. This post contains affiliate links to hotels and tours in Zakopane, Poland. This means I get a small commission from any bookings at no extra cost to you.