Located in eastern Hungary, Debrecen is an interesting city that doesn't get that much attention from international tourists. I visited once back when I lived in Budapest and found it fairly quiet, but it has a pretty centre and some unusual architecture.
In winter, the city adds a seasonal attraction: the Debrecen Christmas Market.
In this article, you can find confirmed 2023 dates and everything you'll need to plan a visit, plus local Hungarian specialties you can try.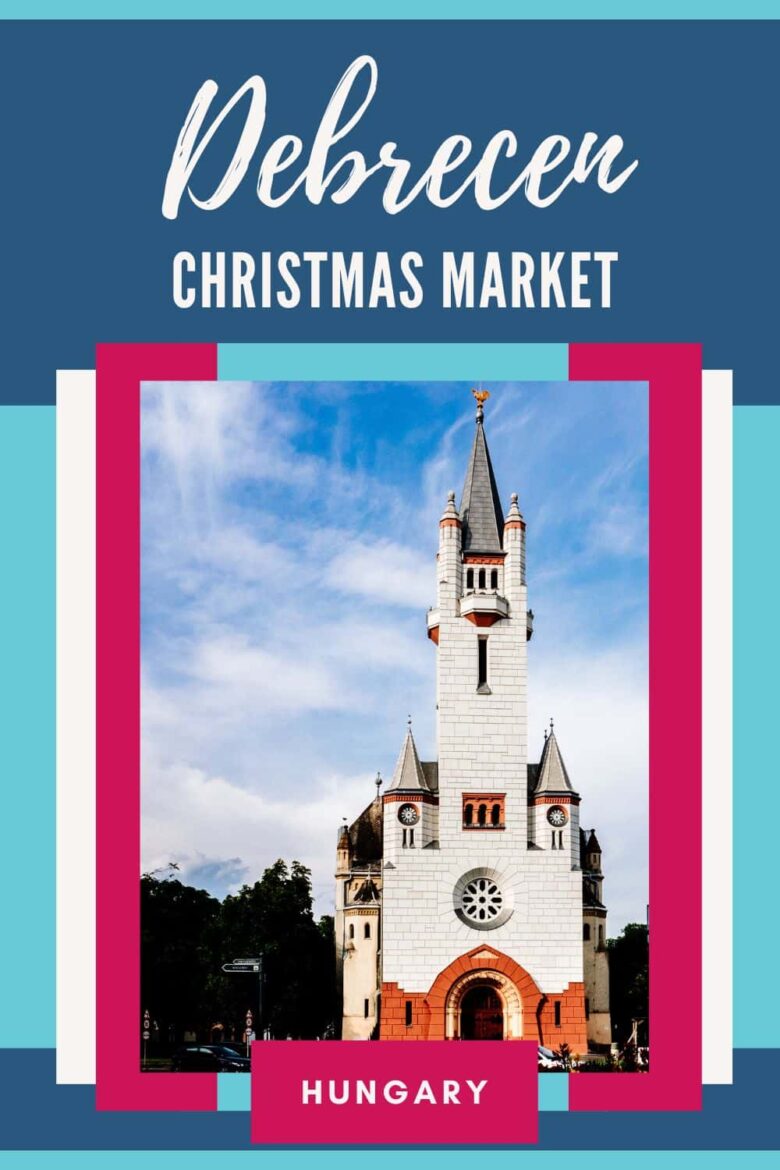 Debrecen Christmas Market 2023
At the Christmas market in Debrecen, you'll find an interesting mix of the modern and the traditional set against the backdrop of the city's historic buildings, including the iconic Great Reformed Church.
The market features 75 stalls where you can find traditional items such as handmade ceramics, wooden toys and clothes, with an additional 23 wooden chalets with festive food and drinks.
Among the food options are gingerbread, medicinal herbs, teas, and sweets, making the market an excellent place to sample various local products.
Dates and Information
Debrecen Christmas Market dates: 25th November to 23rd December 2023.
Location: Kossuth Square and Kálvin Square.
Opening times: 9am to 7pm.
Christmas Day: Closed.
Admission: Free.
Christmas lights: Yes, switch on date: 25th November.
Santa: Yes.
Ice skating: Yes, at from Kossuth Square: 25th November to 7th January 2024.
Vegetarian: Yes, plenty of options.
Vegan: Yes, plenty of options.
Gluten free: Yes, but limited.
Accessible: Yes.
Pet-friendly: Yes, but not recommended during busy periods.
Parking: Please take public transport to help limit congestion.
Reason to visit: One of the most affordable cities in Hungary.
Travel tip: You can go up the tower of the Great Reformed Church for excellent views.
Food specialities: Gingerbread, medicinal herbs, langos, chimney cake.
Where to stay: Centrum Hotel is a popular hotel, located 2 minutes from Kossuth Square.
Convenient Hotels
Staying in the Old Town places you near the market, making it convenient to experience the festivities. I wouldn't stay near the train station as it's quite far from the centre.
The area has good access to public transport and local amenities. Centrum Hotel is a popular choice, given its excellent location.
To expand your options for festive locations in Hungary, you read my Hungary Christmas Markets guide, which lists where to go.
Location
Christmas in Debrecen
You might also like to head to the Great Forest Park, which turns into a winter wonderland, attracting locals and tourists.
The city's historic Great Reformed Church of Debrecen often hosts seasonal concerts, providing a distinct cultural touch to the festivities.
Local Specialties
Kürtőskalács (Chimney Cake): A famous Hungarian pastry, you'll find it freshly made at many stalls. The dough is wrapped around a spindle and baked over an open flame. Once cooked, it's rolled in sugar and other optional toppings like cinnamon or nuts.
Lángos: Originating as a Hungarian comfort food, langos is deep-fried dough served hot. You can add toppings like sour cream and grated cheese to customise it to your taste.
Pálinka: A fruit brandy that packs a punch, pálinka is a popular local spirit. Made from fermented fruit, it's a favourite way for many to stay warm.
Mulled Wine: Red wine is spiced and heated to create this winter staple. Some vendors add unique touches like fruit slices or a splash of other spirits.
Sült Gesztenye (Roasted Chestnuts): The chestnuts are roasted over an open flame until they become tender and easy to peel. You'll often smell these before you see the stall selling them.
Gifts and Stocking Fillers
Handmade Wooden Toys: Skilled local artisans sell intricately crafted wooden toys and puzzles. These include everything from small trinkets to larger carved animals. These toys are made from locally sourced wood and usually lack artificial paint, making them eco-friendly.
Folk Art Ceramics: You'll find ceramic items featuring traditional Hungarian motifs. These are commonly used for decoration and sometimes have practical functions like serving as kitchenware. Artisans often demonstrate their skills right at the stalls.
Traditional Embroidery: Embroidery is a time-honoured Hungarian craft. At the markets, you'll find items like tablecloths and clothes featuring this detailed work. Each piece can take hours or even days to complete.
Hungarian Paprika: Paprika is a staple in Hungarian cooking. You'll find it for sale in various forms, including the spice itself and incorporated into sauces or spreads. It comes in different heat levels, either smoked or sweet, to suit different tastes.
Honey and Honey Products: Locally produced honey is often sold in decorative jars that make ideal gifts. Some vendors also sell honey-derived products, such as soap or flavoured honey mixes.
Patchwork Quilts: These are made using a patchwork technique, often incorporating traditional Hungarian designs. The fabrics used are usually locally sourced, and each quilt is a labour-intensive piece of art.
Traditional Hungarian Pastries: Besides eating them on the spot, many people buy traditional ones to take home. They're often sold in decorative boxes that make them convenient for gifting. Popular options include bejgli, a rolled pastry filled with walnut or poppy seed.
Travel Information
To stay updated on winter activities and the latest events in the city, I recommend checking out Visit Debrecen, the city's official website.
Sustainable Travel Tips
Here are some ways to make your Christmas trip to Debrecen more sustainable.
Eco-friendly Hotels: In Debrecen, many hotels are committed to sustainability using renewable energy sources like solar panels and wind power. While booking, look for hotels with green credentials and ask about their sustainability practices. This simple choice can have a meaningful impact on reducing your carbon footprint.
Reducing Food Waste: To reduce waste, consider sharing portions or opting for smaller sizes when ordering at the food stalls. Many stalls also use biodegradable or reusable serving dishes. Make an effort to return them when you're done eating.
Ethical Consumption: Debrecen's markets feature many handmade, local products. When shopping, be mindful and focus on quality over quantity. Buy only what you need or will use, and prioritise local artisans who make their goods sustainably.
Sustainable Diets: Hungarian cuisine is known for its meat-heavy dishes, but Debrecen markets also have plant-based options. Prioritising these can reduce your carbon footprint. Look for stalls serving traditional Hungarian vegetable stews or mushroom-based dishes.
Sustainable Transport: Debrecen has an efficient public transport system with trams and buses. Walking is also a viable option as many attractions are centrally located, allowing you to experience the city at a closer level.
Comment below if you want to leave a review of Debrecen Xmas Market or have any questions.
—
Recommendations are independently chosen based on personal travel experiences and extensive research. This post contains affiliate links to hotels and tours in Debrecen, Hungary. This means I get a small commission from any bookings at no extra cost to you.