Stepping into Rome in winter, you'll find the city takes on a quieter, softer air, a perfect backdrop for the lively Rome Christmas Market, known as the Befana Market.
This market is held in the heart of the city in Piazza Navona, set amid ancient architecture, beautiful sculptures and bustling restaurants. While other Christmas events take place around the city.
In this article, I'll share everything you'll need to know, including 2023 dates, opening times, locations, the best stalls and local specialties.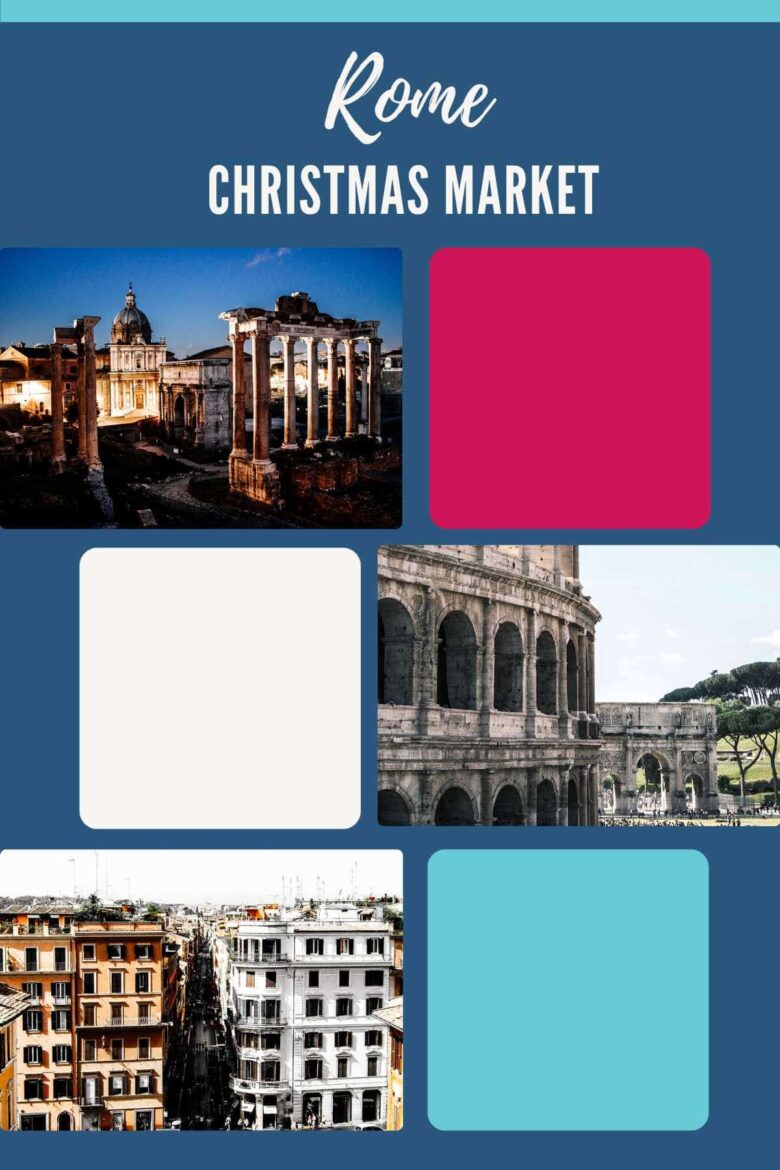 Christmas time transforms Rome into a warm, glowing city filled with tradition. Streets flicker with festive lights, and the scent of roasting chestnuts sometimes fills the air.
Midnight masses take place in local churches, and families gather for meals, celebrating generations of Italian culinary heritage.
Rome Christmas Market 2023
Nestled within the historic Piazza Navona, the Rome Christmas Market brings a festive spirit to the heart of the city. The official Pinellian nativity scene is installed at the Spanish Steps, while you'll find the city's official Christmas Tree at Piazza Venezia.
As you walk through the markets, you'll discover stalls filled with handcrafted nativity scenes, delicate glass ornaments and homemade sweets like pangiallo (Roman Christmas cake) and classic Italian panettone.
Listen to street musicians playing traditional Italian Christmas songs while sipping on a steaming cup of vin brulé, Italy's version of mulled wine.
Dates and Location
Rome Christmas Market dates: Likely dates: 30th November 2023 to 5th January 2024.
Location: Piazza Navona.
Opening times: 11am to 7pm.
Christmas Day: Closed.
Admission: Free, no tickets required.
Christmas lights: Yes, switch on date: 8th December in Piazza Venezia.
Santa: No.
Ice skating: Yes, at Piazza Navona.
Vegetarian: Yes, plenty of options.
Vegan: Yes, but limited.
Gluten-free: Yes, but limited.
Accessible: Yes, if you can manage cobblestones.
Pet-friendly: Yes, dogs are allowed on a lead.
Parking: Please take public transport to help limit congestion.
Reason to visit: Set in historic Piazza Navona, yet brimming with festive energy. Artisan stalls, yet traditional treats. Ancient backdrop, yet vibrant Christmas spirit.
Recommended tour: Walking tour of ancient Rome or this incredibly fun Vespa tour.
Specialties: Handcrafted torrone. Freshly baked panettone. Warm ciambelle. Roasted chestnuts. Traditional Christmas pandoro.
Where to stay: Hotel Martis Palace is a highly-rated hotel near Piazza Navona.
Hotels near Rome Christmas Market
For a convenient Roman Christmas experience, choose to stay in the Navona district, just steps away from the Christmas market.
This central historic neighbourhood provides easy access to Rome's main sights, attractions, museums, squares and places to eat out.
In this area, I recommend staying at Hotel Martis Palace, as it's perfectly situated in the centre of the Navona district, minutes from the Christmas market and Christmas tree. For a more affordable stay, you might like Suite Art Navona; it's exceptional value for money.
Location of Rome Christmas Market
City and Christmas Tours
A city tour of Rome is a fantastic way to experience the city's rich history and culture. With its charming cobblestone streets, awe-inspiring monuments, and stunning architecture, Rome is a city that truly has something for everyone.
On a city tour, you'll visit the city's most iconic landmarks and attractions, including the historic Roman Forum, the Trevi Fountain and the incredible St Peter's Basilica at the Vatican.
I recommend this city tour of Rome as you get to see all the highlights of the city with a local guide.
Alternatively, this food tour is an incredibly delicious way to experience Rome while learning about the local culture.
Finally, I must mention this Vespa tour I took several years ago. It's the absolute best tour I've ever taken in all my years as a travel blogger.
What to Expect in Rome
This video captures the essence of what you can expect at the Christmas market in Rome, showcasing the Christmas stalls, lights and vintage carousel.
Christmas Specialties in Rome
Pandoro: Originally from Verona, this star-shaped, sweet yeast bread is dusted with powdered sugar to resemble the snowy peaks of the Italian Alps. Its name means 'golden bread', reflecting its rich, buttery flavour, and it's often enjoyed with a glass of spumante or prosecco during the holiday season.
Panettone: Hailing from Milan, panettone is a dome-shaped sweet bread studded with candied fruits and raisins. It's traditionally served in slices with sweet hot beverages or sweet wine, and its preparation is an art in itself, with the dough needing to rise and fall three times before baking.
Torrone: This classic Italian nougat is made of honey, egg whites and toasted nuts, often almonds, hazelnuts or pistachios. It comes in hard and soft versions and has variations across Italy, but the traditional white version is common during Christmas.
Caponata: A Sicilian vegetarian dish featuring eggplant tossed with celery, tomatoes, olives and capers in a sweet and sour sauce. It's a warm and comforting dish that offers a different taste of Italian cuisine amidst the rich and sweet flavours of the season.
Struffoli: These tiny, honey-soaked balls of fried dough are a Neapolitan Christmas tradition. They're often formed into a wreath or a mound shape and decorated with coloured sprinkles or candied fruit.
Lentils: In Italy, lentils are traditionally eaten as the clock strikes midnight on New Year's Eve. Their coin-like shape symbolises wealth and prosperity in the coming year, and they're often served with cotechino, a type of Italian sausage. Vegetarian versions simply skip the sausage but keep the hearty and warming characteristics of the dish.
Cenci: Irregularly shaped, deep-fried pastries dusted with powdered sugar, a beloved Tuscan treat during the Christmas period.
Food at the Christmas Market
Ciambelle: These Roman doughnuts are a warm and comforting treat found at the Christmas Market stalls. Made from simple flour, sugar, eggs and yeast dough, they're deep-fried until golden and dusted with sugar. You can enjoy them plain or filled with cream or chocolate.
Pangiallo: A traditional Roman holiday sweet, pangiallo, or 'yellow bread', is a dense and rich fruitcake made with a variety of dried fruits, nuts and honey, all bound together with a flour and oil dough. Its name comes from the golden saffron glaze that's applied before baking. This treat is traditionally made for the winter solstice, with the yellow colour symbolising the return of the sun's light.
Supplì: A Roman street food classic, supplì are rice balls filled with tomato sauce and mozzarella, then breaded and deep-fried. They're the perfect savoury snack to enjoy as you explore the market stalls. These are somewhat similar to Arancini from Sicily. However, supplì are from Rome in central Italy. They are typically smaller and elongated in shape, somewhat resembling a telephone (hence the name "supplì al telefono"). The classic filling for supplì is a combination of tomato sauce and a piece of mozzarella.
Fritto Misto: This mix of fried seafood is a popular snack in coastal regions of Italy and can be found in the Rome Christmas Market. Fresh shrimp, squid and tiny fish are lightly battered and fried until crispy, offering a delicious taste of the Mediterranean even in the heart of Rome.
Bratwurst: While not Italian, these German sausages are common at many European Christmas markets. Grilled and often served in a bun with mustard, they provide a hearty, savoury counterpoint to the many sweet treats available.
Mulled Wine: Known as vin brulé in Italy, this warm, spiced wine is a staple at Christmas markets across Europe. The Italian version often includes a mix of red wine, sugar and spices like cinnamon, cloves and anise, providing a warming drink to stave off the winter chill.
Chestnuts: Roasting on street corners throughout the city, chestnuts are a typical winter treat in Rome. The nutty and slightly sweet taste, along with the warmth of the freshly roasted chestnuts, is a comforting treat during the chilly winter nights.
Gelato: Despite the cold, you'll still find Romans enjoying their favourite frozen treat, often in seasonal flavours like panettone or pandoro.
Pizzelle: Thin, crisp, and round waffle-like cookies, often flavoured with anise and dusted with powdered sugar.
What to Buy
Presepi: Intricate nativity scenes handcrafted by local artisans, capturing the essence of Italian Christmas tradition.
Handcrafted Ornaments: Strolling through the Christmas market, you'll find beautifully handcrafted ornaments, many made from Murano glass, a centuries-old tradition from the Venetian island of Murano. These delicate and artistic pieces, ranging from vibrant baubles to intricate figurines, add a touch of Italian elegance to any Christmas tree.
Italian Leather Goods: Known for their quality and durability, Italian leather goods are abundant in the Befana Market in Piazza Navona. You can select from a wide array of wallets, belts, handbags and even leather-bound journals, each reflecting the craftsmanship and style that Italy is renowned for.
Olive Wood Products: Originating from the olive groves of Italy, you'll find a variety of products made from olive wood. The unique grain patterns of this hard and durable wood make for stunning kitchen utensils, bowls and cutting boards.
Limoncello: This bright and zesty liqueur is a signature product of Italy. Traditionally made in southern Italy, especially around the Amalfi Coast and islands of Capri, it's produced by macerating lemon zest in alcohol before adding sugar. Bottles of limoncello make for a great gift, bringing the sunny flavours of Italy into the homes of your loved ones.
Italian Ceramics: Hand-painted ceramics with traditional Italian designs are common at the Christmas markets in Rome and elsewhere in Italy. You can find everything from ornate plates and vases to charming figurines showcasing Italian ceramics' vibrant colours and artistic flair.
Artisanal Pasta: Locally made, high-quality pasta in various shapes and flavours, allowing you to bring a taste of Italy home with you.
Cinecittà World Christmas Market
Cinecittà World Christmas Market brings a touch of glamour just outside of the city of Rome.
Set within the famous Cinecittà film studio, this unique market transforms the park into a winter wonderland, complete with sparkling lights, themed decorations and a wide array of Christmas stalls.
As you explore the market, you'll discover unique gifts, indulge in mouthwatering Italian treats and experience live entertainment, making it a great winter experience for the entire family.
Cinecittà World Christmas Market dates: Likely dates: 11th November 2023 to 7th January 2024.
Opening times: 11am to 7pm.
Location: Cinecittà World Theme Park, Via Irina Alberti.
Location of Cinecittà World Christmas Market
For a comprehensive insight into the festive delights of the country, you'll find my guide to the best Christmas markets in Italy invaluable in planning your perfect Italian holiday experience.
For a wealth of practical information and helpful tips on Rome, turning to Visit Italia's comprehensive website can be a key resource in your journey to explore the city.
Sustainable Christmas Tips
Many of us are increasingly concerned about climate change and sustainability. Here are a few tips on how we can travel more responsibly in Rome at Christmas.
Use of Renewable Energy: Many hotels in Rome have started implementing solar panels to harness solar energy, but many also use wind power. When choosing your accommodation, consider a hotel that's committed to using renewable energy.
Reduce Food Waste: Italian culture cherishes food, and it's common to see locals bringing their own containers to take home leftovers from restaurants. You can embrace this practice to help reduce food waste. Also, consider restaurants like Il Margutta in Rome, which creates delicious dishes from ingredients that would otherwise be wasted.
Ethical Consumption: When shopping, particularly for souvenirs or gifts, choose local artisans and fair-trade shops, which support the local economy and ethical labour practices. The Mercato Monti, one of Rome's hippest markets, is a great spot to find local artisanal crafts and products.
Sustainable Diets: Rome has a growing number of organic, vegetarian and vegan restaurants that focus on locally sourced and seasonal ingredients. For instance, at Il Margutta Veggy Food & Art, you can enjoy a sustainable meal that's not only healthy but also environmentally friendly.
Sustainable Transport: Rome's historic centre is best explored on foot, which also happens to be the most eco-friendly mode of transport. For longer distances, consider renting a bike or using the city's public transportation system, which includes buses, trams and the metro. Rome also offers electric scooter and Vespa rentals, a fun and eco-friendly way to zip around the city.
FAQ
When is Rome Christmas Market?
Rome Christmas Market starts on 30th November 2023 to 5th January 2024.
Where is Rome Christmas Market?
The main Christmas market in Rome, known as Befana Market, is located in Piazza Navona, while other festive markets and displays can be found throughout the city. Rome's Christmas tree is located at Piazza Venezia.
What time does Rome Christmas Market open?
Rome Christmas Market typically opens around 11am and continues until 7pm in the evening, with some stalls staying open as late as midnight.
Is Rome busy during the Christmas season?
While Rome can be busy during Christmas, it's generally less crowded than during peak summer, making it an ideal time to explore the city's attractions without overwhelming tourist crowds.
What is the weather like in Rome during the winter?
Winter in Rome is relatively mild, with temperatures ranging from 3°C (37°F) to 14°C (57°F). While you may experience some rain, you can still enjoy strolling through the city and taking in the festive ambience.
Final Thoughts
As the winter chill descends on Rome, the city takes on a calm and serene ambiance. Exploring the ancient streets with a warm cup of cioccolata calda from a Christmas market stall is truly an experience in itself.
In this city that's rich with history and culture, every turn can lead you to a new discovery. I'm certain your time in Rome will be as rewarding as it is inspiring.
If you would like to leave a review of Rome Xmas Market, comment below.
—
Recommendations are independently chosen based on personal travel experiences and extensive research. This post contains affiliate links to hotels and tours in Rome, Italy. This means I get a small commission from any bookings at no extra cost to you.