Winter in Mainz can get quite chilly, but the atmosphere certainly warms up with the infectious festive spirit that's prevalent throughout the city.
As the capital and largest city of Rhineland-Palatinate, Mainz is brimming with centuries-old buildings, charming cobblestone streets and a vibrant cultural scene that grows more pronounced during Christmas.
In this guide, I'll walk you through all the essentials you need to navigate the 2023 Mainz Christmas Market, touching upon official dates, opening hours, stall locations and the top local specialities.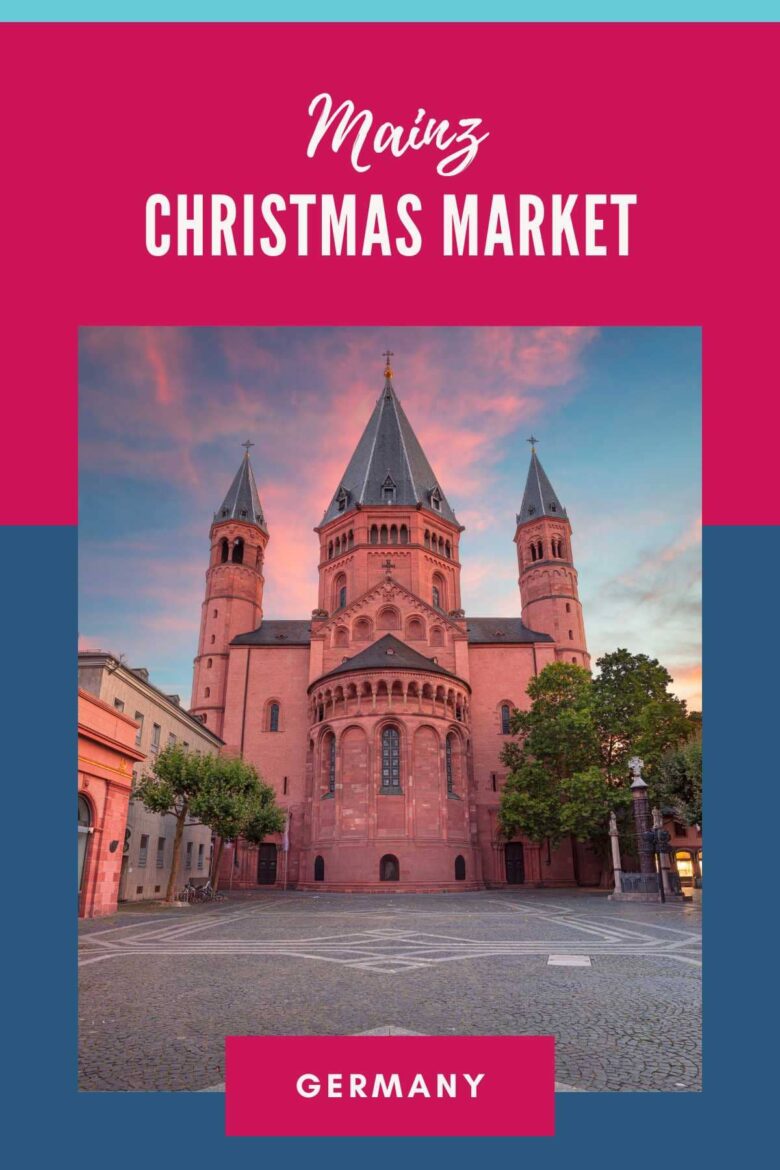 In Mainz, Christmas is a lively affair that invites everyone into the city's festive embrace. The city centre is adorned with beautiful decorations, transforming its streets into a glittering spectacle after sundown.
Mainz Christmas Market 2023
One of Mainz's main attractions of the Christmas market is its enchanting setting, right in the heart of the city's historic old town.
Since 1788, the market has been nestled among splendid half-timbered buildings, lending it a distinct charm. The array of over 100 festively decorated stalls attracts locals and tourists alike, selling everything from handmade crafts to culinary delights.
A towering, beautifully decorated Christmas tree dazzles visitors in the centre of it. Every year, the market hosts the 'Largest Advent Calendar in Rhineland-Palatinate', where daily surprises are revealed on Mainz's historic town hall windows.
An ice rink provides a chance for a bit of winter fun, adding to the market's appeal. You'll also appreciate the live Nativity scene, a real highlight for young visitors.
Dates and Location
Mainz Christmas Market dates: 30th November to 23rd December 2023.
Location: Marktplatz.
Opening times: Sunday to Thursday: 11am to 8:30pm. Friday and Saturday: 11am to 9pm.
Christmas Day: Closed.
Admission: Free.
Christmas lights: Yes, switch on date: 30th November 2023.
Santa: No.
Ice skating: Yes, at Mainzer Eisbahn.
Vegetarian: Yes, plenty of options.
Vegan: Yes, plenty of options.
Gluten-free: Yes, but limited.
Accessible: Yes.
Pet-friendly: Yes, dogs are allowed on a lead.
Parking: Please take public transport to help limit congestion.
Reason to visit: Historic setting, largest Advent calendar in Rhineland-Palatinate, live nativity scene and a winter ice rink.
Specialities: Handbrot, Mainzer Zwiebelwurst, Magenbrot and regional wines like the Spätburgunder and Riesling.
Where to stay: Erbacher Hof is an excellent hotel choice near the Christmas market on Marktplatz.
Hotels near Mainz Christmas Market
The Old Town district is the ideal base for your visit to Mainz as it places you near the city's beating heart, with the Christmas market at Marktplatz just a brisk walk away.
The narrow, winding streets filled with historic buildings are a sight to behold during the festive season. To optimise your stay, consider booking your rooms at the Erbacher Hof. It's an excellent choice due to its prime location and top ratings from past guests.
Location of Mainz Christmas Market
Christmas in Mainz
To help you visualise the festive atmosphere of Mainz, I've included a video below. It provides a first-hand look at the vibrancy and charm of the Mainz Christmas Market.
Germany has many incredible winter destinations. Find a list of the best Christmas markets in Germany if you'd like to add to your holiday itinerary this year.
Christmas Specialties in Mainz
Handkäse mit Musik: A well-loved regional dish, it's essentially a sour milk cheese served with onions, vinegar and oil. With a robust flavour, it's a unique dish to try when you're navigating the stalls.
Spundekäs: A creamy cheese spread from the region, usually made with cream cheese, quark, paprika and onions. You'll often find it served with pretzels, making for a satisfying and rich snack as you explore the market.
Handbrot: This savoury delight is a rustic German bread stuffed typically with cheese and ham, then baked till the cheese is molten and the bread is crusty. While walking around the market, it's a comforting handheld snack to enjoy.
Mainzer Zwiebelwurst: An onion sausage that hails from Mainz, it's a hearty food that brings together pork, bacon, onions and spices. This traditional local specialty provides a satisfying bite in the cold winter air.
Magenbrot: These small, sweet, glazed biscuits, flavoured with aniseed, nutmeg, cloves, and cinnamon, are a classic at Christmas markets. Their name translates as 'stomach bread', owing to their original use as a digestive aid.
Spätburgunder: In the colder months, many locals choose to swap their glass of crisp Riesling for a more full-bodied Spätburgunder, or Pinot Noir, to accompany their market food. The Rhineland-Palatinate region, where Mainz is located, produces some excellent versions of this warming red wine.
Riesling: Of course, it wouldn't be a visit to Mainz without a glass of Riesling, the region's most renowned wine. It's crisp, fruity and ranges from dry to sweet, offering something for every palate.
Bratwurst: A staple of any German Christmas market, the bratwursts at Mainz Christmas Market are grilled to perfection and served in a crusty roll. The smell alone is sure to entice you.
Lebkuchen: This traditional German baked Christmas treat, similar to gingerbread, is often heart-shaped and covered with a sweet glaze or dark chocolate. The warming spices make it perfect for cold weather.
Glühwein: No Christmas market experience would be complete without a steaming mug of glühwein. This mulled wine, often served in a festive mug, combines red wine with spices, citrus and sugar and is just the thing to warm you up as you wander through the market.
Roasted Chestnuts: These are delightful snacks commonly found at Christmas markets around the world. Their sweet, nutty aroma is part of the distinctive Christmas market scent, and they're a lovely warming treat.
Flammkuchen: Similar to pizza, this flatbread topped with creme fraiche, onions and bacon is traditionally cooked in a wood-fired oven. A fantastic savoury option for a hearty snack as you browse the market.
The official tourism website for Mainz provides valuable information on what to see, restaurants, events, day trips and transportation options. It's a great resource for planning your trip and making the most of your visit.
Sustainable Christmas Tips
Many of us are increasingly concerned about climate change and sustainability. Here are a few tips on how we can travel more responsibly in Mainz at Christmas.
Consider staying in eco-friendly accommodations in Mainz that use renewable energy sources, such as solar panels or wind turbines.
Be mindful of energy use in your accommodations, and turn off lights and appliances when not in use.
Shop at the Mainz Christmas Market for locally produced and handmade gifts, reducing the carbon footprint associated with shipping and transportation.
Bring your own reusable shopping bag to the market and other shops in Mainz to reduce the amount of single-use plastic and paper bags.
Try to eat a more sustainable diet by choosing plant-based options when dining out in Mainz.
Limit food waste by bringing a reusable container to the Christmas market in Mainz and other restaurants to take leftovers home with you.
Use sustainable transport options like walking or cycling to get around Mainz instead of relying on cars or taxis. You can also use public transportation, such as buses or trains, with efficient systems to reduce your carbon footprint.
FAQ
When is Mainz Christmas Market?
Mainz Christmas Market 2023 dates start on the 30th November until the 23rd December 2023.
Where is Mainz Christmas Market?
The Christmas markets in Mainz are held at Marktplatz in the historic city centre.
What time does Mainz Christmas Market open?
The Christmas markets are open Sunday to Thursday: 11am to 8:30pm. Friday and Saturday: 11am to 9pm.
If you would like to leave a review of Mainz Xmas Market, comment below.
—
Recommendations are independently chosen based on personal travel experiences and extensive research. This post contains affiliate links to hotels and tours in Mainz, Germany. This means I get a small commission from any bookings at no extra cost to you.