If you happen to be planning a trip to Bremen this December, it's worth making time to attend the biggest festive event and cultural highlight of the year, the Bremen Christmas market.
I used to feel like the better German Christmas markets were the bigger and more well-known ones like Nuremberg and Munich, but actually, Bremen has one of the finest Christmas markets and decorated squares in Germany. It's clear the city prides itself on putting on an incredible event.
The Christmas market in Bremen is held in Market Square. Within Market Square you'll find the Town Hall and the famous Roland Statue that is a UNESCO World Heritage Site.
The entire old town of Breman is compact and walkable and I encourage you to explore the city's pedestrian streets where you'll find boutique stores, cafes and beautiful decorations.
Bremen Christmas Market 2021
Bremen Christmas Market dates: 22nd November to 23rd December 2021 (confirmed).
Location: Market Square in the centre of the historic old town.
Reason to visit: The location in Bremen's beautiful Hanseatic era main square. Fewer crowds than elsewhere.
Specialties: Freshly baked bread, smoked fish, scented candles and the decorated riverside promenade.
Travel tip: Visit the winter village at Schlachthof for fair trade and vegan food.
Recommended tour: Bremen Christmas Market tour. A tour of the historic streets and market stalls by a local guide.
Where to stay: H+ Hotel for its location and cute decor depicting the history and sights of Bremen.
Winter events: Go ice skating on Sedanplatz.
Bremen weather in winter: Temperatures average 5°C / 0°C (high / low) in December.
Plan your trip: Resources to plan your Christmas holiday or winter break.
Hotels Near Bremen Christmas Market
There are a number of excellent, highly-rated hotels near Bremen Christmas market. For your convenience, we have selected the best hotels and created a list to help you choose a hotel or apartment that is close by and good value for money. Click on the link above to get started.
Things to Do in Bremen in Winter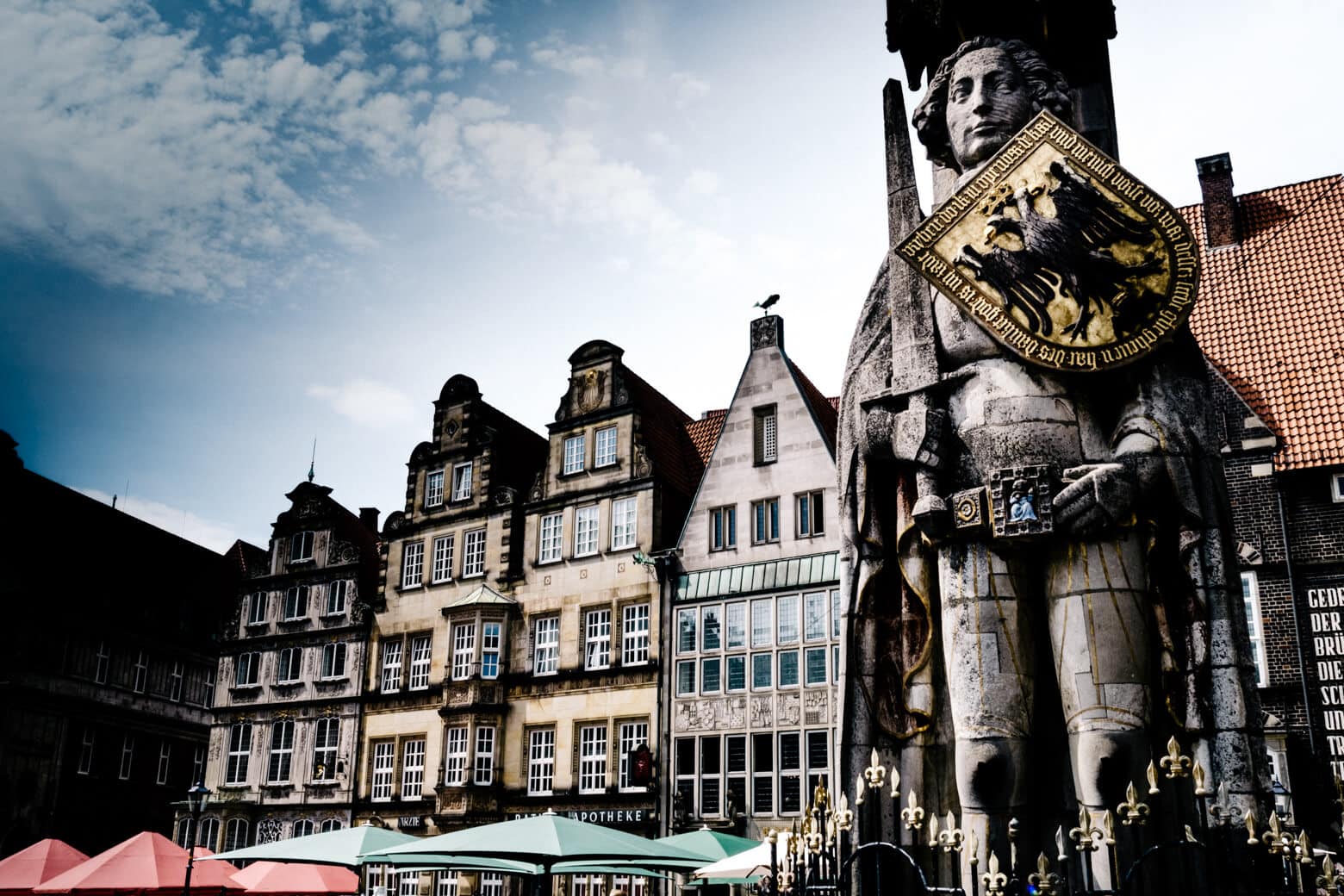 Bremen has a number of Christmas markets open in November and December.
Market Square – The historic location of the main Christmas market with Hanseatic buildings and the World Heritage listed Roland statue.
Bremen Embankment – Festival events and decorative stalls light up the river promenade in winter.
Lloyd Passage – A Scandinavian Christmas market in Bremen.
Neustadt – Christmas lights, art and culture.
Other things to do in Bremen in winter:
Bremen Town Musicians – Bremen's four fairytale animals are known around the world. See the famous statue in front of the State Parliament building and visit the donkey's grave on Böttcherstrasse.
Gothic Town Hall and Roland Statue – World Heritage listed cultural sights in the centre of Bremen.
Schnoor Quarter – The pretty, narrow cobblestone streets away from the grand square is home to little shops and cafes.
Böttcherstrasse – An artistic street with restaurants, cafes, museums, artisan shops and the famous Meissen porcelain bells.
Further details on Christmas events and special offers will be released in the coming weeks as the opening of the Bremen Xmas market approaches.
For more information on Christmas market dates and opening hours, view the Bremen Christmas website. or the official Bremen tourism Christmas page. Be sure to follow all health and travel guidelines and restrictions put in place by the German authorities to ensure a safe travel experience.
Map of Bremen
If you have visited Bremen in December or Christmas in Germany and would like to share your experience, leave a comment below.
This post contains affiliate links to hotels in Bremen and recommended tours. This means we get a small commission from any bookings at no extra cost to you.