If you happen to be planning a trip to Bremen this December, it's worth making time to attend the biggest festive event and cultural highlight of the year, the Bremen Christmas Market. Bremen is known for its UNESCO World Heritage sites, such as the Town Hall and Roland Statue, which adds to its appeal.
In the following guide, I will provide you with all the essential details, such as the confirmed 2023 Christmas market dates, opening times and locations, and some local food specialties you won't want to miss.
I used to feel like the better German Christmas markets were the bigger and more well-known ones like Nuremberg and Munich. But Bremen has one of Germany's finest Christmas markets and decorated squares, and as a smaller market, it's cosier and more manageable.
Bremen Christmas Market 2023
The Christmas market in Bremen, with its 170 beautifully adorned stalls, lights up the heart of the city, taking over the charming Market Square and Schlachte Promenade.
It's unique in the sense that the market extends into the Medieval quarter, turning the Schnoor district into a fairytale-like backdrop for shopping and dining.
The entire old town of Bremen is compact and walkable, and I encourage you to explore the city's pedestrian streets, where you'll find boutique stores, cafes and beautiful decorations alongside the Christmas markets.
For a truly unique experience, don't miss the 'Schlachte-Zauber' along the Weser River, where historic ships and a maritime-themed market contribute to the festive atmosphere.
Dates and Location
Bremen Christmas Market dates: 27th November to 23rd December 2023.
Location: Market Square (Bremer Marktplatz) and the Schlachte Promenade.
Opening times: Monday to Thursday: 10am to 8:30pm. Friday and Saturday: 10am to 9pm. Sunday: 11am to 8:30pm.
Christmas Day: Closed.
Admission: Free.
Ice skating: Yes, at Sedanplatz.
Vegetarian: Yes, plenty of options.
Vegan: Yes, plenty of options.
Gluten free: Yes, but limited.
Accessible: Yes.
Pet-friendly: Yes, but not recommended during busy periods.
Reason to visit: The location in Bremen's beautiful Hanseatic era main square. The stunning central carousel and the decorated riverside promenade. Fewer crowds than elsewhere.
Recommended tour: A guided walking tour of the UNESCO listed historic centre.
Specialties: Freshly baked bread, smoked fish, kluten (peppermint bars), Bremer klaben (fruit bread), kohl und pinkel (kale and sausage dish)..
Travel tip: Visit the Winter Village at Schlachthof for fair trade and vegan food.
Plan your trip: Resources to plan your Christmas holiday or winter break.
Bremen weather in winter: Temperatures average 5°C / 0°C (high / low) in December.
Where to stay: H+ Hotel for its location and cute decor depicting the history and sights of Bremen.
Hotels Near Bremen Christmas Market
The Christmas market in Bremen is held in Market Square, and I suggest staying in this central area. This is where you'll find the Town Hall and the famous Roland Statue, a UNESCO World Heritage Site.
I recommend H+ Hotel for its location in the Old Town and its cute decor depicting the history and sights of Bremen. I stayed there on my last visit and it was very quiet and convenient.
If this doesn't suit you, there are several excellent, highly-rated hotels near Bremen Christmas market that I recommend.
Location of Bremen Christmas Market
Germany is famous for its Christmas markets. Read this German Christmas Market 2023 guide to discover where else to go.
Things to Do in Bremen in Winter
Bremen's festive season comes alive in November and December when several Christmas markets spring up across the city.
Market Square – This main Christmas market situates itself against a backdrop of historic Hanseatic buildings and the UNESCO World Heritage-listed Roland statue, bringing a sense of grandeur to the festive celebration.
Bremen Promenade – During winter, the embankment of the river Weser is transformed into a glittering spectacle, hosting festival events and featuring decorative stalls that spread the holiday cheer along the promenade.
Lloyd Passage – Bremen plays host to a Scandinavian Christmas market in its well-known Lloyd Passage, offering visitors a unique Nordic-inspired festive experience right in the heart of Germany.
Neustadt – Not just a residential area, Neustadt comes alive during the festive period with twinkling Christmas lights, local art and cultural showcases, adding an artistic touch to its Christmas market experience.
Other things to do in Bremen in winter:
Bremen Town Musicians – Bremen's folklore legacy is embodied in its four fairytale animals, known around the world. I highly recommend visiting the well-known statue in front of the State Parliament building and going to Böttcherstrasse to see the donkey's grave, a charming nod to the story's narrative.
Gothic Town Hall and Roland Statue – The city centre proudly showcases its cultural heritage through the Gothic Town Hall and the Roland Statue, both UNESCO World Heritage-listed sites. These cultural sights stand as an enduring testament to Bremen's rich history.
Schnoor Quarter – Venture off the main square to the Schnoor Quarter. Its pretty, narrow cobblestone streets, which offer a pleasant contrast to the grandeur of the main square, are brimming with quaint shops and cosy cafes that invite you to take a relaxing break.
Böttcherstrasse – Renowned as an artistic street, Böttcherstrasse is the place to visit for a wide variety of experiences. Dotted with inviting restaurants and cafes, intriguing museums, and artisan shops, the street also houses the famous Meissen porcelain bells, which you'd certainly not want to miss.
Further details on Christmas events will be shared in the coming weeks as the opening of the Bremen Xmas market approaches.
Bremen tourism has information regarding events and the best ways to experience Bremen at Christmas. This is the city's official website for visitors so it's a reliable source of information.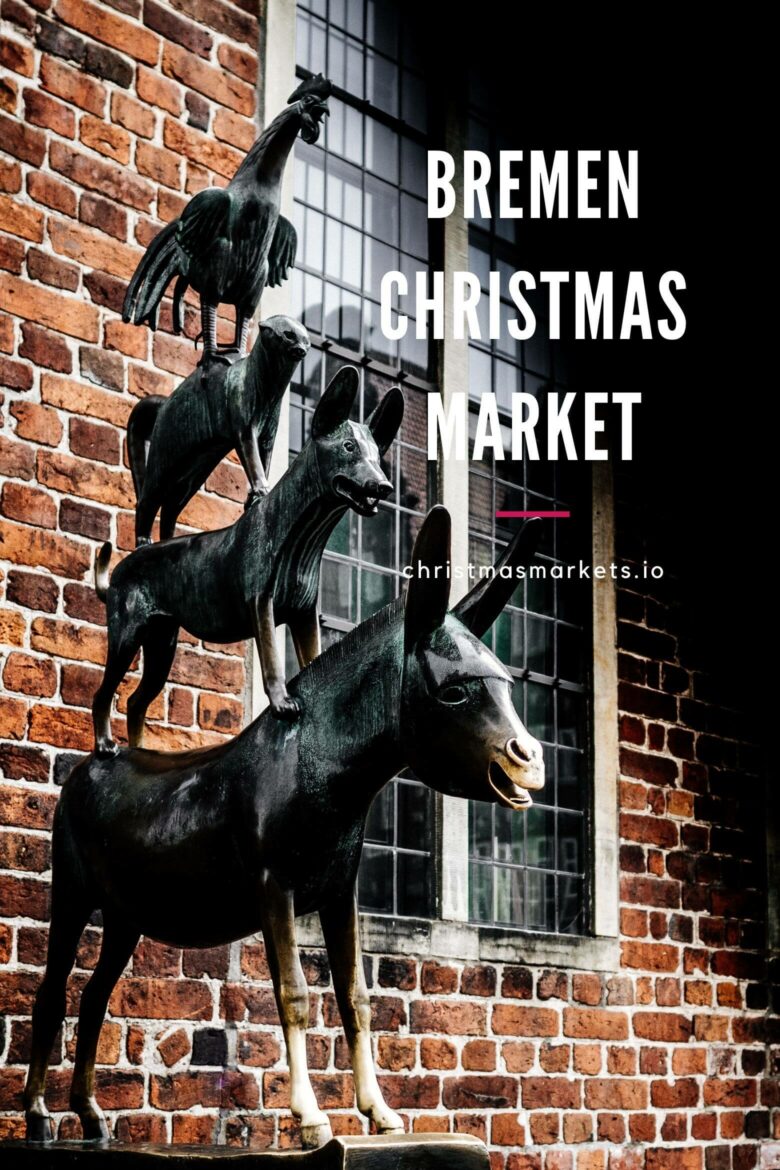 Sustainable Travel Tips
The choices we make have an environmental and social impact on the places we visit. When visiting the Christmas markets in Bremen, keeping sustainability in mind is important.
Implement some or all of these responsible travel measures during your visit.
Use Renewable Energy – Seek accommodation options committed to sustainability and use renewable energy for their electricity.
Minimising Food Waste – To help reduce food waste, consider smaller portions at the Christmas market. Food stalls like those at the Market Square often serve sizeable meals. By sharing with a travel companion, you get to taste various dishes and contribute to reducing food waste.
Practising Ethical Consumption – Pay attention to the provenance of your purchases. Many stalls at the Bremen Christmas markets, particularly in Lloyd Passage, feature locally-made goods and crafts. By choosing these, you support local artisans and minimise the carbon footprint associated with long-distance shipping.
Adopting a Sustainable Diet – Consider incorporating more plant-based meals into your diet. Bremen's food scene, including the Christmas markets, provides ample vegetarian and vegan options. Dining at places like 'Vengo', known for its delightful veggie offerings, is a delicious step towards a more sustainable diet.
Embracing Sustainable Transport – Use Bremen's excellent public transportation network or hire a bike. The city's compact size makes it a great place to explore on foot or by bicycle. With bicycle rental services like 'ADFC Bremen', you can easily navigate the city while reducing your carbon footprint.
FAQ
When is Bremen Christmas Market?
Bremen Christmas Market 2023 is open from 27th November to 23rd December 2023.
Where is Bremen Christmas Market?
The main Christmas market in Bremen is located at Market Square (Bremer Marktplatz) in the centre of the historic old town.
What time does Bremen Christmas Market open?
The Christmas market opening hours are Monday to Thursday: 10am to 8:30pm. Friday and Saturday: 10am to 9pm. Sunday: 11am to 8:30pm.
What time does Bremen Christmas Market close?
The Christmas market closes at 8:30pm daily except on Fridays and Saturdays, when it closes at 9pm.
If you have visited Bremen in winter or want to leave a review of the Bremen Xmas Market, please comment below. This helps others interested in visiting and trying to plan their holiday.
—
Recommendations are independently chosen based on personal travel experiences and extensive research. This post contains affiliate links to hotels and tours in Bremen, Germany. This means I get a small commission from any bookings at no extra cost to you.