Cologne takes pride in its lively events and festival calendar, ensuring constant entertainment for both residents and tourists. The year's festivities reach their peak with the Cologne Christmas Market, one of the best in Germany.
Several hugely popular Christmas markets can be found throughout the city. This guide provides information on start dates, opening times and locations.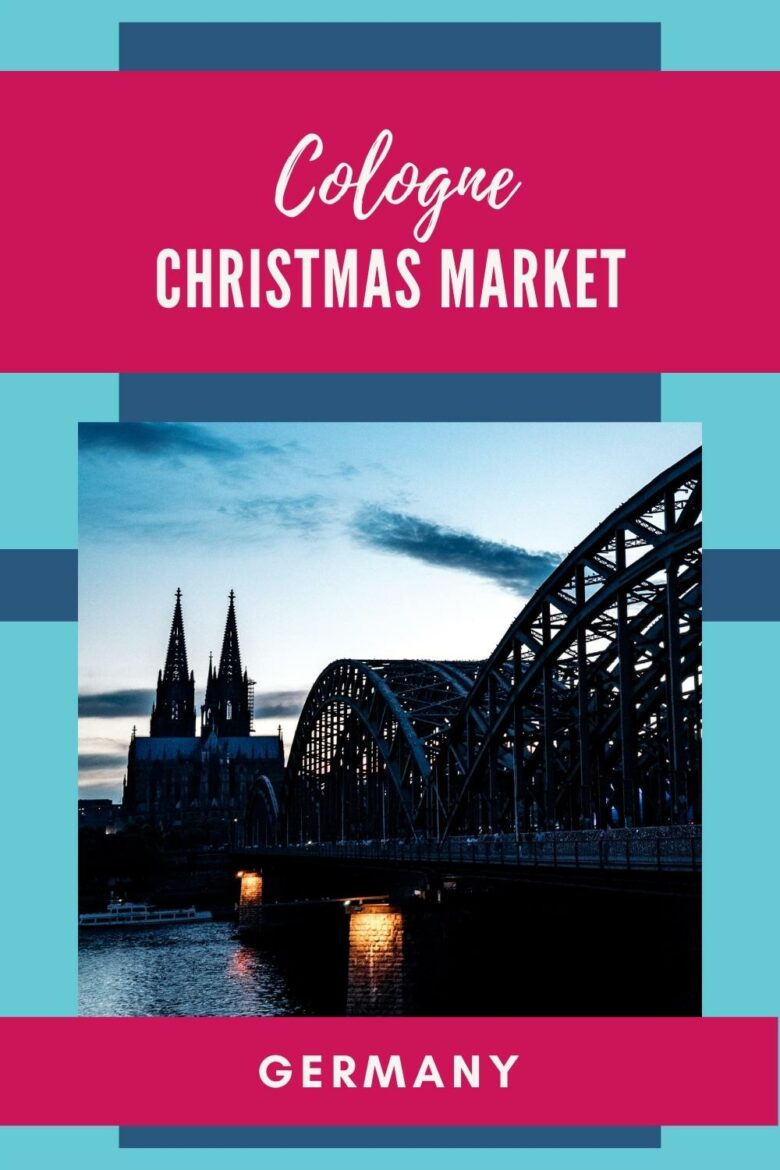 Cologne's most renowned Christmas markets are in the Altstadt (Old Town), featuring the prominent market at Cologne Cathedral and the bustling Heinzel Christmas Market in front of the Cologne Town Hall.
1. Cologne Christmas Market 2023
Cologne's Christmas markets stand out for their spectacular festive decorations, exceptional handmade gifts, and an extensive assortment of Christmas specialties.
Begin your winter adventure at the Cologne Cathedral Christmas Market, the city's most celebrated market. This enchanting market is set against the backdrop of the magnificent Cologne Cathedral, creating a magical atmosphere that draws visitors from around the world.
Stroll through the festively decorated Christmas chalets, admiring the quality of artisanal gifts and crafts, and immerse yourself in the warm and cosy atmosphere.
As you explore, indulge in the traditional Christmas food and drinks. Choose from traditional German treats like Lebkuchen (gingerbread) and Stollen (fruitcake), Bratwurst and Reibekuchen (potato pancakes), along with classic international specialties.
Don't forget to enjoy a cup of Glühwein (mulled wine) or Eierpunsch (eggnog) to keep you warm as you explore.
Dates and Location
Cologne Christmas Market dates: Likely dates: 16th November to 23rd December 2023.
Location: Roncalliplatz, the southern square in front of Cologne Cathedral.
Opening times: 11am to 9pm. Opens at 10am on Sundays. Closes at 10pm Thursday to Saturday.
Christmas Day: Closed.
Admission: Free, no tickets required.
Santa: No.
Ice skating: Not at this location. Head to Heumarkt for skating (see below).
Vegetarian: Yes, plenty of options.
Vegan: Yes, some option.
Gluten free: Yes, but limited.
Accessible: Yes, if you can manage cobblestones.
Pet-friendly: Yes, dogs are allowed on a lead.
Reason to visit: The incredible atmosphere with the Cathedral looming in the background. The tallest real Christmas tree in North Rhine-Westphalia. Lights and decorations that include more than 70,000 LED lights.
Recommended tour: Take a winter cruise with mulled wine or this walking tour if it's your first time in Cologne.
Specialities: Potato pancakes, baked fish rolls, strudel, poffertjes, roasted chestnuts, flammkuchen and raclette and just some of the delicious foods available. Unique to Cologne: Spekulatius, Domliqueur and Wimmeltasse.
Where to stay: Stern am Rathaus is a great choice, located on a quiet street only 2 minutes from the Christmas market.
Where to Stay in Cologne for the Christmas Market
Cologne's historic city centre is known as Köln-Altstadt-Nord. This covers quite a large area that is broken up into districts known as Viertel in German or Veedel in the local Kolsch dialect.
If you prefer to stay in a hotel near the Christmas markets, Stern am Rathaus is a short walk to the Cologne Cathedral and the market in front of the Town Hall.
You might also like to stay in one of the historic central districts like Martins-Viertel on the Rhine or the hipster Belgisches Viertel a bit further out.
Location of Cologne Christmas Market
City and Christmas Tours
A city tour of Cologne is an excellent opportunity to explore the city's deep-rooted history and vibrant culture. Cologne has something for everyone with its captivating old town, picturesque facades, and remarkable architecture.
I suggest taking this city tour of Cologne to experience all the city's highlights.
For something different, you might like to take a food tour of Cologne, which allows you to delve into local culture through its unique cuisine. You'll stop at 3 or 4 places in some of Cologne's coolest districts.
During a city tour, you'll visit Cologne's most iconic landmarks and attractions, such as the historic Old Town, the stunning Cologne Cathedral, and the picturesque Hohenzollern Bridge.
Travel Insurance
Unfortunately, things can and do go wrong when you travel. World Nomads offers coverage for more than 150 activities as well as emergency medical, lost luggage, trip cancellation and more.
World Nomads provides travel insurance for travellers in over 100 countries. As an affiliate, we receive a fee when you get a quote from World Nomads using this link. We do not represent World Nomads. This is information only and not a recommendation to buy travel insurance.
2. Heinzel Winter Fairytale
Another prominent Christmas market in Cologne is Heinzel Winter Fairytale. This traditional market spans two central locations within Altstadt-Nord, Alter Markt and Heumarkt.
Known for its lovely decorations, the Heinzel Winter Fairytale has beautifully adorned stalls, twinkling trees, and a nostalgic carousel, making it one of the city's most picturesque markets.
The Heinzel Winter Fairytale also features the Cologne Ice Rink at Heumarkt. The combination of charming decorations, enticing holiday shopping, and exhilarating ice-skating makes the Heinzel Winter Fairytale a must-visit destination during the Christmas season in Cologne.
Alter Markt dates: Likely dates: 20th November to 23rd December 2023.
Heumarkt dates: Likely dates: 20th November to 7th January 2024.
Location: Alter Markt and Heumarkt.
Opening times: 11am to 10pm.
Closed: Christmas Eve and Christmas Day.
Location of Heinzel Winter Fairytale
3. Market of Angels
In the heart of Cologne, Neumarkt is home to some of the city's most visually stunning Christmas stalls. These charming stalls are designed to resemble miniature houses adorned with brilliantly illuminated stars and festive Christmas wreaths, creating a captivating holiday atmosphere.
Neumarkt has a more modern take on the traditional Christmas market, showcasing a contemporary winter wonderland that appeals to visitors of all ages.
While exploring the vibrant stalls at Neumarkt, be sure to sample the renowned flammkuchen. This delicious, thin-crust pizza-like dish, originating from the Alsace region, is topped with a variety of ingredients such as crème fraîche, onions, and bacon.
The combination of a contemporary market setting, picturesque stalls, and mouthwatering culinary specialties makes Neumarkt a Christmas experience in Cologne.
Market of Angels dates: Likely dates: 16th November to 23rd December 2023.
Location: Neumarkt.
Opening times: 11am to 9pm. Closes at 10pm on Friday and Saturday.
Location of Market of Angels
4. Nicholas Village on Rudolfplatz
The charming Nikolausdorf stalls at Rudolfplatz Christmas Market captivate visitors with their design, resembling traditional German half-timbered houses. This quaint and traditional market holds a special place in the hearts of locals, who appreciate its intimate and authentic atmosphere.
Rudolfplatz Christmas Market is particularly family-friendly, catering to children with a variety of activities and attractions to engage the younger generation.
This welcoming event ensures a festive and fun experience for all ages, making it an ideal destination for families seeking to create cherished holiday memories together.
Nicholas Village dates: Likely dates: 20th November to 23rd December 2023.
Location: Rudolfplatz.
Opening times: 11am to 9pm. Closes at 10pm on Friday and Saturday.
Location of Nicholas Village
5. Stadtgarten Christmas Market
Situated in the trendy Belgisches Viertel neighbourhood (Belgian Quarter), the Stadtgarten Christmas Market is preferred by younger locals for its stylish and charming atmosphere.
This stylish market showcases a diverse selection of designer items, distinctive gifts, and exceptional handmade specialties, setting it apart from other traditional markets in Cologne.
Food and drink enthusiasts will love the Stadtgarten's raclette hut, where they can indulge in deliciously melted cheese served over potatoes, vegetables, or charcuterie.
Additionally, visitors can warm up with small-batch mulled wine, a festive beverage that adds to the market's cosy vibe.
Stadtgarten Christmas Market dates: Likely dates: 16th November to 23rd December 2023.
Location: Stadtgarten on Venloer Strasse in the Belgian Quarter.
Opening times: 11am to 9pm. Closes at 10pm on Friday and Saturday.
Location of Stadtgarten Christmas Market
6. Harbour Christmas Market
The Harbor Christmas Market is an amazing maritime market located directly on the scenic Rhine River. The market features a 48-metre Ferris wheel, with panoramic views of the waterfront and Cologne's skyline.
The bustling international market atmosphere adds to the market's charm, featuring a wide range of vendors selling unique goods from across the globe.
The Harbor Christmas Market is held at the Chocolate Museum, adding a delicious element to the festivities. You can indulge in a variety of delicious German chocolate treats, including rich hot chocolate and creamy chocolate fondue, making for a decadent holiday experience.
Harbour Christmas Market dates: Likely dates: 17th November to 7th January 2024.
Location: Am Schokoladenmuseum near Heumarkt.
Opening times: 11am to 9pm. Closes at 10pm on Friday and Saturday.
Location of Habour Christmas Market
Cologne has some of the best Christmas markets in Germany. Read my guide to find other places to experience German festive markets and Advent events.
What to Expect in Cologne
You'll be able to see what Cologne Christmas Market is like in this video. It shows the festive atmosphere of the market, showcasing its stunning decorations, delicious food, and live entertainment.
Christmas Specialties in Cologne
There are many delicious specialties worth trying at the Christmas markets in Cologne.
Lebkuchen: A type of German gingerbread cookie made with honey and spices, often decorated with icing or chocolate.
Stollen: A traditional German fruit bread from Dresden, made with nuts, spices, and dried fruit, dusted with powdered sugar.
Glühwein: Hot mulled wine typically served during Christmas markets, made with red wine, spices, and citrus fruit.
Bratwurst: A type of German sausage, typically made with pork, beef, or veal and grilled or fried.
Kartoffelpuffer: Crispy potato pancake often served with applesauce or sour cream, sometimes called Reibekuchen.
Reibekuchen: Crispy potato pancake served with applesauce or sour cream.
Raclette: A Swiss dish that involves melting cheese and serving it over potatoes, vegetables, or charcuterie.
Schupfnudeln: A soft and chewy potato dumpling, often served with sauerkraut or bacon.
Currywurst: Classic German sausage served with a tomato-based sauce and curry powder.
Flammkuchen: Thin-crust pizza-like dish topped with crème fraîche, onions, and bacon.
Marzipan: Sweet almond paste used in cakes, candies, and other desserts, often shaped into festive figures.
Spätzle: A kind of soft egg noodle, often served with cheese or butter.
Rotkohl: a sweet and sour red cabbage dish, often served as a side dish with roasted meats.
Käsespätzle: Traditional German dish made with spätzle and cheese, sometimes topped with fried onions.
Gebrannte mandeln: Caramelized almonds, often sold at Christmas markets as a sweet treat.
Kölsch: A light and crisp beer brewed only in Cologne and served in narrow, cylindrical glasses known as "Stangen."
Vegetarian options include Lebkuchen, Stollen, Kartoffelpuffer, Flammkuchen without bacon, Spätzle with cheese, Rotkohl, Käsespätzle, and Gebrannte Mandeln.
What to Buy in Cologne
The Christmas markets in Cologne have a variety of unique and traditional gifts and products that are perfect for holiday shopping. Some of the typical gifts and products you can buy at the market include:
Christmas ornaments: Handcrafted ornaments made of glass, wood, and other materials, featuring traditional designs or Cologne landmarks.
Advent calendars: Traditional German advent calendars with small doors that open to reveal chocolates or other treats for each day of Advent.
Cologne mustard: Spicy mustard made with a blend of yellow and brown mustard seeds, typically sold in decorative jars.
4711 Eau de Cologne: A traditional cologne made in Cologne since 1792, featuring a refreshing and light scent.
Printen: Gingerbread made with honey, spices, and flour, often shaped into hearts or other festive designs.
Nutcrackers: Wooden figurines of soldiers or other characters used for cracking nuts and as decorative pieces.
Candles: Traditional German Christmas candles featuring festive designs and scents like cinnamon and gingerbread.
Toys: Handmade toys made of wood, fabric, and other materials, including dolls, puzzles, and games.
Jewellery: Made of silver, gold, and other metals, featuring traditional German designs or modern styles.
Hand-painted ceramics: Plates, mugs, and other ceramics decorated with hand-painted designs and Cologne landmarks.
Koeln Tourism has further information regarding visiting Cologne at Christmas.
Sustainable Travel Tips
The choices we make have an environmental and social impact on the places we visit. Try to implement these responsible travel measures when visiting the Christmas markets.
Shop mindfully. Only purchase what you really need.
Walk, cycle and use public transport to get around.
Stay in a sustainable hotel powered by renewable energy.
Avoid using plastic or buying items made or packaged with plastic.
Try to eat locally sourced organic food where possible.
Limit your consumption of meat and dairy.
Explore more than just the main tourist areas.
Support the arts and attend local events.
If possible, avoid flying to your destination.
FAQ
Where is Cologne Christmas Market?
The most popular Christmas market in Cologne is held at Roncalliplatz in front of Cologne Cathedral.
When does Cologne Christmas Market start?
The main Cologne Christmas market starts on 16th November and ends on 23rd December 2023.
Where to stay in Cologne for the Christmas market?
I suggest staying at Stern am Rathaus during Christmas as it's a short walk to the Christmas market at Cologne Cathedral but also the market in front of the Town Hall.
What time does Cologne Christmas Market open?
The Christmas markets open at 11am daily, except on Sundays when it opens at 10am.
What time does Cologne Christmas Market close?
The Christmas markets close at 9pm, except from Thursday to Saturday when it closes at 10pm.
If you want to leave a review of Cologne Xmas Market, please comment below.
—
Recommendations are independently chosen based on personal travel experiences and extensive research. This post contains affiliate links to hotels and tours in Cologne, Germany. This means I get a small commission from any bookings at no extra cost to you.