If you're visiting Bologna this Christmas, we suggest staying in the historic city centre near Piazza Maggiore. It's close to all the main sights, attractions and the best places to eat.
This guide lists our recommended hotels near Bologna Christmas Market, but we expect you'll find this useful for whatever reason you are visiting Bologna.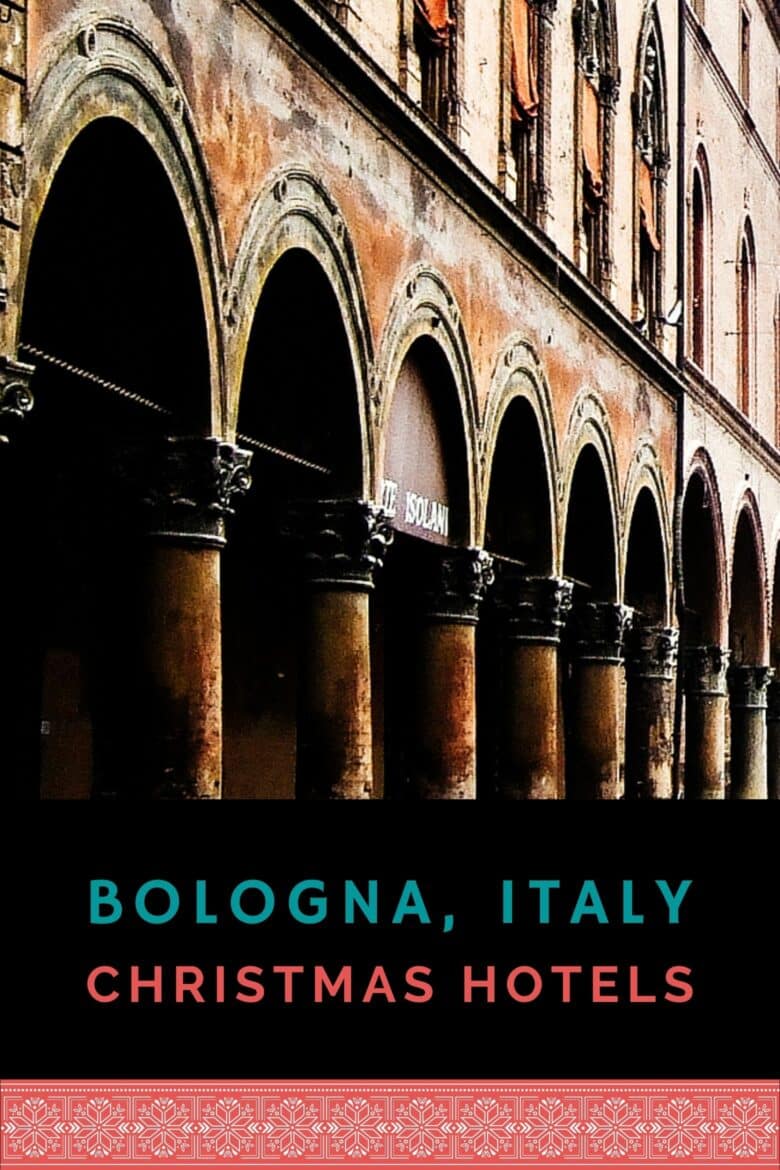 Hotels near Bologna Christmas Market
Bologna Christmas Market and Fair is located in Piazza Maggiore and extends to Via Altabella and Corte Isolani in Bologna city centre.
This is a great area of the city to stay in as from here you can walk through all the famous arcades to reach the city's attractions as well as the Christmas market.
Top Pick
Art Hotel Commercianti
Address: Via de Pignattari 11, Bologna, Italy
You can not get closer to the Christmas markets and Piazza Maggiore than here. Art Hotel Commercianti is located on a quiet street directly opposite San Petronio Basilica, a huge gothic church with 22 art-filled chapels. It's a very historic location only steps to the Christmas market in Bologna. The rooms are designed in a classic Italian style and many rooms have views of the basilica. The hotel has its own car parking garage with an electric vehicle charging station as well as bicycle rental and parking.
Check Availability
Location of Art Hotel Commercianti
Next Best Hotel
Residence le Porte
Address: 4 Galleria Acquaderni Piano 2, Bologna
If you would like the additional space and privacy that comes with an apartment in Bologna, Residence le Porte is the most highly rated apartment in the historic centre and only a 5-minute walk to the Christmas markets. You can get a 1 or 2-bedroom apartment, and one comes with a terrace with views. The larger apartments can accommodate up to 6 guests, so this is a great option if you're travelling in a group or as a family. The apartments are modern and clean, but the free wifi might not be the best.
Classic Luxury Hotel
Grand Hotel Majestic gia' Baglioni
Address: Via Indipendenza 8, Bologna, Italy
I stayed in this hotel a number of years ago, and it's in a great location on Via Indipendenza, one of the main thoroughfares in Bologna and a 2-minute walk from Neptune's Fountain which is where the Christmas tree is located in Piazza Maggiore. The hotel is very traditional in its interior design and classic service and hospitality. You'll find an ornate staircase in the foyer with chandeliers and marble everywhere. Staying here in what is an 18th-century palace is a very luxurious Italian experience.
Piazza Maggiore Hotel
Phi Hotel Bologna
Address: Via de' Fusari, 9, Saragozza, Bologna City Centre
Another extremely well-located hotel, Phi Hotel, is only 100 metres from the Christmas markets, so basically a 1-minute walk. This area has many beautiful historic arcades and palaces, so you won't be short on things to do. Everything is within walking distance, so you won't need to drive, which is not a particularly easy task in central Bologna. The hotel offers a buffet-style breakfast that includes organic and gluten-free options. The reviews for this boutique hotel are excellent.
Budget Hotel
Locanda Fourghetti
Address: Via Baldassarre Carrati 1, Savena, Bologna
While not in the historic centre near Bologna Christmas Market, Locanda Fourghetti is a modern boutique hotel that is good value for money. The city centre is a 30-minute walk away, just past Porta Santa Stefano and near the popular Margherita Gardens. This location isn't the best for walking, but you can easily hop on the bus and be in the centre within 10 minutes.
For more information on visiting Bologna at Christmas, read our complete guide to Bologna Christmas Market that includes dates, opening times, sightseeing tips, things to do and where to eat out.

Or if you're looking to continue on your winter travels, read our guide to the best Christmas markets in Italy 2023.
Bologna has a growing number of boutique hotels and renovated older-style hotels. There are some great places to stay, and it's a wonderful city to visit during the festive Christmas period.
This post contains affiliate links to hotels in Bologna, Italy. This means we get a small commission from any bookings at no extra cost to you.