Bielefeld provides a unique backdrop for its Christmas market, blending modern urban spaces with historical landmarks like Sparrenburg Castle.
The Bielefeld Christmas Market adds to the city's appeal with its mix of traditional crafts and holiday treats.
In this guide, I'll cover all the essentials for planning a visit, including confirmed 2023 dates, opening times, locations, and local specialties.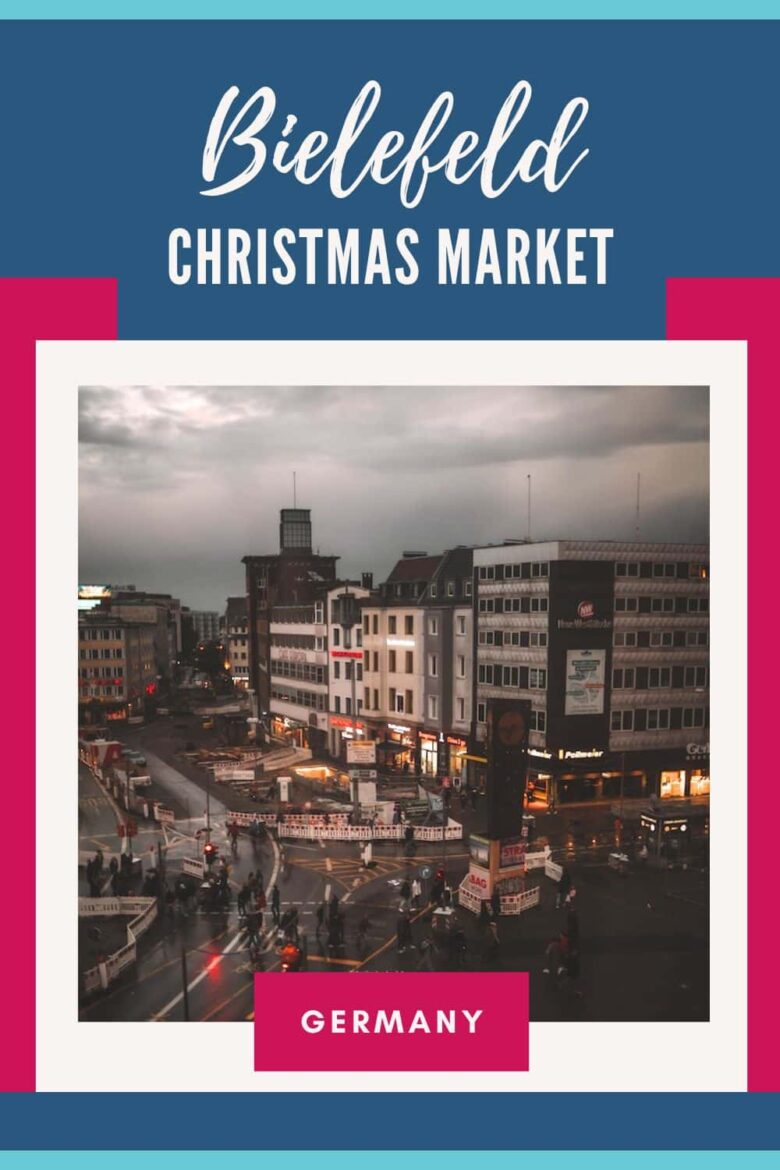 Bielefeld at Christmas is marked by a blend of historical charm and contemporary festivities. The city becomes a hub for holiday activities, ranging from musical events to traditional observances.
Bielefeld Christmas Market 2023
The Christmas market in Bielefeld spans the city centre with over 120 decorated stalls, creating a warm atmosphere that draws people in.
It's one of the largest Christmas markets in North Rhine-Westphalia and is notably diverse in its offerings.
You'll find hot wine and brandy punch for sipping in the cold, alongside a variety of baked goods and hot food.
Christmas crafts and products are also on sale, staying true to the market's long-standing tradition.
In addition to the market stalls, activities like ice skating and curling add a layer of winter fun.
Dates and Location
Bielefeld Christmas Market dates: 27th November to 30th December 2023.
Location: Alter Markt.
Opening times: Monday to Friday: 10am to 6pm. Saturday: 10am to 2pm. Sunday: Closed.
Christmas Eve: Closed.
Christmas Day: Closed.
Boxing Day: Closed.
Admission: Free.
Santa: No.
Ice skating: Yes, at Klosterplatz.
Curling: Located at Klosterplatz.
Vegetarian: Yes, plenty of options.
Vegan: Yes, plenty of options.
Gluten free: Yes, but limited.
Accessible: Yes.
Pet-friendly: Yes, but not recommended during busy periods.
Parking: Please take public transport to help limit congestion.
Reason to visit: One of North Rhine-Westphalia's largest; diverse stalls; ice skating and curling.
Specialities: Baked goods, hot wine, brandy punch, roasted almonds, gingerbread.
Where to stay: Altstadt-Hotel is a popular hotel, located 4 minutes from Alter Markt.
Hotels near Bielefeld Christmas Market
Staying in the Altstadt area is advisable to be near the Christmas market in Alter Markt. The location gives you easy access to the market and other central attractions.
I recommend Altstadt Hotel for its convenient location near the Christmas market.
Location of Bielefeld Christmas Market
For more information on Christmas markets around Germany, my German Christmas Market 2023 guide provides all the essential details you'll need.
Christmas in Bielefeld
This video provides a clear overview of the Bielefeld Christmas Market. Through it, you can get a sense of the atmosphere and the various stalls present at the event.
Christmas Specialties in Bielefeld
Hot apple cider: A warming drink often infused with spices such as cinnamon and star anise, hot apple cider is both sweet and tart. It's a non-alcoholic option that visitors of all ages can enjoy.
Chimney cake (Trdelník): Borrowed from neighbouring European countries, this sweet, spiral-shaped pastry is rolled around a stick, grilled, and then coated in sugar or cinnamon. It's a delightful snack to munch on as you explore the stalls.
Bratwurst: A staple of German Christmas markets, including Bielefeld, the bratwurst is a seasoned sausage often served in a bun. You'll find vendors grilling these on open flames. While other markets might have their own versions, Bielefeld's stalls usually feature locally sourced pork.
Mulled Wine: Called gluhwein in Germany, this warm, spiced red wine is perfect for sipping as you wander the market. It's typically infused with cloves, cinnamon, and citrus for a comforting aroma and taste.
Schmalzkuchen: Small, deep-fried doughnuts dusted with sugar make a popular treat at Bielefeld's market. You can usually find them sold in paper cones for easy snacking while you browse.
Brandy Punch: A warming combination of brandy, fruit juices and spices, this punch is served hot and often savoured by adults looking for a stronger option than hot chocolate or Gluhwein.
Marzipan: While not unique to Bielefeld, marzipan is a beloved German Christmas snack. It's made from a simple blend of almonds, sugar, and egg whites and comes in various shapes and sizes.
Roasted Almonds: You'll smell them before you see them. Coated in a sugary glaze and roasted, these almonds make for an ideal snack.
Lebkuchen: These traditional German Christmas biscuits are similar to gingerbread. Made from nut flours, spices, and honey, they're often heart-shaped and might come decorated with messages or images.
Potato Pancakes: Known as "Reibekuchen," these are made from grated potatoes, onions, and spices before being fried to a crisp. They're often served with apple sauce for a mix of sweet and savoury.
Crepes: While originating from France, crepes have found a home at many German Christmas markets. Stalls usually provide a variety of fillings, from Nutella to strawberries.
Hot Chocolate: Especially popular among children, hot chocolate stalls at Bielefeld offer a familiar, comforting choice, with some even adding a swirl of whipped cream on top.
Apple Strudel: This pastry is filled with tart cooking apples, sugar, and cinnamon. It's a comforting choice, particularly when temperatures drop.
Candied Fruit: Skewers of candied apples or grapes can be found at some stalls. They offer a sweet, slightly healthier option compared to other market snacks.
Beer: While perhaps less seasonal, local beers can also be found at the Bielefeld market, appealing to those who prefer a cold, familiar beverage.
Christmas Gifts and Stocking Fillers
Bielefeld Linen: Bielefeld has a historical connection with the linen industry, and at the Christmas market, you can find beautifully crafted linen products. These range from tablecloths to handkerchiefs, all showcasing the intricate weaving techniques of the region.
Ravensberger Spinne: Unique to Bielefeld, the Ravensberger Spinne (Ravensberg Spinner) is symbolic of the city's textile history. It's commonly found as decorative items, and purchasing one supports the preservation of local history and craftsmanship.
Wooden Toys: Traditional German wooden toys are a classic gift in market stalls. From intricately designed nutcrackers to whimsical spinning tops, these toys are playful and serve as decorative items.
Gingerbread Moulds: A nod to the rich baking traditions of Germany, intricately carved wooden moulds for making gingerbread cookies are available. They're perfect for baking enthusiasts or anyone looking to introduce a touch of German Christmas into their kitchen.
Ravensberger Lock Puzzle: Inspired by Bielefeld's history, these intricate puzzles are a fun challenge for both kids and adults. Crafted with precision, they serve as both a toy and a nod to the city's heritage.
Bielefelder Clocks: Drawing from the region's precision craftsmanship, these clocks are both functional and aesthetically pleasing. Whether wall-mounted or tabletop, they carry the essence of Bielefeld's time-honoured traditions.
Woollen Goods: Given the textile history of Bielefeld, woollen goods like scarves, hats, and gloves are common finds. Hand-knitted by local artisans, these items are warm and carry a touch of Bielefeld's heritage.
Things to Do in Winter
I recommend exploring the Bielefeld official website for a thorough rundown of winter activities and up-to-date events in the city. They have a list of popular places to visit to get you started on your trip planning.
Sustainable Christmas Tips
Here's some guidance on how to embrace responsible travel in Bielefeld during the festive season:
Eco-friendly Accommodation: Bielefeld has a selection of hotels committed to sustainability. Many of these establishments have integrated renewable energy sources to power their facilities. When booking your stay, research and opt for hotels with clear green energy initiatives, ensuring your trip has a reduced carbon footprint.
Reduce Food Waste: The Christmas market in Bielefeld is a culinary delight, presenting an array of tempting local and international dishes. While it's easy to over-order with so many choices, I advise ordering smaller portions or sharing dishes. This approach allows you to taste a variety and minimises food waste.
Ethical Consumption: Amidst the festive ambience of Bielefeld's market, it's tempting to indulge in impulse purchases. However, consider the long-term value and utility of items before buying. Choose quality over quantity, ensuring that what you buy, be it a souvenir or a gift, is something that you or the recipient will genuinely appreciate and use.
Sustainable Diets: Bielefeld's Christmas market showcases several food stalls offering vegetarian and plant-based options. Reducing meat consumption, even temporarily during your visit, can positively impact the environment. Local dishes like lentil stew or potato pancakes are both delicious and more sustainable choices.
Sustainable Transport: Bielefeld has an efficient public transportation system, including buses and trams, which considerably lowers one's carbon footprint compared to private car use. Additionally, the city is pedestrian-friendly, especially around the Christmas market in Mitte. Opt to walk or use public transport for a more eco-friendly travel experience in the city.
FAQ
When is Bielefeld Christmas Market?
Bielefeld Christmas Market dates are from 27th November to 30th December 2023.
Where is Bielefeld Christmas Market located?
You'll find the Bielefeld Christmas Market in the heart of the city in the Mitte district, specifically at Alter Markt.
What time does Bielefeld Christmas Market open?
The Christmas market opening hours are Monday to Friday: 10am to 6pm. Saturday: 10am to 2pm. Sunday: Closed. Christmas Eve: Closed. Christmas Day: Closed. Boxing Day: Closed..
Is Bielefeld Christmas Market suitable for families?
Bielefeld's festive market is family-friendly, with many activities and stalls catering to children and adults, ensuring a fun experience for visitors of all ages.
If you would like to leave a review of Bielefeld Xmas Market, comment below.
—
Recommendations are independently chosen based on personal travel experiences and extensive research. This post contains affiliate links to hotels and tours in Bielefeld, Germany. This means I get a small commission from any bookings at no extra cost to you.