Gammeltorv is at the centre of the city where you'll find Aalborg Christmas Market. It has Christmas trees, sweet treats, and Danish mulled wine.
In this article, you'll find all the details needed to plan a visit, including confirmed 2023 dates and opening hours.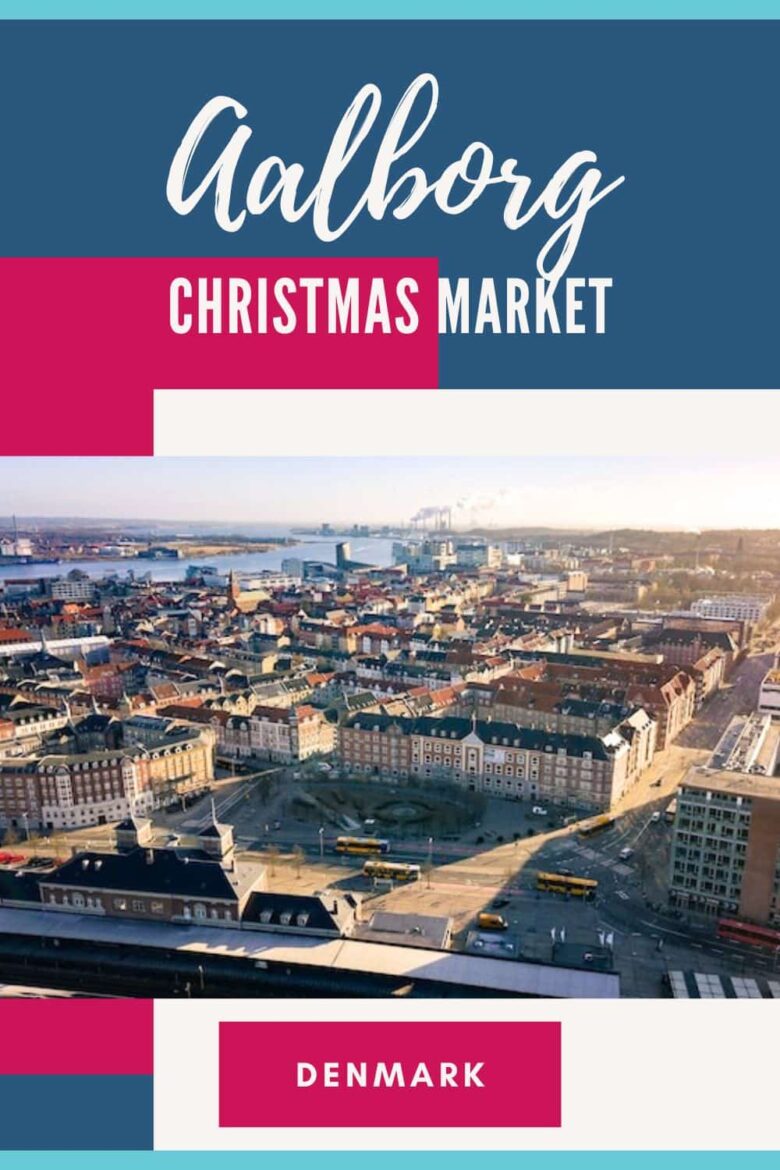 Aalborg Christmas Market 2023
Aalborg sets itself apart during Christmas, focusing on local traditions and community involvement.
In Aalborg's Gammeltorv, the Christmas market returns this year with added stalls that extend to Nytorv, making the market less crowded.
Along with Danish specialties, the market features a diverse mix of stalls selling international foods such as Dutch cheese and Spanish-style churros.
In addition to its varied range of goods, the market includes activities and rides for all ages and seating areas where you can enjoy hot cocoa.
Dates and Information
Aalborg Christmas Market dates: 17th November to 23rd December 2023.
Location: Gammeltorv and Nytorv.
Opening times:
17th November to 15th December: Monday to Friday: 12pm to 6pm. Saturday and Sunday: 10am to 6pm.
16th December to 23rd December: 10am to 7pm.
24th November: 12pm to 10pm.
Christmas Day: Closed.
Admission: Free.

Aalborg Christmas at the Zoo: 24th to 26th November. 1st to 3rd, 8th to 10th and 14th to 27th December 2023.
Location: Aalborg Zoo.
Opening times: 3pm to 8pm.
Christmas Eve: Closed.
Christmas Day: Open.
Admission: Adults: DKK 145. Children ages 3-11: DKK 95.

Christmas lights: Yes, switch on date: 17th November.
Santa: Yes.
Ice skating: Yes, at Obels Square.
Vegetarian: Yes, plenty of options.
Vegan: Yes, plenty of options.
Gluten free: Yes, but limited.
Accessible: Yes.
Pet-friendly: Yes, but not recommended during busy periods.
Parking: Please take public transport to help limit congestion.
Reason to visit: Danish specialties, Viking history, stunning nature and fjords.
Food specialities: Danish pastries, honninghjerte (honey hearts) and glogg (mulled wine).
Where to stay: Pier 5 Hotel is a popular hotel, located 10 minutes from the market.
Hotels near Aalborg Christmas Market
Staying close to Gammeltorv and Nytorv is practical if you want easy access to Aalborg's Christmas market. The city centre around this square has several options for overnight stays, including near the waterfront.
I recommend Pier 5 Hotel, near the waterfront and Utzon Center and convenient for exploring the city. It's one of the city's most sustainable hotels, as it uses 100% renewable electricity.
To explore other destinations in the region, read my Denmark Christmas Markets 2023 guide, which provides a detailed list of where to go.
Location
Christmas in Aalborg
Local Specialties
Flæskesteg Sandwich: It's a roast pork sandwich. At the Market, vendors add red cabbage and pickles for a tangy kick. It's a straightforward yet satisfying daily meal in Danish Christmas celebrations.
Æbleskiver: Traditional Danish pancake balls, often dusted with powdered sugar and served with jam. Æbleskiver are particularly popular during the Christmas season. They're cooked in a special pan that gives them their unique round shape.
Glogg: This is the Danish version of mulled wine. Made with red wine, spices, and raisins, it's a warm, spiced drink that many people in Aalborg enjoy during winter. The recipe varies, but cinnamon sticks and cloves are common additions.
Koldskål: A chilled buttermilk soup, typically made with lemon or vanilla for flavour. Even though it's more popular in the summer, some stalls feature it as a lighter alternative to the rich, hearty foods commonly found during Christmas.
Frikadeller: Danish meatballs made of pork. Often served with potato salad or bread, these are a comforting staple food. Frikadellers are less seasoned than other types of meatballs, letting the taste of the meat shine through.
Risengrød: A creamy rice pudding is often eaten as a dessert or late-night snack. It's made with milk, rice, and a touch of vanilla. Sometimes, it's sprinkled with cinnamon and sugar, and a dollop of butter is added in the middle.
Smørrebrød: Open-faced sandwiches that feature a variety of toppings. You'll find versions with pickled herring or liver pate at the market, usually served on dense, dark rye bread. Smørrebrød is a classic Danish dish year-round that takes on festive toppings during Christmas.
Honninghjerte: Translating to "honey hearts," these are gingerbread-like cookies. Found mainly around Christmas, they're made from flour, honey, and a mix of spices, including cinnamon and cloves. They're often adorned with a layer of chocolate or icing.
Pebernødder: Tiny spiced cookies, traditionally baked at Christmas. They are small, crunchy, and have a distinct taste of ginger and cinnamon. Children often enjoy these as snacks.
Gifts and Stocking Fillers
Viking Jewellery: Aalborg has a strong Viking history, reflected in its market stalls selling Viking-inspired jewellery. These items are often made of silver or bronze and feature traditional Viking symbols and designs. They are crafted carefully and serve as exciting souvenirs from the region.
Nordic Knitwear: Woollen items like scarves, mittens, and sweaters are commonly found in the market. These are made using traditional Nordic patterns and techniques. The quality wool ensures warmth and durability, making these items practical for cold winter.
Danish Pastry Cutters are specialty tools for making traditional Danish pastries at home. Made from quality materials like stainless steel or wood, they are often etched with Danish designs. These make for a unique and functional gift for anyone who enjoys baking.
Local Liquor: Aalborg is known for its Aquavit, a spirit flavoured with herbs and spices. You can find small bottles, ideal for gifting, at the market. It's a strong spirit, traditionally consumed during festive occasions.
Marzipan Sweets: While the food was covered in the previous section, marzipan-based sweets deserve mention as a popular gift item. These are sculpted into shapes like fruits or animals and often wrapped in colourful foils. They are both decorative and edible, making them a versatile gift option.
Travel Information
To stay updated on the city's latest events and winter activities, check out Visit Aalborg, the city's official website. While there, you might like to visit Lindholm Høje, the Viking burial site, the Utzon Center on the waterfront and the region's beautiful fjords.
Sustainable Travel Tips
Here are some tips on being a more responsible traveller in Aalborg this winter.
Eco-Friendly Hotels: Book a hotel that relies on renewable energy sources. Aalborg has a selection of hotels that actively reduce their carbon footprint using solar and wind power.
Reduce Food Waste at Markets: Only order what you can finish when sampling food at the Christmas markets. Vendors often have smaller portion options. By choosing these, you're not only getting to try a variety of foods but also reducing waste.
Ethical Consumption: Aalborg's markets feature many handmade crafts. Purchase only those items you truly need or will use. This way, you support local artisans without contributing to unnecessary waste.
Sustainable Diets: Look for food stalls focusing on organic and locally sourced and plant-based produce. This cuts down on the carbon footprint related to transportation and also supports local farmers. Aalborg markets often feature dishes made from locally sourced fish and vegetables, giving you plenty of sustainable options.
Sustainable Transport: Aalborg has an efficient public transport system that you can rely on to get around the city. Opt for buses or trams instead of renting a car. The city also promotes cycling, with numerous bike lanes making it a convenient and eco-friendly way to explore.
Comment below if you want to leave a review of Aalborg Xmas Market or have any questions.
—
Recommendations are independently chosen based on personal travel experiences and extensive research. This post contains affiliate links to hotels and tours in Aalborg, Denmark. This means I get a small commission from any bookings at no extra cost to you.