The Schellville Christmas Village at Rehoboth Beach in Delaware is a family-friendly holiday event. Visitors can enjoy the snow zone, sledding hill, live entertainment, a game room, and a new train ride, along with Santa and Mrs Claus meet-and-greets.
In this article, I'll provide all the essential details you need to plan your visit, such as the confirmed 2023 dates, opening hours, and a rundown of the local specialties at Frosty's Food Trucks and the Candy Cane Artisan Lane.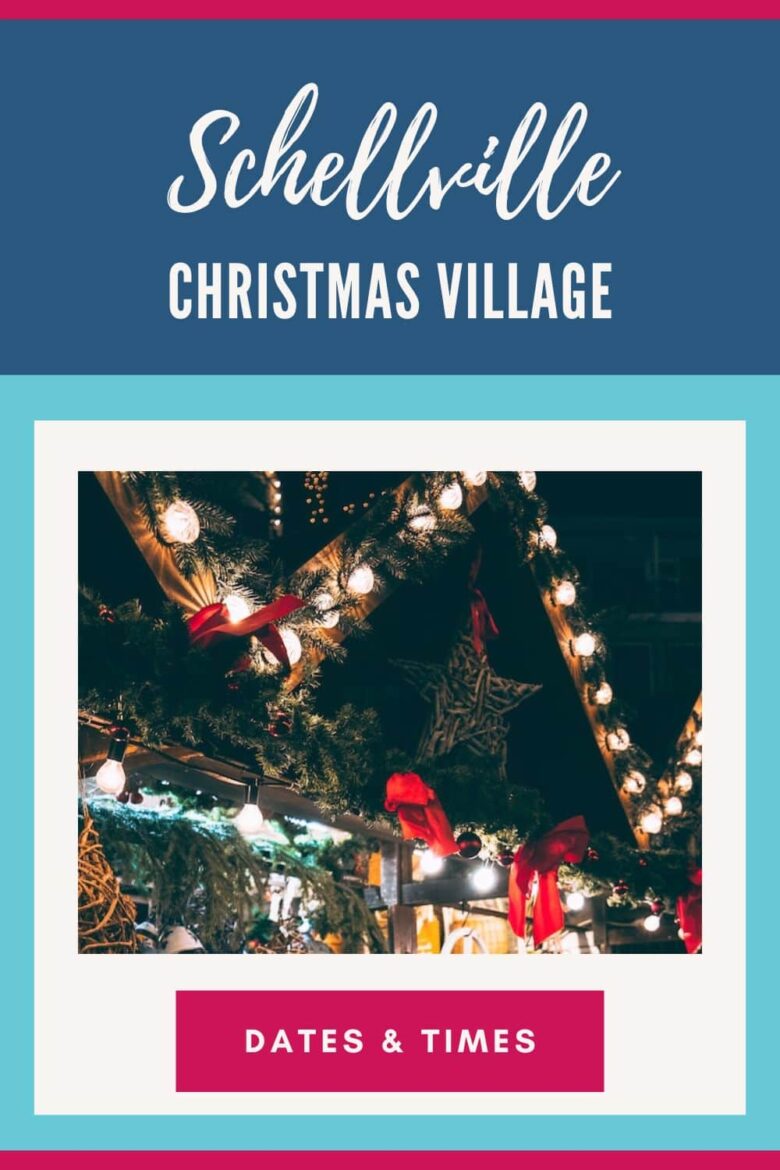 At Christmas, shops and restaurants in Rehoboth Beach decorate for the holidays and offer seasonal items and menus.
Schellville Christmas Village 2023
Schellville Christmas Village creates a unique setting for holiday enjoyment. This holiday event stands out with its 18 miniature houses, each one brimming with decorations, toys, and activities that encourage exploration.
For those keen on wintery delights, a dedicated snow zone and an expanded area for sledding provide ample opportunity for family fun. If you're more drawn to visual spectacles, a maze of lights offers an illuminating experience.
Adults can unwind at the craft beer garden, while live entertainment on the Snowflake Stage adds to the atmosphere.
Dates and Location
Schellville Christmas Village dates: 18th November to 31st December 2023.
Location: Tanger Outlets at Rehoboth Beach Seaside.
Opening times: Thursday to Sunday: 5pm to 9pm.
Thanksgiving: Closed.
Christmas Eve: Closed.
Christmas Day: Closed.
Admission: Free, no tickets required.
Santa: Yes. Kids send their letters to Santa and Mrs Claus directly through a magical mailbox.
Ice skating: Yes.
Vegetarian: Yes, plenty of options.
Vegan: Yes, plenty of options.
Gluten free: Yes, but limited.
Accessible: Yes.
Pet-friendly: No.
Parking: Please take public transport to help limit congestion.
Reason to visit: Miniature houses, snow zone, sledding, Maze of Lights, beer garden, live entertainment, Santa visits.
Specialities: Frosty's Food Trucks, Revelation Craft Brewing Co., artisanal sweets, local seafood, seasonal brews.
Where to stay: Beach View Hotel is a popular hotel, located near the Christmas market.
Hotels near Schellville Christmas Village
Staying near the boardwalk in Rehoboth Beach puts you in close proximity to Schellville at Tanger Outlet. The area has a variety of accommodations, shops, and dining options.
For a straightforward choice, consider Beach View Hotel; it's well-regarded and conveniently located near the market.
Location of Schellville Christmas Village
Christmas in Schellville
Christmas Specialties in Schellville
Saltwater Taffy: A classic sweet treat in Rehoboth Beach, saltwater taffy comes in a variety of flavours. Stalls at Schellville Christmas Village feature this chewy confection. It's an ideal pocket-sized snack for exploring the market.
Craft Beers by Revelation Craft Brewing Co: This local brewery supplies Schellville with a range of craft beers. Dark ales, lagers, and IPAs are usually on the menu at the Beer Garden. It's an excellent way to taste the local brewing culture.
Boardwalk Fries: Not to be missed, these thinly cut fries are seasoned with a mix of local spices. Eaten hot and often dipped in sauces or gravies, they're a local twist on a universal favourite.
Apple Cider: With the colder weather, apple cider becomes especially popular. The village provides both alcoholic and non-alcoholic versions, featuring locally sourced apples for authentic flavour.
Fish Tacos: This local specialty consists mainly of locally caught fish. Served with a flourish of coleslaw and a squeeze of lime, these tacos provide a lighter meal option at the market.
Belgian Waffles: Sold hot from the iron, these waffles come with a selection of toppings, including fruit, whipped cream, and chocolate. Belgian waffles give you a little international flair while you browse through the Christmas village.
Oyster Po'boys: These sandwiches feature locally harvested oysters that are breaded and fried. The oysters are placed in a baguette and often garnished with lettuce, tomatoes, and a tangy sauce, reflecting Delaware's coastal influence.
Seasonal Pies: Think pumpkin, apple, and pecan pies made with local ingredients. While they're not unique to Delaware, the local touch adds an extra dimension of flavour.
Roasted Chestnuts: As a seasonal favourite, these chestnuts are often roasted on-site. The aroma is enough to draw you in, and the taste doesn't disappoint.
For reliable insights into the best Christmas markets in the USA, have a look at my guide; it features a selection of standout markets with details on what makes each unique.
Christmas Gifts and Stocking Fillers
Handcrafted Ornaments: Local artisans sell unique, handcrafted ornaments, often made from natural materials like wood or clay. They feature various designs, from classic Christmas figures to local landmarks. These ornaments can add a touch of Rehoboth Beach to your Christmas tree.
Beach Glass Jewellery: Craftsmen take advantage of the sea's natural processes to create jewellery from smoothed, frosted glass. It's a subtle nod to the coastal location of the village, making these items excellent gifts or personal keepsakes.
Nautical Décor: Regarding Delaware's maritime culture, vendors offer home décor items with a nautical twist. Wall hangings, candle holders, and table centrepieces often incorporate materials like rope, driftwood, and shells.
Personalised Snow Globes: Several stalls allow you to customise snow globes with names, dates, or small messages. This makes for a personalised gift or a one-of-a-kind memento of your time at Schellville Christmas Village.
Christmas Socks: As a more standard stocking filler, Christmas-themed socks are available but often come with a local twist. Think patterns featuring the area's most loved landmarks or even native wildlife.
Customised Stationery: From postcards to notebooks, stationery featuring local sights or holiday themes can be customised to your liking. It's a practical yet personal souvenir you can utilise throughout the year.
Hot Sauce Sets: Small-batch hot sauces are a popular purchase reflecting a broader American love for spice. These come in sets and often include a range of heat levels sourced from local peppers when possible.
Gingerbread Kits: Although not unique to the area, gingerbread kits at Schellville often include unique accessories like beach-themed decorations or local building shapes. It's a fun activity that also serves as a tasty treat.
Things to Do in Winter
I recommend checking out Visit Delaware's official website for the most current information on winter activities and up-to-date events in Rehoboth Beach and beyond. Here's a list of things to do to get you started on your search.
Sustainable Christmas Tips
Here are a few suggestions on travelling more responsibly in Schellville this Christmas season:
Food Waste Reduction: When dining at the Christmas market, be mindful of food waste. Many stalls and restaurants serve large portions, so consider sharing meals with your travel companions or asking for smaller portions where possible. It's a small act that, when done by many, can have a significant impact.
Ethical Consumption: The Christmas Village in Schellville features a host of local artisans selling their crafts. Support them by purchasing their products, but only buy what you really need or will use. Over-consumption is one of the drivers of environmental degradation, so let's make thoughtful purchases a norm.
Sustainable Diets: Opt for plant-based or vegetarian options at the Christmas village where possible. Schellville is known for its plant-based food stalls so you won't be missing out on flavour. Reducing our meat consumption is one way we can lessen our environmental impact.
FAQ
When is Schellville Christmas Village?
The Schellville Christmas Market dates are 18th November to 31st December 2023.
Where is Schellville Christmas Village?
The Christmas Village is located in Tanger Outlets at Rehoboth Beach Seaside.
What time does Schellville Christmas Village open?
The village opening hours are 5pm to 9pm. Thanksgiving: Closed. Christmas Eve: Closed. Christmas Day: Closed.
If you would like to leave a review of Schellville Xmas Village, comment below.
—
Recommendations are independently chosen based on personal travel experiences and extensive research. This post contains affiliate links to hotels and tours in Schellville, United States. This means I get a small commission from any bookings at no extra cost to you.