Famous for its eco-friendliness and thriving food scene, Portland is an irresistible destination for visitors seeking a unique festive experience. Its Christmas markets are a highlight of the season, bringing locals and tourists together in a celebration of all things local and handmade.
In this guide, I will share the key details you'll need to make the most of your visit, including the 2023 dates, opening times and locations, as well as local specialties that make the Portland Holiday Market a unique spectacle.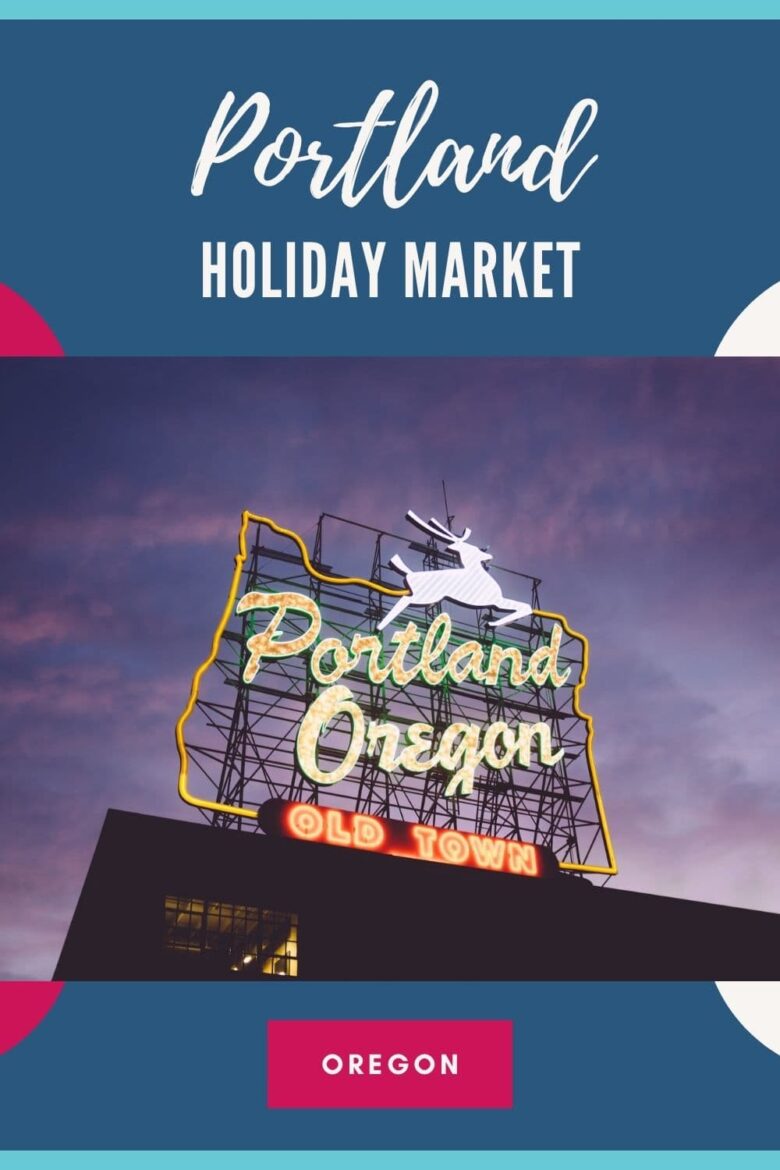 Christmas in Portland is a mix of chilly winter weather and festive cheer. It's a time when locals embrace the spirit of the season, with city streets, homes, and businesses lit up with thousands of decorative lights.
Portland Holiday Market 2023
The Holiday Market in Portland is held over three days in Portland, Oregon. You'll find a host of unique stalls where regional artisans display an impressive array of handcrafted goods.
It's a spectacular destination for finding distinctive gifts, from Christmas baubles to handmade ceramics, organic skin care products, stocking fillers and more.
As you wander the market, you'll discover delicious local treats, including Oregon-made wine and artisanal chocolates. The full list of specialties can be found listed further below.
Dates and Location
Portland Holiday Market dates: 17th to 19th November 2023.
Location: Portland Expo Center.
Opening times: Friday: 12pm to 8pm. Saturday and Sunday: 10am to 6pm.
Christmas Day: Closed.
Admission: $10. Children 12 and under, free.
Santa: Yes, at Santaland.
Ice skating: No.
Vegetarian: Yes, plenty of options.
Vegan: Yes, plenty of options.
Gluten-free: Yes, but limited.
Accessible: Yes.
Pet-friendly: No.
Parking: Please take public transport to help limit congestion.
Reason to visit: A showcase of local artistry, regional food producers, unique gift shopping, festive ambience.
Specialities: Cinnamon-infused mulled wine; plant-based pies; Christmas pastries.
Where to stay: The Hoxton is a highly-rated hotel, in Dowtown Portland.
Location of Portland Holiday Market
Food at the Holiday Market
Oregon-made wine: You'll have the opportunity to sample some of the finest wines from the vineyards of Oregon. Varieties range from aromatic whites to robust reds. These wines perfectly complement the festive atmosphere and the cool Portland weather.
Artisanal Chocolates: Indulge your sweet tooth with locally produced artisanal chocolates. These exquisite treats come in a variety of unique flavours, often incorporating native berries and nuts, making them a delightful snack as you peruse the market stalls.
Hand-tossed Pizzas: Keep an eye out for the smell of fresh dough and melting cheese wafting through the market. Hand-tossed pizzas, cooked in portable wood-fired ovens, are a popular staple. Toppings typically showcase local ingredients, such as wild mushrooms or seasonal veggies.
Roasted Chestnuts: No holiday market is complete without the aroma of roasted chestnuts filling the air. These warming snacks are perfect to nibble on as you explore the multitude of stalls.
Oregon Truffle Popcorn: Elevate your snacking experience with truffle popcorn. Oregon is renowned for its native truffles, which lend a luxurious twist to this simple yet addictive snack.
Churros with Chocolate Sauce: For a taste of something international, go for the churros. These crispy, sweet sticks of dough are often served with a rich, hot chocolate sauce for dipping.
Local Craft Beer: Portland is famed for its craft beer scene. Many stalls at the market feature local breweries, where you can try a range of unique ales, stouts, and lagers, often with a seasonal twist.
Mulled Cider: Lastly, be sure to warm up with a cup of mulled cider, a beloved holiday beverage. It's typically made with local apples and a blend of aromatic holiday spices, offering a heartwarming drink perfect for winter.
Christmas Gifts and Decorations
Oregon Pine Christmas Decorations: Made from the wood of Oregon's abundant pine trees, these decorations bring a piece of the Pacific Northwest to your Christmas tree. Ranging from rustic, hand-carved ornaments to intricately designed miniatures, these unique pieces capture the spirit of an Oregon winter.
Handcrafted Leather Goods: At the Portland Christmas Market, you'll find a selection of locally made leather products. The city is home to several notable leathercraft artisans, who create everything from wallets and belts to handbags and journals, making these items meaningful souvenirs or gifts.
Locally Made Art: Showcasing the vibrant art scene of Portland, you can discover original pieces from local artists. Whether it's a watercolour painting of a Portland landmark, a handmade ceramic bowl, or a piece of unique sculptural jewellery, these one-of-a-kind works allow you to support the local art community.
Small-Batch Hot Sauce: Portland is known for its culinary scene, and that extends to its array of homemade hot sauces. Made with Oregon-grown chillies and other local ingredients, these small-batch sauces come in a variety of flavours and heat levels, making them a unique gift for food enthusiasts.
Oregon Wine: The state of Oregon is a premier wine-producing region known especially for its Pinot Noir. A bottle or two from a local winery is a perfect gift for the wine connoisseur on your list or even as a special treat for yourself.
Hand-Knit Woolen Accessories: Portland's cooler climate means the city has a thriving community of knitters and crocheters. Beautiful, hand-knit scarves, hats, and mittens made with high-quality wool are practical for winter and represent the warmth and charm of Portland's creative community.
If you'd like to add some additional holiday markets to your winter activities, this guide to the best Christmas markets in the US should give you some ideas on where to go.
For more information on visiting Portland, the local tourist site Visit Portland has many things to do for visitors and locals.
Sustainable Christmas Tips
Many of us are increasingly concerned about climate change and sustainability. Here are a few tips on how we can travel more responsibly in Portland at Christmas.
Use Public Transportation: Portland's extensive public transport network, including buses, light rail and streetcars, makes it easy to get around the city without a car. Using these services can significantly reduce your carbon footprint during your visit.
Choose Locally Produced and Seasonal Foods: Many stalls at the Christmas market feature locally sourced and seasonal products, which require less transportation and therefore emit fewer carbon emissions. You can support a sustainable food system by choosing these options.
Minimise Food Waste: Be mindful of portion sizes when ordering at food stalls to avoid unnecessary waste. Portland also has a city-wide composting program, so look for designated compost bins to dispose of any food scraps.
Support Ethical Consumption: Many local Portland vendors at the Holiday market produce handmade, fair-trade, and sustainably sourced goods. By purchasing from these vendors, you're promoting ethical consumption practices.
Consider Plant-Based Options: Portland is known for its plant-based food scene, which has a lower environmental impact than meat-based diets. Even if you're not vegan or vegetarian, trying some of the city's renowned plant-based cuisine can be a step towards a more sustainable diet.
Bike Around the City: Portland is one of the most bike-friendly cities in the US, with an extensive network of bike lanes and trails. Renting a bike for your visit can be both a fun and sustainable way to explore the city.
FAQ
When is Portland Holiday Market?
The Portland Holiday Market is from 17th to 19th November 2023.
Where is Portland Holiday Market?
The Holiday Market in Portland is located at the Portland Expo Center.
What time does Portland Holiday Market open?
The Holiday Market is open from Friday: 12pm to 8pm. Saturday and Sunday: 10am to 6pm.

Are the Christmas markets in Portland suitable for families?
Absolutely, Portland's Christmas markets are very family-friendly. There's usually plenty of entertainment for children, including puppet shows, face painting and even visits from Santa.
Visiting Portland in winter is an experience you'll enjoy. The city brims with unique charm, especially during the Christmas market season. Portland Holiday Market is the main event at this time of the year. It's a great destination for one-stop seasonal shopping and a great family-friendly day out.
If you would like to leave a review of Portland Xmas Market, comment below.
—
Recommendations are independently chosen based on personal travel experiences and extensive research. This post contains affiliate links to hotels and tours in Portland, Oregon. This means I get a small commission from any bookings at no extra cost to you.