Peddler's Village in Pennsylvania transforms into a winter wonderland each holiday season, drawing crowds with its charming architecture and quaint shops.
The location is famous for its historic windmill, cobblestone walkways, and year-round festivals, adding a rustic feel to the Christmas market experience.
In this article, you'll find a comprehensive rundown of all essential details, like the confirmed 2023 dates, opening hours, and local specialities unique to Peddler's Village Christmas.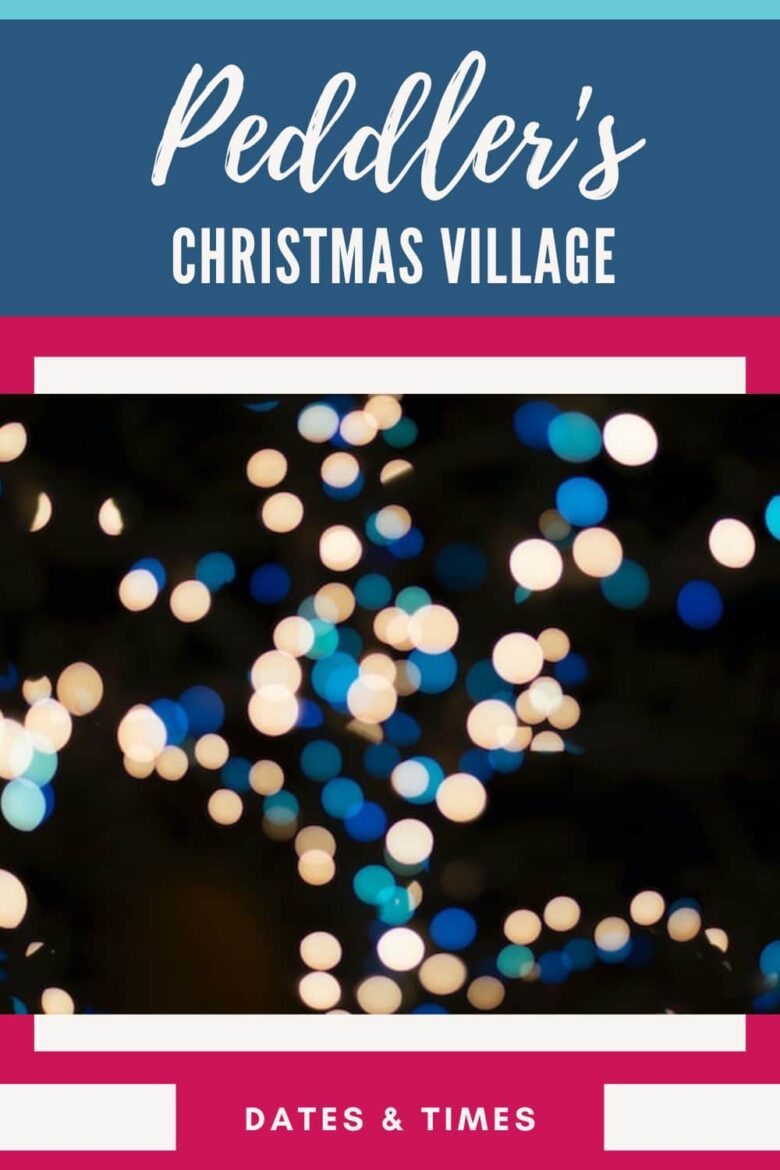 Peddler's Village is known for hosting a variety of events that celebrate different seasons and holidays, often involving artisan fairs, food festivals, and live music.
These events attract a wide audience, making the village a year-round destination for both locals and tourists.
Peddler's Village Christmas 2023
At Peddler's Village Christmas, you'll find an array of activities and offerings that make it unique.
With 65 specialty shops and boutiques, the market provides ample opportunities for gift shopping. Dining options range from fine dining to casual fare, appealing to varied tastes.
The 1920s carousel and arcade offer a nostalgic touch, while a magnificent display of gingerbread houses adds a creative flair.
Throughout the holiday season, a series of family-friendly events keep the atmosphere lively, starting with the Grand Illumination Celebration, where the village-wide lights are switched on.
Admission and parking for the light and gingerbread displays are free, adding value to your visit.
Dates and Location
Peddler's Village Christmas dates: 17th November 2023 to 14th January 2024.
Location: Peddlers Village, Lahaska, Pennsylvania.
Peddler's Village hours: Monday to Saturday: 10am to 9pm. Sunday: 11am to 7pm.
Christmas Eve: 10am to 4pm.
Christmas Day: Closed.
Admission: Free.
Peddler's Village Christmas lights: Grand Illumination date: 17th November 2023 at 6:15pm.
Santa: Yes.
Vegetarian: Yes, plenty of options.
Vegan: Yes, plenty of options.
Gluten free: Yes, but limited.
Accessible: Yes.
Pet-friendly: Yes, in outdoor areas, but not recommended during busy periods.
Parking: General admission and parking at Peddler's Village is free. There is no public transportation options.
Reason to visit: Free admission, Village lights, diverse shopping, fine to casual dining, 1920s carousel, unique gingerbread displays.
Specialities: Local beverages, artisanal snacks, Pennsylvania Dutch treats, handcrafted confections, seasonal American fare.
Where to stay: New Hope Inn is a popular hotel, located 5 drive minutes from the Christmas market.
Hotels near Peddler's Village
For easy access to the Christmas market at Peddler's Village, I recommend staying in New Hope as there are a few options here and places to eat out while still being near Peddler's Village.
One popular choice is the New Hope Inn, located in the heart of the city, which provides a comfortable stay close to the festivities.
Location of Peddler's Village
Christmas Festival at Peddler's Village
This video gives you an authentic glimpse of the Christmas Festival at Peddler's Village.
For more festive activities this winter, read my guide to the best holiday markets in the USA.
Christmas Specialties at Peddlers
Peddler's Pie: A traditional pastry, the Peddler's Pie is unique to this region. Filled with seasonal fruits and topped with a light dusting of sugar, it's a warm, comforting treat that perfectly encapsulates the Christmas spirit.
Roasted Chestnuts: A staple at Christmas markets worldwide, Peddler's Christmas Village is no different. Vendors serve freshly roasted chestnuts in paper cones, their earthy aroma filling the winter air. These are a simple yet satisfying snack, perfect for keeping your hands warm as you stroll around the village.
Mulled Wine: This warm, spiced drink is a must-try. Made by infusing red wine with a mixture of seasonal spices, it's served hot and is perfect for warding off the winter chill. Some vendors even add a dash of local spirits, giving it a unique Peddlers twist.
Vegetarian Sausages: Stalls sell vegetarian sausages for a heartier snack. They're made with a blend of locally sourced vegetables and spices, providing a delicious, plant-based alternative to traditional sausages.
Gingerbread Cookies: No Christmas market would be complete without gingerbread cookies. These delightful treats are baked fresh daily, following a recipe that has been passed down through generations. Decorated with icing and often shaped like festive symbols, they are both delicious and visually appealing. Peddler's also hosts a gingerbread competition.
Hot Chocolate: A classic winter drink, hot chocolate is widely available at Peddler's Village. Some stalls even add a touch of locally made cream liqueur, providing a warming and indulgent beverage.
Christmas Stollen: This rich, fruit-filled bread is a staple at many Christmas markets. At Peddlers, vendors make it with a mix of dried fruit, nuts and marzipan, all covered with a generous dusting of powdered sugar.
Salted Pretzels: Large, soft, and warm, salted pretzels are a favourite amongst visitors to Peddlers Christmas Village. Their distinct knot-like shape makes for a delicious and satisfying snack, especially when paired with a cup of hot mulled wine.
Christmas Gifts and Stocking Fillers
Peddlers Pottery: The Christmas stalls at Peddler's Village often feature handmade pottery with designs unique to this region. The range includes everything from beautifully decorated mugs perfect for your Christmas morning coffee to intricate ornaments that would make a thoughtful gift. The quality craftsmanship and local designs make these items stand out.
Hand-Knitted Scarves: Keeping with the winter theme, you can find vendors selling hand-knitted scarves. Made from local wool and available in a range of festive colours, these scarves are practical for the cold winter months and make for a lovely souvenir.
Traditional Wooden Toys: Local toymakers showcase their craft at the Christmas Village, selling traditional wooden toys. From charming wooden dolls to intricate puzzles, these toys hark back to simpler times and make for a meaningful gift for children.
Homemade Jams and Preserves: Many stalls sell a selection of homemade jams and preserves, often made from locally grown fruits. These can be a delightful stocking filler or a tasty treat for the holiday season, bringing the flavours of Peddlers into your home.
Christmas Ornaments: Classic Christmas ornaments are also plentiful in the market. From hand-painted baubles to intricately carved wooden figures, there's a wide range to choose from, and you'll surely find the perfect ornament to add to your Christmas tree.
Another handy resource you might find useful for planning your visit is the regional tourism office, Visit PA, as it regularly updates the latest events and activities around the region, giving you plenty of choices for things to do during your stay.
Sustainable Christmas Tips
Here's a little guidance on how to make your festive visit to Peddlers more sustainable:
Minimise Food Waste: When enjoying the variety of snacks and meals at the Christmas festival, aim to minimise waste. Order smaller portions if unsure, and take any leftovers back to your hotel for later to avoid food waste.
Conscious Shopping: Peddler's Village is packed with potential holiday purchases, but buying responsibly is important. Only purchase items that you truly need, or that will bring lasting value to your life, reducing the impact of your consumption.
Plant-Based Options: Opting for plant-based food options at the market can greatly reduce your carbon footprint. Peddler's has a good selection of vendors offering delicious vegetarian and vegan dishes.
Public Transport: Public transport to Pedler's Village is not available. Instead, consider carpooling to reduce traffic and emissions.
FAQ
When is Peddlers Village Christmas?
Peddler's Village Christmas dates are 17th November 2023 to 14th January 2024.
Where is Peddlers Village?
The Christmas market takes place in Peddler's Village, Lahaska, Pennsylvania.
What are the Peddler's Village hours?
Peddler's Village hours are Monday to Saturday: 10am to 9pm. Sunday: 11am to 7pm. Christmas Eve: 10am to 4pm. Christmas Day: Closed.
When is the Peddler's Village Christmas lights switch-on celebration?
Peddler's Village Christmas lights switch-on takes place on the 17th November 2023 at 6:15pm at the Grand Illumination Celebration.

If you would like to leave a review of Peddlers Village Xmas, comment below.
—
Recommendations are independently chosen based on personal travel experiences and extensive research. This post contains affiliate links to hotels and tours in Peddler's Village, Pennsylvania. This means I get a small commission from any bookings at no extra cost to you.