Winter in Nashville greets you with a distinctive Southern charm and a sprinkle of holiday spirit. Renowned for its vibrant music scene, historic landmarks and rich cuisine, the city turns into a festive hub as the Christmas market swings into action.
In this guide, I'll share essential information for a visit, such as 2023 dates, opening times, standout Christmas stalls and distinct local specialities to help you navigate the Nashville Christmas Market Village.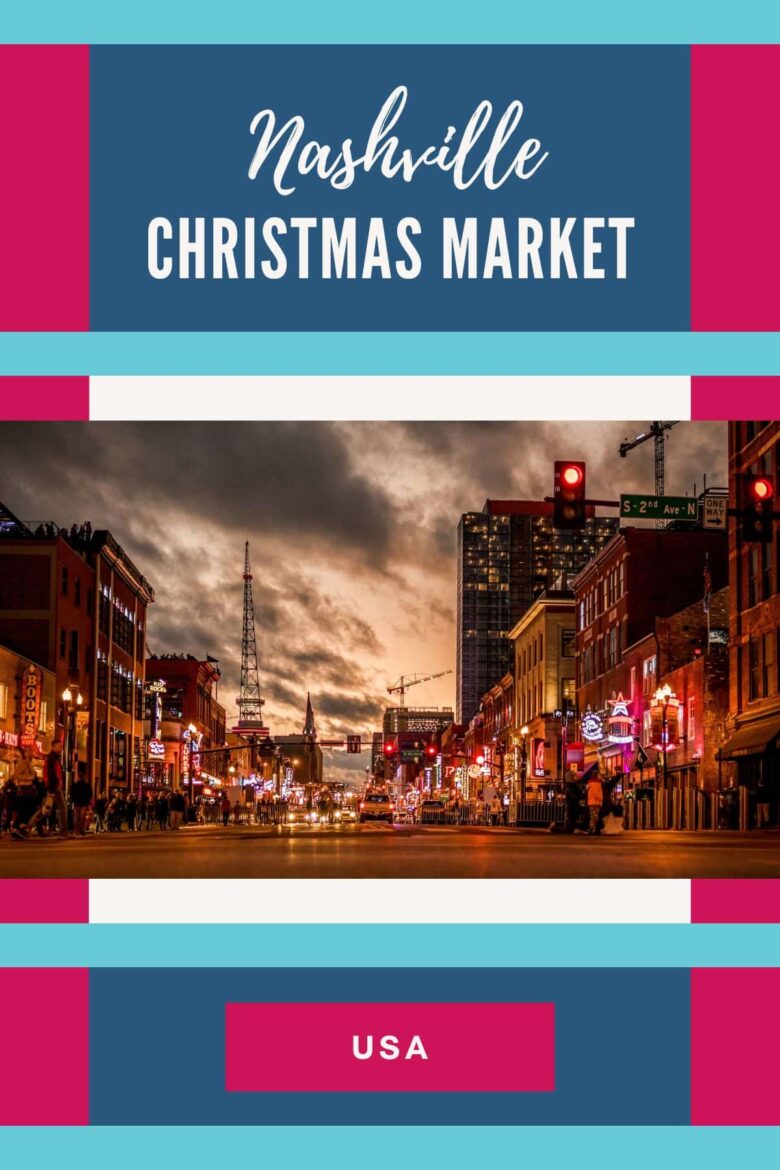 As the city lights twinkle in harmony with the winter sky, Christmas in Nashville showcases a unique blend of tradition and modernity.
Streets echo with carols and country music, and the aroma of Southern holiday cuisine fills the air, making the festive season in Nashville distinct and heartwarming.
Nashville Christmas Market Village 2023
Drenched in the festive spirit, Nashville Christmas Market Village draws you in with an enticing blend of Southern charm and holiday cheer.
The vibrant setting at the Fairgrounds complements the market's charm, with illuminated stalls that turn the location into a visual treat.
Within these stalls, you'll find a world of holiday wonders, from home-baked goods to handmade ornaments, each capturing the essence of Nashville's creative spirit.
The crowd is friendly, the vibe is festive, and the air is filled with the warmth of Nashville's genuine holiday spirit in what will be Nashville's 60th Christmas Village celebration.
Dates and Location
Nashville Christmas Market dates: 10th to 12th November 2023.
Location: The Fairgrounds Nashville.
Opening times: Friday: 9am to 9pm. Saturday: 9am to 6pm. Sunday: 12pm to 6pm.
Christmas Day: Closed.
Admission: Tickets go on sale October 1st and are $15 online and $12 in advance at select TRUIST locations. Children age 9 and under are free. Book online.
Santa: Yes. Bring your own camera.
Photos with Santa times: Thursday: 4pm to 9pm. Friday: 9am to 9pm. Saturday: 9am to 6pm. Sunday: 12pm to 5pm
Ice skating: Yes, at Nashville Fairgrounds.
Vegetarian: Yes, plenty of options.
Vegan: Yes, plenty of options.
Gluten-free: Yes, but limited.
Accessible: Yes.
Pet-friendly: No, service animals only.
Parking: Please take public transport to help limit congestion. Parking is $10 (cash only) at the Fairgrounds.
Reason to visit: Music City charm; authentic southern crafts; live country music performances; speciality Tennessee food stalls.
Recommended tour: This double-decker city tour is great for first-time visitors to Nashville.
Specialities: Hot chicken; sweet potato fries; bourbon pecan pie; Tennessee BBQ sliders; cornbread stuffing.
Where to stay: Cambria Hotel Nashville is a popular hotel, 8-minute drive from the Christmas market.
Hotels near Nashville Christmas Market
The vibrant Downtown area is a brilliant choice to stay near the Christmas market at the Fairgrounds in Nashville.
Packed with top restaurants, music venues and cultural attractions, it's a lively district that fully captures the essence of the city.
I highly recommend Cambria Hotel Nashville, renowned for its comfort and excellent location, putting you at the heart of the festive action.
Location of Nashville Christmas Market
City and Christmas Tours
A city tour of Nashville provides a great opportunity to immerse yourself in the city's rich history and culture. With its bustling downtown, vibrant murals and iconic architecture, Nashville remains a city worth visiting, even in winter.
I advise going on this city tour of Nashville, where you'll see many of the city's key sights with a knowledgeable local guide for a reasonable price.
Alternatively, think about participating in this food tour as an introduction of the local culture through their unique cuisine. There are many different tours to take, this Nashville donut tour is particularly popular.
Christmas in Nashville
This video gives you a real sense of what the Nashville Christmas Village truly feels like. It provides you with a snapshot of the festivities, showing the lively atmosphere and the various stalls filled with local goods and festive treats.
Christmas Specialties in Nashville
Nashville Hot Chicken: A fiery local delight, Nashville hot chicken is usually a portion of chicken breast, thigh, or wing marinated in buttermilk, breaded and sauced with a paste spiced with cayenne pepper. It's typically served with pickles and a winter comfort food you wouldn't want to miss when in Nashville.
Vegetarian BBQ Jackfruit: A special treat for vegetarian visitors, this dish uses jackfruit, a versatile fruit that, when cooked, takes on a texture similar to pulled pork. It's slowly simmered in barbecue sauce and served up in the same way as traditional BBQ meats.
Biscuits and Gravy: A hearty and comforting dish, biscuits and gravy is a classic in this region. Soft, flaky biscuits are smothered in a rich, savoury and creamy sausage gravy, providing warmth and satisfaction on those cold winter days.
Pecan Pie: Look no further than the Southern classic pecan pie for something sweet. It's a decadent dessert consisting of a crispy pastry shell filled with a sweet, gooey filling loaded with toasted pecans.
Sweet Potato Casserole: A beloved dish during the festive season, sweet potato casserole features a creamy blend of mashed sweet potatoes topped with a crunchy pecan and brown sugar crumble. This dish walks the line between dessert and side dish, bringing a sweet contrast to the other savoury items on the Christmas table.
Collard Greens: A staple in the Southern diet, collard greens are often cooked with onions, garlic and smoked meat for flavour. They are typically simmered until tender and are enjoyed as a warming side dish during the colder months.
Food at the Christmas Market
Cornbread Muffins: Predominantly found in the South, these muffins are a twist on the classic cornbread. They're bite-sized, portable, and perfect for snacking as you wander the market stalls. Each muffin has a crumbly texture and a slightly sweet taste, making them a great accompaniment to a cup of hot cocoa.
Fried Green Tomatoes: Originating from the Southern states, fried green tomatoes are a local favourite you'll spot at Nashville's Christmas market. Slices of tart green tomatoes are coated in a cornmeal batter and deep-fried until crispy. They're often served with a creamy dipping sauce for an added layer of flavour.
Mini Apple Pies: A miniature take on the American classic, mini apple pies feature a flaky pastry filled with sweet, spiced apple filling. These handheld treats are easy to eat on the go and perfect for satisfying your sweet tooth whilst browsing the market.
Bratwurst: A nod to the traditional German Christmas markets, Bratwurst sausages are a common sight. Served hot off the grill and tucked into a crusty bun, they're a hearty and satisfying snack as you explore the market.
Roasted Chestnuts: A universal Christmas market treat, the aroma of roasted chestnuts often fills the air at the Christmas Village in Nashville. These seasonal nuts are roasted on an open fire, resulting in a comforting, warm snack that's a welcome respite from the winter chill.
Mulled Wine: No Christmas market would be complete without mulled wine. This warm beverage often served in charming keepsake mugs, is made from red wine simmered with spices such as cloves, cinnamon, and star anise, providing a comforting warmth and festive cheer.
What to Buy
Goo Goo Clusters: These much-loved Nashville confections are typically sold at the Christmas markets. They're round discs of marshmallow nougat, caramel and roasted peanuts covered in chocolate. Each Goo Goo Cluster is individually wrapped, making them ideal for stocking fillers or as a sweet souvenir from your visit.
Handcrafted Leather Goods: Artisans in Nashville are renowned for their skilled leather craftsmanship. You'll find stalls brimming with hand-stitched wallets, belts and bags at the Christmas Village. Each item is meticulously crafted and offers a taste of Nashville's artisan culture.
Locally Roasted Coffee: In Nashville, you'll find coffee roasters who are passionate about their craft. They often set up stalls at the Christmas market, offering bags of their freshly roasted beans. It's a wonderful gift for the coffee lover in your life or a treat for yourself to enjoy back home.
Nashville Honey: Local beekeepers sell jars of raw, unfiltered honey harvested from hives around the Nashville area. Each jar is filled with golden, sweet honey, capturing the taste of the local flora in a unique way.
Artisanal Soaps: Handmade soaps crafted with natural ingredients are often found in Nashville's Christmas market. These soaps come in an array of enticing scents and make for lovely, pampering gifts.
Christmas Ornaments: Like many Christmas markets, Nashville offers a variety of festive ornaments. From classic glass baubles to handmade ornaments featuring Nashville-themed designs, these decorations add a touch of Nashville charm to any Christmas tree.
Hand-woven Scarves: Local weavers often set up shop at the Christmas Village, selling hand-woven scarves made from high-quality materials. These scarves are warm and cosy for the winter months and a stylish accessory, making them a popular choice for gifts.
Eager to explore more enchanting winter destinations across the United States? You'll find my comprehensive guide to the best Christmas markets in the US a useful tool in planning your festive adventures.
Planning your Nashville visit is easier when you explore Visit Music City, a useful online resource teeming with valuable city and even information.
Sustainable Christmas Tips
Many of us are increasingly concerned about climate change and sustainability. Here are a few tips on how we can travel more responsibly in Nashville at Christmas.
Sustainable transport: Nashville's transport infrastructure includes bike lanes, making cycling an environmentally-friendly option. Rent a bike and explore Nashville's Christmas markets, enjoying the city's vibrant atmosphere while reducing your carbon footprint.
Support for renewable energy: Many businesses in Nashville are making a concerted effort to transition to renewable energy. You can contribute by choosing to spend your money at establishments that utilise renewable energy sources, thus indirectly supporting a greener future.
Reduction of food waste: With the number of food vendors at the Christmas market, it's easy to overindulge and waste food. Instead, consider sharing portions with your travel companions or ordering smaller sizes to help cut down on food waste.
Ethical consumption: Nashville is home to many local artisans selling their products at the Christmas market. Purchasing handmade gifts supports the local economy, promotes traditional craftsmanship, and cuts down on the environmental impact of mass-produced goods.
Sustainable diets: Many food stalls at the Nashville Christmas Market offer vegan and vegetarian options. Opting for plant-based meals, even occasionally, can significantly reduce your environmental footprint.
FAQ
When is Nashville Christmas Market?
The Nashville Christmas Market dates are from 10th to 12th November 2023.
Where is Nashville Christmas Market?
The Nashville Christmas Village is set up in the heart of the city, at the Nashville Fairgrounds.
What time does Nashville Christmas Market open?
The Christmas Village in Nashville opens Friday: 9am to 9pm. Saturday: 9am to 6pm. Sunday: 12pm to 6pm.
What are the specialities of the Nashville Christmas Market?
The Nashville Christmas Market is renowned for its local crafts, Southern cuisine and live music performances, reflecting the city's rich cultural heritage.
Is Nashville safe to visit in winter?
Yes, Nashville is safe to visit in winter. As with any large city, always stay aware of your surroundings and follow local advice.
If you want to leave a Nashville Xmas Market review, comment below.
—
Recommendations are independently chosen based on personal travel experiences and extensive research. This post contains affiliate links to hotels and tours in Nashville, Tennessee. This means I get a small commission from any bookings at no extra cost to you.