Picture yourself in the heart of the Pacific Northwest, in the alpine town of Leavenworth, Washington, often referred to as a little slice of Bavaria in America.
It's a unique destination where alpine architecture meets mountain landscapes, creating a festive atmosphere that truly comes alive during Christmas.
Leavenworth Christmas Market is a key element of the season's festivities, transforming the town into a winter wonderland.
In this article, I've detailed everything you'll want to know for a 2023 visit, such as the market dates, opening hours, location and local specialties to anticipate.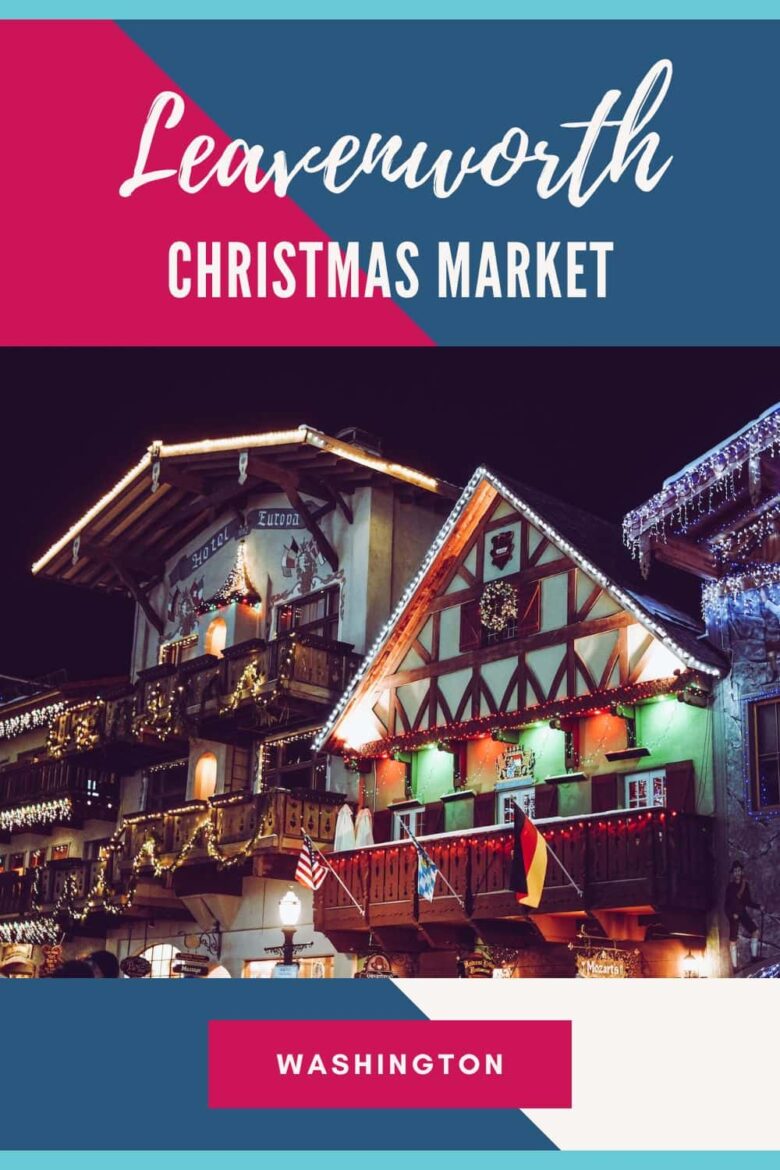 In Leavenworth at Christmas, the quaint Bavarian-style buildings and snow-capped mountains form a pretty backdrop for twinkling lights and beautifully decorated trees.
It's a magical time when the town's unique Bavarian charm and the season's festive cheer converge, presenting visitors with an enchanting holiday atmosphere reflective of Christmas in Bavaria.
Leavenworth Christmas Market 2023
The Christmas Market is at the heart of Leavenworth's festive celebrations, where the region's Bavarian heritage meets festive traditions. In Leavenworth, the event is known as Christmastown.
Stalls brim with unique handcrafted items, from intricate ornaments to cosy winter garments, providing ample opportunity to find unique Christmas gifts. Food lovers will appreciate the variety of German-inspired snacks and warm beverages.
The market also hosts live performances by local musicians and entertainers, contributing to the vibrant and merry atmosphere. Head to the gazebo to watch the performances.
Dates and Location
Leavenworth Christmas Market dates: Likely dates: Friday to Sunday from 24th November to 24th December 2023.
Location: Front Street Park and also in the Leavenworth Festhalle.
Opening times: Friday and Saturday: 10am to 7pm. Sunday: 10am to 3pm.
Christmas Day: Closed.
Admission: Free, no tickets required.
Christmas lights: No switch on date to reduce crowds.
Landern Parade: Yes, the Lantern Parade starts at 5pm on Friday and Saturday at Leavenworth Festhalle.
Santa: Yes, at Christmastown at Leavenworth Festhalle.
Krampus: Krampusnacht is on 5th December.
Ice skating: No.
Live entertainment: Yes, at Christmastown at the Gazebo.
Vegetarian: Yes, plenty of options.
Vegan: Yes, some options.
Gluten-free: Yes, but limited.
Accessible: Yes.
Pet-friendly: Yes, but not recommended during busy periods.
Parking: Please take public transport to help limit congestion. The Link Bus is free.
Reason to visit: Bavarian-style Christmas market in the US, handcrafted goods, German-inspired food, live local performances.
Recommended tour: German-them self-guided walking tour.
Specialities: German-inspired treats, bratwursts, pretzels, apple strudel, Glühwein, local craft beers and artisanal cheeses.
Where to stay: Bavarian Lodge is a popular located directly across from the Christmas market.
Hotels near Leavenworth Christmas Market
When visiting Leavenworth for the Christmas market, staying in the town centre, especially near Front Street, makes for easy access to the festive activities. Places around Waterfront Park also provide a pleasant stay with scenic views of the Wenatchee River.
I recommend the Bavarian Lodge for its charming Alpine decor and proximity to Christmastown.
Location of Leavenworth Christmas Market
Christmas in Leavenworth
The video I've included here gives a visual representation of the Christmas market in Leavenworth. It's a helpful way for you to get an idea of what the market is like before your visit.
Christmas Specialties in Leavenworth
Smoked Salmon: It's common knowledge that Washington State is renowned for its seafood; salmon is a prime example. The method of smoking the fish imparts a delicate, unique flavour, resulting in a dish that's both rich and satisfying. Smoked salmon can be enjoyed on its own or as an ingredient in salads and pasta.
Dungeness Crab: Another seafood specialty from Washington State, Dungeness crabs are noted for their sweet, tender flesh. Often served steamed with a side of melted butter, this succulent crab makes for a special holiday treat.
Apple Cider: Washington State is one of the country's leading apple producers. This warm, spicy beverage is made from freshly pressed local apples and spiced with cinnamon and cloves, ideal for sipping on a chilly winter day.
Beecher's Handmade Cheese: Originating from Seattle, Beecher's Handmade Cheese is a must-try. Among their various artisanal cheeses, the 'Flagship' stands out with its robust, nutty flavour, perfect for a festive cheese platter.
Veggie Pot Pie: A vegetarian twist on a classic, this pot pie is filled with a hearty mix of locally grown vegetables and a creamy sauce. Topped with a flaky pastry crust, it's baked until golden, making it an ideal comfort food during the cold Christmas season.
Food at the Christmas Market
Bratwurst: One of the traditional German treats you'll find at Christmastown is the bratwurst. Served hot off the grill, these juicy sausages are usually tucked into a bun and complemented by a dollop of mustard or sauerkraut.
Glühwein: Originating from Germany, glühwein is a spiced mulled wine served hot, offering a comforting warmth on those crisp winter days. Its rich, spiced aroma fills the market, drawing visitors to the stalls selling this festive drink.
Bavarian Pretzels: These are not your average pretzels. Larger and softer, Bavarian pretzels are a savoury treat often enjoyed with mustard or cheese. Its classic looped knot shape makes it an unmistakable sight at the market.
Lebkuchen: Lebkuchen is a traditional German baked Christmas treat similar to gingerbread. Featuring a mix of spices, honey, and nuts, these biscuits are often beautifully decorated, adding to the festive appeal.
Roasted Nuts: You'll encounter the irresistible scent of freshly roasted nuts at various Christmas stalls. Typically, almonds, pecans, and cashews are glazed with cinnamon sugar, providing a deliciously sweet and crunchy snack.
Local Craft Beers: with its brewing tradition, Leavenworth features a selection of local craft beers at the Christmas market. Each brew presents unique flavours, appealing to casual drinkers and beer enthusiasts.
Apple Strudel: Paying homage to the town's Bavarian inspiration, apple strudel is a delicious find. This pastry dessert is filled with tart local apples, sweet raisins, and warm spices wrapped in a flaky crust and often dusted with powdered sugar.
What to Buy
Handmade Nutcrackers: Rooted in the German tradition, these intricate figures are popular at the Christmas markets. Each nutcracker tells a story through its unique design and craftsmanship, making it a charming souvenir or gift.
Bavarian Christmas Ornaments: Enhance your Christmas tree decor with these special ornaments. Reflecting Leavenworth's Bavarian theme, these decorations are often meticulously hand-painted and depict various festive scenes.
Local Honey: Sourced from the bees of Washington State, local honey makes for a sweet, thoughtful gift. Its rich, distinct flavour is a testament to the varied flora from which the bees gather nectar.
Handcrafted Wooden Toys: Wooden toys crafted by local artisans are a special gift. The toys range from classic cars to intricate puzzles, demonstrating skilled craftsmanship and attention to detail.
Homemade Jams and Preserves: Utilising the region's bountiful fruit produce, these jams and preserves are a delightful local specialty. Each jar is packed with natural sweetness and flavour, from classic strawberry to exotic huckleberry.
Beecher's Cheese: As mentioned earlier, Beecher's Cheese is a local favourite. A block or two of this artisanal cheese makes for a delightful gift for the foodies back home.
Handwoven Baskets: Crafted by local artisans, these baskets display intricate weaving techniques. They serve as both practical and decorative items, making them versatile purchases from the market.
Local Wine and Craft Beer: Given Leavenworth's thriving alcohol industry, local wine or craft beer bottles can make for appreciated gifts. These beverages capture the flavours of the region, providing a unique taste of Leavenworth.
For an in-depth look at the top Christmas markets across America, you might find my dedicated guide helpful; it provides useful insights on various markets, ensuring you can plan an ideal festive trip.
To add to your Leavenworth experience, consider using Leavenworth, a handy resource that lists the city's attractions, events and activities, making sure you're well-equipped to explore this picturesque location.
Sustainable Christmas Tips
Many of us are increasingly concerned about climate change and sustainability. Here are a few tips on how we can travel more responsibly in Leavenworth at Christmas.
Choosing Sustainable Accommodation: Opt for hotels or lodges in Leavenworth that use renewable energy sources for their operations.
Reducing Food Waste: Be mindful of your food consumption at the Christmas market. Consider sharing larger portions with your travel companions to ensure no food goes to waste, or take any leftovers back to your hotel for a late-night snack.
Supporting Local Artisans: Make your purchases at the market count by buying from local artisans. Handmade gifts and products support the local economy and often have a lower environmental impact than mass-produced items.
Opting for Sustainable Diets: When sampling the local cuisine, aim for dishes with less meat and more vegetables and grains. Washington State is known for its abundant produce, and many stalls at the Christmas markets offer delicious vegetarian options.
Use Sustainable Transport: Reduce your carbon footprint by exploring Leavenworth on foot or by bike. The city centre is quite compact, making it ideal for walking, and bike rental services are readily available for longer distances. Additionally, consider using local public transportation for trips outside the city.
FAQ
When is Leavenworth Christmas Market?
The Leavenworth Christmas Market dates are from 24th November to 24th December 2023.
Where is Leavenworth Christmas Market?
The Christmas market in Leavenworth is located at Front Street Park and also in the Leavenworth Festhalle.
What time does Leavenworth Christmas Market open?
Leavenworth Christmastown opens Friday and Saturday: 10am to 7pm. Sunday: 10am to 3pm.
What's the weather like in Leavenworth during winter?
Winters in Leavenworth can be quite cold, with temperatures often dropping below freezing. Expect plenty of snow, so come prepared with appropriate winter attire.
Is Leavenworth's city centre walkable in winter?
Yes, Leavenworth city centre is compact and well-prepared for the winter season. The main roads and paths are usually well-maintained and cleared of snow, making it possible for visitors to explore on foot.
If you would like to leave a review of Leavenworth Xmas Market, comment below.
—
Recommendations are independently chosen based on personal travel experiences and extensive research. This post contains affiliate links to hotels and tours in Leavenworth, Washington State. This means I get a small commission from any bookings at no extra cost to you.