Dallas is renowned for its vibrant arts scene and rich history, but it transforms into a winter wonderland during the holiday season. The Dallas Christmas Market and holiday events in the city reflect the region's unique blend of southern charm and modern sophistication, creating a delightful experience for visitors.
In this guide, I'll get into all the essential details, from the confirmed 2023 dates and opening times to locations and Dallas-specific specialties.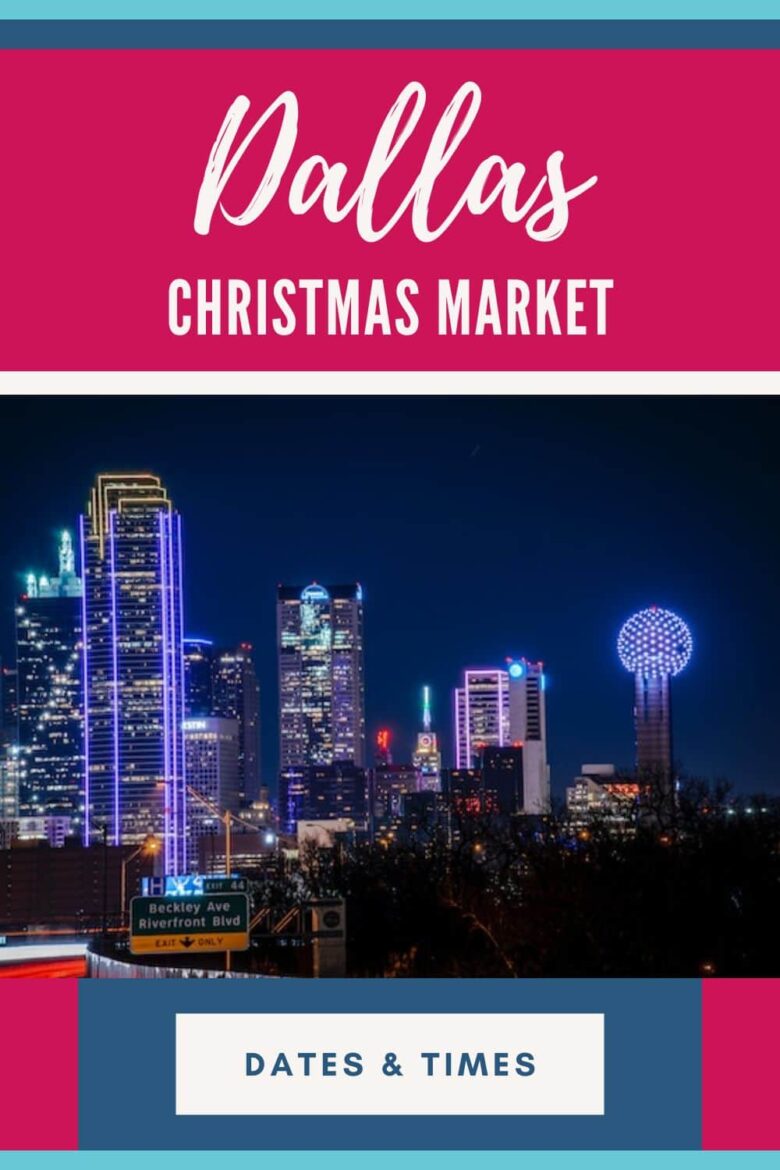 Christmas in Dallas sees the city adorned with twinkling lights, decorated trees and wreaths across many neighbourhoods, while families come together for traditional meals and exchanges of gifts.
Dallas Christmas Market 2023
At the Christmas markets in Dallas, you'll discover an array of holiday stalls brimming with artisan gifts, handcrafted decorations, and local crafts.
The market puts a Texan spin on classic festive treats, ensuring that alongside European favourites, you can indulge in flavours that give a nod to the city's rich culinary heritage.
Moreover, themed events and performances pepper the calendar, infusing the market with vibrant energy and drawing locals and tourists alike.
The traditional German-style Texas Christkindl Market in Arlington is inspired by the German sister city Bad Königshofen and partner city Rothenburg ob der Tauber.
Alternatively, you might like to visit Downtown Wanderland, where you can visit with Santa, enjoy Happy Hours and get delicious food from Dallas's best food trucks. Full details below.
Dates and Location
Texas Christkindl Market dates: 24th November to 23rd December 2023.
Location: Texas Rangers A Lot. 1650 East Randol Mill Road, Arlington.
Opening times: 11am to 8pm.
Christmas Day: Closed.
Admission: Free, no tickets required.
Santa: No. Visit Downtown Wanderland instead for photo ops with Santa.
Ice skating: No.
Vegetarian: Yes, plenty of options.
Vegan: Yes, some options. You'll find more vegan options at Downtown Wanderland's food trucks.
Gluten-free: Yes, but limited.
Accessible: Yes.
Pet-friendly: Not recommended.
Parking: Please take public transport to help limit congestion.
Reason to visit: Historic Dallas charm, Texas-sized festivities, German experience, huge decoted Christmas tree.
Recommended tour: See the highlights on this small group van tour of Dallas.
Specialities: Texan BBQ treats, spicy chili bowls, pecan pies, deep-fried novelties, hearty tamales, local craft brews.
Where to stay: Kimpton Pittman Hotel is a highly-rated hotel in Downtown Dallas.
Hotels near Dallas Christmas Market
For proximity to both the Downtown Dallas Christmas Market and Christkindl Market in Arlington, staying in the Downtown Dallas area is ideal.
This central location provides easy access to festive events and the broader city attractions. While there, consider booking at the Kimpton Pittman Hotel, known for its eco-friendly ethos and prime location.
Location of Texas Christkindl Market
Recommended City Tours
A city tour of Dallas is an excellent way to delve into the city's rich history and diverse culture. With its impressive skyline, iconic landmarks, and Texas charm, Dallas remains a prime destination to explore, even during the colder months.
I suggest this small group van tour of Dallas, where you can uncover many of the city's highlights, accompanied by a local guide at a reasonable cost. It's particularly suited for those visiting Dallas for the first time, though locals often find new insights too.
On a city tour, you'll be introduced to Dallas's standout sights, including the renowned Reunion Tower, the striking Pioneer Plaza, and the historic Sixth Floor Museum at Dealey Plaza.
Alternatively, you might like this Tex Mex food tour to gain insight into Dallas's local culture through its food. Food tours are on the rise in popularity, and it's worth joining one if the opportunity arises.
For a thorough overview of top Christmas markets across the USA, I've curated a guide on my website that you'll find insightful and practical.
Dallas Downtown Wanderland
During the festive season in Downtown Dallas, Downtown Wanderland presents an array of holiday-themed activities. You'll find music, movies, food trucks and pop-up shops lining the streets.
Engage in holiday crafting, use the complimentary gift wrapping stations, enjoy special happy hours and even get a chance for photos with Santa.
Dallas Downtown Wanderland dates: Thursday to Saturday from 30th November to 16th December 2023.
Location: 1508 Commerce Street, Dallas
Opening times: 11am to 8pm.
Christmas in Dallas
Christmas Specialties in Dallas
Smoked turkey legs: Often seen at Texan fairs, these hearty, flavourful legs are smoked to perfection and are a protein-packed option for visitors.
Texas chilli: A renowned dish from the Lone Star State, it's a spicy stew containing chilli peppers, meat, and often tomatoes and beans. Traditionally served without beans in Texas, variations might also include vegetarian or vegan versions.
Tamales: A holiday favourite, these are steamed masa (corn dough) parcels, filled typically with meats, cheese, or chillies, wrapped in corn husks. Tamales have a rich history in Tex-Mex cuisine and come in various flavours, including vegetarian options.
Sopapillas: A popular dessert or snack, they are crispy pastries, often served with a sprinkle of powdered sugar and a drizzle of honey. Their light and fluffy interior provides a delightful contrast to their crisp exterior.
Bratwurst: Representing the more traditional European Christmas market foods, these German sausages are often grilled and served in a bun with mustard or sauerkraut.
Pretzels: Another German import, these twisted bread treats are either salted, stuffed with cheese, or even sweetened with cinnamon and sugar.
Hot chocolate with chilli: A warm drink with a Texan twist. The rich chocolate and spicy chilli combine warmth and a slight kick, making it a favourite among chilly market visitors.
Vegan BBQ sliders: Made from plant-based proteins and topped with a vegan coleslaw, they capture the essence of Texas BBQ in a vegetarian-friendly format.
Roasted chestnuts: A winter classic in many parts of the world, these are often sold in paper bags, releasing a comforting, nutty aroma that beckons visitors.
Glühwein: This mulled wine, spiced with cloves, star anise, and citrus, is a Christmas market staple and perfect for keeping the winter chill at bay.
Apple cider: Both alcoholic and non-alcoholic versions are available, providing a sweet and spicy beverage choice for those looking to indulge in festive flavours.
Christmas Gifts and Stocking Fillers
Handmade cowboy boots: Dallas, with its deep-rooted cowboy culture, features stalls selling artisan-crafted cowboy boots. These meticulously crafted boots often feature intricate designs, making them footwear and wearable art.
Texas star ornaments: Drawing from the state's iconic lone star symbol, these ornaments often incorporate rustic materials such as wood or metal. They serve as a perfect memento of a Texan Christmas market visit.
Leather goods: The Texas region is known for its leather craftsmanship. At Dallas Christmas Market, you'll find vendors displaying finely crafted leather wallets, belts, and even journals that fuse functionality with style.
Scented candles: Local artisans produce these using traditional methods, and often they carry fragrances like Texas bluebonnet or southern pecan pie, capturing the essence of the state in a calming glow.
Local artwork: The city is a hub for arts, and the Christmas markets in Dallas are no exception. Local artists often sell prints, paintings, and crafts, encapsulating Texan landscapes or urban Dallas scenes.
Texan hot sauce: Texas has a love affair with spice. Bottled hot sauces, made from regional chilli varieties, make for a fiery stocking filler or a gift for the brave-hearted.
Wooden toys: A nod to the more traditional European Christmas Christkindlmarkt offerings, some stalls feature hand-carved wooden toys and puzzles, ensuring there's something for the younger visitors.
Gourmet food hampers: Showcasing local produce, these hampers might include Texas honey, artisanal cheese, or pecan treats. They're a gastronomic tour of the region, neatly packed in a festive basket.
For valuable insights and local tips to enhance your visit to the city, I suggest checking out Visit Dallas – a resourceful website dedicated to providing relevant information for visitors.
Sustainable Christmas Tips
Eco-friendly accommodation: Dallas has seen an increase in hotels implementing green initiatives. Opt for places that rely on renewable energy sources, like solar or wind power. By choosing such accommodations, you're supporting businesses that prioritise environmental responsibility.
Mindful eating at markets: When enjoying the festive treats in Dallas and Arlington markets, be conscious of portion sizes to reduce food waste. Vendors often serve generous helpings; consider sharing dishes to experience a variety without wasting.
Ethical shopping: Dallas Downtown Wanderland and Texas Christkindl Market in Arlington showcase numerous stalls with handcrafted items. While buying many souvenirs is tempting, focus on purchasing things you'll genuinely cherish or use. Supporting local artisans directly is also a sustainable choice, ensuring your money goes back into the community.
Sustainable diets: Embrace local, plant-based options when dining out. Texas, known for its beef, has a burgeoning vegan and vegetarian scene, especially in urban areas like Dallas. Dishes made from local crops, such as pecans or Texas caviar (black-eyed pea salad), are delicious and have a smaller carbon footprint.
Green transport: While Dallas is known for its car culture, consider using the DART (Dallas Area Rapid Transit) to get around the city. It's efficient and reduces the number of vehicles on the road. For shorter distances, like those in Downtown Dallas or between attractions in Arlington, walking or renting a bike is a sustainable and immersive way to explore.
FAQ
When is the Dallas Christmas Market?
The Dallas Christmas Market dates, specifically the Texas Christkindl Market in Arlington, are from 24th November to 23rd December 2023.Thursday to Saturday from 30th November to 16th December 2023. Downtown Wanderland is Thursday to Saturday from 30th November to 16th December 2023.
Where is Dallas Christmas Market?
The Dallas Christmas Market is the Christkindl Market located at Texas Rangers A Lot. 1650 East Randol Mill Road, Arlington.
What time does Dallas Christmas Market open?
The Dallas Christmas Market opens 11am to 8pm daily.

What's the weather like in Dallas during Christmas?
While it varies year by year, Dallas winters are generally mild, with temperatures averaging around 12-18°C during the day.
Is Dallas busy during the Christmas period?
Yes, Dallas does see an influx of tourists during the holiday season, especially in Downtown Dallas on the weekends when Downtown Wanderland is on.
Are there any other Christmas events in Dallas?
Yes, in addition to the Christmas Market, Dallas hosts a variety of holiday events, including the Parade of Lights and the Dallas Holiday Parade.
If you would like to leave a review of Dallas Xmas Market, comment below.
—
Recommendations are independently chosen based on personal travel experiences and extensive research. This post contains affiliate links to hotels and tours in Dallas, Texas, United States. This means I get a small commission from any bookings at no extra cost to you.