Aurora shines brightly during the festive season, drawing visitors with its rich history and vibrant atmosphere. The Christkindlmarket, a German-inspired Christmas market, further elevates the city's charm, immersing you in a heartwarming blend of tradition and festivity.
In this article, I'll delve into the details, covering confirmed 2023 dates, opening times, locations, and the unique specialties awaiting your discovery.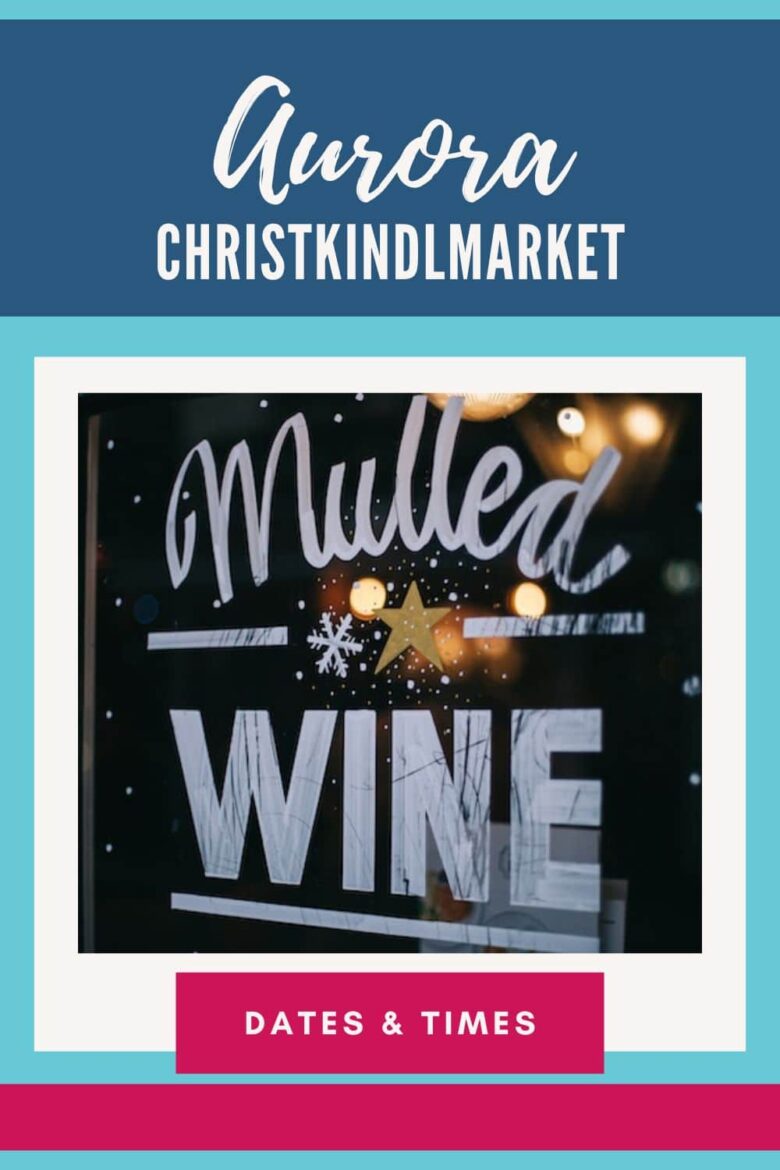 Aurora brightens up during the festive period, showcasing its rich cultural heritage and community spirit.
Residents and visitors enjoy the city's winter festivities while twinkling lights illuminate historic streets, creating a cosy atmosphere inviting warmth and togetherness.
The riverfront also takes on a magical glow, providing picturesque scenes throughout the season.
Aurora Christmas Market 2023
The Aurora Christmas Market leans deeply into its German-style heritage. At the heart of Aurora, the market has an array of vendors showcasing artisan crafts, traditional German goods, and festive treats that transport you to the heart of Europe.
The wooden huts, adorned with fairy lights, give the market an authentic feel. The warm aroma of mulled wine and roasted chestnuts invites you to indulge, making the experience at Aurora truly distinctive.
Watch out for visits from Christkind, a unique German Christkindlmarket tradition.
Dates and Location
Aurora Christmas Market dates: Thursday to Sunday from 17th November to 24th December 2023.
Location: RiverEdge Park, Aurora, Illinois.
Opening times: Thursday: 11am to 7pm. Friday and Saturday: 11am to 9pm. Sunday: 11am to 6pm.
Thanksgiving: 11am to 4pm.
Christmas Eve: 11am to 4pm.
Christmas Day: Closed.
Admission: Free, no tickets required.
Santa: Yes and Christkind.
Ice skating: Yes, at Riveredge Park.
Vegetarian: Yes, plenty of options.
Vegan: Yes, plenty of options.
Gluten free: Yes, but limited.
Accessible: Yes.
Pet-friendly: Yes, but not recommended during busy periods.
Parking: Please take public transport to help limit congestion.
Reason to visit: Authentic German-style heritage; traditional crafts; festive European atmosphere; wooden huts; genuine carol ambience.
Specialities: Bratwurst; lebkuchen; roasted nuts; potato pancakes; mulled wine; strudel; schnitzel; spiced cider; handmade pretzels.
Where to stay: This hotel in Aurora is a highly-rated hotel, 6 minutes from the Christmas market.
Hotels near Aurora Christmas Market
When visiting Aurora for the Christmas market, the city centre makes an excellent base, thanks to its proximity to the festivities and abundance of amenities. It provides easy access to Aurora's Christkindlmarket, numerous dining options, and a variety of shops.
I'd recommend the Holiday Inn Express for comfortable accommodation in this area – it has a high rating and sits conveniently close to the Christmas market in Aurura.
Location of Aurora Christmas Market
Christkindlmarket Aurora
To help you plan your festive adventure, I've put together a guide to the best Christmas markets in the USA, so do have a look and let it inspire your travels.
Christmas Specialties in Aurora
Bratwurst: A classic at many Christmas markets, the bratwurst at Aurora's Christkindlmarket are grilled to perfection and served in a bun. You can often smell their enticing aroma from a distance, leading you directly to the vendor. For a complete experience, try pairing it with some sauerkraut or mustard.
Lebkuchen: These traditional German gingerbread cookies are a staple. Often heart-shaped and adorned with messages, they're both a treat and a lovely gift. You can find them plain or covered with a thin layer of chocolate.
Roasted nuts: Walking around the market, you're bound to catch the scent of these candied almonds and pecans. They're roasted right on the spot and often come in a cone-shaped paper for easy snacking as you explore.
Potato pancakes: Crispy on the outside and tender within, these savoury treats are made from grated potatoes and onions. They're typically served with apple sauce or sour cream on the side.
Mulled wine: Often referred to as "Gluhwein", this warm beverage is made by heating red wine with spices like cloves and cinnamon. Holding a cup warms your hands and your spirit with its festive flavours.
Veggie strudel: A twist on the classic strudel, this version is packed with a mix of seasoned vegetables. Wrapped in a flaky pastry, it's a delightful vegetarian treat that offers a burst of flavour with every bite.
Plant-based schnitzel: An innovative take on the traditional schnitzel, this meat-free version is often made from seitan or other meat substitutes. Breaded and fried, it gives vegetarians the chance to indulge in a classic dish.
Spiced cider: Especially popular among those who prefer non-alcoholic beverages, this hot apple cider is infused with the same warming spices as mulled wine. It's a comforting drink that suits the chilly weather perfectly.
Handmade pretzels: Soft, chewy, and sprinkled with coarse salt, these pretzels are often larger than the ones you might be used to. They're a filling snack that pairs excellently with many of the market's beverages.
Sauerkraut balls: A moreish treat, these deep-fried balls are filled with sauerkraut and various seasonings. They're crunchy on the outside with a tangy and soft interior.
Pierogi: These dumplings are a nod to the Polish heritage of many Illinois residents. Stuffed with mushrooms and sautéed onions, they're served with a dollop of sour cream and are a vegetarian favourite.
Christmas Gifts and Stocking Fillers
Hand-blown glass ornaments: Aurora showcases artisans skilled in crafting beautiful glass ornaments. Each piece is carefully blown by hand, resulting in unique patterns and colours. They can become treasured additions to your Christmas tree or gifts for loved ones.
Wooden toys: With a nod to traditional crafts, several stalls specialise in wooden toys. From intricate puzzles to detailed dolls, these items serve as playful gifts for children and as nostalgic keepsakes.
Locally made candles: Aurora has a vibrant community of local artisans producing scented and decorative candles. Made from beeswax or soy, these candles often come in festive fragrances and provide a cosy atmosphere when lit.
Midwestern quilts: Reflecting the rich quilting heritage of the Midwest, these handmade quilts often feature intricate patterns and are stitched with precision. They make warm additions to any home and serve as a reminder of Aurora's artisan culture.
Aurora-inspired ceramics: A few specialty vendors showcase ceramics inspired by Aurora's landmarks and scenery. Mugs, plates, and decorative items can act as functional souvenirs, reminding you of the Christkindlmarket every time you use them.
Traditional nutcrackers: Though a common sight at Christmas markets, the nutcrackers at Aurora stand out for their craftsmanship. Each one is carefully carved and painted, embodying the festive spirit and tradition.
Hand-knit scarves and hats: As the cold sets in, you'll find vendors selling winter wear knitted with care. Using soft wool and often showcasing traditional patterns, these items are both functional and stylish.
Locally produced honey and jams: Aurora's fertile lands produce some exquisite honey and fruit preserves. Sealed in decorative jars, they're a sweet treat to take home or gift, representing the tastes of the region.
Hand-painted baubles: Local artists transform simple baubles into works of art with detailed painting. Each tells a story, capturing scenes from winter landscapes to festive moments, making them stand out on any Christmas tree.
While exploring the Christkindlmarket in Aurora, you'll undoubtedly come across many more items that catch your eye. Engaging with the vendors and learning about the stories behind their products is always a good idea.
Things to Do in Winter
For the city's latest events and winter activities, I recommend checking out Choose Chicago, a comprehensive resource for visitors to the region.
Sustainable Christmas Tips
Here are a few tips on how we can travel more responsibly in Aurora at Christmas.
Choosing Renewable Energy: Many local businesses in Aurora have started to use renewable energy sources to reduce their carbon footprint. As a visitor, you can support these initiatives by staying in a hotel that uses renewable energy or dining in restaurants that do the same.
Reducing Food Waste: Aurora's Christmas Market is a feast of delicious food, but with that can come the potential for waste. Try only to buy what you can eat, and if you do have leftovers, ask the vendor if they can be packaged to take away. This helps reduce waste and ensures you have a snack for later!
Ethical Consumption: The Christmas market in Aurora is filled with local artisans selling their crafts. By choosing to buy from these vendors, you're supporting the local economy and often purchasing goods made in a more ethical and sustainable manner than mass-produced items.
Sustainable Diets: Incorporating more plant-based options into your diet is a great way to make it more sustainable. Christkindlmarket Aurora Il includes a range of delicious vegetarian and vegan food stalls, making it easy to enjoy a sustainable diet while you visit.
Sustainable Transport: Aurora is well-served by public transport, and the Christmas market is conveniently located near several bus and train lines. Opting to use public transport, or cycling or walking where possible, can significantly reduce your carbon footprint during your visit.
FAQ
When is the Aurora Christmas Market?
The Aurora Christmas Market dates are Thursday to Sunday from 17th November to 24th December 2023.
Where is Aurora Christmas Market?
Aurora Christkindlmarket is held at RiverEdge Park, Aurora, Illinois. It's easily accessible by public transport, and you'll find plenty of signposts directing you to the market once you're in the city.
What time does Aurora Christmas Market open?
Aurora Christmas Market opens Thursday: 11am to 7pm. Friday and Saturday: 11am to 9pm. Sunday: 11am to 6pm. Thanksgiving: 11am to 4pm. Christmas Eve: 11am to 4pm. Christmas Day: Closed.
What is the weather like in Aurora during the winter?
Winter in Aurora can be quite chilly, with temperatures often dipping below freezing. Expect snowfall, and make sure to wrap up warm when visiting the Christmas Market.
Is Aurora a good place for Christmas shopping?
Yes, absolutely. The Aurora Christmas Market is filled with local artisans selling their unique creations. From handmade ornaments to locally produced food items, there's something for everyone on your gift list.
Aurora is an inviting city, particularly in winter when it truly comes alive with the charm of the Christmas Market. While the cold may be a challenge, it's a small price to pay for the warmth of the atmosphere. You'll leave with your heart full and probably a bag or two of unique gifts.
If you would like to leave a review of Aurora Xmas Market, comment below.
—
Recommendations are independently chosen based on personal travel experiences and extensive research. This post contains affiliate links to hotels and tours in Aurora, IL, United States. This means I get a small commission from any bookings at no extra cost to you.