During the festive season, Cherry Creek becomes a vibrant hub for shoppers and tourists, hosting the renowned Holiday Market.
Known for its eclectic mix of art galleries, upscale boutiques, and fine dining establishments, Cherry Creek attracts visitors looking to immerse themselves in a unique holiday shopping experience.
In this guide, I'll share all the essential information about the Cherry Creek Holiday Market, including 2023 dates, opening times, locations, and what to expect.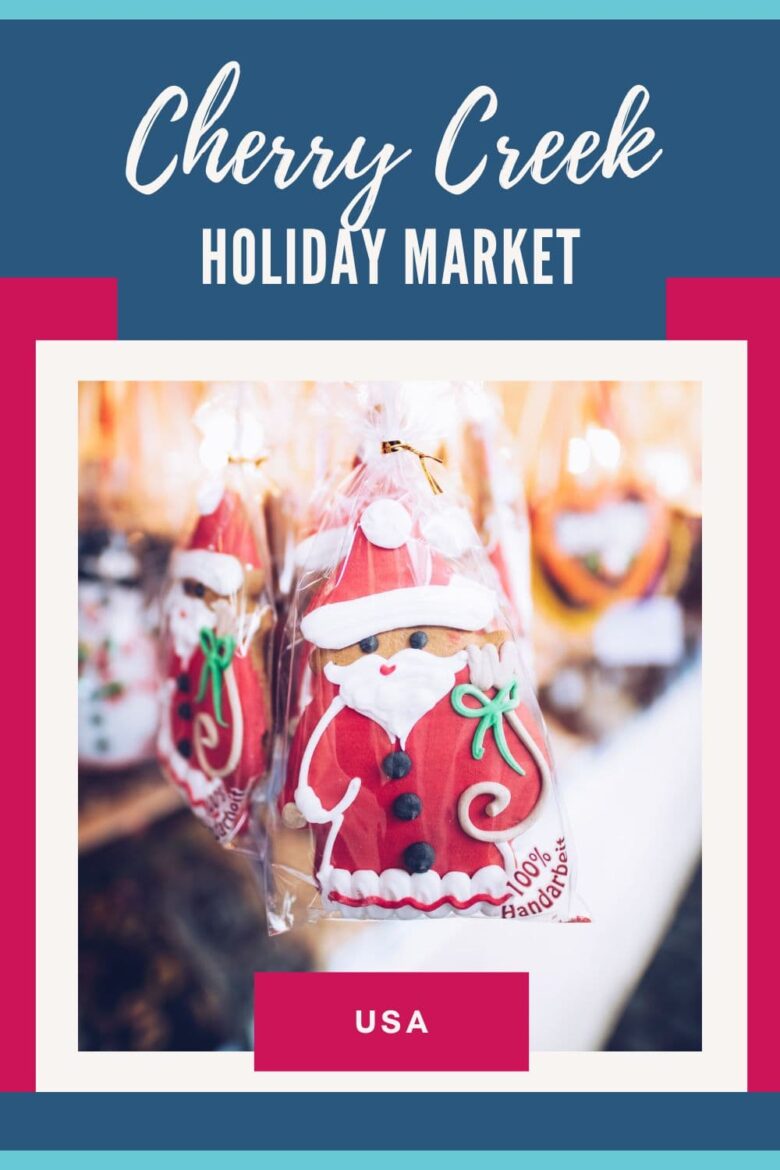 The holidays in Cherry Creek are marked by festive decorations illuminating the streets, creating a warm and welcoming atmosphere for residents and visitors.
Cherry Creek Holiday Market 2023
The Holiday Market in Cherry Creek stands out for its diverse range of vendors, showcasing locally-made crafts, artisanal food products, and unique gifts.
Visitors appreciate the opportunity to interact with local artisans and makers, learning about their crafts and sourcing distinctive holiday gifts.
The market also includes live entertainment, enhancing the festive atmosphere with performances by local musicians and artists.
Dates and Location
Cherry Creek Holiday Market dates: 16th November to 24th December 2023.
Location: Fillmore Plaza, Cherry Creek North.
Opening times: Sunday to Wednesday: 12pm to 7pm Thursday to Saturday: 11am to 9pm.
Thanksgiving and Christmas Eve: 12pm to 3pm.
Christmas Day: Closed Christmas Day. Closed 20th and 27th November, and 4th December 2023.
Admission: Free, no tickets required.
Winter Wanderland: Same dates as the Holiday Market. Includes 1 million Christmas lights.
Santa: No.
Ice skating: No.
Vegetarian: Yes, plenty of options.
Vegan: Yes, plenty of options.
Gluten free: Yes, but limited.
Accessible: Yes.
Pet-friendly: Yes, dogs are allowed on a lead.
Parking: Please take public transport to help limit congestion.
Reason to visit: Diverse vendors, focus on locally-made crafts, artisanal foods, live entertainment.
Specialities: Handcrafted chocolates, gourmet popcorn, artisanal cheeses; unique spice blends; farm-fresh jams and preserves.
Where to stay: The Jacquard is a popular hotel, located directly across from Fillmore Plaza.
Hotels near Cherry Creek Holiday Market
Staying in Denver's Cherry Creek puts you within walking distance of the Holiday Market, allowing easy access to shopping and festive activities.
The area is well-connected with public transport and is surrounded by dining and entertainment options.
A popular hotel opposite the Holiday Market is the Jacquard. It's convenient for your visit to Cherry Creek, and the reviews are excellent.
Location of Cherry Creek Holiday Market
Christmas in Cherry Creek
The video below provides a visual overview of the Cherry Creek Holiday Market, highlighting its diverse range of vendors and festive atmosphere.
Holiday Specialties in Cherry Creek
Crepes from The Crepe Outdoors: Thin and perfectly cooked crepes are a delightful option at Cherry Creek Holiday Market. You can enjoy both savoury and sweet crepes with various fillings like cheese, spinach, or chocolate. The Nutella crepe is a particular favourite for those with a sweet tooth. There are even plant-based options available to satisfy different dietary needs.
Hummus: Freshly whipped and creamy hummus is a tasty treat that pairs excellently with warm pita bread. Often garnished with olive oil and herbs, hummus is a nutritious and versatile option, providing both vegetarian and vegan-friendly fare.
Fried Peanuts from Buckin Nuts: These crunchy fried peanuts come in an array of flavours, from classic salted to spicy variations. A great option for snacking as you wander the market, these locally-produced peanuts capture the essence of snack-food indulgence while offering different tastes to explore.
Pierogies: Soft dough stuffed with a mixture of potato, cheese, meat or other fillings; pierogies are a comfort food enjoyed by many. They are typically served with sour cream or applesauce, providing a satisfying and warm dish perfect for the chilly winter days.
Bibamba Artisan Chocolate: This artisan chocolate stand features unique and rich chocolate creations. Bibamba produces handcrafted chocolates with distinct African cocoa beans. Dark chocolate lovers will find delight in the bold flavours, and the artisan touch brings an exclusive taste to the market.
Bjorn's Colorado Honey: Providing local Colorado honey, Bjorn's stall showcases the sweet and natural flavour of honey harvested in the region. Used in tea, pastries, or simply enjoyed by the spoonful, this honey adds a touch of local sweetness to the market.
Bruna's Brazilian Cheese Bread: These cheesy and soft bread bites are a Brazilian speciality. Bruna's offers warm, gluten-free bread freshly baked and often filled with various cheeses, satisfying cheese lovers and those looking for gluten-free options.
Chef Sherri Sauces: Here, you'll discover an array of sauces crafted with love and creativity. Chef Sherri's concoctions range from spicy to sweet, providing perfect accompaniments for various dishes. These sauces add a flavourful kick to the food experience.
Tea with Tae: For those looking to warm up with a hot beverage, Tea with Tae provides a selection of curated tea blends. From traditional black tea to herbal infusions, there's a comforting tea for every preference.
Uncle Tim's Cocktails: For those seeking a festive drink, Uncle Tim's serves up cocktails with a twist. Using fresh and locally sourced ingredients, these cocktails provide a refreshing and spirited end to your culinary exploration of Cherry Creek Christmas Market.
Holiday Gifts and Stocking Fillers
Damselfly Organic Clothing: Providing a sustainable option for shoppers, Damselfly Organic Clothing presents garments made from organic and environmentally-friendly materials. The clothing line ranges from everyday wear to special occasion pieces. The emphasis on sustainability and style is a reflection of Denver's commitment to eco-friendly practices.
Descendencia Latina: Embracing the rich Latin culture, Descendencia Latina offers a variety of handcrafted gifts and souvenirs. The items showcase the vibrant and diverse Latin heritage, from unique jewellery pieces to artful home decor. These pieces add a touch of culture to the Holiday market in Cherry Creek.
Ember Wicks: Specialising in hand-poured candles, Ember Wicks offers an array of scents and designs to choose from. Each candle is crafted with care, using quality ingredients to ensure a clean and long-lasting burn. These candles can be perfect gifts for friends and family or a special treat for oneself.
Gem Hats: Gem Hats provides warm and fashionable headwear for the winter season. Designed with style and comfort in mind, the hats range from classic beanies to chic berets. This vendor is particularly known for their unique blend of functionality and fashion.
Goodfit Puzzles: Puzzle enthusiasts will find joy in Goodfit Puzzles' collection of intricate and artistic jigsaw puzzles. With designs ranging from landscapes to abstract art, these puzzles provide entertainment for all ages. They are fun and challenging, making them great gifts for the holiday season.
Mistura Woodcoholics: Showcasing artisan craftsmanship, Mistura Woodcoholics offers wooden accessories and timepieces. Each piece is crafted with precision and attention to detail, displaying the natural beauty of wood. The wooden watches and accessories are an elegant choice for those seeking something distinct and timeless.
Travel Posters: For those with wanderlust, Travel Posters provides a selection of visually stunning posters depicting various travel destinations. Whether it's a famous city or an undiscovered natural wonder, the posters capture the essence of travel. These are perfect for decorating a home or office or as a gift for fellow travellers.
Treasured Wellness: Focusing on health and well-being, Treasured Wellness offers a range of wellness products like essential oils, herbal teas, and natural skin care items. Reflecting the trend towards holistic wellness, this vendor brings quality products aimed at nurturing body and mind. It's a place where visitors can find thoughtful and health-conscious gifts.
For those interested in exploring more holiday markets across the United States, I've compiled a guide detailing key information about various markets, their unique features, and practical details to plan your visits.
For a more extensive look at this neighbourhood of Denver, I suggest visiting the Denver website, where you'll find an overview of Cherry Creek.
Sustainable Holiday Tips
Here are a few tips on how we can travel more responsibly in Denver at Christmas:
Eco-Friendly Hotels: Denver has a growing number of hotels that prioritise sustainability. Many of them are making efforts to reduce their environmental impact by using renewable energy, including solar and wind power. By choosing to stay in one of these establishments, you contribute to reducing greenhouse gas emissions and support local businesses committed to sustainability.
Reducing Food Waste at Markets: Cherry Creek Holiday Markets provides various delicious food options. While trying everything is tempting, it's essential to be mindful of food waste. Ordering smaller portions, sharing with friends or family, and using reusable containers can significantly reduce unnecessary waste. Cherry Creek's markets are known for their support of local produce, so purchasing food at these places also supports local farmers and producers.
Ethical Consumption: Christmas shopping at Cherry Creek's markets can be an exciting experience, but it's important to purchase only what you truly need or will use. Many stalls in the market sell locally crafted goods, and by being conscious of your purchases, you not only support local artisans but also minimise unnecessary consumption. Consider handmade gifts or items made from recycled materials, as these often have a smaller carbon footprint.
Sustainable Diets: While enjoying the culinary delights of Cherry Creek, consider opting for dishes that have a lower environmental impact. Many restaurants and market stalls provide vegetarian and plant-based options using locally sourced ingredients. Emphasising these choices in your diet can significantly reduce the environmental costs associated with food production.
Sustainable Transport: Denver offers various sustainable transport options, such as biking paths and public transportation like buses and light rail. Utilising these services helps reduce traffic congestion and lowers your travel emissions. Special holiday-themed public transportation often runs during Xmas, providing a unique and eco-friendly way to explore the city.
FAQ
When is Cherry Creek, Holiday Market?
Cherry Creek Holiday Market dates are from 16th November to 24th December 2023.
Where is Cherry Creek, Holiday Market?
You can visit the Cherry Creek Holiday Market at Fillmore Plaza in Cherry Creek North, Denver, Colorado. It's an accessible and vibrant part of the city known for its festive atmosphere during the winter season.
What time does Cherry Creek Holiday Market open?
Opening times for the Cherry Creek Holiday Market are Sunday to Wednesday: 12pm to 7pm Thursday to Saturday: 11am to 9pm. Thanksgiving and Christmas Eve: 12pm to 3pm.
Is Cherry Creek safe to visit during winter?
Yes, Cherry Creek is generally considered safe for winter visits. Though the weather can be cold and sometimes snowy, the city maintains roads and walkways, and local businesses often remain open. Dressing warmly and being mindful of potential icy conditions while exploring the area is advisable.
If you would like to leave a review of Cherry Creek Christmas Market, comment below.
—
Recommendations are independently chosen based on personal travel experiences and extensive research. This post contains affiliate links to hotels and tours in Denver, Colorado. This means I get a small commission from any bookings at no extra cost to you.