Visiting Portsmouth in the heart of winter provides a unique perspective on this historic naval city that is renowned for its maritime heritage, historic dockyard, and the iconic Spinnaker Tower.
The Portsmouth Christmas Market is a key attraction at this time, aglow with festive lights and brimming with a variety of stalls that sell everything from artisanal crafts to festive food and drink.
In this guide, you'll find all the essential information, including 2023 dates, opening times, locations, and local specialties.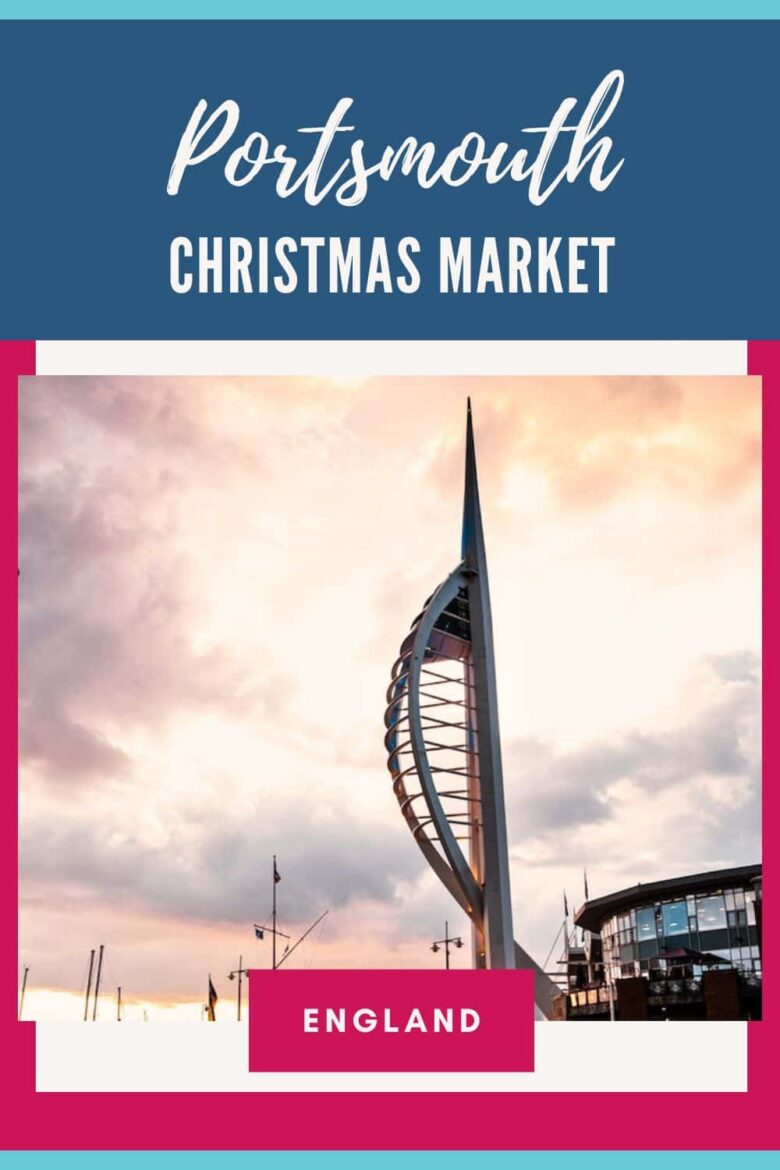 Feel the unique atmosphere as Portsmouth lights up with festive brilliance. The Historic Dockyard provides a remarkable backdrop for festivities, setting Portsmouth apart from other cities.
Portsmouth Christmas Market 2023
As you walk through the Christmas market in Portsmouth, you'll notice the wooden cabins lining the city centre.
These cabins provide a vast array of items, including German sausages and glühwein, alongside Christmas stockings, tree decorations, and other gifts.
Experience the German-themed market atmosphere, complete with personalised baubles available for purchase.
The market also invites you to take part in the excitement of the Christmas Lights Switch On Party and the We Shine Art and Light Festival.
Find unique items at the Love Southsea Market on Palmerston Road or visit the Hotwalls Christmas Market for gifts and treats from the on-site studio's designer-makers.
Dates and Location
Portsmouth Christmas Market dates: Likely dates: from 23rd November 2023.
Location: Commercial Road.
Opening times: 11am to 6pm.
Christmas Day: Closed.
Admission: Free.
Christmas lights: Yes, switch on date: 23rd November.
Santa: Yes.
Ice skating: Portsmouth on Ice at Guildhall Square: 25th November to 7th January.
Vegetarian: Yes, plenty of options.
Vegan: Yes, plenty of options.
Gluten free: Yes, but limited.
Accessible: Yes.
Pet-friendly: Yes, but not recommended during busy periods.
Parking: Please take public transport to help limit congestion.
Reason to visit: Eclectic stalls, maritime-themed crafts, small market with a vibrant atmosphere.
Recommended tour: Old Portsmouth historical walking tour.
Specialities: Mulled wine, artisanal cheese, seafood delights, traditional mince pies, and locally brewed ales.
Where to stay: Royal Maritime Hotel is a highly-rated hotel near the Portsmouth harbour.
Hotels near Portsmouth Christmas Market
To stay near the Christmas market in Commercial Road, consider accommodations in the city centre of Portsmouth.
Even though it's not walking distance to the Christmas market, I recommend the Royal Maritime Hotel, highly rated for its excellent service and comfortable rooms, ensuring a comfortable stay in Portsmouth.
Location of Portsmouth Christmas Market
Recommended Walking and Food Tours
With its historic dockyard and iconic landmarks, Portsmouth stands as a city worthy of exploration. A city tour in Portsmouth enables you to see many of the city highlights with a local guide.
I recommend the highly-rated Old Portsmouth historical walking tour.
Prepare to be amazed by over 900 years of history, humour, and horror. Learn about the area's diabolical past and explore Portsmouth, Southsea, and Old Portsmouth with a local who holds a genuine passion for the city's history, bringing it spectacularly to life.
Discovering the city's historical sites and learning about its past is made easy and accessible with this tour, making your visit to Portsmouth even more enjoyable.
After exploring the historic charm of Portsmouth, it's well worth your time to consult my Christmas Markets 2023 UK guide. This guide lists the best Christmas markets in the country, ensuring you have all the information to plan visits to other notable markets, including the one in Portsmouth.
Christmas in Portsmouth
Christmas Specialties in Portsmouth
Fish and Chips: An iconic British dish, fish and chips, is a popular snack at Portsmouth's Christmas Market. The fish, typically cod or haddock, is deep-fried in a crispy batter, served with chunky chips, and often accompanied by mushy peas or tartare sauce.
Mulled Wine: A warming, spiced wine, mulled wine is a festive staple at Christmas time. It's typically made with red wine, various spices like cinnamon and cloves, and orange and is served warm, making it a comforting drink for those chilly winter nights.
Bratwurst: A nod to traditional German Christmas markets, Bratwursts are widely available at Portsmouth's market. These German sausages, grilled to perfection and served in a fresh bun with a variety of condiments, provide a hearty, warming snack ideal for browsing the market on a cold winter's day.
Portsmouth Pasty: Portsmouth has its own take on the famous Cornish pasty. The Portsmouth Pasty is filled with locally sourced ingredients and is a handy, filling snack for those wanting to sample local fare while exploring the market.
Mulled Cider: In addition to mulled wine, you can also find mulled cider at Portsmouth's Christmas Market. The cider, usually made from local apples, is heated with spices and served warm, offering a fruity, comforting drink that is especially welcome on cold winter evenings.
Artisanal Cheese: Numerous stalls at the market specialise in local, artisanal cheeses. You can find a wide variety from soft brie to hard cheddar, providing an excellent opportunity to sample some of the region's best dairy products.
Christmas Gifts and Stocking Fillers
Maritime-Themed Crafts: As a city with a significant naval history, Portsmouth's Christmas Market often features stalls selling a variety of maritime-themed crafts. These can range from ship models and seafaring memorabilia to nautical home decorations, making for a unique souvenir or gift.
Portsmouth Gin: Distilled in the city, Portsmouth Gin makes a great gift for spirit connoisseurs. Typically infused with unique botanicals, it reflects the flavours and character of the region.
Festive Decorations: Typical of Christmas markets, you'll find a wide selection of festive decorations. From handmade, personalised baubles and garlands to intricate nativity sets and Christmas wreaths, these items add a charming touch to any home during the holiday season.
Gourmet Food Hampers: Gourmet hampers packed with local produce are another fantastic gift option. Filled with a variety of artisanal cheeses, homemade jams and chutneys, locally brewed ales, and other regional specialities, these hampers are a delightful culinary treat.
Further Information
You'll find a wealth of helpful information at Visit Portsmouth, the city's official website for tourism.
Sustainable Christmas Tips
Here are a few tips on how we can travel more responsibly in Portsmouth at Christmas.
Support Renewable Energy: In Portsmouth, many businesses are powered by renewable energy sources. When choosing your accommodation, restaurants, or other services, look for those that are committed to using renewable energy, such as solar or wind power, as part of their operations.
Minimise Food Waste: At Portsmouth's Christmas market, be conscious of how much food you purchase to avoid unnecessary waste. For instance, share larger portions of food with your companions or only order what you can comfortably finish.
Ethical Shopping: When buying gifts at the market, focus on items that support local artisans and craftspeople. Products made in Portsmouth or the surrounding areas often have a lower carbon footprint than imported goods and contribute to the local economy.
Opt for a Sustainable Diet: As part of your visit, consider choosing vegetarian or vegan food options available at the market and local eateries. Reducing meat consumption is one way to lessen your environmental impact, and Portsmouth has several food stalls and restaurants that cater to these dietary preferences.
Use Public Transportation: Portsmouth has an efficient public transport system, including buses and trains. Use these modes of transport, walk, or cycle to get around the city instead of hiring a car. For longer journeys, consider using the train, which is a more environmentally friendly option than flying.
FAQ
When is Portsmouth Christmas Market?
The Portsmouth Christmas Market 2023 dates are from 23rd November 2023.
Where is Portsmouth Christmas Market?
The market is held in the city centre, in and around Commercial Road. The ice skating is located at Guildhall Square, a central location easily accessible by public transport.
What time does Portsmouth Christmas Market open?
Opening hours for the Christmas markets are from around 10am to 6pm.
What's the weather like in Portsmouth during the Christmas period?
Winters in Portsmouth are generally mild, with temperatures averaging between 3°C and 8°C. However, it's always wise to check the forecast before your visit and dress appropriately.
If you want to leave a Portsmouth Xmas Market review, comment below.
—
Recommendations are independently chosen based on personal travel experiences and extensive research. This post contains affiliate links to hotels and tours in Portsmouth, United Kingdom. This means I get a small commission from any bookings at no extra cost to you.