Amidst the historic charm of Ludlow, winter brings a palpable warmth as locals and visitors alike prepare for the anticipated Christmas market.
Known for its Norman castle and venerable buildings, Ludlow is a town steeped in history and architectural beauty that allures countless visitors year-round.
In this article, I'll provide essential information detailing the 2023 dates and opening times, along with insights into the local specialties of Ludlow Christmas Market.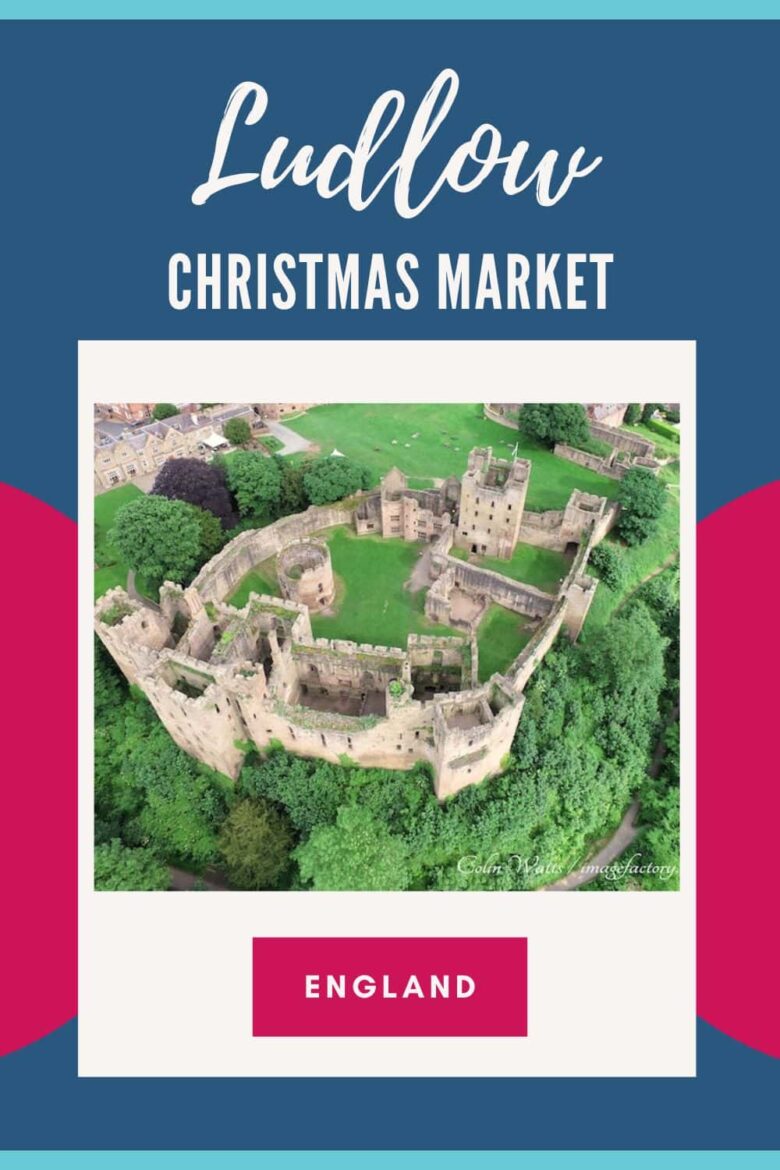 Christmas in Ludlow stands out with its authentic embrace of historical traditions. The town's medieval streets and significant landmarks provide a unique backdrop to the holiday celebrations.
Ludlow Christmas Market 2023
As you explore the heart of beautiful Ludlow this Christmas, you'll find the small Christmas market set amid historical surroundings that contribute to a unique atmosphere.
At this market, a warm welcome awaits you, along with an extensive selection of local produce and gifts embodying the spirit and community of Ludlow.
The market, centrally located in Ludlow Town Centre, is easily accessible, allowing you to soak in the charm of the town as you shop.
Additionally, this year's market season brings the special event of Father Christmas at Ludlow Castle.
Children can revel in the joy of meeting Father Christmas in his grotto within the walls of the iconic Ludlow Castle, further enhancing the Christmas celebration in this historic town.
Enjoy mulled wine, hot chocolate, and treats from Chapter 66, making your visit both warm and sweet.
Dates and Location
Ludlow Christmas Market dates: Likely dates: 10th to 14th December 2023.
Location: Ludlow Town Centre.
Opening times: 9am to 4pm.
Christmas Day: Closed.
Admission: Free.
Santa: Children can meet Father Christmas at Ludlow Castle.
Accessible: Yes.
Pet-friendly: Yes, but not recommended during busy periods.
Parking: Please take public transport to help limit congestion.
Reason to visit: Historic backdrop at Ludlow Castle, unique crafts, local produce.
Specialities: Shropshire Blue cheese, Ludlow' local beer.
Where to stay: The Feathers Hotel is a popular hotel, located in Ludlow town centre.
Hotels near Ludlow Christmas Market
If you're visiting Ludlow, I recommend The Feathers Hotel, a popular choice due to its charming historical architecture and an ideal location near both Ludlow Castle and the main train station.
To expand your horizons beyond Ludlow and explore the richness of other festive markets, read my Best Christmas Markets UK guide for 2023.
Christmas in Ludlow
Christmas Specialties in Ludlow
Shropshire Blue Cheese: This locally produced cheese is a crowd favourite at the market. It's renowned for its rich, creamy texture and sharp flavour, made even more unique by the blue mould that gives the cheese its name.
Mortimer Forest Venison: As a local speciality, Mortimer Forest Venison is often found in various forms at the market. Whether in a rich venison pie or a hearty stew, this locally sourced game brings warmth and comfort to the chilly market atmosphere.
Ludlow Gold Ale: Produced by Ludlow Brewery, this light and refreshing beer is a staple at the market. Ludlow Gold Ale is a perfect accompaniment to any market snack or meal, serving as a toast to the festivities.
Shropshire Fidget Pie: This traditional Shropshire dish, consisting of apples, onions, and ham or bacon encased in a shortcrust pastry, is often enjoyed at the Christmas market. Its hearty and comforting flavours make it a must-try for any visitor.
Christmas Gifts and Stocking Fillers
Local Artisanal Pottery: Ludlow's Christmas market offers a variety of artisanal pottery from local ceramists. These pieces, ranging from functional tableware to ornamental vases, incorporate traditional techniques and contemporary design, making them ideal for a unique gift or a special keepsake.
Locally Crafted Jewellery: Browse the stalls to find a selection of beautifully crafted jewellery. Local artisans offer a range of pieces in various styles, often using locally sourced materials to create unique and meaningful gifts.
Shropshire Honey: Local beekeepers often set up stalls at the market to sell their Shropshire honey. This sweet treat is a perfect stocking filler, offering a taste of Ludlow's surrounding countryside.
Traditional Christmas Crackers: While these festive items are a staple of British Christmas celebrations, some market vendors add a unique touch by hand-making their crackers. Often filled with small toys, jokes, and a paper crown, these traditional Christmas crackers add a touch of fun to any festive gathering.
Ludlow Brewery Ales: For the beer lover in your life, consider picking up a bottle or two from Ludlow Brewery. With a range of ales available, including the popular Ludlow Gold, these make for an enjoyable gift or a well-deserved treat for yourself after a day at the market.
Further Information
For additional information on Ludlow's attractions and the latest events, the City of Ludlow can be useful for staying updated.
Sustainable Christmas Tips
While enjoying the festive atmosphere in Ludlow, here are a few ways to make your travel more sustainable:
Reduce Food Waste: When sampling the culinary delights at the Christmas market, only order what you can comfortably eat. The markets typically have a wealth of options to explore, but leaving food uneaten contributes to waste.
Ethical Consumption: Buying local artisanal goods directly supports the community and minimises carbon footprints associated with long-distance shipping. Be mindful of purchasing only what you truly need or will use, thus reducing unnecessary consumption.
Sustainable Diets: Enjoy the vegetarian and plant-based options available at the Christmas market. Choosing these options, even occasionally, can significantly lower your environmental impact as it reduces the demand for resource-intensive animal products.
Use Sustainable Transport: Ludlow is a compact city, making it possible to explore on foot or by bicycle. If you need to go further, consider using public transport. The local buses, such as the 701 service, provide an easy, more eco-friendly way to get around.
FAQ
When is Ludlow Christmas Market?
The Ludlow Christmas Market dates are from 10th to 14th December 2023.
Where is Ludlow Christmas Market?
The Ludlow Christmas Market is in the town centre, on Castle Square. It's easy to locate, thanks to its central position near the iconic Ludlow Castle.
What time does Ludlow Christmas Market open?
The Ludlow market opens from 9am to 4pm.
If you want to leave a Ludlow Xmas Market review, comment below.
—
Recommendations are independently chosen based on personal travel experiences and extensive research. This post contains affiliate links to hotels and tours in Ludlow, Shropshire. This means I get a small commission from any bookings at no extra cost to you.