Beverley's rich historical architecture and lively streets make it a sought-after destination in East Yorkshire. Known for the magnificent Beverley Minster and its vibrant cultural scene, the city hosts the Beverley Christmas Market.
In this guide, I'll detail everything you need to know for planning your visit, including confirmed dates for 2023.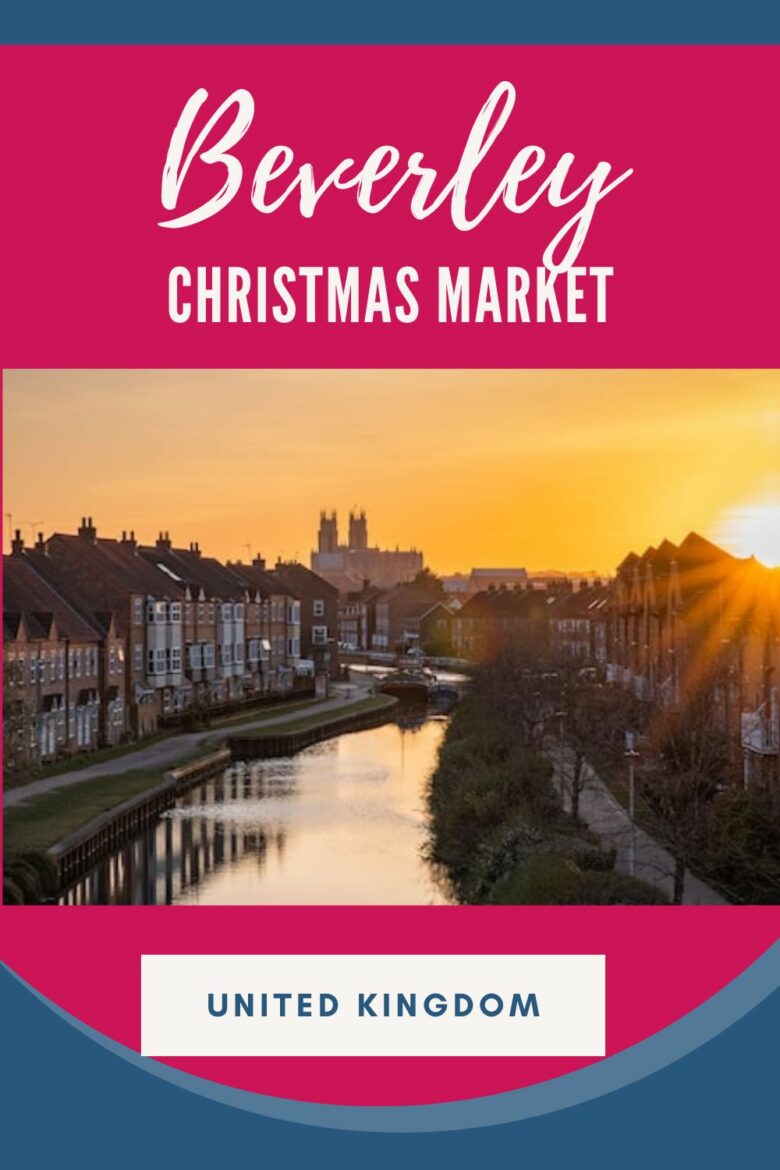 Streets lined with Georgian architecture provide the perfect backdrop for traditional Christmas lights, and the iconic Beverley Minster often hosts special holiday concerts.
Beverley Christmas Market 2023
Beverley's historic centre comes alive during its annual Christmas market, which this year spans five days, culminating in the Beverley Festival of Christmas.
As you amble through the markets, you'll be treated to 120 stalls and festive family entertainment, ranging from live music and dancing to carol performances.
Particularly of note is the Made in East Yorkshire Christmas Market, spotlighting over 40 stalls laden with food, drink, gifts, and crafts crafted exclusively by East Yorkshire businesses, making it an ideal spot to find unique Christmas gifts.
Meanwhile, children won't be left wanting, as they can look forward to traditional Victorian fairground rides, face painting, and performances that promise to keep them thoroughly engaged.
All these events begin with a grand Christmas parade that moves from Wednesday Market to Saturday Market, marking the opening of this festive event.
Dates and Location
Made in East Yorkshire Christmas Market: 6th to 8th December 2023.
Saturday Market: Saturday, 9th December 2023.
Beverley Festival of Christmas: Sunday, 10th December 2023
Location: Saturday Market, Wednesday Market, North Bar and Flemingate.
Opening times: 10am to 4pm.
Christmas Day: Closed.
Admission: Free.
Santa: Yes, at the Parade and at Saturday Market until 1pm.
Christmas Parade: Starts at 10am at Wednesday Market, moving along Toll Gavel and ending at Saturday Market.
Ice skating: No.
Vegetarian: Yes, plenty of options.
Vegan: Yes, some options.
Gluten free: Yes, but limited.
Accessible: Yes.
Pet-friendly: Not recommended.
Parking: Please take public transport to help limit congestion.
Reason to visit: Traditional East Yorkshire gifts, community vibe; local entertainment.
Specialities: Yorkshire pudding,; local ales, handmade mince pies, parkin cakes; traditional sausages.
Where to stay: The Beverley Arms Hotel is a popular hotel, located 6 minutes from the Christmas market.
Hotels near Beverley Christmas Market
If you're planning an overnight stay in Beverlye, consider staying in the immediate town centre area. This location provides easy access to the festive stalls and activities.
I'd suggest booking a room at the Beverley Arms Hotel, well-regarded for its ideal position near the Christmas markets.
To explore other enchanting markets this winter, I recommend checking out my guide to the best Christmas Markets in the UK for 2023, where you'll find a curated list of the top destinations.
Location of Beverley Christmas Market
Christmas in Beverley
Christmas Specialties in Beverley
Yorkshire Pudding Wraps: A modern twist on a classic, these wraps encase traditional roast dinner elements inside a Yorkshire pudding. Common fillings might include roast beef, chicken, or turkey with gravy. Vegetarian versions often come filled with roasted vegetables, making it a hearty treat for anyone.
Mince Pies: These small, sweet pies contain a mixture of dried fruits, spices, and sometimes spirits. They're especially delicious when served warm with a dusting of icing sugar.
Mulled Wine: Nothing like a cup of mulled wine to warm you up on a chilly day. Made by infusing red wine with spices like cinnamon and cloves, Beverley's Christmas Market serves it hot, often with a slice of orange for added flavour.
Hot Chocolate with Whipped Cream: A universal favourite, this comforting drink finds its way into many hands during the market. Rich cocoa combined with milk topped generously with whipped cream is a sweet way to combat the winter cold.
Bratwurst: A nod to the broader European influence, these German sausages are often grilled and served in a bun. Various toppings are available, and they provide a quick and tasty snack as you navigate the market.
Gingerbread: While not exclusive to Beverley, gingerbread is a beloved treat during the festive season. Whether shaped like people, stars, or trees, these spiced biscuits are often decorated with icing and make for both a delicious snack and a charming gift.
Artisan Cheeses: Yorkshire, being a region renowned for its dairy, presents an array of artisan cheeses. You can find everything from Wensleydale with cranberries to mature cheddars and soft brides, each bringing a slice of local flavour to the market.
Baked Apples: Taking advantage of the winter apple harvest, baked apples are often filled with a mixture of raisins, cinnamon, and sugar. Once cooked, they become soft and fragrant, making for a delightful and wholesome treat.
Christmas Gifts and Stocking Fillers
Handcrafted Wooden Ornaments: Beverley artisans take pride in crafting wooden ornaments reflecting local heritage and craftsmanship. Often made from local timber, these items can range from intricate tree hangings to larger stand-alone decorations, each piece telling its own tale of Beverley's artistic tradition.
Yorkshire Wool Products: With Yorkshire's long-standing association with the wool trade, it's no surprise to find stalls brimming with woolly hats, scarves, and mittens. Produced locally, these warm and stylish items are perfect for keeping cosy during winter.
Handmade Soap and Bath Products: In the heart of Beverley's market, you'll stumble upon vendors selling a variety of handmade soaps and bath products. Infused with natural ingredients, they often carry fragrances like lavender or rosemary, embodying the essence of the English countryside.
Locally Brewed Beverages: Beverley and its surrounding areas have seen a surge in local breweries and distilleries. You can find bottled ales, ciders, and even gins at the market, which capture the region's unique flavours.
Bespoke Jewellery: Nestled among the myriad of stalls, you'll discover jewellers showcasing bespoke pieces. Often crafted with semi-precious stones or incorporating traditional designs, these pieces are a blend of modern aesthetics and Beverley's historical charm.
Ceramic Wares: A nod to traditional English pottery, you'll encounter beautifully crafted ceramic items. Whether you're drawn to mugs adorned with festive motifs or elegant serving bowls, these pieces promise both utility and aesthetic appeal.
Local Art Prints: The beauty of Beverley, with its historic streets and scenic views, has inspired many artists. At the market, vendors showcase art prints capturing these vistas, providing a visual memento for visitors to take home.
Traditional English Tea Selections: No visit to Beverley would be complete without indulging in the British tea culture. You can find curated tea selections, ranging from classic Earl Grey to more experimental blends, all packed in decorative tins or boxes.
Further Information
I suggest checking out Visit East Yorkshire during your visit for a wealth of information on local activities and up-to-date events in this market town.
Sustainable Christmas Tips
Here's some guidance on how to tread lightly while enjoying Beverley during the festive season.
Mindful eating at the market: Beverley's Victorian Christmas market has an array of tempting food stalls. While it's easy to over-order in your enthusiasm, I urge you to purchase only what you'll consume. Not only will this minimise food wastage, but it also support stallholders in managing their stock efficiently.
Ethical shopping choices: When shopping at the market, remember to purchase products that you genuinely need or will use. While Beverley has a variety of unique and charming items, being conscious of your consumption can make a real difference. Supporting local artisans and craftspeople is also a great way to contribute positively to the local economy.
Opting for a sustainable diet: Many stalls in Beverley now offer vegetarian and vegan options. By choosing plant-based dishes or those sourced from local produce, you reduce your environmental impact and promote sustainable farming practices in the region.
Sustainable transport methods: Beverley's compact nature means that many attractions are within walking distance. I recommend exploring the city on foot or by bicycle, reducing emissions and immersing yourself in its festive atmosphere. For longer journeys, consider public transport options available, which often have a lesser environmental impact than personal cars.
FAQ
When is Beverley Christmas Market?
The Beverley Christmas Market 2023 includes the Made in East Yorkshire Christmas Market from 6th to 8th December, the Saturday Market on the 9th December and the Beverley Festival of Christmas, including the Parade, on Sunday 10th December 2023.
Where is Beverley Christmas Market?
The Christmas markets are in the heart of Beverley's town centre across 4 locations, Saturday Market, Wednesday Market, North Bar and Flemingate.
What time does Beverley Christmas Market open?
The Beverley Christmas market is open from 10am to 4pm.
If you would like to leave a review of Beverley Xmas Market, comment below.
—
Recommendations are independently chosen based on personal travel experiences and extensive research. This post contains affiliate links to hotels and tours in Beverley, United Kingdom. This means I get a small commission from any bookings at no extra cost to you.