Winter in Lausanne is a stunning destination for visitors. The city is busy with events, including the Lausanne Christmas Market, set against the backdrop of the charming Swiss landscape.
In this guide, I share all you need to plan and book your trip to Lausanne, detailing the 2023 Christmas market dates, opening hours, locations, the best stalls and local specialties.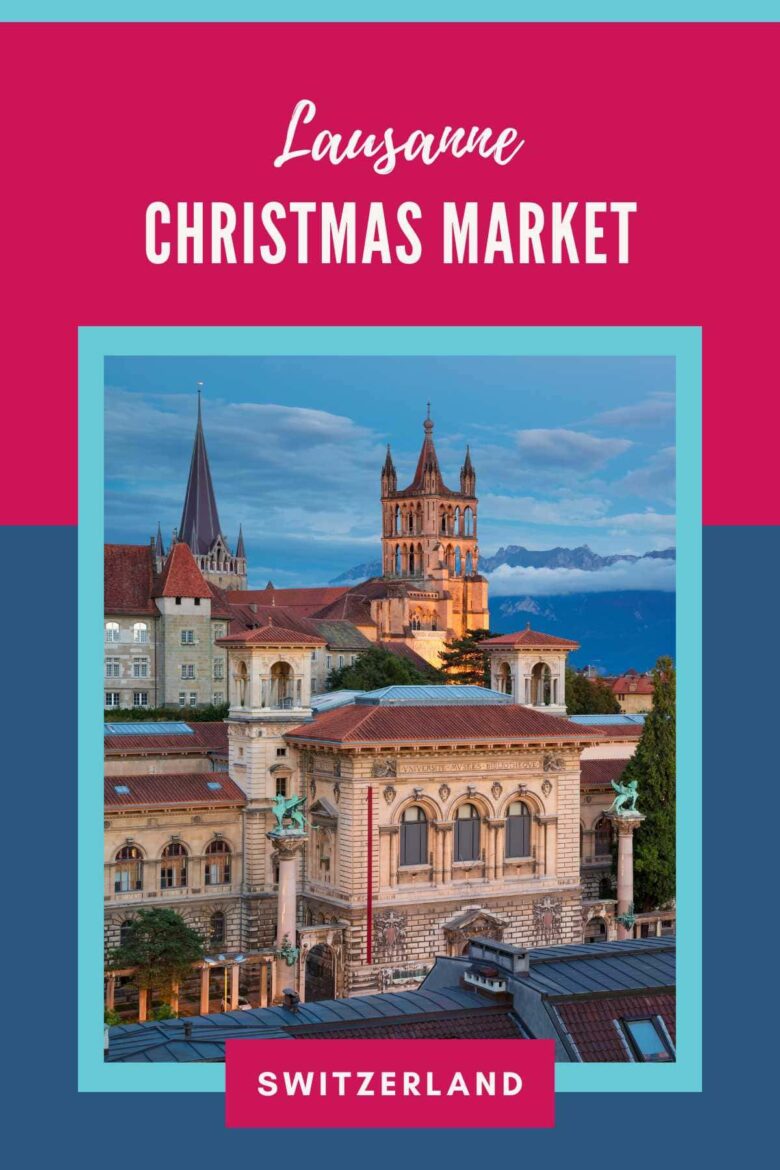 Experiencing the festive season in Lausanne, you'll find that the city becomes a winter wonderland, filled with Christmas lights reflecting off the fresh snow.
Lausanne Christmas Market 2023
The Lausanne Christmas Market, known locally as Bô Noël, adds a special touch to the city.
Imagine wandering amongst over a hundred stalls; each decked out with an array of artisanal crafts and gourmet specialties.
One highlight is the large ice-skating rink in the Flon district, where you can glide amidst a sparkling scene.
Another notable element is the 'Trees of Light', an artistic light installation that illuminates the city in a unique way, creating a cosy and festive ambience during the dark winter evenings.
Dates and Location
Lausanne Christmas Market dates: 17th November to 31st December 2023.
Location: Place du Château, Lausanne.
Opening times: 10:30am to 11pm.
Christmas Day: Closed.
Admission: Free, no tickets required.
Christmas lights: Yes, switch on date: 17th November.
Santa: No.
Ice skating: Yes, at Esplanade du Flon.
Vegetarian: Yes, plenty of options.
Vegan: Yes, but limited.
Gluten-free: Yes, but limited.
Accessible: Yes.
Pet-friendly: Yes, dogs are allowed on a lead.
Reason to visit: A harmonious blend of Swiss tradition and modern aesthetics. The enchanting light installations. The grand ice-skating rink.
Specialities: Raclette, fondue, pain d'épices, Swiss chocolates, vin chaud, freshly baked Christmas cookies.
Where to stay: Hôtel des Voyageurs is a great hotel option near the Christmas market.
Hotels near Lausanne Christmas Market
The Old Town, known as La Cité, is a wonderful area to stay in Lausanne during Christmas as you can visit most of the main sights and attractions without having to walk too far in the cold.
Staying within proximity to Place du Château puts you at the heart of the city. For this reason, I recommend Hôtel des Voyageurs Boutique, an excellent hotel located around 5 or 6 minutes from the Christmas market.
To assist in planning your festive Swiss adventure, you might like to read my Switzerland Christmas markets 2023 guide, a comprehensive list of where to go and what you can expect and each destination.
Location of Lausanne Christmas Market
Christmas in Lausanne
Christmas Specialties in Lausanne
Raclette: Originating in the Swiss Alps, Raclette is a semi-hard cheese melted and scraped onto boiled potatoes, pickles and onions. The term raclette stems from the French word 'racler', which means 'to scrape' — a direct reference to the process of scraping the melted cheese onto the accompaniments.
Fondue: Synonymous with Switzerland, Fondue is a rich, communal dish where small pieces of bread are dipped into a pot of melted cheese, often flavoured with garlic, white wine and a touch of kirsch. It's a hearty and convivial dish that's perfect for cold winter evenings. It is inherently vegetarian, provided that the cheese is vegetarian and the bread contains no animal by-products.
Rosti: This iconic Swiss dish is akin to a large, crispy potato pancake. Traditionally part of a farmer's breakfast in the German-speaking part of Switzerland, Rosti is now served all over the country and is loved by locals and tourists alike. It's typically made with coarsely grated potato, fried until crispy, and is a delicious vegetarian dish.
Swiss Christmas Cookies: In Switzerland, it's a tradition to bake Christmas cookies, known as 'Guezli', in the lead-up to Christmas. There are numerous variations, including Zimtsterne (cinnamon stars), Mailänderli (shortbread cookies) and Brunsli (chocolate almond cookies). Most of these are vegetarian-friendly, but it's always best to check the ingredients.
Swiss Chocolate: Switzerland is world-renowned for its high-quality chocolate, and during Christmas, Swiss chocolatiers create a variety of seasonal treats. You'll find everything from chocolate Santas to chocolate-filled advent calendars.
Lebkuchen: Similar to gingerbread, Lebkuchen is a spiced, honey-sweetened biscuit that's often beautifully decorated with icing. They're traditionally baked for Christmas and are a festive favourite across Switzerland.
Food at the Christmas Market
Vin Chaud: Warming up the winter chills, vin chaud is a mulled wine commonly found at Swiss Christmas markets. This traditional drink is a Christmas market staple, a concoction of red wine, spices like cinnamon, cloves and citrus peel.
Chestnuts: Roasted on open fires, these are a popular street snack during winter. Vendors sell them hot in paper bags, and their sweet, nutty flavour makes them a crowd-pleaser.
Pain d'épices: This is the Swiss version of gingerbread, traditionally made with rye flour and sweetened with honey. Spiced with cinnamon, cloves and aniseed, the aroma of pain d'épices baking is the scent of Swiss Christmas markets.
Sausages and Grilled Meats: Many stalls sell a variety of sausages and grilled meats, served in a bun or with bread on the side. A popular variant is 'bratwurst', a type of German sausage made from pork, beef, or veal.
Churros: An international Christmas market favourite, these Spanish doughnuts are deep-fried to a crisp, dusted with sugar, and often served with a side of warm chocolate sauce for dipping.
Crêpes and Waffles: Originating from neighbouring France and Belgium, respectively, crepes and waffles are a delicious sweet treat available at many Christmas market stalls. They are often served with a variety of toppings such as chocolate, fruits and whipped cream.
Pretzels: Another German favourite that's made its way to Swiss Christmas markets, pretzels come in various forms. You can have them plain, salted, or even filled with cheese.
Glühbier: For those who prefer beer over wine, glühbier is an intriguing option. This mulled, warm, spiced beer offers a different take on the traditional Christmas market drink.
What to Buy at Bô Noël
Swiss Watches: Timekeeping has long been a Swiss speciality, and many Christmas market stalls offer an array of these precision timepieces. From high-end luxury models to more affordable and equally beautiful watches, there's something for every budget.
Artisanal Crafts: Unique handmade gifts are plentiful at Lausanne's Christmas market. Local artisans sell a wide array of goods, such as intricately carved wooden toys, colourful glass decorations and delicate ceramics, all echoing Swiss craftsmanship and tradition.
Swiss Chocolate: The market features a tempting selection of Swiss chocolates. Many stalls sell beautifully packaged assortments, making them ideal Christmas gifts.
Swiss Cheese: Switzerland is renowned for its cheese, and a selection of locally produced cheese is a great gift. You can find traditional types like Gruyère and Emmental and artisanal varieties.
Local Wines: Lausanne is located in the heart of the Swiss wine region. At the Christmas market, you can purchase bottles of local wines, including those from the Lavaux vineyards, a UNESCO World Heritage Site.
Winter Clothing: Swiss winter clothing, known for its quality and warmth, can be found at several stalls. From hand-knitted scarves and hats to high-quality thermal gloves, these make a practical and thoughtful gift.
Handcrafted Ornaments: Unique to the region, handcrafted Christmas ornaments are popular. These come in a range of designs, from traditional Swiss motifs to more contemporary styles, and can add a touch of Swiss charm to any Christmas tree.
To gather more information for planning your itinerary and visit to Bô Noël in 2023, I suggest spending some time at Lausanne Tourism as it's a resourceful platform with practical tips and suggestions for exploring the city.
Sustainable Christmas Tips
Many of us are increasingly concerned about climate change and sustainability. Here are a few tips on how we can travel more responsibly in Lausanne at Christmas.
Renewable Energy: Lausanne has made significant strides in using renewable energy sources. You can contribute to this effort by choosing hotels that use renewable energy. Many hotels in Lausanne, committed to sustainability, now provide this option.
Reduce Food Waste: Be mindful of your food consumption at the market. Instead of over-ordering, you can sample smaller portions and share dishes with your companions. Additionally, consider taking your own reusable food containers to take away leftovers.
Support Ethical Consumption: Lausanne hosts a number of ethical businesses that promote fair trade. Look out for these businesses when shopping at the Christmas market and purchasing their goods, which often come with assurances of ethically sourced materials and fair pay for producers.
Choose a Sustainable Diet: The Swiss culinary scene, including Lausanne's, is rich in locally sourced and seasonal foods. Opting for this over-imported or out-of-season produce supports the local economy and reduces your carbon footprint. This Christmas, try some of the local Swiss delicacies mentioned earlier, many of which are sourced and produced within the region.
Opt for Sustainable Transport: Public transport in Lausanne is efficient and reliable, making it a great choice for sustainable travel within the city. Consider using the metro, buses, and even boats across Lake Geneva instead of hiring a car. Walking or hiring a bicycle can be a healthy way to explore the city while being kind to the environment for shorter distances.
FAQ
When is Lausanne Christmas Market?
The Lausanne Christmas Market, Bô Noël, runs from the 17th of November until the 31st of December 2023.
Where is Lausanne Christmas Market?
The main Christmas market in Lausanne is located in the central Place du Château. This festive market is nestled amongst the city's historical buildings, providing a picturesque backdrop.
What time does Lausanne Christmas Market open?
Lausanne Christmas Market generally opens around 10:30am to 11pm.
How cold is Lausanne in winter?
Winter in Lausanne can be quite cold, with temperatures often dropping below freezing. Packing warm clothing, such as thermal layers, scarves, hats, and gloves, is a good idea.
Is it easy to navigate Lausanne?
Yes, Lausanne is relatively easy to navigate. It has an efficient public transport system that includes metros, buses, and boats on Lake Geneva. Additionally, the city centre is compact and walkable.
What languages are spoken in Lausanne?
The official language in Lausanne is French, but English is commonly spoken in tourist areas, hotels and many restaurants. You might also hear Swiss German or Italian, as Switzerland is multilingual.
Final Thoughts
A winter trip to Lausanne provides a unique blend of Swiss charm, delicious local food and the warm glow of a traditional Christmas market, called Bô Noël in Lausanne.
With an emphasis on sustainability, the city continually impresses with its commitment to creating a green, future-focused destination. So, wrap up warmly and prepare to be charmed by Lausanne's winter charm.
If you would like to leave a review of Lausanne Xmas Market, comment below.
—
Recommendations are independently chosen based on personal travel experiences and extensive research. This post contains affiliate links to hotels and tours in Lausanne, Switzerland. This means I get a small commission from any bookings at no extra cost to you.