Seville's rich history and vibrant culture is especially lively during Christmas. As the city comes alive with festive spirit, one of the highlights for visitors is the Seville Christmas Market, showcasing a myriad of local crafts and delicacies.
In this guide, I'll share essential details for 2023, covering dates, opening times, locations, and the specialties that characterise Seville's festive market.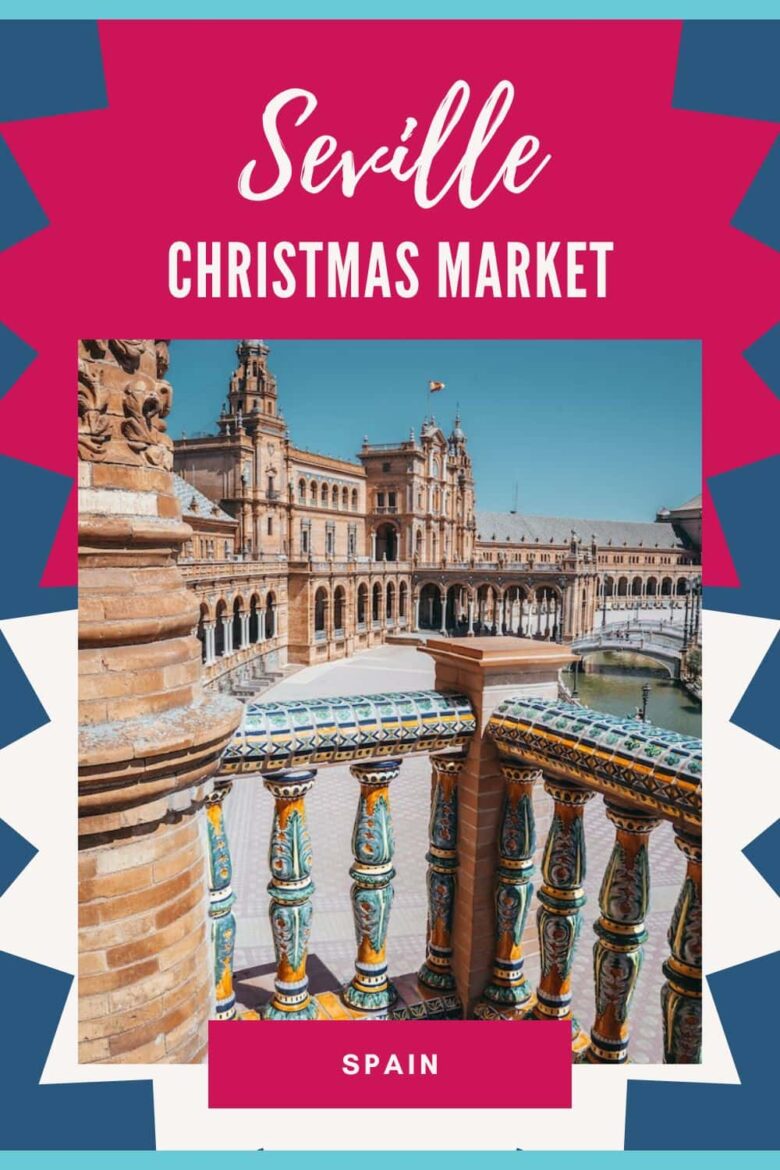 In Seville, the festive period sees the city decorated with tens of thousands of lights, adding to its already warm and welcoming atmosphere.
Seville Christmas Market 2023
At the Christmas market in Seville, you'll find an array of beautiful Christmas stalls showcasing the region's distinct crafts, such as intricate ceramics and handwoven Andalusian textiles.
Moreover, the market is renowned for its variety of regional foods, with turron and polvorones being particularly popular treats that locals and visitors alike enjoy during the festive season. Full details of food specialties are listed below.
At the main Christmas market at Plaza Nueva, you'll find more than 60 Christmas stalls. You can also visit the Nervión Christmas Market and the Bethlehem Christmas Fair, which is famous for its nativity scenes.
Dates and Location
Seville Christmas Market dates: Likely dates: 14th December 2023 to 5th January 2024.
Location: Plaza Nueva.
Opening times: 11am to 3pm and 5pm to 9pm.
Christmas Eve and New Year's Eve: 11am to 3pm.
Christmas Day: Closed.
New Year's Day: Closed.
Admission: Free, no tickets required.
Christmas lights: No switch on date.
Santa: No.
Ice skating: Yes, at Prado de San Sebastián.
Vegetarian: Yes, plenty of options.
Vegan: Yes, plenty of options.
Gluten free: Yes, but limited.
Accessible: Yes.
Pet-friendly: Yes, but not recommended during busy periods.
Parking: Please take public transport to help limit congestion.
Reason to visit: Distinct Andalusian crafts; authentic regional foods; rich blend of tradition and local artisanal pride.
Recommended tour: Guided tour of Seville's most famous attractions.
Specialities: Turron; polvorones; roasted chestnuts; traditional Andalusian sweets; local pastries.
Where to stay: Soho Boutique Catedral is a popular hotel, located 3 minutes from the Christmas market.
Hotels near Seville Christmas Market
For easy access to the Christmas market in Centro, staying in the heart of Seville is a wise choice. The central district ensures you're close to both festive activities and the city's key attractions.
One highly-rated hotel option is the Soho Boutique Catedral, which is an eco-friendly hotel conveniently situated near the market at Plaza Nueva.
Location of Seville Christmas Market
Recommended Walking and Food Tours
A city tour of Seville is an excellent way to delve into the city's profound history and culture. With its iconic cathedral, historic Alcazar and impressive Plaza de España, Seville is undeniably a destination to explore, even in the cooler months.
I recommend taking this guided tour of Seville's most famous attractions, including the majestic Seville Cathedral, Giralda, the Alcazar, and the expansive Plaza de España.
Alternatively, you might think about taking a food tour to understand Seville's culture via its distinctive dishes. This popular tapas food tour is a great option. Food tours have gained traction recently, and I suggest trying one in the city.
For a thorough insight into Spain's festive markets, I recommend checking out my guide to the best Christmas markets in Spain.
Nervión Christmas Market
Located just a few minutes from the city centre, the Nervión Christmas Market can be found outside the sizable Nervión Plaza. Since its launch in 2011, it's quickly become a popular destination for both locals and tourists.
While the market presents handcrafted traditional items such as jewellery, art, and clothing akin to other Sevillian markets, what distinguishes it is the unique decoration of log cabins used as vendor stalls. Intriguingly, each cabin's special design remains a closely held secret until it's revealed to the public.
Nervión Christmas Market dates: Likely dates: 2nd December 2023 to 5th January 2024.
Location: Avenida Luis de Morales.
Opening times: 10am to 10pm.
Bethlehem Christmas Fair
In 2023, the Feria del Belén in Seville (Bethlehem Christmas Fair) celebrates its 30th anniversary, honouring a longstanding Spanish tradition of showcasing the nativity scene in homes.
As a prominent nativity market in Spain, its primary focus is on figurines and materials to enhance nativity displays.
Yet, alongside these, you'll also discover meticulously handcrafted decorations suited for the Christmas tree.
Bethlehem Christmas Fair dates: Likely dates: 4th November to 23rd December 2023.
Location: Cathedral and the Archivo de Indias.
Opening times: Monday to Friday: 10:30am to 2pm and 5pm to 9pm. Saturday and Sunday: 11am to 3pm and 4:30pm to 9:30pm.
Christmas in Seville
This video shows the Seville Christmas Market. It outlines the market's features, giving you a straightforward idea of its atmosphere and offerings.
Christmas Specialties in Seville
Turron: A traditional Spanish nougat made primarily from almonds and honey. It's been a staple during Christmas in Spain for centuries. In Seville's market, you'll find various types, each offering a slightly different texture and flavour profile, from soft to crunchy.
Polvorones: Soft, crumbly, shortbread-like cookies originating from Andalusia. While they might seem simple, their rich flavour, often with hints of almond and cinnamon, makes them a festive favourite.
Mantecados: Another classic Andalusian treat, these are somewhat similar to polvorones but have their own distinct texture and taste. Made from lard, flour, and sugar, they melt in your mouth and often come in various flavours, including lemon and cinnamon.
Churros con Chocolate: Though not strictly a Christmas treat, no visit to a Spanish market is complete without indulging in these warm, fried dough pastries. Dipped in rich hot chocolate, they're comforting in the chilly weather.
Pestiños: Deep-fried pastries glazed with honey or sugar. Often flavoured with anise and sesame seeds, they're a seasonal treat commonly enjoyed in Andalusia during Christmas.
Espárragos: Seville's local green asparagus can often be found grilled or roasted at market stalls. It's a delightful, healthy snack, and this fresh produce is excellent for those seeking vegetarian options.
Ajoblanco: This cold almond and garlic soup is both refreshing and rich in flavour. A popular Andalusian dish, it's typically garnished with grapes or melon, making it a unique vegetarian option at the market.
Salmorejo: A cold tomato and bread soup, thicker than gazpacho and garnished with hard-boiled eggs and jamón. While it's a staple throughout the year in Andalusia, the market versions often have a festive twist.
Flamenquín: Essentially a large breaded meat roll, typically filled with ham. It's a hearty snack, deep-fried to perfection, and is particularly popular in Andalusia.
Gluhwein: An international Christmas market classic, this mulled wine is spiced and served warm. Originating from German-speaking countries, it's made its way to various markets around the world, including Seville.
Pretzels: Borrowed from German Christmas markets, these baked bread knots are often sprinkled with salt. You might find them in Seville with a Spanish twist, perhaps seasoned with local spices or herbs.
Roasted chestnuts: A universal winter treat, these are often sold in paper cones and provide a warm, nutty snack as you wander through the stalls.
Christmas Gifts and Stocking Fillers
Ceramic items: Seville is renowned for its intricate ceramic work. At the Christmas market, you'll find beautifully handcrafted pieces ranging from decorative tiles and plates to ornate vases and bowls. Each piece often reflects the region's rich history and Moorish influence, making them unique and cherished souvenirs.
Flamenco accessories: Given Seville's rich flamenco heritage, it's no surprise that flamenco-themed items are popular gifts. From traditional wooden castanets to beautifully embroidered shawls and fans, these items encapsulate the vibrant culture of Andalusia.
Olive oil: The Andalusian region is one of the world's largest producers of olive oil. At the Seville Christmas market, you can purchase high-quality, locally-produced olive oils, often packaged in decorative bottles or sets, making them ideal gifts or souvenirs.
Spanish fans: Known locally as 'abanicos', these hand-painted fans are both functional and decorative. Craftsmen in Seville often imbue them with intricate designs, and they serve as a perfect memento of the city's artistry.
Lace and embroidery: Seville's artisans often display their skills through delicate lacework and embroidery. Items like tablecloths, shawls, and dresses showcase the meticulous handwork, making them precious and elegant gifts.
Sevillana dresses: Traditional dresses from Seville are vibrant and full of flair. While they're typically worn during the Feria de Abril, mini versions or doll-sized replicas make charming souvenirs or gifts for those wanting a piece of Sevillian tradition.
Hand-carved nativity figurines: Given the significance of nativity displays in Spain, it's common to find hand-carved figures at the market. Crafted with precision, these figures often depict traditional scenes and are made using various materials, including wood and clay.
Spanish saffron: Renowned for its quality, Spanish saffron is a sought-after gift for culinary enthusiasts. The strands are often presented in decorative containers or sachets, and a little goes a long way in flavouring dishes.
Wrought iron items: Drawing from Andalusia's Moorish heritage, wrought iron crafts are prevalent in Seville. From candle holders to intricate wall hangings, these pieces are both durable and aesthetically appealing.
Traditional board games: While Seville embraces modernity, there's still a place for traditional Spanish board games. Games like 'La Oca' (The Goose Game) make for unique gifts, often coming in beautifully crafted wooden sets.
Local wines and sherries: Andalusia is famous for its wines, particularly sherry. The Seville Christmas market provides an opportunity to buy local wines, often from small-scale producers, ensuring you're getting a genuine taste of the region.
Things to Do in Winter
For a thorough guide on winter activities and the newest events in the city, I suggest browsing the Welcome to Seville website. For example, here's a list of Seville's must-see monuments and major attractions.
Sustainable Christmas Tips
Considering our environmental footprint is essential, even when on holiday. Here are some suggestions to ensure you're treading lightly in Seville this Christmas:
Eco-friendly Accommodation: Seville has several hotels prioritising green initiatives, including the use of renewable energy. Opt for accommodations committed to reducing their carbon footprint; many establishments advertise their eco-credentials and demonstrate their efforts, such as solar power usage and waste reduction programmes.
Reduce Food Waste: While indulging in the festive treats at Seville's Christmas markets, be conscious of your portions. Order what you can finish, share dishes with your travel companions, and bring a reusable container for any leftovers – a bonus for a late-night snack!
Ethical Consumption: Seville's markets are a treasure trove of artisanal gifts and souvenirs. However, it's crucial to shop mindfully. Purchase items you genuinely cherish or can gift, supporting local craftsmen and reducing the demand for mass-produced goods.
Sustainable Diets: Andalusia, the region where Seville resides, offers a rich array of plant-based dishes. Consider trying traditional vegetarian Andalusian meals such as 'flamenquín' without ham or 'salmorejo' without the usual toppings. Consuming less meat reduces your carbon footprint, and you'll savour authentic local flavours.
Eco-friendly Transport: Seville boasts an excellent network of cycle paths, and the city centre is mostly pedestrianised. Rent a bicycle or explore the city on foot. By walking or cycling, you'll reduce emissions and get a unique perspective of Seville's festive streets and alleys.
FAQ
When is the Seville Christmas Market?
The Seville Christmas Market 2023 dates are 14th December to 5th January 2024.
Where is Seville Christmas Market?
Seville's main Christmas Market is located in the heart of the city centre at Plaza Nueva, making it easily accessible for visitors.
What time does Seville Christmas Market open?
Seville Christmas Market 0pening times are 11am to 3pm and 5pm to 9pm. The market closes at 3pm on Christmas Eve and New Year's Eve and is closed on Christmas Day and New Year's Day.
How's the weather in Seville during winter?
While winters in Seville are milder compared to many European cities, it's still advisable to bring layers and a light jacket, especially for the evenings.
If you want to leave a Seville Xmas Market review, comment below.
—
Recommendations are independently chosen based on personal travel experiences and extensive research. This post contains affiliate links to hotels and tours in Seville, Spain. This means I get a small commission from any bookings at no extra cost to you.