Well-known for its modern architecture and rich Basque culture, visitors to Bilbao will also find the Christmas markets appealing.
The markets provide a taste of local traditions, crafts and gastronomic specialties, all set against the backdrop of the city's impressive landscapes.
In this guide, I'll share all the essential details you'll need to know, including 2023 dates, opening times, locations and local specialties.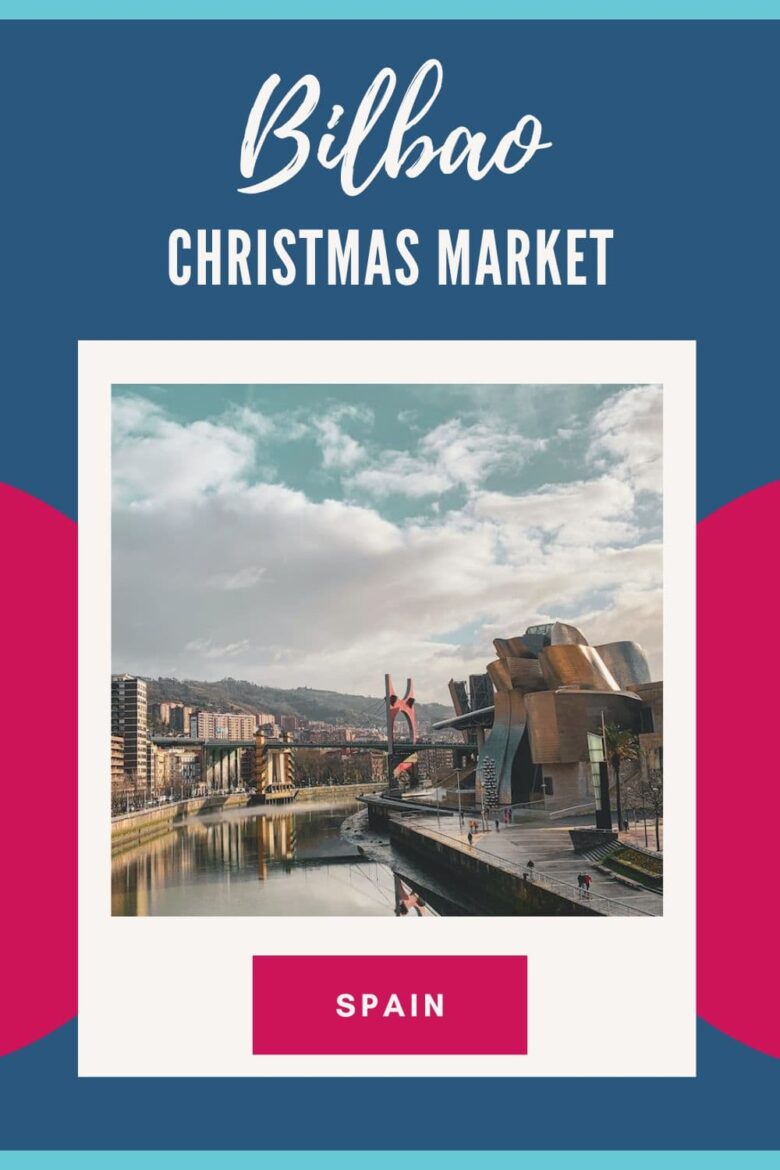 Christmas in Bilbao is marked by festive illumination and public celebrations, with the city's historic squares and major streets adorned with twinkling lights.
Bilbao Christmas Market 2023
The Christmas market in Bilbao is distinguished by its focus on regional Basque culture and its embrace of both contemporary design and time-honoured traditions.
With a blend of over 20 wooden stalls, visitors can find local artisans displaying unique crafts, ceramics, and handmade textiles alongside a selection of traditional Basque foods.
Dates and Location
Bilbao Christmas Market dates: Likely dates: 1st December to 4th January 2023.
Location: Muelle de Ripa.
Opening times: 11:30am to 2:30pm and from 4pm to 9pm.
Christmas Day: Closed on the 11th, 12th, 13th, 14th, 18th and 19th December.
Admission: Free, no tickets required.
Santa: No.
Ice skating: Yes, at Arenal and Ripa quays.
Vegetarian: Yes, plenty of options.
Vegan: Yes, some options.
Gluten free: Yes, but limited.
Accessible: Yes.
Pet-friendly: Yes, but not recommended during busy periods.
Parking: Please take public transport to help limit congestion.
Reason to visit: Emphasis on Basque culture; blend of modern, traditional crafts; sustainable practices; local artisanal products.
Recommended tour: Guggenheim Museum inside and outside tour.
Specialities: Traditional Basque foods; local cheeses; marinated fish; artisanal chocolates; regional pastries; seasonal beverages.
Where to stay: Bilder Boutique Hotel is a popular hotel, located 7 minutes from the Christmas market.
Hotels near Bilbao Christmas Market
The Abando district is a prime location for those wishing to be close to Bilbao's Christmas market, as it's situated in the city centre and well connected to major attractions. The district has a mix of modern conveniences and historic charm, making it a suitable choice for various travellers.
In this area, I recommend Bilder Boutique Hotel; it's popular with visitors and sits in a convenient location near the Christmas market, making it an ideal base for your stay.
Location of Bilbao Christmas Market
City and Christmas Tours
A city tour of Bilbao is an efficient way to explore the city's notable modern architecture and rich Basque heritage.
With its iconic Guggenheim Museum, historical Old Town, and innovative structures, Bilbao is a city that appeals to visitors throughout the year.
I recommend this city tour of Bilbao as you'll be able to discover many of the highlights of the city with a knowledgeable local guide at a reasonable cost. It's particularly beneficial for those visiting the city for the first time.
This tour allows you to skip the line to the Guggenheim Museum and enjoy a tour of the museum with a guide.
Alternatively, you might consider taking this pintxo and wine-tasting food tour to experience the local culture through their distinct culinary traditions.
Food tours are gaining traction, and I recommend experiencing one if you have the opportunity.
Christmas in Bilbao
The following video provides a visual insight into what the Bilbao Christmas Market is like.
In my guide to the best Christmas markets in Spain, you'll find detailed information on various locations, highlighting the unique aspects, local specialties, and traditional crafts that set each market apart.
Christmas Specialties in Bilbao
Talo: A cornbread often accompanied by chistorra sausage or cheese, talo is a staple snack at the Christmas market in Bilbao. Vegetarian options with cheese and peppers are commonly available.
Bacalao a la Vizcaína: Codfish cooked in a rich red Biscayne sauce. This fish-based dish is symbolic of the region's coastal heritage and is commonly found at the market.
Turrones: A variety of these traditional Spanish nougats are found, with almonds being a common ingredient. Both soft and hard versions are available to suit different tastes.
Chocolate con Churros: A beloved treat all over Spain, hot chocolate paired with crispy churros is a typical delight that warms up market-goers.
Santurtzi-style Grilled Sardines: Reflecting the region's maritime tradition, these grilled sardines are prepared in a specific local style and are a popular choice among seafood lovers.
Txakoli: A slightly sparkling, very dry white wine typical of the region. Served chilled, it's a refreshing beverage that's integral to Basque culture.
Piquillos Rellenos: Stuffed piquillo peppers, often filled with meat or fish but also available in vegetarian options such as rice or cheese stuffing.
Sidra: Basque cider is another traditional drink found at the market, offering a unique regional take on this popular beverage.
Plant-Based Tapas: Recognising the growing trend towards vegetarian and vegan diets, vendors provide an array of plant-based tapas featuring local ingredients like artichokes, asparagus, and mushrooms.
Mantecados and Polvorones: Traditional Spanish crumbly cookies are often enjoyed with coffee or hot beverages during Christmas.
International Christmas Treats: Alongside the local Basque specialities, a variety of international Christmas market snacks such as German pretzels, French crepes, and Belgian waffles can be found, making the Bilbao Christmas Market a nice blend of local tradition and global flavours.
Christmas Gifts and Stocking Fillers
Basque Berets: A symbol of Basque identity, the traditional Basque beret can be found at the market. These are made with quality craftsmanship and represent the region's rich cultural heritage.
Ceramic Items: Unique to Bilbao, local artisans sell handcrafted ceramic products that reflect the city's artistic heritage. These include decorative plates, vases, and mugs, often painted with traditional Basque designs.
Lauburu Jewellery: The Lauburu, or Basque cross, is a symbol commonly found in the region. Jewellery incorporating this design, including necklaces and earrings, makes for a special gift.
Txapelas: These traditional Basque hats are made of wool and are often seen worn by locals. Vendors at the market sell various styles, reflecting this significant aspect of Basque culture.
Wooden Toys: Traditional wooden toys appeal to younger visitors. Classic designs include miniature boats, cars, and dolls, all made with meticulous attention to detail.
Linen Products: From tablecloths to scarves, the Bilbao market offers linen products often embroidered with distinctive Basque patterns, representing the region's textile tradition.
Hand-Painted Tambourines: These festive instruments are often adorned with vibrant colours and regional motifs, adding a musical touch to the market's offerings.
Classic Christmas Decorations: Alongside unique Basque items, visitors can find a wide range of classic Christmas decorations such as ornaments, wreaths, and festive lights.
Wines and Spirits: Bottles of regional wines, such as Txakoli, and local spirits, are popular gift choices for adults. Many vendors offer beautifully packaged sets for the holiday season.
For additional information on things to do and the latest events in the city, I recommend visiting the Visit Spain website, where you can find an array of resources tailored to your interests, including local attractions and cultural experiences.
Sustainable Christmas Tips
Here are a few tips on how we can travel more responsibly in Bilbao at Christmas:
Eco-friendly Hotels: Bilbao is home to various hotels committed to sustainability, many of which use renewable energy sources like solar or wind power. By choosing to stay in these accommodations, you contribute to reducing carbon emissions. These hotels often have other green practices, such as water-saving measures and recycling programs.
Reducing Food Waste: When enjoying the festive treats at the Christmas market, it's wise to order only what you can consume. Many stalls use locally sourced ingredients, so be mindful of portion sizes and ask for recommendations if unsure. Reducing food waste benefits the environment and supports local farmers and suppliers.
Ethical Consumption: As you explore the many stalls and shops, consider your purchases' impact. Focus on buying products you truly need or will use, such as handcrafted gifts supporting local artisans. By doing so, you encourage responsible production and contribute to the local economy in a meaningful way.
Sustainable Diets: Bilbao offers various dining options that focus on locally sourced and seasonal ingredients. Many restaurants proudly serve traditional Basque dishes made with products from nearby farms and fisheries. By choosing to eat at these establishments, you support sustainable farming practices and reduce transportation emissions related to food.
Sustainable Transport: Bilbao has an extensive public transportation network, including eco-friendly trams and buses. Consider using these options, or even walking or cycling, to explore the city and its Christmas attractions. Not only does this reduce your carbon footprint, but it also provides a unique perspective of Bilbao's vibrant streets and architecture.
FAQ
When is the Bilbao Christmas Market?
The Bilbao Christmas Market dates are from 1st December to 4th January 2023. It's an annual event that attracts visitors from around the world.
Where is the Bilbao Christmas Market?
You'll find the Christmas Market in Bilbao's Abando district, a lively area known for its shopping and dining opportunities. The exact location is Muelle de Ripa.
What time does Bilbao Christmas Market open?
Opening times for the Christmas market in Bilbao are 11:30am to 2:30pm and from 4pm to 9pm.
What's the weather like in Bilbao during Christmas?
Winter in Bilbao tends to be mild, with temperatures ranging from 5°C to 15°C (41°F to 59°F). While snow is rare, it's wise to pack warm clothing and be prepared for occasional rain.
If you want to leave a Bilbao Xmas Market review, comment below.
—
Recommendations are independently chosen based on personal travel experiences and extensive research. This post contains affiliate links to hotels and tours in Bilbao, Spain. This means I get a small commission from any bookings at no extra cost to you.