Brasov is a beautiful city set against the backdrop of the Carpathian Mountains in Romania. It presents a rich blend of history and charm with its medieval architecture, famous Black Church and inviting squares.
In this guide, I'll detail everything you need to know about the Brasov Christmas Market and the Magic of Winter event, including 2023 dates, opening times, locations and local specialities.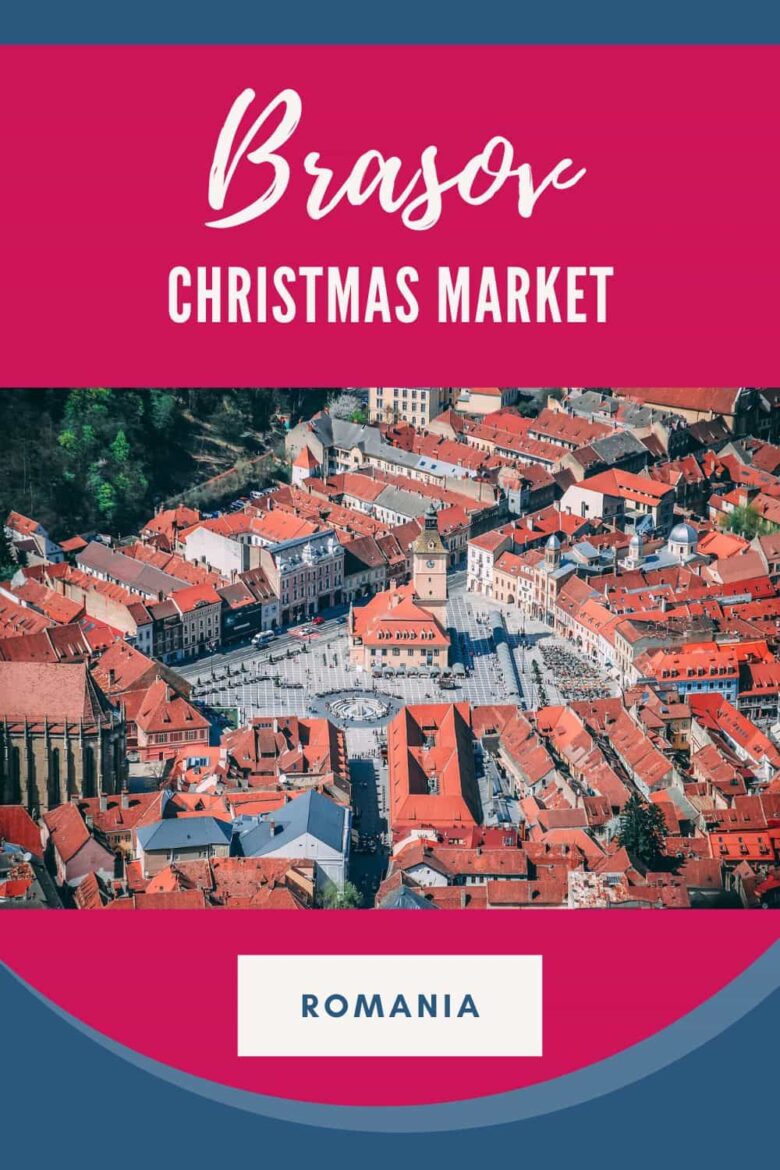 Christmas in Brasov is marked by a festive atmosphere that permeates the city's streets and squares. The winter season accentuates the charm of the medieval architecture, while the snow-capped Carpathian Mountains provide a picturesque backdrop.
Brasov Christmas Market 2023
The Christmas market in Brasov includes 40 stalls set in the heart of the city's historic Council Square, surrounded by colourful Baroque buildings and the Black Church's imposing structure.
You'll find unique Romanian crafts, from intricate woodwork to hand-woven textiles, setting it apart from many other European markets.
Food stalls serve traditional specialties, while local performers provide festive entertainment, making it an authentic Romanian holiday experience.
Dates and Location
Brasov Christmas Market dates: Likely dates: 29th November 2023 to 3rd January 2024.
Location: Council Square (Piața Sfatului).
Opening times: 11am to 9pm.
Christmas Day: Open.
Admission: Free, no tickets required.
Christmas lights: Yes, at Council Square. The Christmas tree and lights switch-on takes place on 6th December for Saint Nicholas Day.
Santa: Yes, at Santa's House from 17th to 23rd December.
Ice skating: Yes, at Council Square.
Vegetarian: Yes, plenty of options.
Vegan: Yes, but limited.
Gluten-free: Yes, but limited.
Accessible: Yes.
Pet-friendly: Yes, dogs are allowed on a lead.
Parking: Please take public transport to help limit congestion.
Reason to visit: Set in historic Council Square; unique Romanian crafts; traditional delicacies; local performers; authentic holiday experience.
Recommended tour: Castle tour including Peles and Dracula's Castle (Bran Castle).
Specialities: Traditional mici sausages; cozonac sweet bread; sarmale cabbage rolls; mulled wine; sweet pastries; local cheeses; kürtőskalács; vin fiert.
Where to stay: Oldern House is a highly-rated hotel, 7 minutes from the Christmas market.
Hotels near Brasov Christmas Market
The best area to stay in Brasov for proximity to the Christmas market is around the Council Square, the heart of the city. This location provides easy access to the festivities and a chance to enjoy the historical and cultural surroundings.
Several hotels and guesthouses are available in this area to suit different budgets. I recommend Oldern House, a popular choice that is well-located near the Christmas market, making it convenient for visitors wanting to explore the festive events.
Location of Brasov Christmas Market
City and Castle Tours
Taking a city tour of Brasov presents a brilliant opportunity to delve into the city's rich history and culture. Even in winter, Brasov, with its enchanting old town, colourful buildings and impressive architecture, makes for a compelling visit.
You might also want to take a castle tour as this part of Romania is famous for its stunning castles, like Peles Castle and Bran Castle, also known as Dracula's Castle. This is the best castle tour from Brasov.
Christmas in Brasov
To help you visualise the charm of the Brasov Christmas Market, the video below presents a glimpse of what to expect, including the huge Christmas tree in the centre of the square.
Christmas Specialties in Brasov
Sarmale: At the heart of Romanian Christmas cuisine lies sarmale. Typically, these are rolls of minced pork mixed with rice and spices, all carefully encased in pickled cabbage leaves. Slow-cooked for several hours, these bundles absorb the subtle tanginess of the cabbage, resulting in a melt-in-your-mouth delicacy that's sure to leave you wanting more.
Cozonac: Sweetening the festive fare is cozonac, a traditional Romanian Christmas bread. Prepared with a rich dough infused with the warmth of vanilla, this bread entices swirls of cocoa, raisins and a crunchy topping of walnuts. Each slice reveals a delightful mosaic of flavours, making it a perfect accompaniment to a warm cup of tea.
Salată de boeuf: No Romanian Christmas table is complete without a generous serving of salată de boeuf. A hearty salad made with boiled vegetables, pickles, and diced beef, it's mixed in mayonnaise to achieve a creamy consistency. Despite its name, a vegetarian version of this salad is often prepared by omitting beef, making it a delightful option for those favouring plant-based diets.
Tocanita de legume: For vegetarians visiting Romania during Christmas, a try of tocanita de legume is highly recommended. It's a hearty stew packed full of locally grown vegetables like bell peppers, aubergines, and courgettes, simmered slowly in a tomato-based sauce until perfectly tender. Seasoned with traditional Romanian spices, it offers a comforting meal that beautifully captures the essence of Romanian cuisine.
Food at the Christmas Market
Vin fiert: To ward off the chill of the Romanian winter, there's nothing more comforting than a glass of vin fiert, the Romanian version of mulled wine. This heart-warming drink is made by simmering red wine with honey, orange peels, and an aromatic blend of cloves, cinnamon, and star anise. Sipping it as you wander the Christmas market is a warming pleasure that you will definitely appreciate.
Kürtőskalács: Widely found at Christmas markets across Europe, Kürtőskalács, also known as chimney cake, has a distinct presence in Brasov. The cake acquires a unique caramelised sugar coating made by winding dough around a wooden spit, sprinkling it generously with sugar, and then slowly roasting it over charcoal. As it cools, the sugar hardens, forming a crispy crust around the soft, fluffy interior. While it's traditionally dusted with cinnamon or walnut, adventurous vendors sometimes offer versions with cocoa, coconut, or even rainbow sprinkles.
Mici: Mici, literally meaning 'little ones', are a hit with locals and visitors alike. They're small, skinless sausages traditionally made of minced beef, pork, and mutton, seasoned with garlic, black pepper, and a blend of Romanian spices. Served piping hot off the grill, accompanied with a chunk of fresh bread and a dab of mustard, Mici offers a simple yet deeply satisfying taste of Romanian street food.
Pomana porcului: Also known as 'the pig's alms', Pomana porcului is a fascinating Romanian tradition, especially around Christmas. Following a pig's slaughter, portions of freshly cooked meat are served immediately as a celebratory gesture to neighbours and friends. At the Brasov Christmas Market, it's not unusual to find stalls serving grilled pork, fresh sausages, and even 'jumari' – crispy pork rinds, offering visitors a taste of this tradition.
Pretzels: Pretzels, or 'covrigi' as they are locally known, are common at the Christmas market in Brasov. Whether they're simply sprinkled with coarse sea salt, filled with cheese, or even smeared with poppy or sunflower seeds, these loop-shaped pastries make for a delicious, quick snack as you explore the festive stalls.
Mulled wine and hot chocolate: Keeping international Christmas market traditions alive, stalls in Brasov dole out steaming cups of mulled wine and hot chocolate. Spiced and sweetened to perfection, these warm beverages can be your faithful companions in the frosty Romanian winter, providing much-needed warmth and cheer.
German sausages: Despite being a Romanian Christmas Market, you'll find a nod to German Christmas traditions with stalls selling a variety of German sausages. From Bratwurst to Frankfurters, served hot in a bun with a dash of mustard or ketchup, these sausages provide a familiar comfort food for many visitors.
What to Buy
Hand-painted Baubles: Among the treasure trove of gifts at the Brasov Christmas Market, you'll find intricately hand-painted baubles. Romanian artisans skillfully adorn these glass ornaments with traditional motifs and festive scenes, creating truly unique pieces that could add a touch of Romanian artistry to any Christmas tree.
Traditional Ceramics: Romanian craftsmanship shines through in the array of traditional ceramics available at the market. Sourced primarily from the Horezu region, these ceramics are typically hand-thrown, intricately decorated with geometric, animal or bird motifs, and then fired in a kiln to give them a distinctive lustrous finish. Ranging from bowls and plates to decorative jugs, these ceramics serve as a functional and artistic memento of your visit.
Embroidered Textiles: Romania is renowned for its folk textiles, and the Christmas market in Brasov is no exception. Beautifully embroidered tablecloths, napkins, and even clothing items provide a window into this traditional art form. The vibrant floral or geometric patterns stitched onto these textiles represent various regions of Romania, making them a colourful and meaningful gift.
Hand-carved Wooden Items: Reflecting the rich woodworking tradition of Romania, hand-carved wooden items make a popular choice for gifts. From ornate spoons and bowls to intricate chess sets and even holiday ornaments, each item stands as a testament to the artisan's skill and patience. The pieces often feature motifs inspired by Romanian folklore, adding an extra layer of cultural significance to these keepsakes.
Homemade Jams and Preserves: Many stalls at the Christmas market also sell a variety of homemade jams and preserves. Crafted from locally grown fruits such as plums, raspberries, and blackberries, these preserves encapsulate the sweetness of Romanian summer in a jar. Flavours are often intensified with a dash of Romanian honey; some vendors might even offer a taste before you buy.
Local Spirits: For a more spirited souvenir, look for bottles of ţuică and palincă, traditional Romanian brandies. Usually homemade and distilled from plums or other fruits, these spirits are a significant part of Romanian culture and hospitality. Packaged in decorative bottles, they make for an interesting gift that's sure to spark conversations back home.
To help you plan a perfect festive getaway, I encourage you to read my guide to the best Christmas markets in Romania for 2023.
To help you explore Brasov and the surrounding region, Romania Tourism can be an invaluable resource, equipped with handy information and tips tailored for visitors in Winter.
Sustainable Christmas Tips
Here are a few tips on how we can travel more responsibly in Brasov at Christmas.
Use Public Transport: Brasov boasts an efficient public transportation system that reduces the carbon footprint. Opt for city buses or the charming local trolleybus service to traverse the city instead of hailing taxis or renting a car. You'll not only be making a greener choice but also savouring an authentic Brasov experience.
Opt for Green Accommodations: Increasingly, hotels in Brasov are implementing sustainable practices. Check whether your accommodation uses renewable energy sources, has a robust recycling programme, or employs other sustainability measures.
Minimise Food Waste: While savouring the local delicacies at the Christmas market, be mindful of your consumption. Buy only what you can eat to avoid unnecessary food waste. And remember, leftovers from your sarmale or cozonac can make a delicious snack later!
Practice Ethical Consumption: Consider their source and impact when purchasing gifts or souvenirs. Choose items made by local artisans and sold directly, such as hand-carved wooden items or traditional ceramics at the Christmas market. This way, you're supporting local economies and reducing the environmental impact of mass-produced goods.
Adopt a Sustainable Diet: Romanian cuisine offers an array of plant-based dishes that are both delicious and more sustainable than meat-heavy meals. Opt for dishes like vegetable ghiveci or mushroom soup to taste Romanian flavours that align with a more sustainable diet.
Explore on Foot or by Bike: Brasov's compact city centre is perfect for exploration on foot or by bike. Numerous bike rental services, like Brasov Bike Rent, offer an eco-friendly alternative to motorised transport. Plus, it's an excellent way to see the city at your own pace, taking in Brasov's sights and sounds without a vehicle's confines.
FAQ
When is Brasov Christmas Market?
Brasov Christmas Market dates are from 29th November 2023 to 3rd January 2024.
Where is Brasov Christmas Market?
The Christmas Market in Brasov is set up in the city's main square, Piața Sfatului, or Council Square in English. It's a historic location surrounded by stunning architecture.
What time does Brasov Christmas Market open?
Brasov Christmas Market opens from around 11am to 9pm, ensuring plenty of time for visitors to explore the various stalls.
What is the weather like in Brasov during Christmas?
Winters in Brasov are typically cold and snowy, with temperatures often dropping below freezing. It's advisable to pack warm clothes for your visit.

How easy is it to get around Brasov in winter?
Despite the snowy conditions, Brasov is well-prepared for winter. Public transport continues to operate regularly, and the city centre is compact enough for comfortable walking.
Can I visit the Black Church during Christmas?
Brasov's famous Black Church remains open to visitors during Christmas, though it may have different operating hours. It's always best to check the church's official website for the most accurate information.
How can I travel from Brasov to other cities in Romania?
Brasov is well connected to major Romanian cities like Bucharest, Sibiu, and Cluj-Napoca by train and bus. The city's central train station, Brasov Railway Station, has regular services to these destinations.
Venturing to Brasov in winter is a choice well made. As the city dons a blanket of snow, it transforms into a picturesque tableau where history and tradition radiate through every corner.
Experiencing Brasov's Christmas market, with its unique blend of local and international culture, will certainly be a highlight of your trip.
If you would like to leave a review of Brasov Xmas Market, comment below.
—
Recommendations are independently chosen based on personal travel experiences and extensive research. This post contains affiliate links to hotels and tours in Brasov, Romania. This means I get a small commission from any bookings at no extra cost to you.