Rotterdam is one of the Netherlands most interesting cities, with its modern architecture, seafaring history and vibrant cultural scene.
Rotterdam Christmas Market comprises several smaller events, each adding to the overall festive atmosphere of the season.
In this guide, I'll provide you with all the essential details, such as the confirmed 2023 dates, opening times, locations and local specialties, to help you plan your visit to this unique destination in the heart of the Netherlands.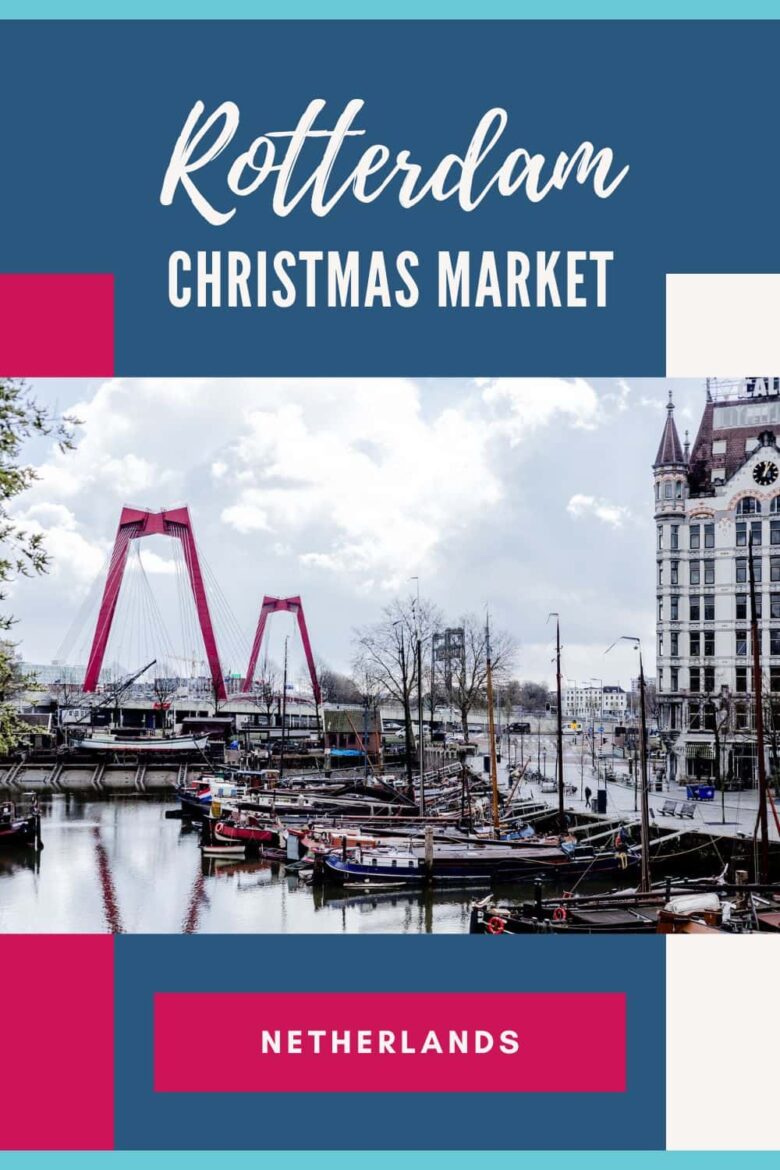 During Christmas in Rotterdam, the city transforms with festive lights and decorations. Traditional celebrations and seasonal events can be found throughout, reflecting the blend of modernity and history that characterises this vibrant Dutch city.
Rotterdam Christmas Market 2023
The Christmas market in Rotterdam doesn't have a traditional market event like you'll find elsewhere in Europe. However, there are two popular winter events.
Among the key attractions are the Winter Fair at Ahoy, an indoor event featuring a wide array of shopping stalls and entertainment options and Weelde's Winter Warenmarkt, known for its unique combination of food, drinks and music in a lively setting.
These events are integral to Rotterdam's Christmas celebrations, providing visitors with a mix of traditional market experiences and innovative local culture.
Winter Fair at Ahoy
Rotterdam Christmas Market dates: 14th to 17th December 2023.
Location: Rotterdam Ahoy.
Opening times: 10am to 5pm.
Christmas Day: Closed.
Admission: €9 online, €10 at the door. Children under 8: free. Book online.
Santa: Yes. Santa Claus visits and there is a carousel.
Ice skating: Not at the event, but at Schaatsbaan Rotterdam.
Vegetarian: Yes, plenty of options.
Vegan: Yes, plenty of options.
Gluten-free: Yes, but limited.
Accessible: Yes.
Pet-friendly: No.
Parking: Please take public transport to help limit congestion.
Reason to visit: Contemporary setting meets traditional cheer, unique small events, innovative local culture, lively food and music scene.
Recommended tour: Rotterdam architecture walking tour.
Specialities: Dutch stroopwafels, poffertjes, oliebollen, Rotterdam cheese, local craft beers, artisanal chocolates, speculaas cookies.
Where to stay: Supernova Hotel is a popular hotel in central Rotterdam.
Hotels near Rotterdam Christmas Market
Central Rotterdam is an ideal area to stay if you want easy access to the Christmas market. With excellent public transport connections and a wide range of hotel options, it puts you right in the heart of the city's festive activities.
For an eco-conscious choice, I recommend Supernova Hotel, a boutique hotel conveniently located in central Rotterdam, allowing for a comfortable and responsible stay during your holiday visit.
Location of Rotterdam Christmas Market
City and Christmas Tours
A city tour of Rotterdam is an excellent way to discover the city's intriguing blend of modern innovation and maritime heritage.
With its futuristic skyline, renowned Cube Houses and impressive maritime museums, Rotterdam is a destination that beckons exploration anytime.
I recommend this city tour of Rotterdam as it allows you to explore many of the city's highlights with a knowledgeable local guide at a reasonable price.
On a city tour, you'll experience Rotterdam's most notable landmarks and attractions, such as the innovative Markthal, the stunning Erasmus Bridge and the historically significant Maritime Museum.
Alternatively, you might want to try this food tour to understand local traditions and flavours. Food tours are gaining in popularity, and I suggest taking one to enhance your cultural experience while in Rotterdam.
Weelde Christmas Market
Weelde's Winter Warenmarkt is a notable feature of Rotterdam's Christmas season, providing local entrepreneurs with the platform to showcase and sell their products. You'll find a selection of unique goods, ranging from creative inventions to second-hand items.
About 70 exhibitors are present, including those focused on art, design, interior, vintage clothing and vinyl, making it a destination for those seeking an original Christmas present, new sneakers, a tattoo, or simply a place to enjoy mulled wine.
In addition to the shopping experience, the market also caters to the culinary needs of its visitors. You can indulge in a winter meal crafted by Weelde's chef Jona Haile, or enjoy snacks, lemonades, cocktails and wines provided by restaurant Kumzits.
Various Rotterdam DJs and residents perform every weekend to complement the lively atmosphere, adding a musical dimension to the shopping and dining experience.
Weelde Christmas Market dates: Weedends from 4th to 9th December 2023.
Location: Marconistraat 39, Rotterdam.
Opening times: 12pm to 5pm.
Admission: €3 tickets, available at the door.
Christmas in Rotterdam
This video shows the festive atmosphere at the Rotterdam Christmas lights in the city centre.
Christmas Specialties in Rotterdam
Oliebollen: Deep-fried dough balls dusted with powdered sugar, oliebollen are a Dutch Christmas tradition you shouldn't miss. The dough often contains raisins or currants, giving the snack a sweet twist. A vegetarian delight, they're a bit like doughnuts but unique in their own right.
Kerststol: A large fruit loaf dusted with icing sugar, kerststol is enjoyed around Christmas time. This festive bread contains a mix of dried fruits and nuts with an almond paste or marzipan centre. It's often served sliced and spread with butter.
Erwtensoep: As the colder months set in, the Dutch enjoy their version of pea soup, erwtensoep. This thick, hearty soup, made with split peas, various cuts of pork and vegetables like celery, onions, leeks, and carrots, is a staple on Dutch winter menus. Vegetarian versions substitute the meat with more vegetables, creating a similarly comforting dish.
Speculaas cookies: These thin, crunchy biscuits are a delightful part of the Dutch holiday season. With their unique mix of spices – including nutmeg, cinnamon, ginger, cloves and cardamom – speculaas cookies are as aromatic as they are delicious. They often come in festive shapes and sizes, making them fun as well as tasty.
Gourmetten: While not a food itself, Gourmetten is a popular Dutch Christmas meal tradition. It involves cooking miniature versions of meat, fish, and vegetables on a tabletop grill or hotplate right at the dinner table. With a selection of vegetarian options, it's an interactive, convivial way to enjoy a holiday meal with family or friends.
Banketstaaf: A sweet pastry log filled with an almond paste centre, banketstaaf is a traditional Christmas dessert in the Netherlands. The puff pastry wrapping is often shaped into a letter, symbolising the initial of a family's last name. With its light, flaky exterior and sweet, rich filling, banketstaaf is the perfect end to a Dutch Christmas meal.
Food at the Christmas Market
Poffertjes: Tiny, fluffy pancakes are common at the Rotterdam Christmas Market. Poffertjes are traditionally served warm with a generous dusting of powdered sugar and a pat of butter that melts into the crevices of these sweet treats. Their light texture and subtle sweetness make them a beloved snack among locals and visitors alike.
Bitterballen: These are crispy, deep-fried balls filled with a creamy mixture of minced beef or veal, broth, flour, butter, and herbs. Bitterballen is a classic Dutch snack typically served with mustard for dipping. Even though they are a year-round treat, their warmth and richness make them particularly enjoyable during the festive season.
Stroopwafels: Found in many Dutch markets, stroopwafels are another favourite. These consist of two thin waffles stuck together with a layer of sweet syrup. At the Christmas market in Rotterdam, they're often made fresh on the spot, resulting in a warm, gooey treat that's hard to resist.
Glühwein: While not exclusive to Rotterdam, glühwein or mulled wine is a staple at European Christmas markets. This hot drink is prepared from red wine, heated and spiced with ingredients such as cloves, star anise, citrus, and sugar. It's the perfect drink to warm your hands and spirit as you wander the market.
Bratwurst: As a nod to the international influences at the market, you'll find stalls selling bratwurst. This German sausage is a classic Christmas market food, often served in a bun with mustard or ketchup. Its smoky, hearty flavour makes it a satisfying snack in the chilly winter weather.
Roasted Chestnuts: Roasted chestnuts are Another international favourite at the Winter Fair. The nutty aroma of these treats roasting is a signature scent of Christmas markets worldwide. They're a delight to eat, warm, sweet and slightly smoky as you browse the market stalls.
What to Buy
Dutch Cheese: Holland is famous for its cheese, and Rotterdam's Christmas markets are a great place to purchase some. You can find a variety of Dutch cheeses, from the smooth, mild Gouda to the nutty, hard-aged varieties. These cheeses make for a great gift or a delicious treat to take home.
Handmade Crafts: Many stalls at the Christmas market showcase local artists and their beautiful, handmade crafts. These range from intricately carved wooden items and decorative glasswork to unique jewellery pieces. Buying from these stalls not only supports local artisans but also gives you a chance to own or gift something truly one-of-a-kind.
Dutch Gin (Jenever): Jenever, a traditional Dutch spirit akin to gin, is often available at the Winter Fair and Christmas markets. Its unique flavour derived from juniper berries makes it a warm, festive beverage that also makes a distinctive gift.
Clog Slippers: A fun, typically Dutch gift item you can find at the Rotterdam Christmas Market is a pair of clog slippers. These are soft, comfortable shoes designed to look like traditional Dutch wooden clogs. They're a quirky and fun gift idea, bringing a touch of Dutch tradition into a practical item.
Dutch Sweets and Biscuits: Stalls often sell traditional Dutch sweets and biscuits, such as speculaas cookies, stroopwafels, or Dutch licorice known as Drop. These treats are usually beautifully packaged, making them an easy and delightful gift to take back home.
Christmas Ornaments: Plenty of stalls offer an array of Christmas ornaments, many of which reflect Dutch traditions and motifs. Hand-painted baubles, wooden ornaments, and decorative Dutch houses are just some of the treasures you can find to adorn your Christmas tree.
For more places to visit this winter, read my guide to the best Christmas markets in the Netherlands.
For valuable insights and handy tips tailored to enhance your city visit, I recommend exploring Rotterdam Info, an incredibly useful resource for every traveller. You could start with this list of attractions in Rotterdam.
Sustainable Christmas Tips
Here are a few tips on how we can travel more responsibly in Rotterdam at Christmas.
Use of Renewable Energy: Rotterdam leads in green energy solutions, so take advantage of this by choosing accommodation that uses renewable energy sources, such as the Supernova Hotel.
Reducing Food Waste: When indulging in the delicious food at the Christmas market, try to order portions that you're sure you can finish to prevent food waste. Many food stalls in Rotterdam are also adopting sustainable practices, including composting organic waste, so supporting these vendors can contribute to less waste overall.
Ethical Consumption: When shopping at the Christmas market, consider the impact of your purchases. Aim to buy from local artisans who make their products sustainably and ethically. For instance, many Rotterdam crafters create beautiful, unique items using recycled or upcycled materials.
Sustainable Diets: The Netherlands is known for its plant-based cuisine, so consider trying some vegetarian or vegan options when dining in Rotterdam. Many stalls at the Christmas market offer delicious plant-based foods, such as the popular Dutch snack, 'bitterballen', in a vegan version.
Sustainable Transport: Reduce your carbon footprint by making use of Rotterdam's excellent public transport system instead of renting a car. The city has an extensive network of trams, buses and metro lines that can take you almost anywhere you want to go. Plus, cycling is very popular in Rotterdam, and there are plenty of places to rent a bike if you want to explore the city in a truly Dutch way.
FAQ
When is Rotterdam Christmas Market?
Rotterdam Christmas Market dates are from 14th to 17th December 2023.
Where is Rotterdam Christmas Market?
Rotterdam's Christmas market and Winter Fair is held at Rotterdam Ahoy.
What time does Rotterdam Christmas Market open?
The Winter Fair opens from 10am to 5pm.
How can I get around Rotterdam?
Rotterdam has an excellent public transportation system, including trams, buses and metro lines. You can also rent a bike to explore the city in a truly Dutch way.

Final Thoughts
Visiting Rotterdam in winter is a wonderful experience. Enjoy your visit to Rotterdam and make the most of the winter cheer!
If you would like to leave a review of Rotterdam Xmas Market, comment below.
—
Recommendations are independently chosen based on personal travel experiences and extensive research. This post contains affiliate links to hotels and tours in Rotterdam, Netherlands. This means I get a small commission from any bookings at no extra cost to you.