Valkenburg in the Netherlands is renowned for its unique Christmas market set inside the town's historic caves.
The market attracts a large number of visitors each year due to its blend of festive atmosphere and historical setting. So it's essential to book somewhere to stay well in advance.
In this guide, I share the most suitable hotels close to Valkenburg Christmas Market, focusing on both quality and proximity.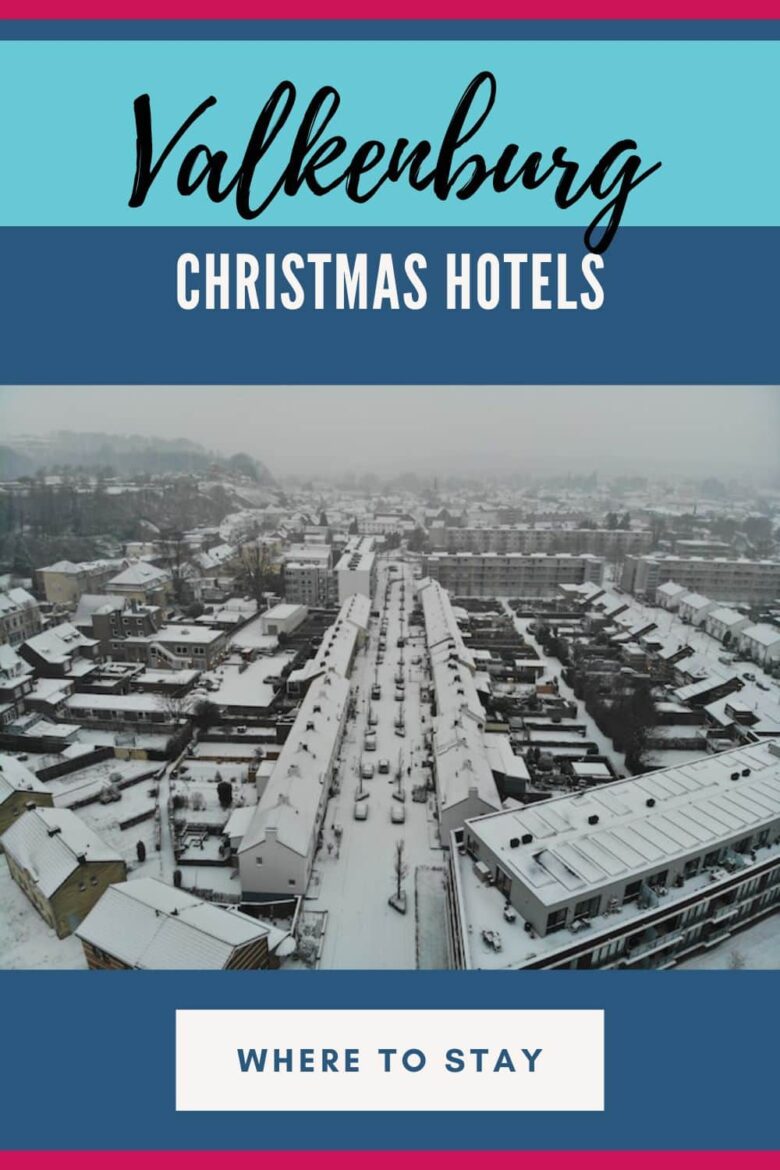 Hotels near Valkenburg Christmas Market
Valkenburg is a small city, so anywhere in the city centre is the ideal location to stay for quick access to the Christmas market in the Valkenburg caves.
My top hotel pick is conveniently situated along the Kleine Geul stream, making it an appealing location for your stay in the city centre.
Top Pick
Hotel Botterweck
Address: Bogaardlaan 4, Valkenburg, Netherlands
Neighbourhood: City Centre
Distance to the Christmas market: 1-minute walk (50 metres)
Hotel Botterweck is in a great location right by the stream in the pedestrian centre of Valkenburg, placing you close to restaurants, shops, and the Christmas markets in the caves. The hotel offers a host of features, including pretty, clean, and comfortable rooms, a bright and fresh breakfast area, and friendly staff. Additional amenities such as secure bike storage and private parking enhance the overall value for money. Given its very good service, delicious breakfast, and convenient location, it's highly recommended.
Features:
Distinctive decor and design.
Stylish rooms with ample natural light.
Good selection for breakfast.
Great location near the historic caves.
Pros: Ideal location; clean, cosy rooms; bright breakfast area; friendly staff; secure bike storage; private parking.
Cons: Books out early.
Check Availability
I'll also guide you through a selection of other hotels near the Christmas markets.
These alternatives are noteworthy for varying reasons: location, style, budget, or eco-friendliness. Each has its own set of advantages that might better suit your specific needs.
Next Best
Zoet Valkenburg
Address: Louis van de Maesenstraat 5, Valkenburg, Netherlands
Neighbourhood: City Centre
Distance to the Christmas market: 2-minute walk (140 metres)
Zoet Valkenburg Hotel is situated right in the centre of Valkenburg, making it a convenient option for accessing the Christmas market. The hotel features large, comfortable apartments equipped with great facilities, including a well-sized bathroom counter and a Nespresso coffee machine. Additional perks include a sunny balcony, comfortable beds, and eco-friendly practices with the use of 100% renewable electricity. The staff are known for their quick and helpful responses to queries.
Boutique Hotel
Valkenhof
Address: Berkelstraat 34, Valkenburg, Netherlands
Neighbourhood: City Centre
Distance to the Christmas market: 3-minute walk (200 metres)
Boutique Hotel Valkenhof sits at the heart of Valkenburg, providing easy access to the Christmas market and other local attractions. From the moment you arrive, the reception and staff greet you with warmth and helpfulness. Rooms are spacious and tastefully decorated; some even offer views overlooking the castle ruins. The hotel features a popular restaurant with a diverse menu, but it's worth noting that it isn't particularly vegetarian-friendly. While breakfast is an additional cost, it receives high marks for quality.
Budget Hotel
Hotel Janssen
Address: 13 Neerhem, Valkenburg, Netherlands
Neighbourhood: City Centre
Distance to the Christmas market: 5-minute walk (350 metres)
Hotel Janssen is well-positioned for easy access to the Valkenburg caves and stands out for its welcoming staff and family-friendly accommodations. The hotel operates as a friendly family-run business and features modern decor alongside locally authentic and delicious breakfast options. While room sizes are adequate rather than spacious, guests can enjoy the convenience of a small patio and an upstairs common space stocked with complimentary coffee, tea, and biscuits. An honesty bar and an array of games make it a comfortable place to relax, reinforcing the hotel's reputation for excellent value.
Sustainable Hotel
Hotel Hulsman
Address: De Guascostraat 16, Valkenburg, Netherlands
Neighbourhood: City Centre
Distance to the Christmas market: 3-minute walk (220 metres)
Hotel Hulsman is situated in a convenient yet quiet part of Valkenburg, allowing for easy access to the Christmas markets in Valkenburg. Known for its friendly staff and clean, well-facilitated rooms, the hotel operates as a sustainable family-run business powered by 100% renewable electricity. Breakfast receives high praise, including the availability of specialised options like gluten-free meals.
Luxury Hotel
Château St. Gerlach
Address: Joseph Corneli Allée 1, Valkenburg, Netherlands
Neighbourhood: Geul Valley
Distance to the Christmas market: 14-minute drive (2.6 km)
Château St. Gerlach provides a luxurious experience in a setting enriched by well-kept grounds, art pieces, and historic buildings. Located just outside of Valkenburg city centre, the hotel stands out for its fantastic staff and commitment to sustainability, verified by third-party certifications. The on-site amenities are comprehensive, including a pool, spa area, and walking-friendly surroundings such as parks and vineyards. Breakfast is satisfying, featuring a variety of choices along with options for hot meals.
Apartment Stay
Casa Verde Valkenburg
Address: 7 Wilhelminalaan, Valkenburg, Netherlands
Neighbourhood: City Centre
Distance to the Christmas market: 5-minute walk (350 metres)
Casa Verde Valkenburg presents a well-maintained, fully equipped apartment within walking distance of the Christmas market. Upon arrival, the owner provides a warm welcome accompanied by a bottle of rosé, setting a friendly tone for your stay. The apartment itself is spacious and clean, featuring a comfortable bed and quality shower facilities. Additional perks include excellent Wi-Fi coverage and thoughtful touches in the closet and fridge.
To ensure you have all the essential information for your visit, I suggest you read my guide to Valkenburg Christmas Market, where you'll find details such as the latest dates, opening times, and locations.

Additionally, my Netherlands Christmas Market guide can serve as a valuable resource for identifying other worthwhile markets to explore during your trip.
Sustainable Travel Tips
Here are a few tips on how to travel more responsibly in Valkenburg at Christmas, including choosing an eco-friendly hotel close to the Christmas market.
Choose Sustainable Accommodation: Many hotels in Valkenburg have made strides towards sustainability, particularly by using 100% renewable energy. These eco-conscious choices often extend to waste management and sourcing local produce for their restaurants. You're making a positive environmental choice by staying at such a hotel.
Limit Food Waste: Consider sharing dishes to avoid waste when dining at the Christmas market or local eateries. Many market stalls serve generously portioned food that's often too much for one person. Sharing ensures that you experience a variety of local flavours without contributing to food waste.
Ethical Consumption: Valkenburg's Christmas market has a variety of crafts and products. Rather than indulging in impulse buying, focus on what you genuinely need or can use. For example, opt for handmade, locally sourced goods over mass-produced items, thereby supporting local artisans and reducing your carbon footprint.
Sustainable Transport: Given Valkenburg's compact size, most attractions, including the Christmas market, are within walking distance of each other. Opting to walk or cycle instead of using taxis or car services reduces your carbon footprint and gives you a unique perspective of the city. Some hotels even provide bicycles for their guests, making it easier to explore sustainably.
By implementing these tips, you can enjoy a festive and responsible holiday experience in Valkenburg.
Further Information
Consider using Visit Zuid-Limburg for its resources and insightful trip-planning tips for visiting the Limburg region of the Netherlands, where Valkenburg is located.
You'll find practical advice tailored to enrich your visit to various cities, making navigating and appreciating local attractions easier.
If you have questions or want to leave a hotel review, please do so in the comments.
—
Recommendations are independently chosen based on personal travel experiences and extensive research. This post contains affiliate links to hotels in Valkenburg, Netherlands. This means I get a small commission from any bookings at no extra cost to you.