Cork is a popular destination for visitors exploring the heart of Ireland. From late November, the city comes alive with the bustling Cork Christmas Market, known locally as Glow Cork.
In this guide, I'll delve into the essentials for your visit, covering 2023 dates, opening times and the local specialties awaiting you.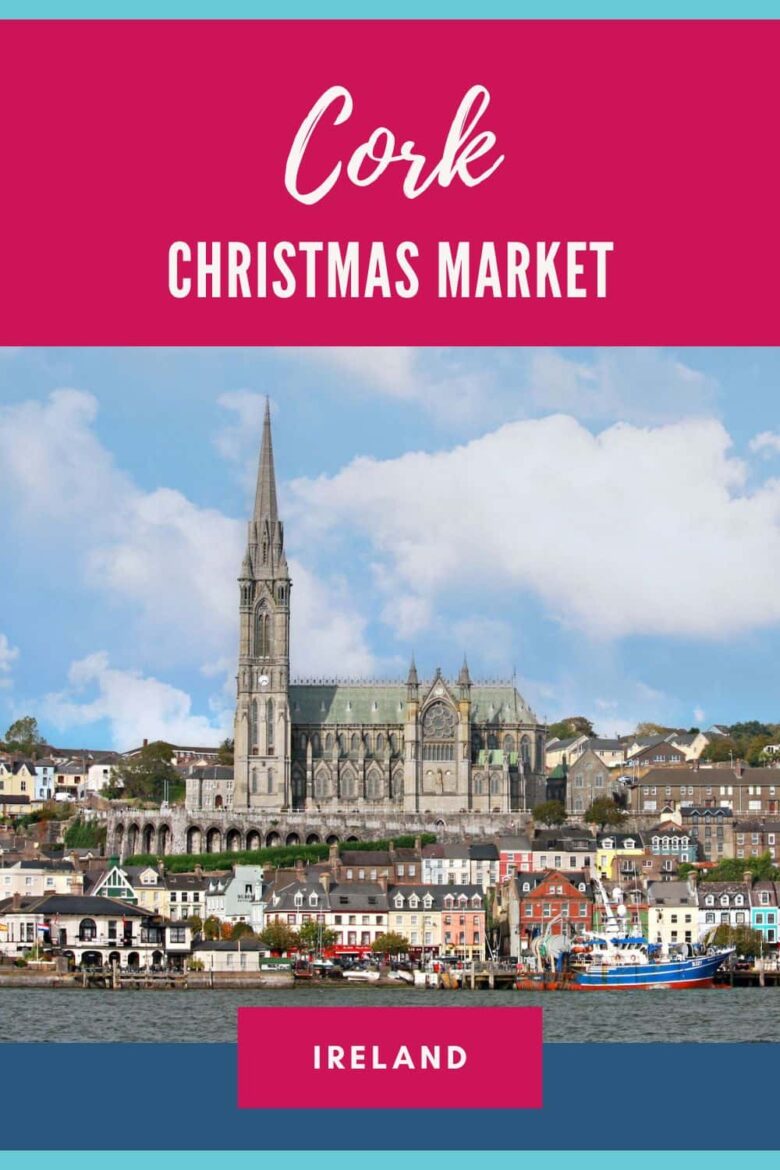 Christmas in Cork transforms the city, with twinkling lights adorning the historic streets. Locals and tourists partake in the seasonal festivities, making the city lively during the winter months.
Cork Christmas Market 2023
Glow Cork, the renowned Christmas Market in Cork, brilliantly lights up the holiday season.
At this celebrated event, you'll find Christmas stalls displaying handcrafted goods ideal for thoughtful gifting. Alongside the shopping, the entertainment showcases local musicians, carol singers and craft makers.
As a significant event in Cork's festive calendar, Glow Cork seamlessly merges Irish traditions with the contemporary joy of the season. Don't miss out on a ride on the Big Wheel, which is available until the first week of January.
Dates and Location
Cork Christmas Market dates: Likely dates: 24th November 2023 to 7th January 2024.
Location: Grand Parade and and Bishop Lucey Park.
Opening times: 12pm to 8:30pm.
Christmas Day: Closed.
Admission: Free, no tickets required.
Payment: Cash is preferred at many stalls.
Christmas lights: Yes, switch on date: 18th November 2023. More than 7.4km of lights across the city centre.
Santa: Yes, visit the North Pole Express Train and Santa's Workshop.
Big Wheel and Carousel: 12pm to 9pm. Prices: Wheel: Regular €4.00; Junior €3.50. Carousel: €2.50.
Ice skating: Yes, at Fota House and Gardens Carrigtwohill.
Vegetarian: Yes, plenty of options.
Vegan: Yes, plenty of options.
Gluten-free: Yes, but limited.
Accessible: Yes.
Pet-friendly: Yes, but not recommended during busy periods.
Parking: Please take public transport to help limit congestion.
Reason to visit: International and local stalls mix; Irish music and dance performances; the heart of Cork city.
Recommended tour: Historical walking tour.
Specialities: Traditional Irish crafts; international delicacies; locally sourced produce; festive food treats.
Where to stay: Imperial Hotel is a popular hotel, 7-minutes from the Christmas market.
Hotels near Cork Christmas Market
Staying close to Grand Parade in Cork ensures you're in the heart of the city's festive buzz, conveniently near the Glow Cork Christmas Market. This central location grants easy access to the city's seasonal highlights, making your visit both enjoyable and efficient.
The eco-friendly Imperial Hotel is a commendable choice for those prioritising sustainability alongside location as it's conveniently positioned near these festive attractions.
Location of Cork Christmas Market
Christmas in Cork
This video gives you a first-hand look at the Christmas markets in Cork. You'll see the lively atmosphere, diverse stalls and the city's festive spirit in action.
Christmas Specialties in Cork
Spiced Beef: A festive staple in Cork, spiced beef involves the preparation of a topside or silverside cut of beef, cured in a mixture of spices including allspice, juniper berries and black pepper for up to a fortnight. The cured meat is then slow-cooked, served cold, and often accompanied by pickles and brown bread.
Colcannon: Colcannon, a warming vegetarian dish, combines creamy mashed potatoes, finely chopped kale or cabbage, butter and spring onions. Typically enjoyed in colder months, it makes a delicious and comforting side dish on Christmas tables across Ireland.
Soda Bread: A staple of Irish cuisine, soda bread is a type of quick bread made with baking soda as a leavening agent instead of yeast. It's often enjoyed with a generous spread of butter and a warm cup of tea.
Irish Stew: Irish stew, typically made with mutton or lamb, onions, potatoes and parsley, offers a heartening main course option. However, a vegetarian version can be prepared, replacing the meat with robust root vegetables and lentils.
Christmas Pudding: For dessert, Christmas pudding is a rich, dark dessert with a mix of dried fruits. It's traditionally prepared weeks in advance and steamed for several hours before being flambéed at the table and served with brandy butter or cream.
Mince Pies: Mince pies are a sweet treat filled with a mixture of dried fruits, spices and sugar. They are traditionally served warm, often with a dollop of cream.
Irish Cream Liqueur: Rounding off the meal, Irish cream liqueur is a blend of cream, Irish whiskey, and often chocolate, coffee or vanilla for added flavour. It's enjoyed straight, over ice, or used as a creamy addition to hot drinks like coffee.
Food at the Christmas Market
Hot Buttered Oysters: A Cork speciality, these oysters are often served in shells, topped with a buttery garlic or herb sauce, and then quickly grilled. Eaten warm, they offer a luxurious taste of Ireland's coastal offerings.
Mulled Wine: Originally a European Christmas staple, mulled wine is a hot drink made from red wine, along with various mulling spices and often raisins. It's an aromatic and warming treat, perfect for sipping while exploring the market on a chilly evening.
Irish Whiskey-infused Sausages: These are a unique spin on traditional sausages, infusing local Irish whiskey into the meat for an added depth of flavour. The sausages are grilled on site and usually served in a roll with caramelised onions and a dollop of mustard.
Irish Cheese and Chutney: The market features a variety of locally made Irish cheeses, often paired with artisanal chutneys. It's a delectable showcase of Ireland's dairy excellence and culinary craftsmanship.
Bratwurst: Paying homage to European Christmas markets, bratwurst, a type of German sausage made from pork, beef, or veal, is often grilled and served in a bun with mustard or sauerkraut, a popular snack to enjoy as you wander.
Stollen: Another international Christmas market favourite, stollen is a fruit bread of nuts, spices, and dried or candied fruit coated with powdered sugar. It originates from Germany and provides a sweet, festive snack or dessert.
Roasted Chestnuts: Roasted chestnuts are a quintessential winter street food; their sweet, nutty aroma is a familiar scent at the market. They're typically served in paper cones, providing visitors with a warm and convenient snack as they browse the stalls.
What to Buy
Irish Wool Items: From mittens to scarves, Irish wool items are popular at the Glow Cork market. These products showcase the longstanding tradition of Irish wool weaving, providing warm, high-quality textiles ideal for winter.
Celtic Jewellery: Intricate and symbolic, Celtic jewellery captures Ireland's rich history and legends. These pieces often incorporate traditional Celtic symbols like the Claddagh, the Celtic cross, or the triskele, making them authentic keepsakes.
Pottery and Ceramics: Pottery and ceramics from local Cork artisans exhibit the region's craftsmanship. Ranging from practical kitchenware to decorative pieces, these handcrafted items bring a touch of Irish charm into any home.
Local Art: The market serves as a platform for Cork artists to display their work. You can find a wide variety of local art, from landscape paintings capturing Ireland's picturesque views to personalised, whimsical illustrations.
Handmade Soaps and Candles: Homemade soaps and candles often feature in the market, incorporating natural, local ingredients. These products offer a functional gift and sensory experience, with fragrances reminiscent of Ireland's nature.
Irish Whiskey: A locally produced Irish whiskey bottle is a typical market find. It's a thoughtful gift for those who appreciate this iconic Irish spirit's nuanced flavours and warm embrace.
Christmas Ornaments: Unique Christmas ornaments are plentiful at the Cork market, often inspired by Irish culture and folklore. From fairy-inspired baubles to Celtic knot decorations, these ornaments add a distinctive Irish touch to any Christmas tree.
For comprehensive insights into Ireland's festive markets, I recommend you read my detailed guide to the best Christmas markets in Ireland; it's full of practical tips and suggestions to enhance your holiday experience.
To further explore Cork, I suggest you take advantage of the extensive resources available at Pure Cork; it's an extremely useful platform packed with information tailored for visitors to the city.
Sustainable Christmas Tips
Here are a few tips on how we can travel more responsibly in Cork at Christmas.
Choose Accommodations with Renewable Energy: Some hotels in Cork are making strides in sustainability by harnessing renewable energy. The Imperial Hotel, for example, uses 100% renewable electricity throughout the building.
Reduce Food Waste: Be mindful of your food consumption at the Cork Christmas Market. Try to order only what you can finish, and if you find yourself with leftovers, consider sharing them with your travel companions or ask if food vendors can package them for you to enjoy later.
Support Ethical Consumption: Look for local artisans who practice sustainable and ethical manufacturing at the Christmas market. For instance, the market often features local artisans who create jewellery from recycled materials or vendors who produce soaps and candles using natural, locally sourced ingredients.
Adopt a Sustainable Diet: Embrace a sustainable diet by opting for plant-based or vegetarian options available at the Christmas market in Cork. Traditional Irish vegetable stew or dishes featuring locally grown produce are delicious and have a smaller environmental footprint than meat-based meals.
Use Sustainable Transport: Instead of relying on taxis or rented cars, consider using Cork's public transport system, which includes buses and trains. Better yet, explore the city by foot or bicycle to reduce your carbon footprint while also giving you a chance to appreciate the city's winter beauty at a leisurely pace.
FAQ
When is Cork Christmas Market?
The Cork Christmas Market takes place from 24th November 2023 to 7th January 2023.
Where is Cork Christmas Market?
Cork Christmas Market is centrally located in the city, with Grand Parade and Bishop Lucey Park being two of the primary sites.
What time does Cork Christmas Market open?
Glow Cork usually opens in the afternoon, around 12pm to 8:30pm.
What is the weather like in Cork at Christmas?
Winter in Cork can be chilly, with temperatures ranging from 4°C to 8°C. Expect some rain, as December is typically one of the wetter months.
Are there vegetarian food options at the Cork Christmas Market?
Many vendors at the Christmas Market cater to vegetarians, offering dishes such as Irish vegetable stew and various baked goods.
If you would like to leave a review of Cork Xmas Market, comment below.
—
Recommendations are independently chosen based on personal travel experiences and extensive research. This post contains affiliate links to hotels and tours in Cork, Ireland. This means I get a small commission from any bookings at no extra cost to you.