Trier is one of Germany's oldest cities. Known for its rich history and UNESCO World Heritage sites like the Porta Nigra, the city also plays host to the wonderful Trier Christmas Market.
This guide aims to help you navigate a visit to the Christmas market, providing essential information on its dates, opening times, locations and local specialties for the 2023 season.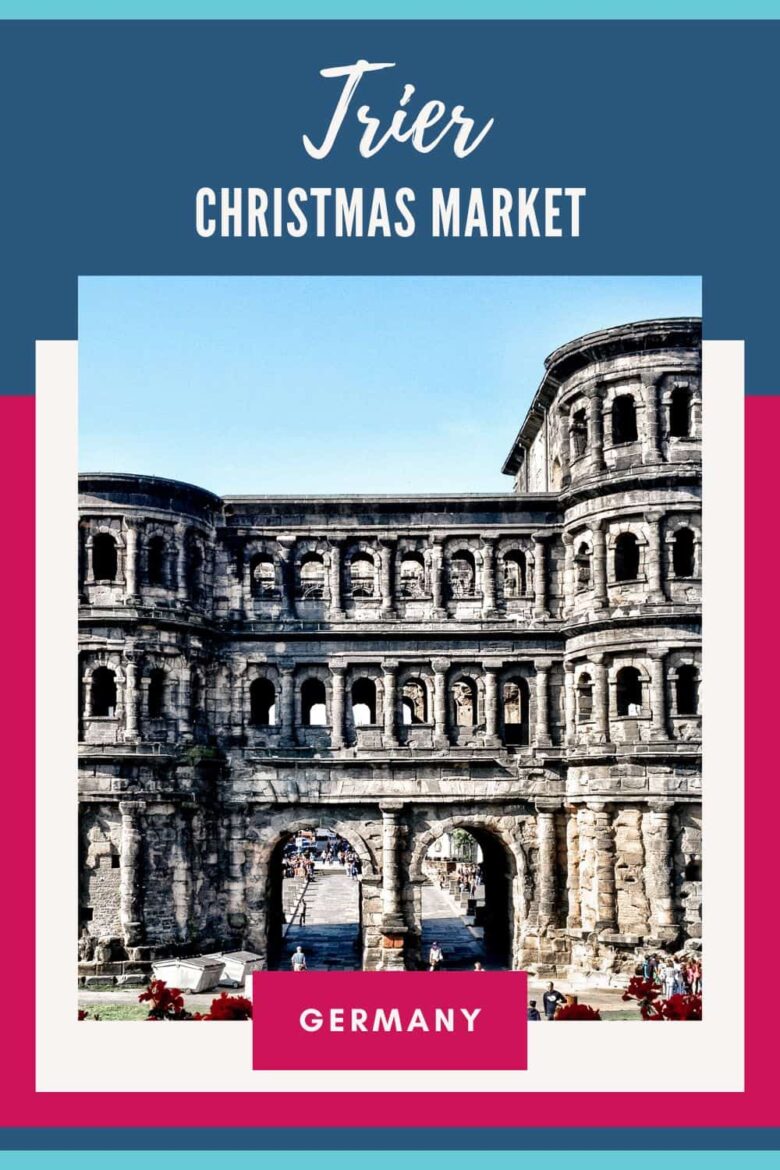 Trier Christmas Market 2023
Christmas in Trier is an enchanting time of the year, as the ancient city is adorned with pretty lights.
At the Christmas market in Trier, you'll find around 100 beautifully decorated wooden huts, each selling a variety of festive goods.
The market is centred around the city's historic Hauptmarkt, where the stunning backdrop of the Church of Our Lady and St Peter's Cathedral set the stage for a truly unique Christmas experience.
Goods range from handcrafted decorations and wooden toys to Mosel wines, ideal for those seeking a touch of authenticity in their Christmas shopping.
Dates and Location
Trier Christmas Market dates: 24th November to 22nd December 2023.
Location: Hauptmarkt and Trier Cathedral.
Opening times: 11am to 8pm.
Christmas Day: Closed.
Admission: Free, no tickets required.
Christmas lights: Yes, from 24th November.
Santa: Yes, at the Domfreihof.
Ice skating: No, but you can skate at Winter Land.
Vegetarian: Yes, plenty of options.
Vegan: Yes, plenty of options.
Gluten-free: Yes, but limited.
Accessible: Yes.
Pet-friendly: Yes, but not recommended during busy periods.
Parking: Please take public transport to help limit congestion.
Reason to visit: UNESCO setting, historical puppet theatre, medieval main market, mulled wine queen and Christmas bakery angels.
Recommended tour: City walk with wine tasting tour.
Specialities: Trierer lebkuchen, regional bratwurst, traditional handmade chocolates, Mosel wines.
Where to stay: Park Plaza Trier is a popular, eco-friendly hotel located 3-minutes from the Christmas market at Hauptmarkt.
Hotels near Trier Christmas Market
Staying in Trier's city centre puts you right in the heart of the festivities, with the Christmas market just a short stroll away at Hauptmarkt and Trier Cathedral.
To stay in this area, I suggest considering Park Plaza Trier, known for its sustainability initiatives, great value and close proximity to the Christmas market.
Location of Trier Christmas Market
Christmas in Trier
This video provides a real-time glimpse into Trier's Christmas market and light decorations. It captures the festive atmosphere, the variety of stalls and the overall experience you can anticipate when visiting.
To help you further plan your festive trip, I've compiled an in-depth German Christmas Market 2023 guide detailing the best Christmas markets across Germany, which I hope you'll find to be a valuable resource.
Christmas Specialties in Trier
Sauerbraten: A classic German dish, Sauerbraten is a pot roast, traditionally made from beef. The meat is marinated for several days in a mixture of vinegar or wine, water and a blend of spices before being slow-cooked. It's often served with red cabbage, potato dumplings, or boiled potatoes, making for a hearty Christmas meal.
Weihnachtsgans: Often the star of the Christmas table in Germany, Weihnachtsgans is a roasted goose. The goose is typically stuffed with a mixture of apples, onions, chestnuts and prunes, then roasted until the skin is crispy and golden. The accompanying sides are usually potato dumplings and red cabbage.
Christstollen: A truly festive treat, Christstollen is a traditional German Christmas bread. Loaded with dried fruit, nuts and marzipan and dusted with a layer of powdered sugar, it's an aromatic sweet bread with a history dating back to the 14th century. It's often served in slices with a cup of coffee or tea.
Lebkuchen: You'll find Lebkuchen, German gingerbread cookies, all across Germany during the Christmas season. These sweet, slightly spicy biscuits may contain nuts, candied citrus peel and various spices like aniseed, coriander, cloves and allspice. They are either round or heart-shaped, often glazed or coated with chocolate.
Kartoffelpuffer: A favourite among vegetarians, Kartoffelpuffer are German potato pancakes. Grated potatoes are mixed with onion, egg and flour and then fried until crispy. They can be enjoyed sweet, with apple sauce or sugar, or savoury, with sour cream.
Rote Beete Carpaccio: A popular vegetarian option for a Christmas starter, Rote Beete Carpaccio is a carpaccio-style beetroot dish. Thinly sliced beetroot is marinated in a tangy vinaigrette and then topped with crumbled goat cheese and toasted walnuts, a healthy and flavourful dish to start your Christmas feast.
Food and Drinks at the Christmas Market
Feuerzangenbowle: An iconic German Christmas drink, Feuerzangenbowle is a traditional hot rum punch. It involves a rum-soaked sugarloaf set on fire and allowed to drip into a bowl of heated wine, creating a spectacle that's as entertaining as it is delicious. The result is a sweet, strong, warm drink that will keep you toasty at the Christmas market.
Bratwurst: Synonymous with German cuisine, Bratwurst is a type of German sausage made from pork, beef, or veal. You'll find these sizzling on grills at the Christmas market, served in a bread roll with mustard or ketchup, making for an easy and satisfying on-the-go snack.
Reibekuchen: Also known as Kartoffelpuffer in some regions, Reibekuchen is German potato pancakes. At the Christmas market, they are traditionally served with apple sauce for a sweet and savoury treat that appeals to a wide range of tastes.
Flammkuchen: Originating from the Alsace region, Flammkuchen is a type of thin-crust pizza. Topped with crème fraîche, thinly sliced onions and bacon, it's baked in a high-temperature oven until the edges are crispy. You'll find stalls in the Trier Christmas Market serving this savoury delight, often with additional toppings.
Gebrannte Mandeln: A Christmas market isn't complete without Gebrannte Mandeln – German roasted almonds. They are cooked in a mixture of sugar, cinnamon and water until the sugar crystallises, coating the almonds with a sweet, crunchy shell. Sold in paper cones, they make for a lovely snack as you stroll through the market.
Schokofrüchte: A popular dessert at the Christmas markets in Trier, Schokofrüchte are fresh fruits such as strawberries, bananas and apples, skewered on a stick and dipped in melted chocolate. Once the chocolate sets, you're left with a delightful sweet treat that balances the richness of the chocolate with the freshness of the fruit.
What to Buy
Handcrafted Ornaments: A distinctive feature of Trier's market, handcrafted ornaments make perfect keepsakes. Craftmakers create these beautiful decorations from materials like glass, wood and ceramics. You'll find a variety of designs ranging from traditional German motifs to modern styles.
Wooden Toys: Intricately carved wooden toys are a German Christmas market tradition. These charming items, crafted by skilled artisans, make delightful presents for children, with an assortment of animals, dolls and vehicles on offer. They also serve as thoughtful, nostalgic gifts for adults.
Local Wine: Trier is renowned for its local Mosel wine. At the Christmas market, you'll come across stalls selling bottles from local vineyards. Consider purchasing a bottle of Riesling or perhaps a Weißherbst, a German rosé, for a true taste of the region's viticulture.
Nativity Scenes: Unique to this region are the hand-carved nativity scenes. Artisans craft these scenes with great care, often using local woods. They range in size and complexity, from simple sets to elaborate multi-piece displays.
Christmas Pyramids: Traditional Christmas pyramids are a staple at German Christmas markets. These wooden carousels, inspired by the mining history of the Erzgebirge region, feature intricate designs and often come with candles. When lit, the heat causes the pyramid to spin, creating a mesmerising effect.
Winter Clothing: Stalls selling winter clothing are common during winter's cold. From handmade woollen scarves and hats to traditional mittens and socks, these cosy items provide warmth and make for practical gifts.
For more information during your visit, you'll find that the City of Trier operates an insightful website, which can be a handy tool for planning and enhancing your city experience. For example, they provide a detailed list of the city's most popular attractions.
Sustainable Christmas Tips
Here are a few tips on how we can travel more responsibly in Trier at Christmas.
Use of Renewable Energy: Make a conscious effort to support businesses that use renewable energy. For instance, the Park Plaza Trier Hotel, close to the Christmas market, uses 100% renewable electricity, playing a part in reducing its carbon footprint.
Reducing Food Waste: Trier's food scene is vibrant, especially at Christmas. However, it's essential to be mindful of food waste. Plan your meals, buy only what you need at the Christmas market stalls, and don't forget to ask for smaller portions if you're not very hungry.
Ethical Consumption: Choose to buy from local artisans and vendors at the Christmas market, supporting the local economy and reducing the environmental impact of long-distance shipping. This is also an opportunity to purchase unique gifts that reflect the region's rich culture and traditions.
Sustainable Diets: Opt for plant-based or vegetarian options when dining in Trier. Local stalls at the Christmas market offer a range of vegetarian food options, including Kartoffelpuffer (potato pancakes), which are both delicious and more sustainable than meat-heavy alternatives.
Sustainable Transport: Consider using public transport or cycling to explore Trier. The city is well-connected by bus lines and has a comprehensive network of cycling paths for those who prefer to bike. Walking is another excellent option, as the Christmas market and many of the city's highlights are within easy reach of each other in the city centre.
FAQ
When is Trier Christmas Market?
Trier Christmas Market dates are from 24th November to 22nd December 2023.
Where is Trier Christmas Market?
Trier Christmas Market is located in the heart of the city, in Hauptmarkt, the main market square, and the adjacent Domfreihof, in front of the impressive Trier Cathedral.
What time does Trier Christmas Market open?
The Christmas market in Trier opens daily from 11am to 8pm.
What's the weather like in Trier during the winter season?
Winter in Trier is relatively mild, with temperatures ranging from 1°C to 5°C. While snowfall isn't frequent, it does occur and adds to the festive feel.
Is Trier Christmas Market child-friendly?
Absolutely, the Christmas market is family-friendly. Children can ride the carousel and take part in craft activities, and meet Santa at Domfreihof.

Are there any hotels near Trier Christmas Market?
Yes, there are several options for accommodation near the Christmas Market. One notable choice is the Park Plaza Trier, known for its excellent location and reviews.
Are there guided tours available in Trier during Christmas?
Indeed, you can opt for a guided city tour to learn about Trier's rich history and heritage or a food tour to delve into the region's culinary scene.

If you would like to leave a review of Trier Xmas Market, comment below.
—
Recommendations are independently chosen based on personal travel experiences and extensive research. This post contains affiliate links to hotels and tours in Trier, Germany. This means I get a small commission from any bookings at no extra cost to you.