Stuttgart's Christmas Market is one of Germany's oldest and largest, attracting thousands of visitors yearly.
Its sprawling layout features over 280 Christmas stalls, providing a wide range of festive products and traditional German food and drinks.
In this guide, I share the best hotels near Stuttgart Christmas Market, prioritising both hotel quality and proximity to the main locations.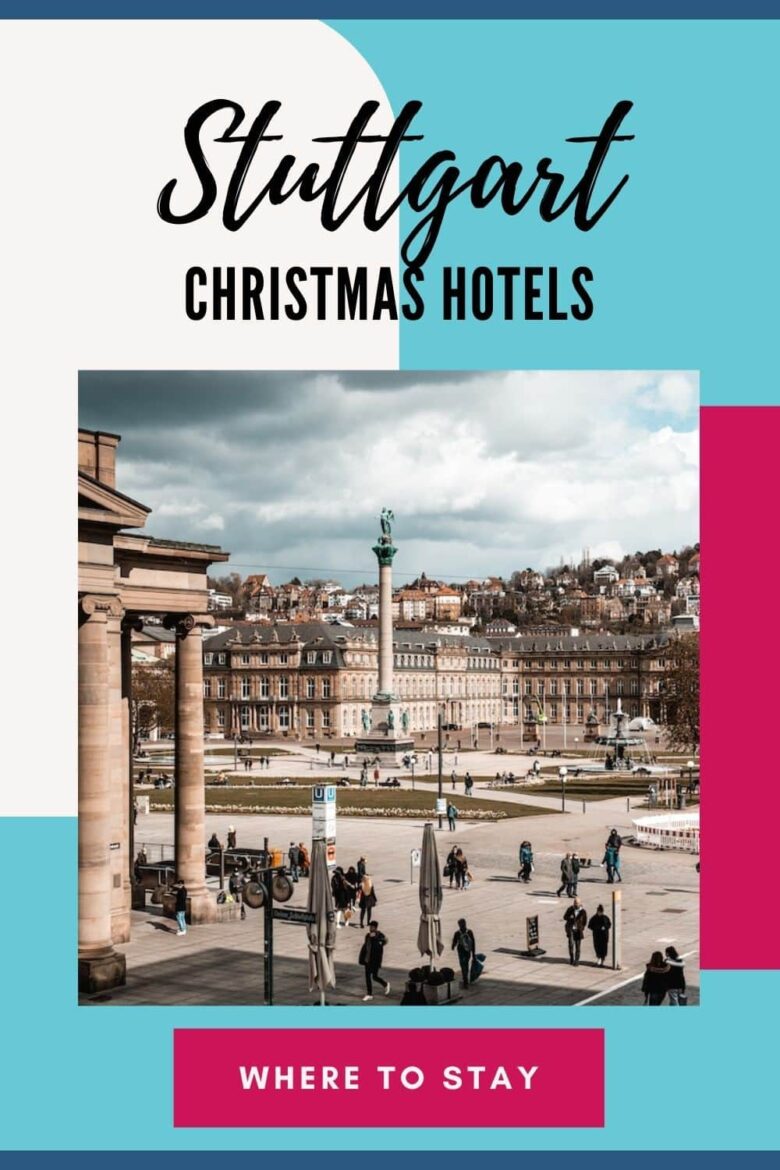 Hotels near Stuttgart Christmas Market
For easy access to the Christmas market in Schlossplatz, you'll want to stay in the central Stuttgart-Mitte district, specifically in the area between the Rathaus and Hauptbahnhof, the main train station. This area puts you within walking distance of the festive stalls and seasonal activities.
My top hotel pick, which combines comfort with an unbeatable location, is conveniently situated in this very district, near the main Christmas market at Schlossplatz and the smaller market at Marktplatz.
Top Pick
Emilu Design Hotel
Address: 4 Nadlerstraße, Stuttgart
Neighbourhood: Stuttgart-Mitte
Distance to the Christmas market: 7-minute walk (600 metres)
The Emilu Design Hotel enjoys an excellent location, making it ideal for visiting Stuttgart's Christmas Market and city attractions. The hotel features modern, comfortable rooms with all essential amenities, including a fifth-floor option with impressive views. Staff are consistently friendly and eager to offer helpful advice. Amenities like on-site parking, a sauna, and a roof terrace make it a solid choice for both leisure and business travellers.
Features:
Distinctive decor and design.
Stylish rooms with ample natural light.
Huge selection for breakfast.
Great location near the Marktplatz Christmas market.
Sustainability:
Efforts are made to minimise food waste.
Vegetarian and vegan menus are available.
Electric vehicle charging station.
Opportunity for artists to display their work in the hotel.
Pros: Excellent location for city exploration, modern, well-equipped rooms, friendly, knowledgeable staff.
Cons: Not as close to Schlossplatz as other hotels listed here.
Check Availability
I'll also detail a few other hotel options near the Christmas market to consider. These selections vary based on factors like location, style, and eco-friendliness, providing alternatives to suit different preferences.
Next Best
Der Zauberlehrling
Address: Rosenstr. 38, Stuttgart, Germany
Neighbourhood: Stuttgart-Mitte
Distance to the Christmas market: 11-minute walk (750 metres)
Der Zauberlehrling Hotel is situated in the heart of Stuttgart, making it a convenient base for visiting the Christmas market. The hotel is unique for its creatively themed rooms, each one different from the next. Amenities such as a jacuzzi, floor heating in the shower area, and well-secured central parking particularly cater to guests with sports cars. Staff at the hotel are known for their friendliness, adding to the overall positive experience.
Boutique Hotel
Jaz in the City
Address: Wolframstrasse 41, Stuttgart, Germany
Neighbourhood: Stadtbibliothek
Distance to the Christmas market: 6 minutes by train (1.7 km)
Jaz in the City is a boutique hotel that places emphasis on sustainability, using 100% renewable electricity. It's well-located, within a short U-bahn ride from the Christmas market, and surrounded by libraries, shops, and restaurants. The hotel features friendly staff, good breakfast options, and modern, spacious rooms. Extra value is often found in high-floor corner rooms, and the property is family-friendly. Nearby garage parking is available at a fair price. Don't miss out on visiting Stuttgart's Stadtbibliothek, the famous and beautiful city library that is located near the hotel.
Budget Hotel
Motel One Stuttgart
Address: Lautenschlagerstraße 14, Stuttgart, Germany
Neighbourhood: Train Station
Distance to the Christmas market: 7-minute walk (550 metres)
Motel One Stuttgart is centrally located near the main station. The hotel is modern and well-maintained, with particular attention given to the lobby area's design. It's eco-conscious, using 100% renewable electricity throughout the property. While the rooms are small and the breakfast is basic, the overall experience offers good value for money, especially for those looking for tidy, comfortable accommodation. This is the best budget hotel in Stuttgart.
Sustainable Hotel
Kronenhotel
Address: Kronenstrasse 48, Stuttgart, Germany
Neighbourhood: Train Station
Distance to the Christmas market: 15-minute walk (1.1 km)
Kronenhotel is a sustainable place to stay in Stuttgart for the Christmas market, running on 100% renewable electricity. It is located within a 10-minute walk from the main station and sits in a quiet, pleasant area. The hotel is known for its clean, spacious rooms and outstanding breakfast served in a stunning courtyard. Staff are consistently praised for their friendliness and professionalism, adding extra value to the stay.
Apartment Stay
Kerner Apartement
Address: Kernerstrasse 34, Stuttgart, Germany
Neighbourhood: Train Station
Distance to the Christmas market: 15-minute walk (1.1 km)
KernerApartement provides a centrally located yet peaceful stay in a quiet, upscale neighbourhood near the Christmas market. Your host, who lives in the same building, greets you at the door and ensures seamless communication throughout your stay. The apartment features a modern, fully-equipped kitchen, a large dining area, and a spacious balcony. Amenities like bakeries and restaurants are conveniently close, making it a well-rounded choice for those seeking the comforts of home while away.
To get all the practical information such as latest dates, opening times and locations to help plan your visit, I recommend you read my Stuttgart Christmas Market guide.

If you're keen to expand your festive horizons and discover other exceptional markets, my guide to the best Christmas markets in Germany lists places you should consider visiting.
Sustainable Travel Tips
Here are a few tips on how we can travel more responsibly in Stuttgart at Christmas, including opting for a green hotel near the festive market.
Choose an Eco-Friendly Hotel: Stuttgart has a selection of hotels that operate on renewable energy. Staying in one of these environmentally responsible options could significantly lower your holiday carbon footprint. Plus, their proximity to the Christmas market means you can easily walk, reducing your need for car travel.
Minimise Food Waste: The Christmas markets in Stuttgart are a culinary delight but generate a lot of waste. Order portions that you can finish, and if you're dining in local restaurants, consider sharing dishes to avoid unnecessary waste.
Ethical Consumption: The Christmas market stalls are full of tempting items, from decorations to unique crafts. Think twice before you buy, and aim to purchase only what you truly need or can use. In Stuttgart, many artisans produce locally sourced and crafted goods, making your shopping both ethical and supportive of local businesses.
Opt for Sustainable Transport: Stuttgart has a robust public transport system that includes trams and buses. By choosing public transport or even cycling, you'll reduce your carbon footprint and experience the city like a local. Some of the eco-friendly hotels are located near public transport links, making it easier to explore the city sustainably.
Further Information
For a well-rounded trip to the city, consider using Visit Stuttgart as your go-to resource for neighbourhood guides and tailored trip plans.
You'll find actionable advice and real-time updates that help make your stay in Stuttgart more efficient and enjoyable.
If you have questions or want to leave a hotel review, please do so in the comments.
—
Recommendations are independently chosen based on personal travel experiences and extensive research. This post contains affiliate links to hotels in Stuttgart, Germany. This means I get a small commission from any bookings at no extra cost to you.