Winter in Hamburg carries a unique charm, with crisp air and twinkling lights reflecting off the Alster River. This lively city embraces the festive season with warmth, transforming into a winter wonderland lined with historic architecture and vibrant Christmas markets.
In this guide, I will detail all the essential information, such as confirmed 2023 dates, opening times, locations, must-visit Christmas stalls and Hamburg's special delicacies you wouldn't want to miss.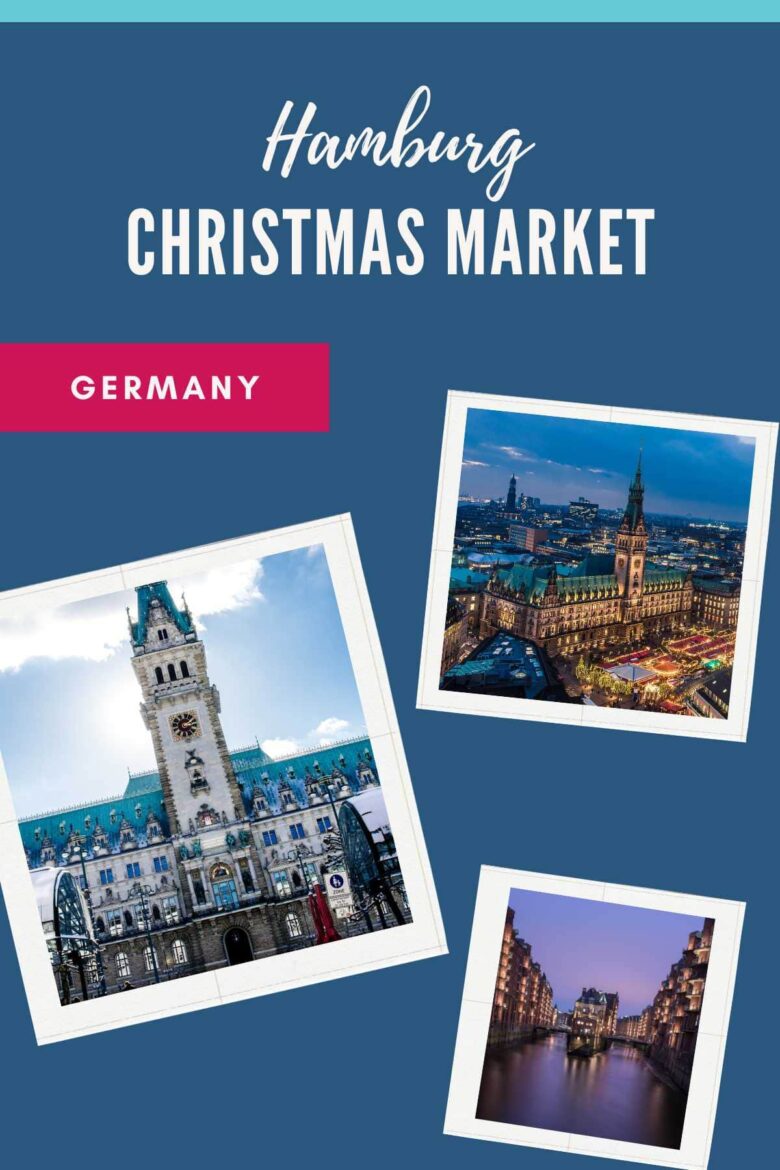 As December approaches, Hamburg slips into its festive attire, radiating with the spirit of Christmas. The city's architectural backdrop is beautifully complemented by the glow of festive lights.
Hamburg Christmas Market 2023
The Christmas market in Hamburg is known for its unique blend of the traditional and the unconventional, with historic squares and streets transformed into festive hubs.
In particular, you'll find the 'Historic Christmas Market' on Rathausmarkt, featuring vintage carousels and artisans demonstrating traditional crafts.
Meanwhile, the 'Santa Pauli Christmas Market' in the city's famous Reeperbahn district adds a quirky twist to holiday celebrations, reflecting the area's vibrant nightlife scene.
In 2023, there will be 21 Christmas markets across Hamburg. Each market is distinct, catering to different tastes and experiences, ensuring a diversified festive experience when you're in Hamburg.
1. Historic Christmas Market at the Town Hall
Set against the backdrop of Hamburg's town hall, the Historic Christmas Market is a beloved annual event known for its varied offerings from numerous traders and craftspeople.
Its extensive selection of culinary treats, including signature mulled wine, gingerbread and roasted almonds, delights visitors, while the dedicated toy street mesmerises children.
With a longstanding commitment to sustainability and fair trade, it's a festive tradition that's remained a cornerstone of the season for over two decades.
Hamburg Christmas Market dates: 27th November to 23rd December 2023.
Location: Rathausmarkt (Hamburg Town Hall).
Opening times: Monday to Sunday: 11am to 9pm.
Christmas Day: Closed.
Admission: Free, no tickets required.
Santa: Yes. See the flying Santa Claus daily at 4pm, 6pm and 8pm.
Ice skating: Not at the Christmas market but at Planten un Blomen Park.
Music: Wind quartet every day except Saturday.
Carousel: The historic carousel is located in the centre of this market.
Vegetarian: Yes, plenty of options.
Vegan: Yes, plenty of options.
Gluten-free: Yes, but limited.
Accessible: Yes, this Christmas market is fully accessible.
Pet-friendly: Yes, dogs are allowed on a lead but not recommended.
Parking: Please take public transport to help limit congestion.
Reason to visit: Historic setting, dedicated toy street for children, commitment to sustainability, and diverse food specialties.
Recommended tour: Affordable private tour with a local guide.
Specialities: Hamburg Fischbrötchen, glühwein variations, local gingerbread, distinct Christmas baked treats in the Spezialitätengasse.
Where to stay: Tortue Hamburg is a popular hotel located 6-minutes from the Town Hall.
Hotels near Hamburg Christmas Market
Centrally located, Hamburg's Altstadt is your best bet to be close to the Christmas market at Rathausmarkt.
Bursting with history and culture, it also serves up a rich dining scene and a convenient transport network.
To make your stay even better, consider Tortue Hamburg, a highly-reviewed hotel near Rathausmarkt, ensuring you're right in the heart of the Christmas festivities.
Location of Hamburg Christmas Market
City and Christmas Tours
A city tour of Hamburg presents a unique opportunity to delve into the city's extensive history and rich culture. The notable old town, striking facades and impressive architecture make Hamburg a city that commands a visit, even in the chill of winter.
You might consider this affordable private city tour of Hamburg. It gives you access to many of the city's highlights, accompanied by a local guide, all at a reasonable cost. It's particularly beneficial if you're making your first visit to Hamburg.
A city tour typically includes visits to iconic Hamburg landmarks and attractions, such as the historic Speicherstadt, the elegant Binnenalster and the imposing St. Michael's Church. But this depends on the exact tour and the day.
In addition, you might want to think about participating in a food tour to understand local culture through its cuisine. The popularity of food tours is on the rise, and it's an option well worth considering. This chocolate-based tour is particularly popular and well-reviewed.
Christmas Markets in Hamburg
As you explore Hamburg, be sure not to bypass the many other Christmas markets spread throughout the city's districts and plazas.
While the Historic Christmas Market at Rathausmarkt is the most popular, the following also provide their distinctive appeal.
2. Christmas at the Gänsemarkt
The Gänsemarkt Christmas market transports you to an enchanting world reminiscent of a quaint village composed entirely of gingerbread cottages.
Each sale stand is meticulously designed, emanating a cosy and inviting ambience that beckons families for a festive stroll.
This Christmas market is about aesthetics and features a broad range of culinary specialties, from succulent suckling pigs to fragrant gingerbread, along with imaginative decorations and artisanal crafts.
Unique to Gänsemarkt, the market encapsulates a poetic Christmas concept that pays homage to the renowned poet Lessing, whose monument is a key feature of the area.
This theme extends to Christmas tree baubles emblazoned with his portrait and text panels displaying some of his famous quotations, immersing you in a culturally enriching and festive experience.
Gänsemarkt dates: 23rd November to 23rd December 2023.
Location: Gänsemarkt.
Opening times: 11am to 9pm, food stalls close at 11pm.
Sunday of the Dead: Closed – 26th November 2023.
Location of Gänsemarkt
3. HafenCity Christmas Market
At the heart of Hamburg's city centre, just 800 metres from City Hall, the HafenCity Christmas Market comes to life each winter.
The air fills with the comforting aroma of mulled wine and roasted almonds as vibrant lights shimmer along the Überseeboulevard, setting the scene for a magical festive experience.
Nestled in front of the Old Port Authority, a distinct Christmas atmosphere awaits visitors. Amidst carefully curated stalls serving Christmas delicacies and an exclusive Christmas lounge, the Überseequartier introduces a novel seasonal attraction: "Wintergolf".
This engaging activity promises to be a source of joy for visitors of all ages. Adding to the festivities, young golfers up to the age of 18 are welcome to join the game at no cost, making this market a unique blend of tradition and entertainment.
HafenCity Market dates: 20th November to 30th December 2023.
Location: Überseeboulevard, HafenCity.
Opening times: 12pm to 8:30pm.
Sunday of the Dead: Closed – 26th November 2023.
Christmas Eve: Closed.
Christmas Day: Closed.
Accessible: Yes.

Location of HafenCity Market
4. St Pauli Christmas Market
The Santa Pauli Christmas Market in Hamburg injects a lively spin on the conventional festive celebration, blurring the lines between time-honoured traditions and the vibrant local culture of the Reeperbahn.
As the most enticing Christmas market in Hamburg, it's more than just the mulled wine that raises the temperature.
The Spielbudenplatz transforms during the holiday season, becoming a Christmas market infused with a unique spirit. Amidst live music and Christmas angels, a celebration of love and joy comes to life in a way that's distinctively Reeperbahn.
The Santa Pauli Market caters to all visitors, solo travellers, families, or friends. With its cosy open-fire bar, the Winter Deck serves warming Christmas drinks, providing an ideal spot for those seeking a comforting cup of mulled wine.
Beyond the classic stalls, an 18+ fir forest, styled in true Reeperbahn fashion, contributes to a cheeky, fun-filled market stroll.
For the adventurous, the Santa Pauli Strip tent hosting titillating shows is a major attraction. Scattered amongst these are stalls offering all the unique products one would expect at a Kiez Christmas market.
St Pauli Christmas Market dates: 20th November to 23rd December 2023.
Location: Spielbudenplatz, St Pauli.
Opening times: 4pm to 9pm.
Sunday of the Dead: Closed – 26th November 2023.
Accessible: No, some parts of this market are not accessible.
Location of St Pauli Christmas Market
5. God Jul Nordic Christmas
The God Jul Nordic Market is an annual hotspot for fans of Scandinavian and Nordic charm, where visitors can immerse themselves in a quintessential Nordic Christmas atmosphere.
It's home to traditional and regional specialities from Sweden, Finland, Norway and Denmark, making it a gastronomic delight.
The market spreads across the Finnish, Norwegian, Danish and Swedish seamen's churches located along Dietmar-Koel-Strasse. These Christmas bazaars often mark the start of the Advent season.
A key tradition that endears many to the market is the Lucia concert, held in the main church of St. Petri. It signifies the commencement of the Christmas season, with the choir filling the air with melodic songs.
God Jul dates: 17th to 19th November and 24th to 26th November 2023.
Location: Ditmar-Koel-Straße 6, Portugiesenviertel.
Opening times: Friday to Saturday: 12am to 7pm. Sunday: 12am to 6pm.
Accessible: The Swedish Christmas Market is fully accessible. The Finnish Christmas Market is not accessible.
Location of God Jul Market
6. Spitalerstraße Christmas Market
Just as the Christmas season sets in, Spitalerstraße, in the heart of Hamburg, transforms into a picturesque winter wonderland.
The Spitalerstraße Christmas Market has an irresistible allure, enticing visitors with traditional treats and diverse offerings.
An enchanting blend of tradition and contemporary aesthetics characterises the Spitalerstraße Christmas Market.
Amid the lively shopping street, rustic stalls decked out in traditional Hanseatic brick aesthetics come alive during the festive season.
Modern light installations imbue the scene with a radiant glow, elevating the Christmas village's charm.
An unmistakable highlight of the Spitalerstraße Christmas Market is one of Hamburg's largest walk-in Christmas trees, a must-visit for fans of extraordinary sights.
The market buzzes with life, thanks to the artisans and gastronomes that call it home. A myriad of food stands tempts visitors with a mix of timeless culinary classics and innovative dishes.
The scent of mulled wine in the air and the sight of festively decorated fir trees solidify the quintessential Christmas atmosphere.
Spitalerstraße Christmas Market is also the perfect destination for Christmas shopping, surrounded by eclectic products and quintessential souvenirs.
Spitalerstraße Market dates: 23rd November to 30th December 2023.
Location: Spitalerstraße, City Centre.
Opening times: 11am to 9pm. Food stalls open until 11pm.
Sunday of the Dead: Closed – 26th November 2023.
Christmas Eve: Closed.
Christmas Day: Closed.
Boxing Day: Closed.
Accessible: Yes.
Location of Spitalerstraße
7. Fleetinsel Christmas Market
Nestled directly on the Michaelis bridge and within easy reach of Stadthöfe, Grosse Bleichen and Neuer Wall, Fleetinsel is an enchanting sanctuary in the heart of Hamburg's city centre.
The Fleetinsel Christmas Market is a unique seasonal experience set right in the heart of Hamburg, yet it manages to provide an escape from the city's bustling centre.
It sits directly alongside one of the city's characteristic canals, the surfaces of which mirror the atmospheric lights of Advent.
This spellbinding locale encourages you to take a moment, making it an ideal gathering place for families, friends, or colleagues.
At the Fleetinsel Christmas Market, the tradition of enjoying after-work mulled wine is kept alive even in adverse weather, thanks to a generously covered area.
Expect a warm welcome, an assortment of gifts and decoration ideas and a selection of Advent delicacies to choose from.
The Christmas market in Fleetinsel, truly an oasis amid downtown Hamburg, presents a magical, immersive and quintessentially festive experience.
Fleetinsel Market dates: 27th November to 23rd December 2023.
Location: Heiligengeistbrücke, City Centre.
Opening times: Sunday to Thursday: 12pm to 9pm. Friday and Saturday: 12pm to 10pm.
Location of Fleetinsel Christmas Market
What to Expect
In this video, you'll get an authentic visual insight into the Hamburg Christmas Market at the Town Hall. It captures the market's bustling atmosphere, twinkling lights, and an array of stalls brimming with food, drink and festive wares.
To plan your trip further, you might find my comprehensive guide to the best Christmas markets in Germany 2023 particularly helpful, as it provides accurate and updated information on each market's unique appeal, location and opening hours.
Food at the Christmas Markets
Stollen: Originating from Dresden, Stollen is a rich, fruity yeast bread filled with nuts, dried or candied fruit, and often marzipan. It's a staple Christmas treat dusted with icing sugar, embodying the festive spirit.
Lebkuchen: These are German gingerbread cookies, a true symbol of Christmas in Germany. Lebkuchen are sweet and slightly spicy, and they're often covered in chocolate or icing for an extra festive touch.
Marzipankartoffeln: Literally translated as 'marzipan potatoes', these sweet treats are small, potato-shaped marzipan candies dusted with cocoa powder. They're a festive favourite, particularly in northern Germany, including Hamburg.
Feuerzangenbowle: A spectacular holiday beverage, Feuerzangenbowle involves a rum-soaked sugarloaf being set on fire, and the melting sugar drips into a pot of warming, spiced red wine. You'll often see this being prepared at festive gatherings.
Glühwein: The aroma of Glühwein fills the air in the Christmas market, as it's a traditional German hot mulled wine typically enjoyed during the cold winter months. It's made by mulling red wine with spices and citrus fruits.
Schmalzkuchen: A must-try snack at the Hamburg Christmas market, Schmalzkuchen are small, deep-fried dough balls served hot and dusted with icing sugar.
Bratwurst: A staple at any German food market, Bratwurst is a type of German sausage made from pork, beef, or veal. It's commonly served hot at the Christmas market in a sliced bun with mustard or ketchup.
Pretzels: Pretzels, or Brezel as they're known in Germany, are another Christmas market classic. These are large, soft, and baked to a perfect golden brown, often sprinkled with coarse salt.
Flammkuchen: Flammkuchen is a special type of German flatbread loaded with various toppings, like crème fraîche, onions and lardons. A thin crust provides a crispy base, creating a delightful contrast with the creamy toppings.
Roasted Chestnuts: Roasted chestnuts are not just an Italian Christmas delicacy but are also found at Hamburg's Christmas market stalls. Their unique, sweet, and nutty flavour is a real treat during the chilly Christmas season.
Belgian Waffles: Among the international treats, you can find Belgian Waffles, which are thick, fluffy, and often served with powdered sugar, hot cherries, whipped cream, or chocolate sauce.
What to Buy
Marzipan Treats: Originating from nearby Lübeck, marzipan confectionery is a popular gift choice. Crafted into all kinds of shapes and figures, these treats are delightful to eat and visually charming.
Hamburg Ornaments: The market is filled with unique Christmas tree ornaments, many inspired by Hamburg's famous landmarks, such as the Elbphilharmonie or the Speicherstadt. They make for a perfect keepsake for your Christmas visit to the city.
Handmade Crafts: Many stalls exhibit local artisans' work, showcasing a range of handmade crafts, from intricately carved wooden toys to unique, beautifully painted ceramics. These items make thoughtful and unique gifts.
Gingerbread Cookies: A Christmas market without traditional gingerbread cookies or Lebkuchen wouldn't be complete. Often heart-shaped and adorned with sweet messages, these spiced biscuits are a beloved holiday staple.
German Christmas Pyramids: A traditional decoration from the Erzgebirge region, Christmas pyramids consist of several layers depicting various Christmas themes. When the heat from candles turns a propeller at the top, the scenes slowly rotate, bringing a whimsical touch to any home.
Warm Winter Clothing: You'll find plenty of stalls selling warm winter clothing, including hats, gloves, scarves and sweaters. Many of these items are hand-knit and made from locally sourced wool, ensuring you stay warm during your winter wanderings.
Glühwein Mugs: These collectable mugs often come filled with glühwein. Each year, the design changes, making them a charming memento of your visit to the Christmas markets in Hamburg.
The official website for Hamburg Travel is a useful resource for visitors planning a trip to Hamburg, offering information on local attractions, events and transportation.
Sustainable Christmas Tips
Many of us are increasingly concerned about climate change and sustainability. Here are a few tips on how we can travel more responsibly in Hamburg at Christmas.
Use public transportation: Hamburg has an efficient and eco-friendly public transport system, including buses and underground and suburban trains. It's well-connected and designed to reduce carbon emissions, making it an excellent choice for getting around during your Christmas visit.
Partake in Hamburg's Green Network: A sprawling network of green spaces, parks and nature reserves spans the city, which promotes leisure activities like cycling or walking. By opting for these modes of travel, you help reduce carbon emissions and get a fresh view of Hamburg's beautiful winter landscape.
Support Local Producers at Christmas Markets: By purchasing locally made gifts and souvenirs, you directly support Hamburg's artisans and reduce your carbon footprint. Handcrafted items at the Christmas market are unique, reflect the city's heritage, and reduce the environmental impact of long-haul shipping.
Opt for Reusable Shopping Bags: The Christmas markets in Hamburg are a shopping paradise, so bring a reusable bag to carry your purchases. This small step makes a considerable difference in reducing the amount of single-use plastic bags.
Choose Restaurants Practising Waste Reduction: Hamburg is home to numerous eateries that prioritise sustainable practices, including minimising food waste. These places often source ingredients locally, further shrinking your carbon footprint.
Explore Renewable Energy in Hamburg: The city is a leading player in Germany's energy transition, with wind turbines and solar panels dotting the skyline. Visit the Energy Hills in Bergedorf or the Energy Bunker in Wilhelmsburg to learn about Hamburg's commitment to renewable energy.
Adopt a plant-based diet: Many food stalls at the Christmas market offer vegetarian and vegan options, making it easy to try a more sustainable diet during your trip. Local dishes, like the vegan Currywurst, prove that sustainability and indulgence can go hand in hand.
FAQ
When is the Hamburg Christmas Market?
Hamburg Christmas Market starts on 27th November and ends on 23rd December 2023.
Where is Hamburg Christmas Market?
The Hamburg Christmas Market is held at Rathausmarkt (Hamburg Town Hall). In total, there are 21 Christmas markets in Hamburg.
What time does Hamburg Christmas Market open?
The Christmas markets in Hamburg are open Monday to Sunday: 11am to 9pm.
Please leave a review of the Hamburg Xmas Market below.
—
Recommendations are independently chosen based on personal travel experiences and extensive research. This post contains affiliate links to hotels and tours in Hamburg, Germany. This means I get a small commission from any bookings at no extra cost to you.