Freiburg is a vibrant university city known for its preserved medieval architecture and extensive network of canals.
During the winter, the city hosts the Freiburg Christmas Market, a major attraction that draws in locals and tourists for its range of traditional German crafts and seasonal treats.
In this article, I'll provide all the essential details, such as the confirmed 2023 dates, opening hours, locations and some unique local specialties.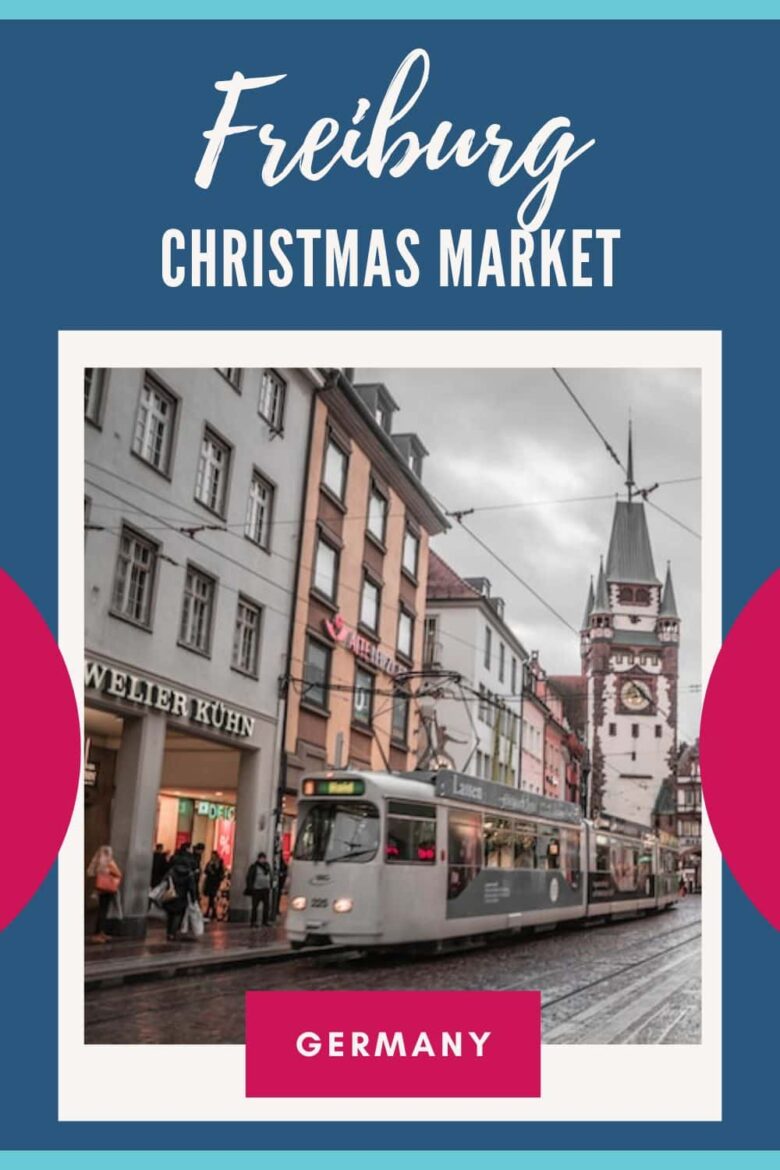 In Freiburg, Christmas is marked by a quiet elegance, characterised by medieval architecture adorned with simple decorations.
Freiburg Christmas Market 2023
The Christmas market in Freiburg stands out for its long-standing tradition, tracing its roots back to the 19th century and officially running since 1973.
With over 120 chalets, the market presents a unique assortment of handcrafted goods, such as ceramics by Karin Heber, and a variety of culinary options, including mulled wine and crêpes.
Recently enhanced lighting concepts add a contemporary touch, while a special family-friendly zone in Colombipark and dedicated photo points offer added dimensions to the visitor experience.
Dates and Location
Freiburg Christmas Market dates: 23rd November to 23rd December 2023.
Location: Rathausplatz.
Also at Franziskanerstrasse, Unterlindenplatz, Turmstrasse, Rotteckring, Predigertor and the Kartoffelmarkt.
Opening times: Monday to Saturday: 10am to 9:30pm. Sunday: 11:30am to 8:30pm.
Sunday of the Dead: Closed on 26th November 2023.
Christmas Day: Closed.
Admission: Free.
Christmas lights: Yes, switch on date: 23rd November.
Santa: No.
Ice skating: No.
Vegetarian: Yes, plenty of options.
Vegan: Yes, plenty of options, including vegan bratwurst, fruit, bakery items, Indian specialties and chocolate.
Gluten free: Yes, plenty of options, including bratwurst, chocolate fruit, crepes, chestnuts and Booja Booja chocolates.
Accessible: Yes.
Pet-friendly: Yes, but not recommended during busy periods.
Parking: Please take public transport to help limit congestion.
Reason to visit: Handcrafted wooden toys; intricate glass ornaments; Freiburg-made ceramics; fewer crowds than elsewhere in Germany.
Recommended tour: Walking tour of the Old Town.
Specialities: Red and white mulled wine, fruit punch, flammkuchen; gingerbread; black forrest cake; plant-based bratwurst.
Where to stay: Hotel Rappen is a popular hotel, located 2 minutes from Rathausplatz.
Hotels near Freiburg Christmas Market
Staying in Altstadt is a wise choice for its proximity to the Christmas market in Freiburg. This historic central district allows easy access to festive events and nearby attractions.
I'd recommend the Hotel Rappen due to its popularity and convenient location near the market.
Location of Freiburg Christmas Market
Recommended Walking and Food Tours
A city tour of Freiburg provides an excellent opportunity to engage with the city's deep-rooted history and vibrant culture. Known for its medieval architecture and scenic beauty, Freiburg merits a visit at any time of the year, including winter.
This guided tour of Freiburg covers many of the city's key attractions, such as the Freiburg Cathedral, the iconic Bächle water channels, and the Schwabentor gate. These tours are particularly helpful for those new to the city, but even locals find them enriching.
For a list of all German Christmas Markets 2023, I recommend checking out my guide, tailored to help you make informed decisions on where to visit in 2023.
Christmas in Freiburg
This video provides a detailed look at what the Freiburg Christmas Market has in store. You'll see an array of stalls, traditional crafts and various activities that contribute to the market's unique atmosphere.
Christmas Specialties in Freiburg
Black Forest ham: A regional specialty, the Black Forest ham originates from the Black Forest region, and its smokey, rich flavour is a testament to its meticulous curing process. While often enjoyed on its own, it's also commonly found in various dishes across the market.
Flammkuchen: Thinly rolled dough reminiscent of pizza, Flammkuchen is typically topped with crème fraîche, onions, and other ingredients. It's baked in a wood-fired oven, giving it a crisp base and smoky flavour.
Schwarzwälder Kirschtorte: Often referred to as Black Forest cake internationally, this layered chocolate sponge cake contains whipped cream, cherries, and cherry schnapps. A Freiburg market visit would be incomplete without sampling this iconic dessert.
Brezeln (pretzels): A staple in many German markets, the Brezeln in Freiburg are soft, chewy, and occasionally garnished with seeds or cheese.
Sausages: Various types of grilled sausages are available, from the classic Bratwurst to regional varieties. They're usually served with mustard or in a bun.
Spiced wine: A warm concoction made from red wine, mulling spices, and sometimes raisins or almonds. It's a popular drink to keep you warm while you browse the market stalls. The Christmas chalets in Freiburg also serve mulled white wine, hot cider and hot chocolate.
Gingerbread: A festive treat, gingerbread is typically sweet, spicy, and adorned with almonds or candied fruit.
Potato pancakes: Crispy on the outside and soft on the inside, these fried potato delights are often paired with applesauce for a mix of sweet and savoury.
Kaiserschmarrn: A shredded pancake dessert, often sprinkled with powdered sugar and served with a side of fruit compote or apple sauce. This is a classic Austrian dessert.
Roasted nuts: Stands around the market often roast almonds, hazelnuts, or other nuts in caramelised sugar, providing a crunchy and sweet snack.
Mushroom dishes: Some stalls focus on mushroom-based dishes, providing vegetarian options ranging from sautéed mushrooms to mushroom stews.
Vegan sausages: Catering to plant-based diets, these sausages, made from various plant ingredients, offer a meat-free alternative without skimping on flavour.
Stollen: A fruit bread containing dried fruit, often dusted with powdered sugar, it's a traditional German Christmas treat.
Hot chocolate: While not unique to Freiburg, the creamy, rich hot chocolate available at the market is a universal favourite, especially on cold days.
Apple fritters: Slices of apple are dipped in a light batter and deep-fried, resulting in a warm, crispy exterior with a soft apple centre.
Christmas Gifts and Stocking Fillers
Handcrafted wooden toys: A prominent feature of the Freiburg market, local artisans display their skills in crafting wooden toys ranging from puzzles to figurines. Each toy is a testament to the region's rich woodworking tradition and serves as an ideal gift for children and collectors alike.
Glass ornaments: Intricately designed and reflecting the attention to detail synonymous with German craftsmanship, these ornaments can adorn Christmas trees or be displayed year-round. They often depict traditional scenes or symbols associated with the festive season.
Black Forest cuckoo clocks: Originating from the Black Forest region, these clocks are both functional and decorative. Their intricate designs and signature cuckoo call make them a distinctive souvenir representing the local culture.
Local ceramic ware: Freiburg's markets often feature ceramic stalls where potters showcase their skills. From mugs to decorative plates, these items combine utility with artistic flair.
Black Forest honey: Harvested from the region, this honey is often darker with a distinct, robust flavour. It serves as a sweet reminder of the region's biodiversity.
Hand-painted Christmas baubles: Unique to the region, these baubles often feature scenes from Freiburg's landmarks or snowy landscapes, making them a festive addition to any Christmas tree.
Wrought iron products: Some market vendors specialise in wrought iron items, ranging from ornate candle holders to decorative wall hangings. The attention to detail in each piece showcases the metalwork skills inherent to the region.
Traditional incense smokers: Often made of wood, these decorative items emit aromatic incense through quirky designs like little houses or figures. They add a sensory element to the festive decorations in homes.
Woollen products: From the surrounding regions, woollen socks, mittens, and hats provide warmth and are typical finds in the market. They also serve as functional gifts for those braving colder climates.
Local wines: The region around Freiburg is known for its vineyards. Bottles of local wine, especially those suited for festive occasions, can be purchased as gifts or souvenirs.
Hand-carved nativity scenes: A classic representation of the Christmas story, these scenes, often carved from wood, range from minimalist designs to intricate depictions. They're a traditional addition to many homes during the festive season.
Things to Do in Winter
For a thorough insight into winter activities and the latest city events, I suggest checking out Visit Freiburg. Here are some of the city's most popular places of interest.
Sustainable Christmas Tips
Here's how you can make your visit to Freiburg more sustainable this Christmas:
Stay in eco-friendly hotels: Freiburg is home to several hotels committed to sustainability. These hotels often adopt green practices like using renewable energy, reducing water waste and implementing recycling programs. When booking your accommodation, look for hotels that highlight their eco-friendly credentials.
Be mindful at the market: While the temptations of the Christmas market are many, it's essential to be conscious of food waste. Order portions you can finish, and if you find yourself with leftovers, consider sharing them with travel companions or storing them for later.
Ethical consumption: With so many artisans showcasing their crafts in Freiburg, it's easy to get carried away. However, mindful shopping means purchasing items you truly value or can use. Consider each item's environmental impact and necessity before making a purchase.
Choose sustainable diets: Many stalls at Freiburg's Christmas market offer locally sourced and organic food options. Opting for these supports local farmers and reduces the carbon footprint associated with food transportation.
Travel sustainably: Freiburg im Breisgau is well-connected with efficient public transport options like trams and buses. Rather than renting a car, use these eco-friendly transport methods or explore the city by foot or bicycle. The compact nature of Freiburg's city centre makes it easy to navigate without relying heavily on motorised transport.
FAQ
When is the Freiburg Christmas Market?
The Freiburg Christmas Market dates are 23rd November to 23rd December 2023.
Where is the Freiburg Christmas Market?
The Christmas market in Freiburg is located in the heart of Freiburg's historic old town, centred around Rathausplatz. You'll also find market stalls along Franziskanerstrasse, Unterlindenplatz, Turmstrasse, Rotteckring, Predigertor and the Kartoffelmarkt.
What time does Freiburg Christmas Market open?
The market's opening hours are Monday to Saturday: 10am to 9:30pm. Sunday: 11:30am to 8:30pm. Sunday of the Dead: Closed on 26th November 2023. Christmas Day: Closed.
Is English widely spoken in Freiburg?
Yes, many locals Freiburg speak English, especially those in the tourist sector. However, a basic grasp of German phrases can enhance your experience and is appreciated by the residents.
If you would like to leave a review of Freiburg Xmas Market, comment below.
—
Recommendations are independently chosen based on personal travel experiences and extensive research. This post contains affiliate links to hotels and tours in Freiburg im Breisgau, Germany. This means I get a small commission from any bookings at no extra cost to you.