Riquewihr is one of the prettiest towns in the Alsace region of France. It's renowned for its well-preserved medieval architecture and scenic vineyards.
During December, the city becomes even more appealing as it hosts one of the most traditional Christmas markets in the region.
In this guide, I'll provide details for visiting Riquewihr Christmas Market, including confirmed 2023 dates, opening times, locations and highlights of the Christmas chalets.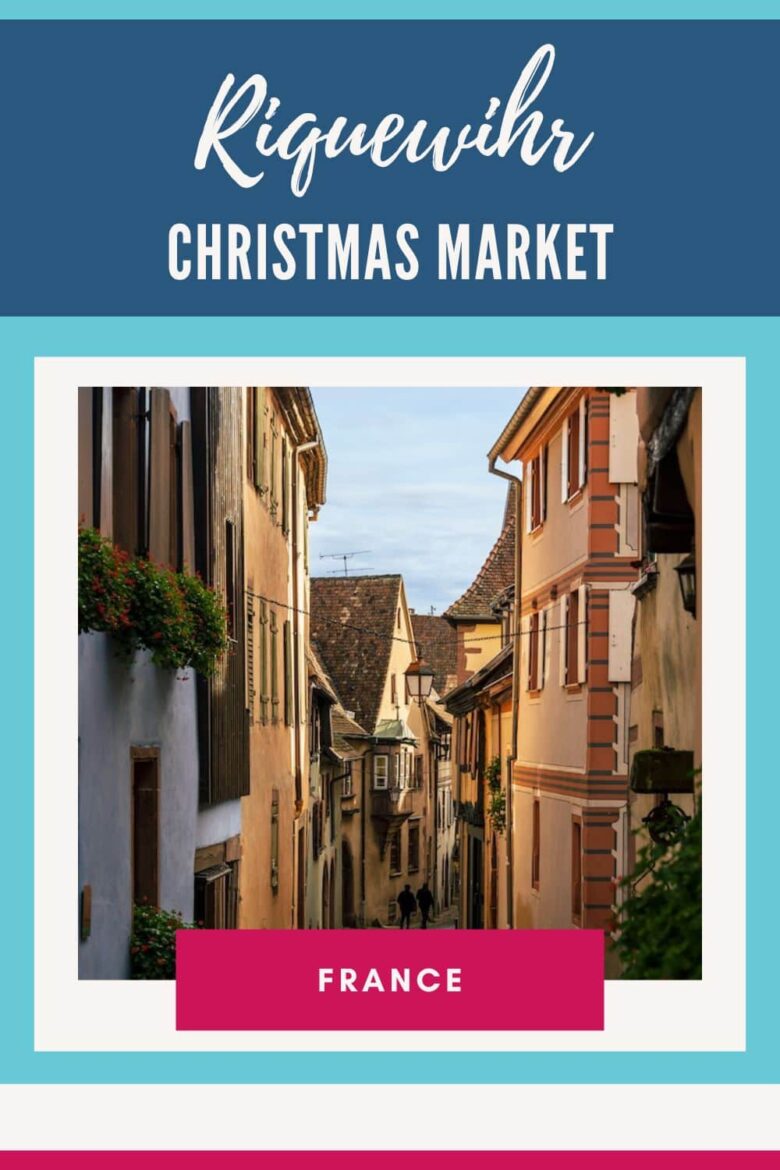 During December, Riquewihr is illuminated by festive lights, casting a warm glow on its medieval architecture.
The town's rich history and winemaking tradition add to the seasonal charm, ensuring a special experience for visitors.
Riquewihr Christmas Market 2023
The Christmas market in Riquewihr is a highlight of the festive season in Alsace. The market primarily focuses on traditional crafts, with artisans presenting handmade goods that are unique to Alsace.
Additionally, local culinary specialties, such as Alsatian wines and festive pastries, bretzels, and traditional confectionaries, are readily available for you to sample, giving a genuine taste of the region's festive fare.
Dates and Location
Riquewihr Christmas Market dates: 25th November to 21st December 2023
Location: Riquewihr Old Town.
Opening times: Monday to Friday: 10am to 6:30pm Saturday and Sunday: 10am to 7:30pm.
Christmas Day: Closed.
Admission: Free, no tickets required.
Christmas lights: Yes, switch on date: 25th November. The Christmas lights are switched off at 10pm each evening to save energy.
Santa: No.
Ice skating: No.
Vegetarian: Yes, plenty of options.
Vegan: Yes, plenty of options.
Gluten free: Yes, but limited.
Accessible: Yes.
Pet-friendly: Yes, but not recommended during busy periods.
Parking: Please take public transport to help limit congestion. You can take the Christmas Shuttle from Colmar to Ribeauvillé, Kaysersberg and Riquewihr Christmas markets.
Reason to visit: Traditional crafts; regional handmade goods; authentic Alsatian wines and cider; Medieval half-timbered houses and cobblestone streets.
Specialities: Alsatian wines; festive pastries; regional cheeses; traditional sausages; mulled wine; spiced breads; flammekueche.
Where to stay: Hôtel De La Couronne is a popular hotel, located directly at the Christmas market.
Hotels near Riquewihr Christmas Market
To be in proximity to the Christmas market in Riquewihr, you'll want to stay in the Centre Ville area, the historic heart of the Old Town, where you'll see the beautiful old half-timbered houses.
I recommend staying at the Hôtel De La Couronne, as it's popular, highly rated, and near the Christmas market.
Location of Riquewihr Christmas Market
For a detailed overview of the best Christmas markets in France, I recommend checking out my guide, where you'll find a list of where to go and help for planning your itinerary.
Christmas in Riquewihr
Christmas Specialties in Riquewihr
Bretzels: Bretzels are a snack you'll frequently encounter at the Riquewihr Christmas Market. While you might associate them more with Germany, the Alsace region has its own special take. Usually, you'll find them both salted for those who want a savoury treat and coated with sugar for a sweet variation.
Vin Chaud: Hot mulled wine, known locally as vin chaud, is a staple at the market. It combines red wine, spices, and sometimes orange peel for a warm, comforting beverage. Usually, it is served in collectible mugs designed specifically for the holiday season.
Flammekueche: Also known as tarte flambée, flammekueche is a local speciality resembling a thin-crust pizza topped with onions, bacon, and a cream sauce. It's a hearty option if you're looking for something more substantial than a snack.
Choucroute Garnie: For meat lovers, choucroute garnie is a go-to dish. It's a generous serving of sauerkraut accompanied by various types of meat, often including sausages and pork. It's a filling dish that pairs well with the local white wines.
Männele: These are small, bread-like figures often resembling little men. Made of brioche dough and studded with chocolate or raisins, männele are especially popular with children but enjoyable for all ages.
Kouglof: This Alsatian brioche is often baked in a distinctive circular bundt pan. You can find it studded with raisins and topped with almonds, providing a sweet and slightly nutty flavour.
Pain d'épices: This spiced bread, resembling gingerbread, is a Christmas classic in Alsace. It's made with rye flour, honey, and spices such as aniseed and is perfect for enjoying with a cup of vin chaud.
Local Confectionary: Sweets like macarons, truffles, and nougat make frequent appearances. These are often locally made, emphasising the flavours and ingredients found in Alsace, such as local honey or almonds.
Vegan Nut Roast: Some stalls serve vegan nut roast, often seasoned with local herbs and spices for plant-based visitors. It's a satisfying option that caters to those on a meat-free diet.
Roast Chestnuts: Look for stalls roasting chestnuts for a simple, warm snack. They're a traditional treat, filling the air with a nutty aroma and providing a quick, satisfying bite to eat.
Schnitzel Sandwich: While not local to Alsace, the schnitzel sandwich is a common find. It's a quick and easy hand-held meal for those wanting to continue their exploration without a break.
Hot Chocolate: You'll find several stalls serving hot chocolate, sometimes with the option to add a shot of something stronger. It's another way to keep warm while perusing the market.
Alsatian wines: The Alsace region is renowned for its wine production. When you visit Riquewihr's Christmas market, sampling the local wines, especially those with a festive twist, is a must. Varieties like Gewürztraminer and Riesling are typical finds.
Bredele: These are small, bite-sized cookies, typically made with almonds, spices, and aniseed. They're baked in various shapes and flavours, often shared and gifted during the festive season.
Raclette: Originating from Switzerland but widely enjoyed in the Alsace region, raclette cheese is melted and scraped onto diners' plates. It's typically served with boiled potatoes, pickles, and onions.
Christmas Gifts and Stocking Fillers
Handcrafted ornaments: Riquewihr's artisans craft beautiful Christmas tree ornaments, many reflecting the town's unique history and culture. The intricate designs often feature local symbols and provide a personal touch to festive decorations, making them a cherished keepsake.
Alsace pottery: The region is known for its traditional pottery, often displaying intricate patterns and designs. Buying a piece of Alsace pottery, be it a plate or a decorative item, is a great way to bring home a piece of Riquewihr's artistic heritage.
Local textiles: Riquewihr and the surrounding areas have a rich tradition of textile craftsmanship. Scarves, tablecloths, and even bags made with Alsatian patterns are widely available, giving you a functional and beautiful souvenir.
Wine from local vineyards: Given the region's winemaking prowess, bottles of local wine make an excellent gift. You can select from a range of varieties, ensuring you have a taste of Alsace to share or enjoy at home.
Wooden toys: Reflecting a classic European Christmas market offering, handcrafted wooden toys are abundant in Riquewihr. These toys are often made using traditional techniques, providing children with a lasting and meaningful gift.
Alsatian cookbooks: For those looking to recreate the region's culinary delights at home, an Alsatian cookbook is ideal. These books provide a range of local recipes, both traditional and contemporary, to explore and enjoy.
Hand-blown glass: There are several vendors at the market specialising in hand-blown glass creations. From intricate ornaments to functional items like vases or glasses, these pieces shimmer with artistry and dedication.
Jams and preserves: Locally sourced fruits and berries are turned into delicious jams and preserves. They come in various flavours, encapsulating Alsace's taste in a jar.
Christmas nativity sets: A classic festive purchase; nativity sets in Riquewihr incorporate local artistry. Whether it's the materials used or the specific designs, they're a beautiful addition to any festive display.
Things to Do in Winter
For a thorough rundown of winter activities and up-to-date events in the city, I recommend checking out the Visit Alsace as a valuable resource during your stay. Here is their guide to things to do in winter.
Sustainable Christmas Tips
Here's how you can adopt a more responsible travel approach in Riquewihr this festive season:
Eco-friendly accommodations: When choosing where to stay, look for hotels in Riquewihr that are committed to sustainability. Many establishments in the area have started using renewable energy sources, like solar panels, to power their operations. By supporting such accommodations, you're making a direct contribution to the town's green initiatives.
Mindful dining at the markets: The Christmas markets in Riquewihr are a gastronomic delight. To reduce food waste, consider sharing portions with fellow travellers or ordering smaller sizes. Not only does this allow you to sample a broader range of delicacies, but it also ensures you consume what you purchase.
Ethical shopping: While the allure of the festive stalls can be strong, it's crucial to buy mindfully. Focus on purchasing items you genuinely need or will use. Handcrafted items, for instance, support local artisans and ensure your money benefits the community directly.
Sustainable diets: Riquewihr offers a plethora of regional foods. Opt for dishes made from locally sourced ingredients with a smaller carbon footprint due to reduced transportation. Additionally, consider trying some plant-based options available at the market, as they typically have a lower environmental impact.
Eco-friendly transport: The charm of Riquewihr lies in its compact size and walkable streets. Instead of relying on vehicles, explore the town on foot or rent a bicycle. This reduces emissions and allows you to immerse yourself fully in the town's festive atmosphere.
FAQ
When is the Riquewihr Christmas Market?
The Riquewihr Christmas Market dates are from 25th November to 21st December 2023.
Where is Riquewihr Christmas Market located?
The Christmas market in Riquewihr is primarily situated in the heart of Centre Ville, amidst its historic buildings and scenic alleyways. The town is very small, you can't miss it.
What time does Riquewihr Christmas Market open?
Riquewihr Christmas Market is open Monday to Friday: 10am to 6:30pm Saturday and Sunday: 10am to 7:30pm.
Is Riquewihr accessible for wheelchair users during the Christmas market?
Yes, Riquewihr ensures accessibility for all visitors. However, due to its historic nature, some cobbled streets might pose slight challenges, but overall, provisions have been made for wheelchair users.
If you would like to leave a review of Riquewihr Xmas Market, comment below.
—
Recommendations are independently chosen based on personal travel experiences and extensive research. This post contains affiliate links to hotels and tours in Riquewihr, France. This means I get a small commission from any bookings at no extra cost to you.