In Olomouc, winter transforms the city into a festive destination, drawing visitors with its historic charm and snow-covered squares.
The Olomouc Christmas Market in the city centre is a notable attraction, featuring traditional Czech stalls and festive lights.
In this guide, I'll detail key information for 2023, including confirmed dates, opening times, locations and local delicacies.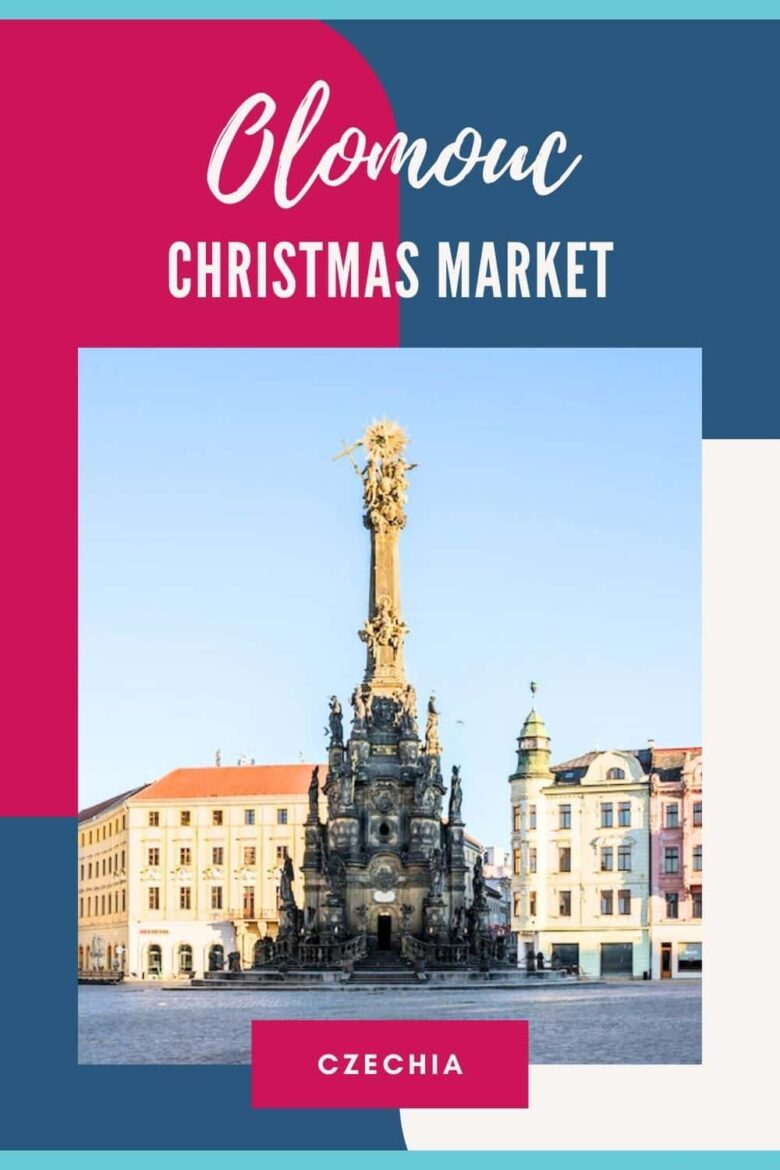 Christmas in Olomouc is marked by its rich historical backdrop, with the city's UNESCO-listed centre providing a festive atmosphere that blends centuries-old traditions with modern celebrations.
The lighting of historic monuments, combined with the echoing bells of Saint Wenceslas Cathedral, gives Olomouc a distinctive festive charm that stands apart from other European destinations.
Olomouc Christmas Market 2023
Located within the romantic heart of the city, the Christmas market in Olomouc is an immersive experience that blends traditional Czech festivities with a modern touch.
Set against the backdrop of squares adorned with baroque fountains and the UNESCO-recognised Holy Trinity Column, visitors can relish the diverse selection of hot drinks, particularly the wide variety of punch and Nuremberg wine.
The "punch town" on the Upper Square is especially renowned for its array of spiced, sweet and bitter wines, enhanced with ingredients like rum, cherry brandy, or orange.
The vibrant atmosphere of the market is intensified by a myriad of performances. Renowned bands from varied genres take the stage, complemented by theatre acts for both children and adults.
As you wander, you'll witness a blend of Advent traditions, contemporary attractions, a meticulously carved nativity scene, and even a viewing platform providing panoramic views of the festive-lit square.
Children can be enchanted by activities such as historic carousel rides, letter writing to Santa Claus in Christkind's Post Office, or crafting candles and walnut shell boats in Christkind's workshop.
The wooden village on Horní náměstí has 110 stalls, offering a plethora of Christmas decorations, gifts, and handicrafts. There is also an outdoor skating rink.
Transitioning to Dolní náměstí, visitors are treated to a more intimate setting with twenty wooden huts predominantly featuring artisanal homemade products, accompanied, of course, by the acclaimed punch.
A striking feature here is the life-sized wooden carved nativity scene, capturing the essence of the festive story.
To conclude your visit, the Tržnice area offers a unique vantage point of Christmas in Olomouc from atop the fifteen-meter-tall Olomouc Christmas Ferris wheel.
Dates and Location
Olomouc Christmas Market dates: 19th November to 23rd December 2023.
Location: Horní Náměstí, Dolní náměstí and Tržnice.
Opening times: 10am to 8pm.
Christmas Day: Closed.
Admission: Free.
Santa: Yes and Christkind's Post Office.
Ice skating: Yes, at Horní Náměstí.
Vegetarian: Yes, plenty of options.
Vegan: Yes, plenty of options.
Gluten free: Yes, but limited.
Accessible: Yes.
Pet-friendly: Yes, but not recommended during busy periods.
Parking: Please take public transport to help limit congestion.
Reason to visit: Historical UNESCO location, diverse punch varieties, children's workshops.
Specialities: Nuremberg wine, diverse spiced punches, traditional Czech treats, sweet and bitter concoctions, cherry brandy infusions.
Where to stay: Miss Sophie's is a popular hotel, located 3 minutes from Horní Náměstí, the main square.
Hotels near Olomouc Christmas Market
Staying close to Horní Náměstí is ideal for those keen to be at the heart of Olomouc's Christmas celebrations. This area places you near the bustling market and within reach of the city's historical attractions.
For where to stay, I suggest Miss Sophie's Boutique Hotel, a popular choice due to its proximity to the Christmas market and its reputable service.
For a detailed insight into the best Czech Christmas markets, check out my guide, ensuring you experience the highlights and hidden treasures during your visit.
Location of Olomouc Christmas Market
Christmas in Olomouc
Market Specialties
Trdelník (Chimney Cake): Originating from Central Europe, trdelník is a pastry rolled in sugar and walnut mix before being baked over an open flame. It's cone-shaped, often filled with cream or chocolate, and has become a popular treat at many European markets, including Olomouc.
Svařák (Mulled Wine): Svařák is a warm beverage made by mulling red wine with spices like cinnamon and cloves. It's traditionally consumed during colder months in the Czech Republic, providing both warmth and festive cheer to those who sip it at the Olomouc market.
Medovina (Honey Wine): Medovina, or honey wine, is a traditional Czech drink often associated with Christmas. It's made by fermenting honey with water and occasionally fruits, spices, or herbs, resulting in a sweet, aromatic beverage enjoyed by many during the festive period.
Klobása (Grilled Sausage): A staple at Czech markets, klobása refers to a grilled sausage, often served with mustard or horseradish on the side. These sausages are savoury and are typically accompanied by a slice of rustic bread.
Bramboráky (Potato Pancakes): These are Czech potato pancakes made by grating potatoes and mixing them with spices before frying. Bramboráky are crispy on the outside and tender inside, often served hot and enjoyed with sour cream or apple sauce.
Palačinky (Czech Pancakes): Thinner than American pancakes but slightly thicker than French crêpes, palačinky can be filled with various fillings, from jam and fruit to chocolate and nuts. They're rolled, served warm, and often dusted with powdered sugar, making them a versatile and beloved treat at the Olomouc Christmas market.
Horká čokoláda (Hot Chocolate): This isn't your regular hot cocoa. The Czech horká čokoláda is a rich and creamy drink, almost like melted chocolate in a cup. It's a favourite among both locals and visitors, especially during the chilly winter months in Olomouc.
Gifts and Stocking Fillers
Moravian ceramics: Hailing from the Moravia region, these hand-painted ceramics are a testament to Czech craftsmanship. Plates, mugs, and decorative items often feature intricate patterns and designs that tell a story of the region's history and culture. They make an authentic gift, marrying function with artistry.
Olomouc cheese: A specialty from this city, Olomouc cheese is known for its distinctive aroma and taste. While it's an acquired taste for some, it's a quintessential product of the region and can be a unique culinary gift for the adventurous.
Hand-blown glass ornaments: Czechia is renowned for its glasswork. You can find beautifully crafted glass ornaments at Czech Christmas markets, each unique, reflecting skilled artisans' expertise. These ornaments often depict festive scenes or traditional Czech symbols, adding a touch of Olomouc to any Christmas tree.
Wooden toys: Crafted with precision and often painted by hand, these toys represent a timeless European tradition. Ranging from simple spinning tops to intricate puzzles, they provide a nostalgic charm and are a popular choice for children's gifts.
Lacework: Detailed and delicate, the lacework from this region showcases the intricate handiwork of local artisans. Whether it's in the form of doilies, table runners, or decorative items, lace products from Olomouc carry a touch of elegance and tradition.
Beeswax candles: Often crafted in festive shapes and designs, these candles are made from natural beeswax, known for its longer burn time and pleasant aroma. They're functional and make for a charming, eco-friendly gift.
Embroidered fabrics: Showcasing traditional Czech embroidery techniques, these fabrics come in various forms, from scarves to cushion covers. Their designs often depict traditional Moravian patterns, making them a special memento for your Olomouc visit.
Spiced syrups: Used for flavouring hot drinks or desserts, these syrups are made using local ingredients and traditional recipes. With flavours ranging from cinnamon to elderberry, they capture the essence of Czech winter in a bottle.
Things to Do in Winter
I recommend checking out Olomouc Tourism for an up-to-date list of winter activities and the latest events in the city.
Sustainable Christmas Tips
Here are some suggestions for responsible travel in Olomouc during the festive season:
Eco-friendly hotels: Opt for hotels in Olomouc that prioritise sustainability, especially those harnessing renewable energy sources. Such establishments tend to have measures in place like solar panels, energy-efficient lighting, and water-saving fixtures. By choosing them, you actively support businesses that are making a difference to the environment.
Mindful eating at the market: The Christmas market in Olomouc is a hub of delicious treats. While indulging, aim to minimise food waste by ordering portions you can finish. Many stalls prepare food freshly, so requesting smaller portions is possible if you're unsure about finishing a regular serving.
Ethical shopping: Olomouc's markets and local shops offer a variety of artisan products. While buying many items is tempting, focus on purchasing things you genuinely need or have a purpose for. Handmade gifts from local artisans, for instance, not only support the community but also reduce the carbon footprint associated with mass-produced items.
Sustainable diets: When choosing meals or snacks in Olomouc, consider options that have a lower environmental impact. For instance, traditional Czech soups or plant-based treats at the Christmas stalls can be more sustainable than meat-heavy dishes. Being conscious of your dietary choices can positively affect the local environment.
Green transport: Olomouc has a compact city centre, making it ideal for exploring on foot. Instead of taking taxis or driving, consider walking to nearby attractions or using public transport, which is efficient and reduces the overall carbon footprint of your trip. If longer distances are involved, consider renting a bicycle, as Olomouc has several cycling paths providing scenic routes.
FAQ
When is the Olomouc Christmas Market?
The Olomouc Christmas Market 2023 dates are from 19th November to 23 December 2023.
Where is Olomouc Christmas Market?
You'll find the Olomouc Christmas Market primarily in the heart of the city, at the Upper Square (Horní náměstí) and in the surrounding streets and squares.
What time does Olomouc Christmas Market open?
The markets are open daily from 10am to 8pm.
If you would like to leave a review of Olomouc Xmas Market, comment below.
—
Recommendations are independently chosen based on personal travel experiences and extensive research. This post contains affiliate links to hotels and tours in Olomouc, Czech Republic. This means I get a small commission from any bookings at no extra cost to you.