Karlovy Vary, also known as Carlsbad, exudes elegance with its renowned thermal spa facilities and picturesque architecture, including its famed colonnades.
As you walk along the Teplá River in winter, you'll find the baroque and art nouveau buildings lit up with Christmas lights and decorations.
In this guide, I'll share everything you'll need to know for planning a visit, including the confirmed 2023 dates and highlighting the unique local specialties of the Karlovy Vary Christmas Market.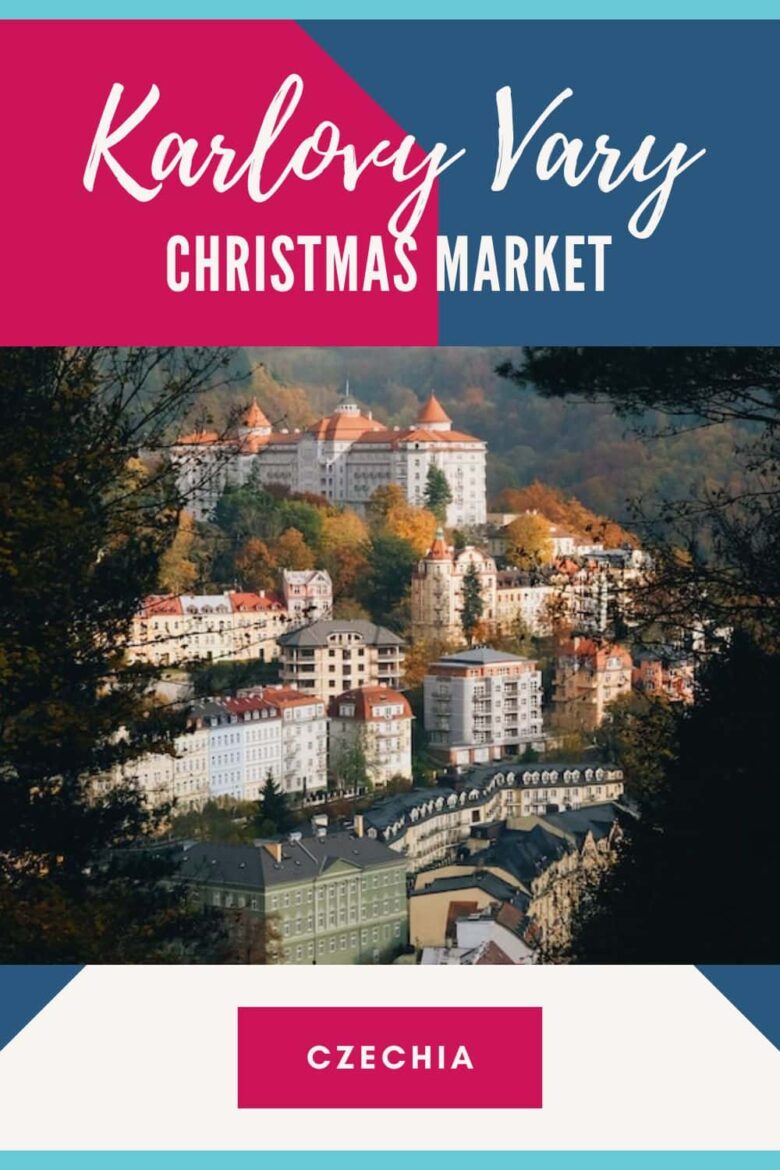 As snow covers Karlovy Vary's baroque architecture, the city's hot springs remain flowing, juxtaposed with the cold and highlighted by lights against the Ore Mountains backdrop.
Karlovy Vary Christmas Market 2023
The opening of the Christmas market in Karlovy Vary is marked by the ceremonial lighting of the Christmas tree at the Thermal Hotel.
The market spans across the city but is centred around the Mill Colonnade. You'll find the 15-metre tall silver spruce Christmas tree and child-friendly attractions at the Thermal Hotel.
The availability of a decorated Christmas train and funicular adds to the ease of exploring the city's festive offerings, from the Thermal Hotel to Divadelní Square.
Throughout the market, 20 stands are open from Tuesday to Sunday, presenting a selection of Christmas gifts, foods, and beverages, including local mulled wine and Czech specialties.
Dates and Location
Karlovy Vary Christmas Market dates: 1st to 26th December 2023.
Location: Mill Colonnade.
Decorations: Along the spa route from the Thermal Hotel to Divadelní Square. The route includes Tržiště (Market) Street, Lázeňská Street and Tržní Kolonáda (Market Colonnade).
Opening times: Monday: Closed. Tuesday to Friday: 10am to 7pm. Saturday and Sunday: 10am to 8pm.
Christmas Day: Open.
Admission: Free.
Christmas lights: 3rd December 2023 in front of the Thermal Hotel.
Santa: Yes.
Ice skating: No.
Vegetarian: Yes, plenty of options.
Vegan: Yes, plenty of options.
Gluten free: Yes, but limited.
Accessible: Yes.
Pet-friendly: Yes, but not recommended during busy periods.
Parking: Please take public transport to help limit congestion.
Reason to visit: Traditional Czech goods, local artisans, historic setting near thermal springs; a blend of culture and festivity.
Specialities: Traditional Czech Christmas cookies, mulled wine, roasted chestnuts, local pastries; unique flavours of the region.
Where to stay: Golden Key Boutique Hotel is a popular hotel, located 1 minute from the Mill Colonnade.
Hotels near Karlovy Vary Christmas Market
The best area to stay in Karlovy Vary is in the central part of the town, close to the historic spa buildings and colonnades. This area provides easy access to the market, along with other key attractions and amenities.
For a convenient and popular choice of accommodation, I recommend Golden Key Boutique Hotel, known for its great location near the Christmas market.
Location of Karlovy Vary Christmas Market
To enhance your preparations and make the most of your visit to Czechia, I recommend reading my Czechia Christmas Market 2023 guide. It provides practical information and insights to ensure a seamless and enjoyable experience as you explore the seasonal delights of the country.
Christmas in Karlovy Vary
Christmas Specialties in Karlovy Vary
Trdelník: A traditional Czech pastry, trdelník is made by wrapping dough around a stick and roasting it over an open flame. It's often dusted with sugar, cinnamon, or nuts and can sometimes be filled with chocolate or cream. Though found in other Central European countries, it's a firm favourite at the Karlovy Vary Christmas Market.
Svářák (Mulled Wine): Svářák is the Czech version of mulled wine, a warm drink perfect for cold weather. It's made by heating red wine with spices such as cinnamon and cloves, sometimes with added citrus. It's a common sight at the Christmas market, served in festive mugs.
Czech Christmas Cookies: Many Czech households have a tradition of baking Christmas cookies, and these sweet treats find their way into the market stalls. Varieties may include ginger-flavoured, nut-filled, or jam-filled cookies, providing a taste of Czech Christmas tradition.
Perníčky (Gingerbread): Gingerbread, known as perníčky in Czech, is a spiced cookie often artistically decorated with white icing. These are delicious and used as ornaments and can be found at Karlovy Vary's market stalls.
Klobása (Grilled Sausage): A popular snack at the Karlovy Vary Christmas Market, klobása is a spiced pork sausage, grilled and typically served with mustard or bread. It's a satisfying, savoury option.
Ovocné Knedlíky (Fruit Dumplings): A dish that can be either sweet or savoury, ovocné knedlíky are fruit-filled dumplings, often made with plums or apricots. They provide a unique taste of Czech cuisine and can be a vegetarian option.
Smažený Sýr (Fried Cheese): Smažený sýr, or fried cheese, is a popular Czech dish made by breading and frying a slice of cheese, typically served with tartar sauce and bread. It's a hearty option and can be adapted for vegetarians.
Apple Strudel: This flaky pastry filled with spiced apples is a well-loved dessert in Central Europe. The combination of tender apples, raisins, cinnamon, and crisp pastry makes it a satisfying sweet treat available at the market.
Non-Alcoholic Punch: For those avoiding alcohol, various stalls serve non-alcoholic punch made with fruit juices and spices. This warm beverage captures the festive spirit and is suitable for all visitors.
Lokša: This Slovak flatbread serves as a delightful snack, often filled or topped with various ingredients, satisfying both sweet and savoury cravings.
Págáč: A type of pastry, págáč is filled with savory ingredients and can be enjoyed as a hearty snack while browsing the market stalls.
Langoš: This deep-fried flatbread from Hungary is a satisfying, hearty option, often topped with garlic, cheese, and other toppings, perfect for a fulfilling snack.
Christmas Gifts and Stocking Fillers
Becherovka: A famous herbal liqueur originating from Karlovy Vary, Becherovka is known for its distinctive taste, made with a secret blend of herbs and spices. It's often enjoyed as a digestive aid and is a popular gift for friends and family, representing the region's unique culture.
Crystal from Karlovy Vary: The crystalline beauty found in Karlovy Vary stands unmatched. Take this opportunity to purchase exquisite crystal from the local Moser Glassworks, where each piece resonates with the grandeur and history of the Austro-Hungarian era.
Thermal Spring Salts: Reflecting the town's spa culture, thermal spring salts are available for purchase. These salts are derived from Karlovy Vary's famous thermal springs and are often used in baths for therapeutic purposes, making for a thoughtful and unique gift.
Mineral Products: Bring home the essence of Karlovy Vary's spa heritage with mineral products available at the market. These products, infused with the local minerals known for their therapeutic properties, add a refreshing and restorative touch to your wellness routine.
Spa Wafers: Unique to the spa towns of Czechia, including Karlovy Vary, spa wafers are large, thin wafers often filled with nuts or chocolate. Packaged in decorative boxes, they make for an unusual and tasty gift that is specific to the region's spa culture.
Lace Products: Lace-making is a traditional craft in the Czechia, and at the Karlovy Vary Christmas market, you can find delicate lace products such as doilies, table runners, and handkerchiefs. These beautifully crafted items can add a touch of elegance to any home.
Marionettes: A part of Czech cultural heritage, marionettes are traditional puppets operated by strings. Available in various characters and sizes, they are not only a fun toy but also a piece of art, reflecting the theatrical tradition of the country.
Wine from Moravia: Explore Moravian wine's rich and diverse flavours, bringing a taste of the renowned wine region to the Christmas market.
Christmas Ornaments: The Christmas market in Karlovy Vary showcases a wide variety of Christmas ornaments, ranging from classic glass baubles to handmade wooden decorations. These festive items add a touch of Czech tradition to any Christmas tree.
Things to Do in Winter
I recommend visiting the Karlovy Vary's official website for up-to-date information on things to do in winter or organising a spa visit. It provides a well-organised and extensive list of activities, schedules, and helpful insights into local attractions. Visit Czechia has a good overview too.
Sustainable Christmas Tips
Here are a few tips on how to travel more responsibly in Karlovy Vary at Christmas:
Stay in Eco-Friendly Hotels: Karlovy Vary has several hotels that are committed to using renewable energy sources, water conservation, and other environmentally friendly practices. By staying in such places, you'll be supporting businesses taking significant steps towards sustainability. Local tourist information can provide a list of these hotels.
Reduce Food Waste at Markets: The Christmas markets in Karlovy Vary are known for their delicious food. Consider sharing with others or ordering smaller portions when sampling the various dishes. This will allow you to enjoy the local cuisine without contributing to unnecessary food waste. Vendors are often happy to advise on portion sizes suitable for your needs.
Practice Ethical Consumption: Karlovy Vary's Christmas markets feature a wide array of goods, from traditional crafts to local delicacies. As a responsible traveller, consider purchasing only what you genuinely need or will use. Supporting local artisans who use sustainable materials and practices can also contribute to a more ethical consumer experience.
Embrace Sustainable Diets: While enjoying Karlovy Vary's culinary scene, opt for meals that incorporate locally sourced and seasonal ingredients. Many vendors in the Christmas market focus on using regional products, which not only supports local farmers but also reduces the carbon footprint associated with food transportation.
Use Sustainable Transport: Karlovy Vary offers several public transportation options, including buses and trains, that make getting around the city both easy and eco-friendly. Consider walking or cycling for shorter distances; rental bikes are widely available. By reducing reliance on private cars, you'll be helping to decrease emissions and traffic congestion during the busy holiday season.
FAQ
When is the Karlovy Vary Christmas Market?
The Karlovy Vary Christmas Market 2023 dates are confirmed as 1st to 26th December 2023.
Where is Karlovy Vary Christmas Market?
You'll find the Christmas Market in Karlovy Vary located at Mill Colonnade with decorations along the spa route from the Thermal Hotel to Divadelní Square. The route includes Tržiště (Market) Street, Lázeňská Street and Tržní Kolonáda (Market Colonnade).
What time does Karlovy Vary Christmas Market open?
The opening times for Karlovy Vary Christmas Market are Monday: Closed. Tuesday to Friday: 10am to 7pm. Saturday and Sunday: 10am to 8pm. Christmas Day: Open.
What's the weather like in Karlovy Vary during winter?
Winter in Karlovy Vary can be cold, with temperatures often dropping below freezing. Snowfall is common, which adds to the festive atmosphere, but it might require warmer clothing and appropriate footwear.
Are there other winter attractions in Karlovy Vary besides the Christmas Market?
Certainly, Karlovy Vary is not just about the Christmas Market. The city offers various winter activities, such as thermal spa experiences, and is near ski resorts, providing winter sports and relaxation opportunities. Additionally, the architectural beauty of the town, rich cultural heritage, and numerous galleries and museums remain accessible to visitors throughout the winter season.
If you would like to leave a review of Karlovy Vary Xmas Market, comment below.
—
Recommendations are independently chosen based on personal travel experiences and extensive research. This post contains affiliate links to hotels and tours in Karlovy Vary, Czechia. This means I get a small commission from any bookings at no extra cost to you.